My uncle's special Thanksgiving dessert is sweet potato pie. My brother's special Thanksgiving dessert is pumpkin cheesecake. And since I'm going to see both of them on Thanksgiving, I decided to make a hybrid of the two—sweet potato cheesecake.
Growing up, cheesecake was a rare treat—considered extremely fancy and not something you ate at home. Mom instead made a berry yogurt pie with a granola crust, which while not as rich and dense as cheesecake was still a creamy sweet treat. Still, it wasn't quite the same.
One day our next-door neighbor made a cheesecake from scratch. It was a plain cheesecake with tall sturdy sides topped with a thin-layer of sour cream. Each bite was luscious and I thought she must have some special skills to make something so satisfying.
A few years ago my dad gave me a generous Williams-Sonoma gift certificate. I raided the store, splurging on items I wouldn't ordinarily buy and one of those was a springform pan. I had decided it was time to teach myself how to make cheesecake.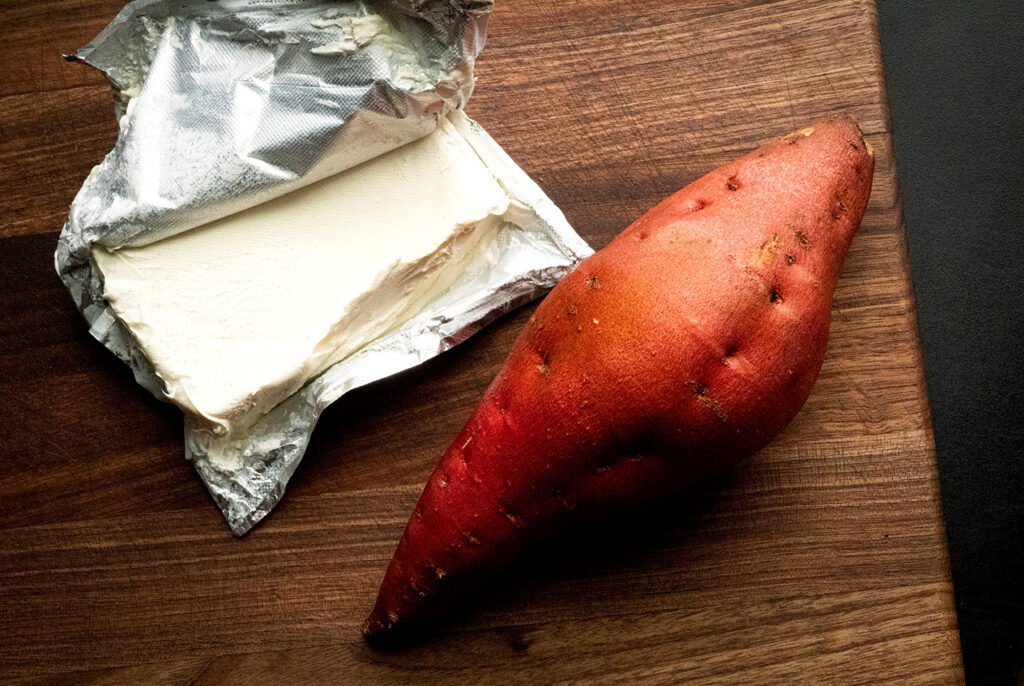 I went through a myriad of recipes, and some were super complicated, insisting you separate your eggs, folding in the yolks and whites at different times. Some called for baking it for an hour and then leaving it in the turned-off oven to cool for another half hour. Some used crusts, often made with graham cracker crumbs, while others were crust free.
What I soon learned, however, was that cheesecake doesn't have to be a lot of work—given the right circumstances you could whip one every night, which I practically did when I lived with someone who was on a low-carb diet.
The basic formula is simple, one egg per half pound of cream cheese. If you don't have time to get your cream cheese and eggs to room temperature (as every recipe will recommend), then just rest them on top of the oven as you preheat—they'll soon be warm enough.
Then just throw your eggs, cream cheese, sweetener, some vanilla extract, some spices, and some lemon juice into the blender, and in minutes you'll have a batter.
If you're forgoing a crust, you're pretty much done save for baking it for a half hour or so, and then chilling. Though warm cheese cake is just as appealing as cold, as the flavors can be more pronounced.
Sometimes they'll crack on top, and I reckon the experts would say that I pulled it out of the oven too fast or over beat the batter. But an ugly cheesecake isn't a problem because I can top it with whipped cream, which deliciously masks all imperfections.
When I was as at the farmer's market recently, they had mountains of sweet potatoes in several varieties for only a dollar a pound. That was a third of the price they were at the grocery store, so I grabbed a few.
My original intention was to bake sweet potato pie, but since my uncle already does that for our holiday gathering, and I had a ton of cream cheese on hand, I decided to make the cheesecake instead.
After baking one of the sweet potatoes for about an hour, I threw the mashed vegetable into my blender with some eggs, some cream cheese, and some spices. In no time I had a smooth mixture.
On hand, I had some ginger snaps and pecans, and even though I'm lazy and usually make do without a crust, I decided the cookies and nuts would go well with the spicy, earthy sweet potato. My hunch proved correct.
So Thanksgiving's still a week or so away, and sInce there won't be any of this cheesecake left by then, I may just whip it up again—if my uncle and brother don't mind.
—————
Would you like more Homesick Texan? Well, I've started offering additional recipes for paid subscribers to help with the costs of running the site. While I'm not taking anything away, if you'd like to support Homesick Texan and have access to exclusive, never-seen-before subscriber-only posts, please consider becoming a member; annual subscriptions are as low as $25. Thank you for reading, your consideration, and your support!
—————
Sweet potato cheesecake
Ingredients
For the crust:
1 1/2

cups

finely crushed ginger snaps

1/4

cup

finely chopped pecans

1

stick unsalted butter, melted

1/4

teaspoon

kosher salt
For the cheesecake:
3

8-ounce packages of cream cheese, room temperature

3

large eggs, room temperature

1

cup

brown sugar

1

cup

cooked, mashed sweet potato

1

teaspoon

ground cinnamon

1

teaspoon

ground nutmeg

1

teaspoon

ground allspice

Pinch

kosher salt

1

teaspoon

vanilla extract

1

teaspoon

freshly squeezed lemon juice

2

tablespoons

all-purpose flour

Whipped cream, for serving
Instructions
Preheat the oven to 325° F. Lightly grease a 9-inch springform pan.

To make the crust, stir together the crushed ginger snaps, chopped pecans, melted butter, and salt until well combined.

Press the crust into the prepared pan, evenly covering the bottom and going up the sides about 1/4 of an inch. Place the pan in the oven and bake for 10 minutes or until fragrant. Remove the pan from the oven.

To make the cheesecake batter, using a mixer or a strong blender, throw in the softened cream cheese and eggs. Mix until smooth and combined.

Add the brown sugar, sweet potato, cinnamon, nutmeg, allspice, salt, vanilla, lemon juice, and flour, and blend until smooth. (Don't mix it too long or too many cracks may appear on top when it bakes.)

Pour the batter over the crust. Place the pan in the oven and bake uncovered for 45 minutes, or until the edges are firm and the center is just a bit jiggly. At this time, turn off the oven, open the oven door, and leave the cheesecake to rest in the oven for 1 hour. This helps it to cool down more slowly as it finishes setting.

After an hour, remove the cheesecake from the oven, cover, and chill for at least 8 hours. Serve the cheesecake chilled topped with whipped cream.
Notes
A 1-pound sweet potato cooked in the oven at 425°F for a little over an hour will yield enough for the recipe. I poke holes all over the sweet potato, wrap it in foil, and place a on baking sheet. Alternatively, you can use canned sweet potato.  
This recipe was first posted in 2007 and was updated in 2022.