Mashed sweet potatoes with chipotle chiles
Growing up, not a holiday dinner or church potluck supper was complete without a casserole dish filled with baked sweet potatoes topped with marshmallows. If you've never seen this dish, let me tell you—it looks bizarre.
Perhaps it's the lurid color or perhaps it's because the pairing with a dessert item with a savory item (sweet descriptor notwithstanding), though I feel the main reason why I'm not a fan is that I don't typically like marshmallows. (Though I will eat homemade marshmallows. I am full of contradictions.)
To wit: when we'd go to Luby's, while my family dug into slices of chess pie for dessert, I'd be eating cornbread) and seeing this large baking dish filled with a brown and orange oozing substance covered with white dots never seemed appealing.
It looked like really bad 1970's interior design. It wasn't dessert, either–it was considered a savory side. So I grew up thinking that sweet potatoes had to be served with marshmallows, and I never tried them.
But now that I've acquired a more adventurous palate, I've learned that sans marshmallows, sweet potatoes are extremely healthy, as they are packed with vitamin A, vitamin C, fiber, iron, and calcium. They're also quite versatile and delicious, and can appear in a host of different recipes, both savory and sweet. For instance, they are good in everything from salad to cheesecake.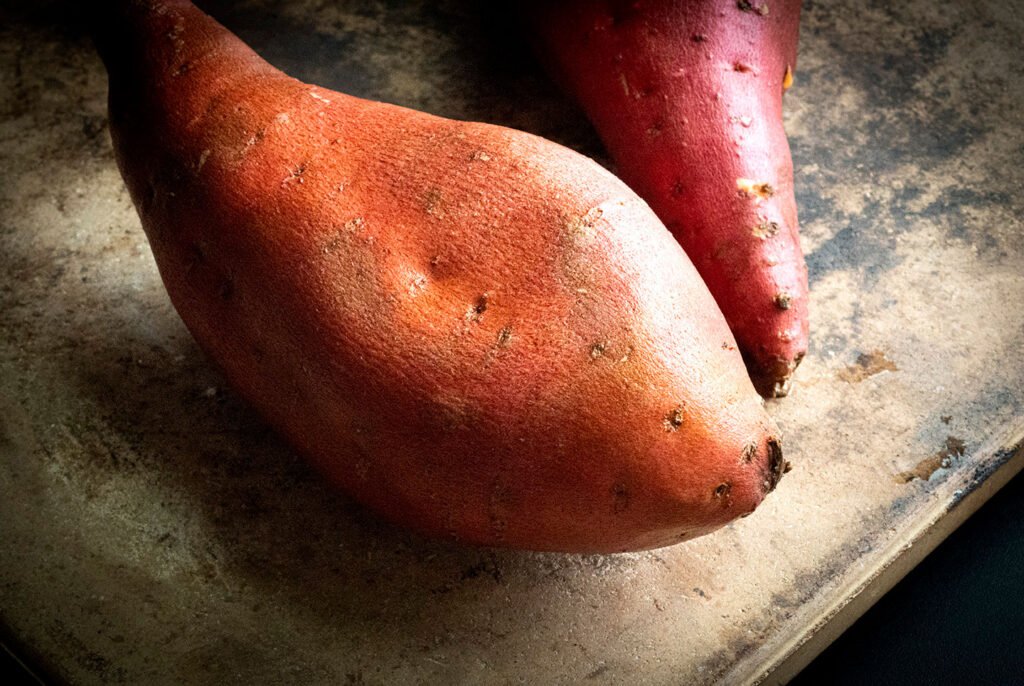 A lot of places market them as yams, but the two are not the same. While sweet potatoes are a native American vegetable, yams hail from Africa and Asia. Even more interesting is that while the sweet potato is a distant relative of regular potatoes, its relation to yams is even more removed. So why do people confuse the two? I reckon because they're both orange on the inside.
On a recent trip to the market, I saw a ton of sweet potatoes and I was thrilled to see some of the varieties on hand—there was one bigger than my head! And there are so many ways you can cook them.
For example, you can fry them like French fries, you can bake them in a pie, you can make sweet potato soup, you can stuff them in dumplings or pasta, you can make sweet potato hash, you can bake sweet potato bread—basically, anything you can do with a potato you can do with a sweet potato.
One of my favorite things to do with them is make a sweet-potato mash flavored with chipotle peppers. It's been a holiday hit with my family for years, so much, in fact, they stopped making the horrible sweet potatoes with marshmallows.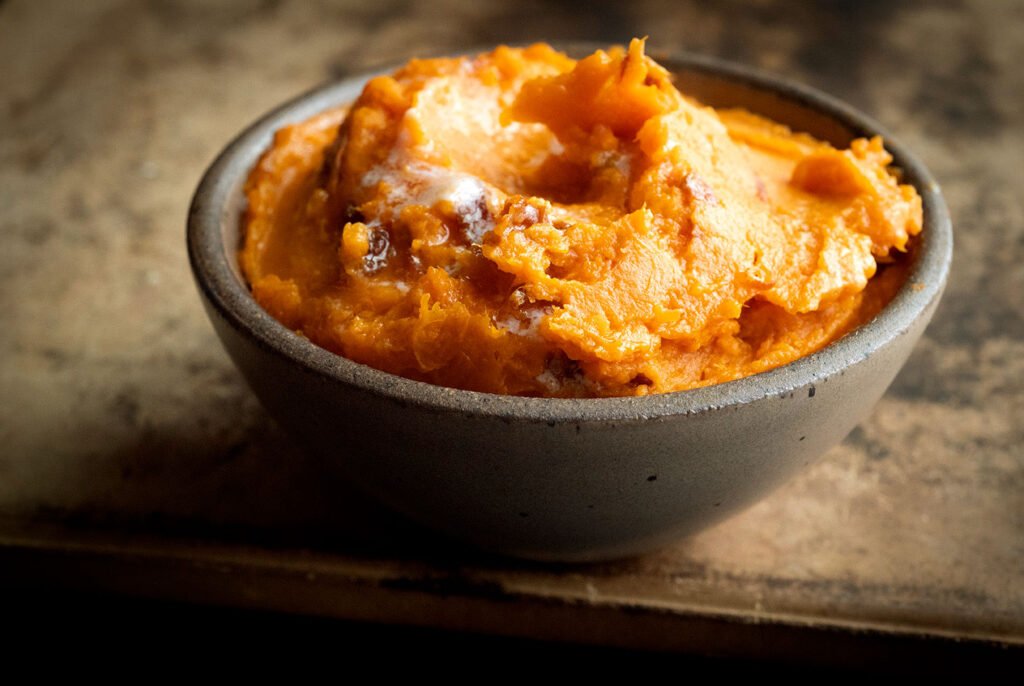 Now that's progress! But even better is how healthy this dish is: because sweet potatoes are so naturally moist, you don't need to pour in milk to make the dish creamy—it's just the sweet potatoes and the peppers. Though if I'm feeling fancy, I'll also add a few pats of butter for some extra richness and flavor.
—————
Would you like more Homesick Texan? Well, I've started offering additional recipes for paid subscribers to help with the costs of running the site. While I'm not taking anything away, if you'd like to support Homesick Texan and have access to exclusive, never-seen-before subscriber-only posts, please consider becoming a member; annual subscriptions are as low as $25. Thank you for reading, your consideration, and your support!
—————
Mashed sweet potatoes with chipotle chiles
Ingredients
4

sweet potatoes

1 or 2

chipotle chile peppers in adobo sauce

4

tablespoons

unsalted butter

1/2

teaspoon

kosher salt
Instructions
Preheat oven to 375°F and line a baking sheet with foil.

Prick the sweet potatoes all over with a fork, place on the sheet and bake for 1 hour and 15 minutes. Remove from the oven and let them cool for 15 minutes.

Once the sweet potatoes have cooled, slice in half, and scoop out the orange flesh into a bowl. Mash with a potato masher or a fork.

Finely chop the chipotle chiles, and stir into the mashed sweet potatoes along the butter and salt. When well combined, taste and add more salt if desired. Serve warm.
Notes
This is 1 or 2 peppers (depending on how hot you want it), not full cans! 
This post was originally published in 2006 and was updated in 2022.