During a summer outdoor gathering, a friend offered whole ears of corn he had slathered with butter and red chiles. The creaminess, sweetness, and earthiness of the three ingredients were welcome, though I prefer to eat my corn with a fork and not my hands. An idea for turning it into a cream corn dish was born.
My friend had used crumbled dried ancho chiles, which gave the corn a bittersweet piquancy. Though at the time, I thought that the smoky heat of chipotle chiles, which are smoked and dried jalapeño peppers, would also work well.
Cream corn is a side offering that originates back to Native American cuisine, as this plant is also a Native American. The original renditions took corn and cooked it using the natural starch and liquid that can be extracted from the cobs to create the creamy texture.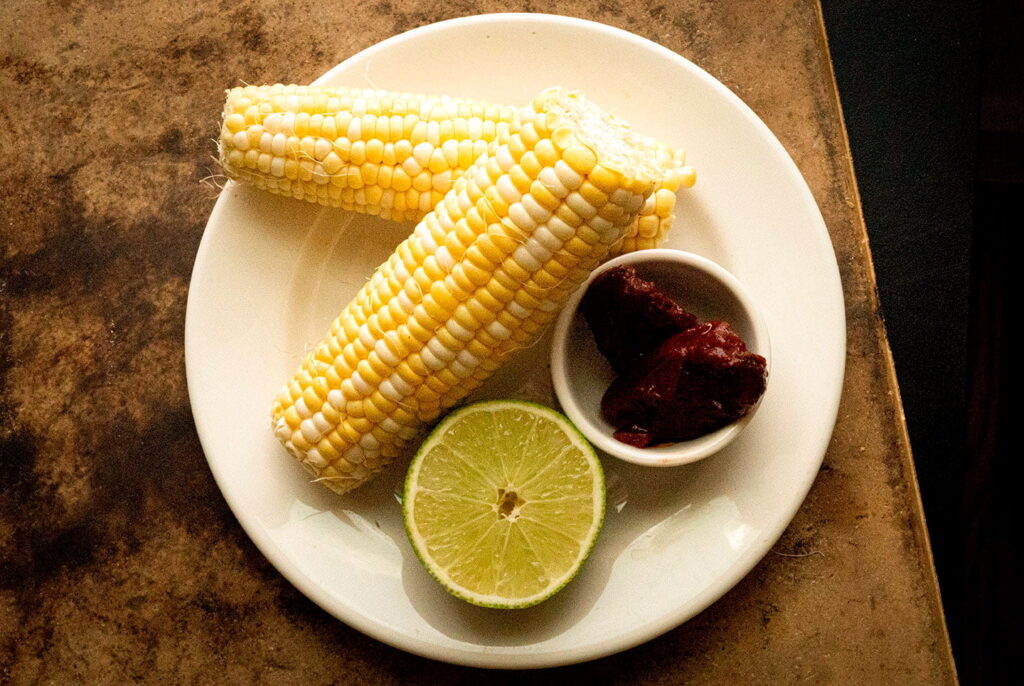 As corn also became a staple for European-Americans, dairy products such as milk and butter were introduced, along with sweeteners such as sugar. This produced a richer dish.
There are many approaches to cream corn (or creamed corn, as it's sometimes labelled). You can follow the classic method and let the natural starches thicken the dish. You can also incorporate flour or butter.
Though one rendition, which uses both cream cheese and heavy cream, is a truly decadent take that's popular with Texans. To balance some of the cheese's heaviness, I find that the addition of aromatics and lime juice work well when using this method.
Following the example of my friend, I also add chiles, though these days I do prefer the smoky chipotle. The dish can be prepared with either fresh or frozen corn. While the former will be more flavorful when corn is in season, the abundance of supporting flavors makes this a successful dish with frozen, too.
After lightly cooking the corn and garlic, you add butter, cream cheese, spices, and chiles. As the corn and sauce meld together, a creamy blend is formed. It's sweet, smoky, and savory. And a pleasing accompaniment to all your summertime favorites.
—————
Would you like more Homesick Texan? Well, I've started offering additional recipes for paid subscribers to help with the costs of running the site. While I'm not taking anything away, if you'd like to support Homesick Texan and have access to exclusive, never-seen-before subscriber-only posts, please consider becoming a member; annual subscriptions are as low as $25. Thank you for reading, your consideration, and your support!
—————
Chipotle cream corn
Ingredients
4

tablespoons

unsalted butter

4

cloves

garlic, minced

½

teaspoon

kosher salt

½

teaspoon

black pepper

1/4

teaspoon

ground cumin

1/8

teaspoon

cayenne

2

chipotle chiles in adobo, minced

5

cups

corn kernels, fresh (about 8 ears) or thawed

1

cup

cream

4

ounces

cream cheese

2

tablespoons

fresh lime juice
Instructions
In a large skillet, on medium-low heat melt the butter. Add the garlic and cook for 30 seconds.

Stir in the salt, pepper, cumin, cayenne, and chipotle chiles until they're well blended with the garlic, then add the corn to the skillet. While stirring, cook the corn with the garlic and spices until fragrant and warm, about 2 minutes.

Add to the skillet the cream and cream cheese and turn the heat to low. While stirring occasionally cook for 15 minutes, or until the sauce is thickened and reduced.

Stir in the lime juice then taste and adjust seasonings. Serve warm.
Notes
Be aware that the recipe calls for two individual chipotle chile peppers and not two entire cans.