Whenever my group of friends gets together, breakfast is an important beginning to our day. While in our regular lives, we may get by on only a cup of coffee or a handful of granola, on our gatherings, we make time to cook and share a meal as we ease into our holiday.
Usually, we have a solid plan. For instance, we'll have plenty of eggs from my friend Hillary's Panhandle ranch. Our friend Laura will crack a dozen into a skillet and scramble the eggs them with plenty of salt, pepper, milk, and butter. When they're done, we'll scoop them into flour tortillas for breakfast tacos.
Sometimes, I'll bring green chiles and cottage cheese and we'll mix a breakfast casserole. Even if our host's oven is out of order, as it was one time we met at my friend Wendy's home, we'll come up with an alternative plan, such as another friend bringing her turkey roaster so our breakfasts can be successfully prepared.
Just as we can be creative with how we prepare our proteins, the biscuits we have are also open to improvisation. Sure, there is my old standby, which come together quickly and easily. (And just so we're clear, I'm the one on biscuit duty, a role that I enjoy very much.)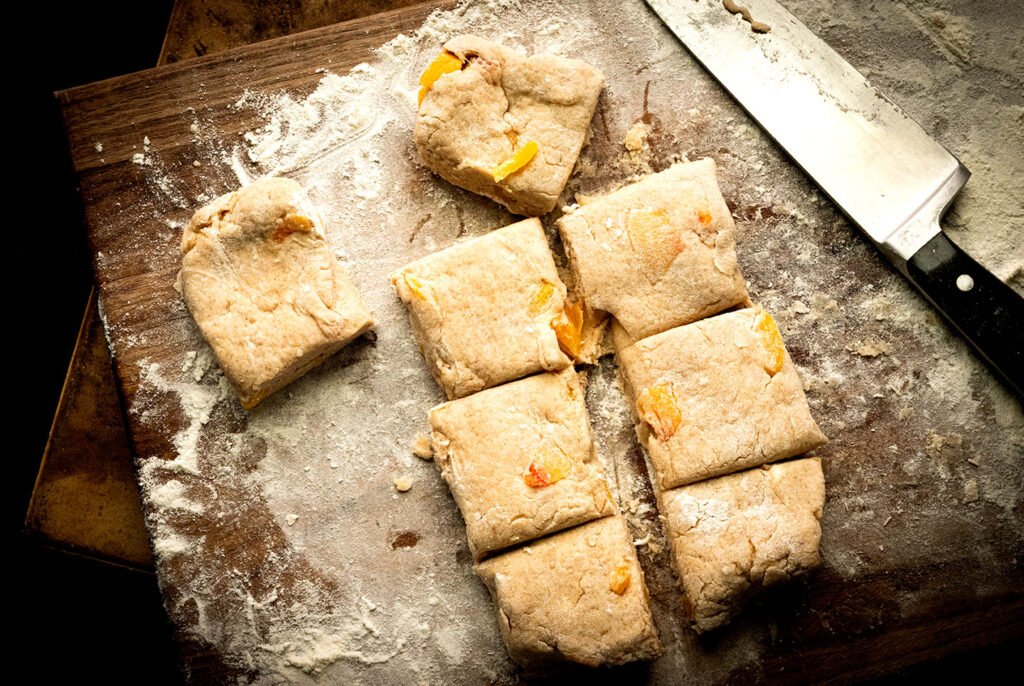 Sometimes, however, I'll have to use a wine bottle to roll out the dough. On these trips, I've also started forming the dough into a slab and cutting off rectangles, since it's easier to portion out if there is no round biscuit cutter.
If we've been vacationing together for multiple days, we'll have a refrigerator full of odds and ends that need to be used. For instance, on a recent road trip to West Texas with my friends, towards the end of our trip, I made batches of savory biscuits and sweet biscuits for my friends.
We were in the Big Bend town of Terlingua, and the house we were in had a full kitchen with plenty of pots, pans, and other items needed to cook. After several days on the road, we had accumulated cheese, herbs, and fruit, which I added to my basic biscuit dough so we could enjoy the rest of our provisions.
At the time, I had the idea I would share the adapted recipes since my friends had made the request. What is interesting, however, is that I no longer have any recollection of what exactly I put into those specific biscuits. Instead, all I can focus on is that it was the last time I got to bake biscuits for my dear friend Wendy.
We were in West Texas because it was on Wendy's list. Her mother had spent time there when she was young, and Wendy's father was from nearby El Paso. Wendy had heard her family tell stories about Marfa, Terlingua, and the McDonald Observatory in Fort Davis all her life, and visiting this vast and enchanting region was a longtime dream. With her cancer advancing, we recognized that this could be her final trip.
While it's a given that I will be baking biscuits when we're together, as we planned the trip Wendy made certain we'd have all the ingredient on hand. "I want Lisa's biscuits with West Texas butter," she said.
That morning in Terlingua, as I rolled out the dough, Wendy and I talked about biscuits and baking. We both expressed how our longtime friendship had been perhaps one of the biggest blessings of this life and how thankful we were for all the time together we'd shared since 1987.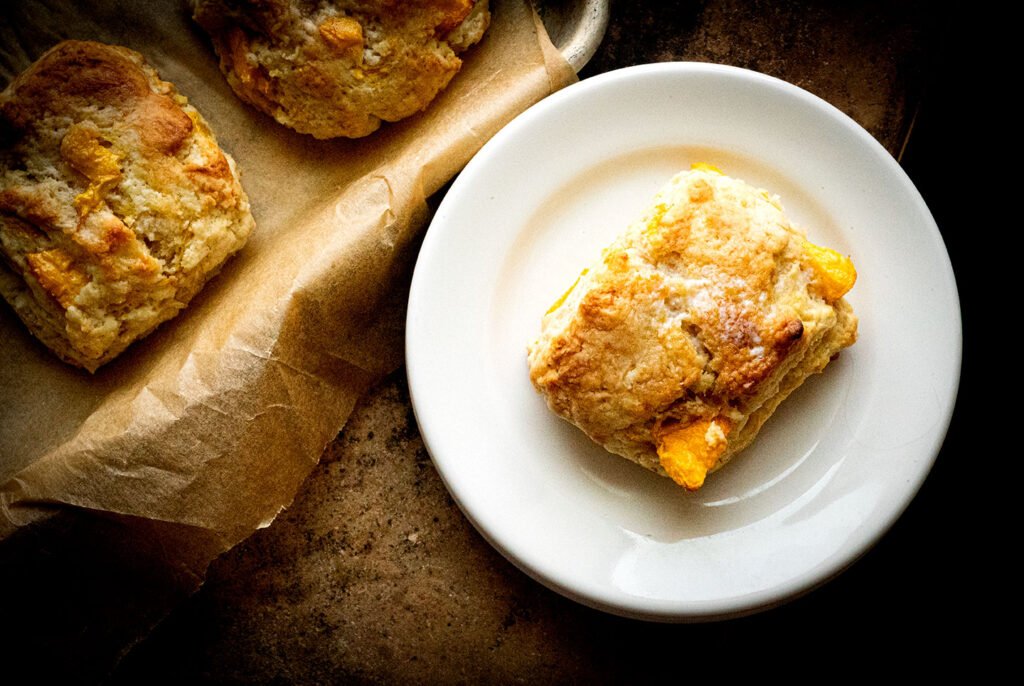 A couple of weeks ago, Wendy lost her fight with cancer. Even though we are thankful that we had two additional years to spend with her after her diagnosis, her absence has been a profound loss that we are still trying to process. Thankfully, I have a kitchen and an inclination to cook, which has been helpful as I grieve.
This morning, I was craving biscuits, and thought back to our trip in May. As I scoured my refrigerator, I spotted some peaches that were juicy and ripe. After dicing the fruit and tossing it with cinnamon and sugar, I folded the peaches into my basic biscuit recipe. I cut my slab and baked them close together, brushing the tops with butter. While it wasn't West Texas butter, I know that Wendy would have approved.
Peach biscuits
Ingredients
2

cups

all-purpose flour

3

tablespoons

granulated sugar

1/2

teaspoon

kosher salt

1

tablespoon

baking powder

8

tablespoons

unsalted butter, chilled, cut into slices

1

cup

diced ripe peaches (about 3 peaches)

1

teaspoon

ground cinnamon

1/2

cup

half-and-half

Butter, for serving
Instructions
Preheat the oven to 450°F and lightly grease a baking sheet or a 10-inch cast-iron skillet.

In a mixing bowl, stir together the flour, 2 tablespoons of the sugar, salt, and baking powder. Cut the butter into pieces, and work it into the flour mixture with your hands or a pastry blender until it resembles pea-sized crumbs.

Toss the peaches with the cinnamon and the remaining tablespoon of sugar. Taste and add more sugar and cinnamon as needed.

Add the peaches to the mixing bowl and stir until well blended with the flour. Pour in the half-and-half and stir until a shaggy dough forms.

Place the dough on a lightly floured surface and knead for a minute. Now the dough should be smooth and no longer wet. (You can sprinkle more flour on the surface if you find that it's sticking.)

Roll out the dough again until it's 1/4-inch thick then fold over in half. Form the dough into a rectangle, then using a knife cut the dough into 8 equal squares.

Alternatively, you can use a round cutter to cut the biscuits from the folded dough. (If you go with round biscuits, you may have to gather the scraps and roll them out again if you run out of room while cutting.)

Place the cut biscuits on the greased baking sheet close together (so they rise upward without spreading). Bake on the middle rack for 15 minutes or until the tops are golden brown. Serve warm with butter.