At times, I can be stubborn. That certainly was the case this week, as I stumbled through endless days of recipe testing that involved leaving on my oven, even though the temperatures were so high and the humidity so thick, I felt like I was back in Texas.
While it wasn't ideal baking weather, I was determined to make something new with peaches. And once I get an idea in my head, it's hard to let it go, which is how I spent three days cranking up my air conditioner as I struggled over muffins, biscuits, and breads. In the end, none of the recipes were bad, but I just felt they weren't worth the effort of firing up your oven during the summer. And in late July, you definitely need a good reason to endure more heat.
That said, even though I love the simplicity of ripe summer fruit topped with nothing more than a dollop of whipped cream, the caramelized sweetness that comes from baking peaches is also an iconic Texan summer taste. And my quest was attempting to recreate that sensation in something new that wasn't your usual cobbler or pie.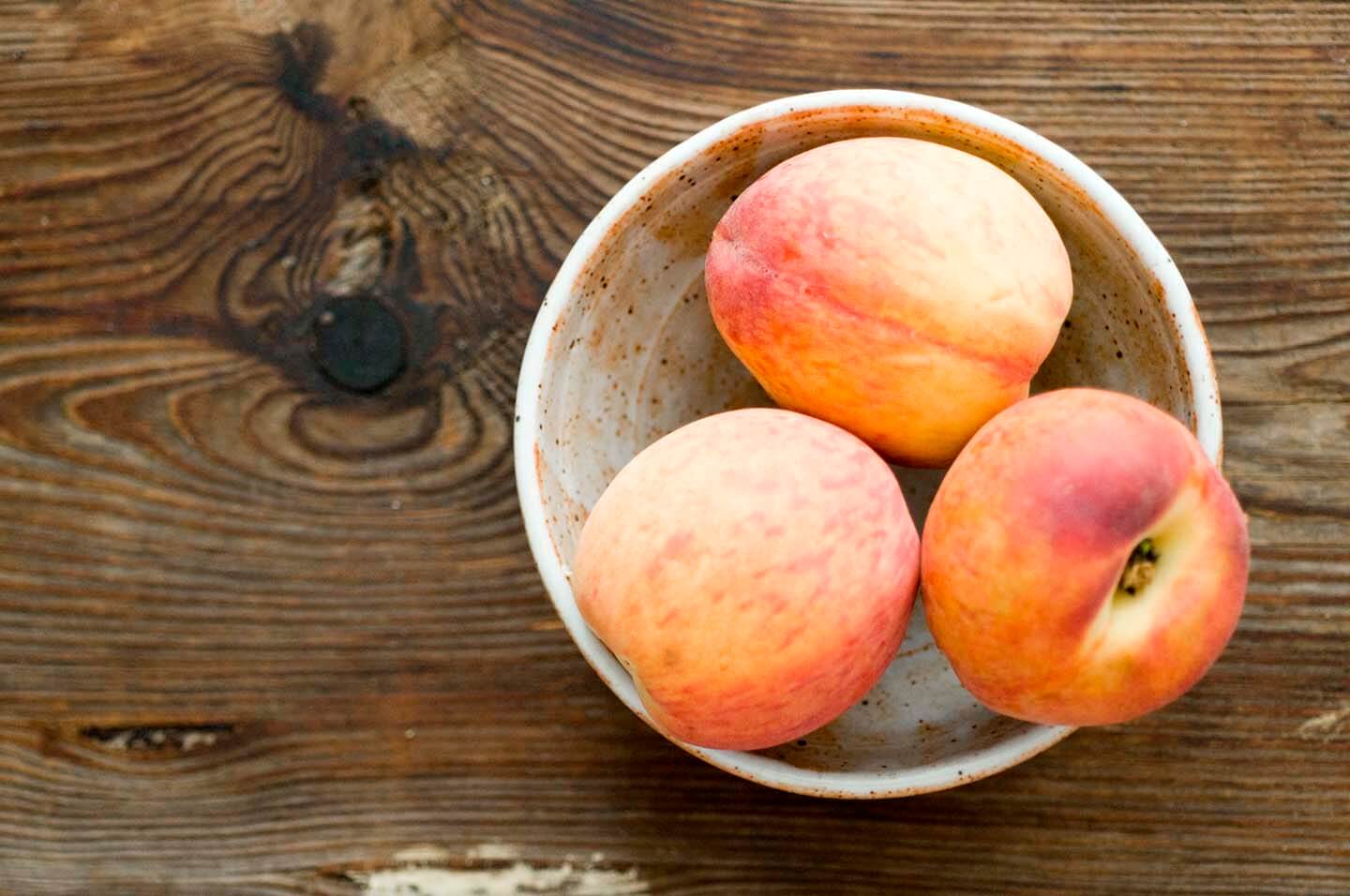 Sadly, however, all the baked goods I made stifled the peach's glory, mainly because the delicate fruit was lost in a thick mass of flour, butter, and milk. If you're going to bake with peaches when they're at they're peak, you definitely want them to be noticed. And this is why cobblers and pies are such terrific showcases for this summertime fruit—the crust lifts up the peach instead of burying it.

Then, as I was doing some research for another project I'm working on, I found myself reading about the German skillet pancake known as a Dutch baby. I'm a big fan of these, and while they're not as ubiquitous at Texan breakfasts as say, breakfast tacos or kolaches, they still make appearances on the Texas table, from San Antonio to Fort Worth. And for good reason—they're quick and delicious.
The Dutch baby is an egg-based baked good, and it's similar to popovers and Yorkshire pudding in both taste and texture. As it cooks in the oven, it puffs to glorious heights, and while it quickly deflates once you remove it from the heat, what is left is still tender and rich, a delicate crust embracing a custardy center.
Because the batter is rather plain, I've found it lends perfect support to other ingredients. And when I decided to make a Dutch baby with fresh peaches, a handful of pecans, along with hints of cinnamon, nutmeg, and lime, indeed, this graceful fruit did shine. After three days of kneading, stirring, and waiting in a hot kitchen, at last I'd found a new baked good that let the peaches step forward and take command.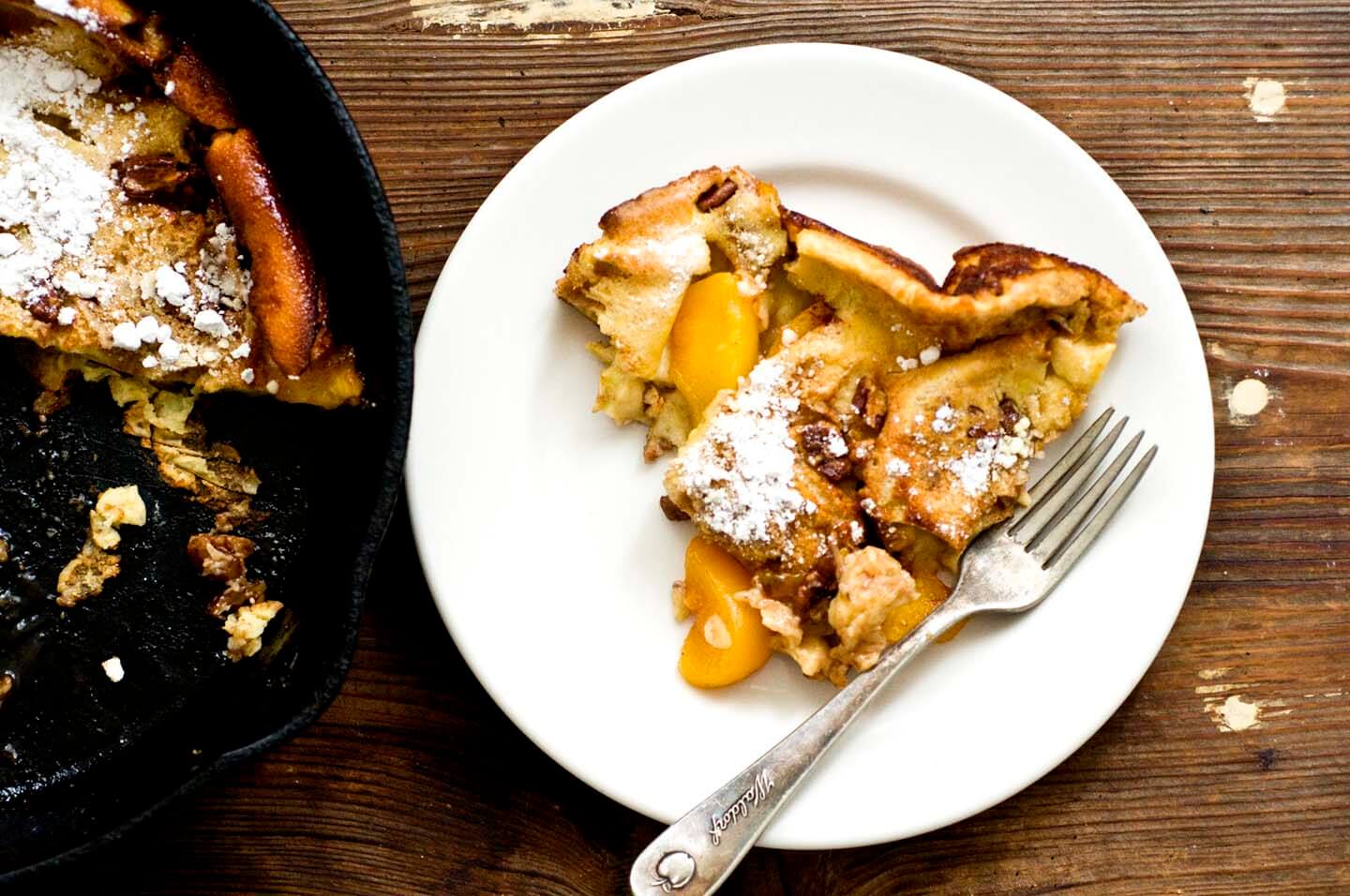 Now, I know you might take some convincing to cook this time of year, but if you have a hankering for something warm, this peach Dutch baby is a treat. It takes little time to make—from whipping up the batter to baking it in the oven. Not to mention, it's easy enough for a quick family breakfast, but elegant enough to share with esteemed guests, too. As for taste, it's like a cross between baked French toast and peach cobbler. As a matter of fact, while it's meant to be a breakfast dish, it's sweet and rewarding enough that it would make for a fine dessert as well.
Peach Dutch baby
Ingredients
4

large eggs

1

cup

whole milk

1

cup

all-purpose flour

1

teaspoon

vanilla extract

4

tablespoons

granulated sugar

1/2

teaspoon

kosher salt

1

teaspoon

ground cinnamon

Pinch

ground nutmeg

1

teaspoon

lime zest

1/4

cup

chopped pecans, optional

3

ripe peaches or 8 ounces frozen peach slices, thawed

4

tablespoons

unsalted butter

Freshly squeezed lime juice, for serving

Confectioners' sugar, for serving
Instructions
Preheat the oven to 425°F. In a blender add the eggs, milk, flour, vanilla, sugar, salt, cinnamon, and nutmeg and mix until a smooth batter is formed. Stir in the lime zest and pecans, if using.

To peel the peaches, bring a pot of water to a boil. Cut an X at the top and the base of the fruit and then boil the peaches for 1 minute. Remove the peaches with a slotted spoon from the water and transfer to a bowl filled with ice water to stop them from cooking. Once cool enough to handle, gently rub off the skins. Cut into 1/4-inch thick slices, discarding the pits.

In a large ovenproof skillet, melt the butter on low heat. Add the peaches to the skillet. Pour the batter over the peaches. Bake uncovered in the oven for 20-25 minutes or until the Dutch baby is lightly browned and puffy.

Sprinkle with lime juice and confectioners' sugar and serve immediately. Note that it will deflate a bit soon after it comes out of the oven but it will be no less delicious.