Raise your hand if you span haven't made no-knead bread yet. Yep, that's what I thought—I'm the only one in the world who spanhasn't/span baked this miracle of yeast, flour and water. Heck, my mom, the person who taught me how to knead at a very young age, even span style="font-style: italic;"she/span now bakes it. That's my loss, I suppose, because having had the pleasure of eating it I do find it quite delicious. But Sunday I wanted a loaf of fresh-from-the-oven bread and just couldn't wait overnight for the dough to work its magic: this meant I'd have to bake bread the old-fashioned way—by kneading.
I grew up with homemade bread and mom always had a jar filled with sourdough starter living the in the fridge. Though she didn't just make sourdough bread—she also made cinnamon-raisin bread, dark whole-wheat bread, dinner rolls, saffron rolls, hot-cross buns, and a multitude of other baked goods that involved yeast, kneading and patience. When I was young I hated being the only kid with a sandwich on homemade bread, but over time I grew to love that toasty, yeasty smell that filled the house as a loaf baked, and the way butter just tasted better on a soft slice of bread straight out of the oven.
When I graduated from college and realized I'd have to cook for myself otherwise I'd go broke, bread baking became one of my passions. The first loaf I ever baked was a French baguette from span style="font-style: italic;"The Joy of Cooking/span. It wasn't very crispy and the crumb was a bit dense but it didn't matter, I was hooked. I started spending my weekends experimenting with all sorts of different breads—one in particular that was a big hit with my friends was an olive-rosemary recipe I found in span The New Basics Cookbook.
Now that I'm older, I don't bake bread as often as I'd like—but last Sunday was a lazy day perfect for reading and waiting as my bread dough rose. Laurie Colwin has an amusing chapter about bread baking called "Bread Baking Without Agony" in her book span style="font-style: italic;"Home Cooking/span. As she recounts the first time she baked bread with a friend, she expresses frustration with all the time involved for just one loaf. She writes: "The result was a perfectly nice loaf of bread, but after spending an entire day in its service, I expected something a little more heroic." She has a point—there is a lot of downtime when baking bread, but on certain days I don't mind being abiding as the yeast does it work. I find it peaceful that so much is happening without my exerting too much energy—save for the mixing and the kneading.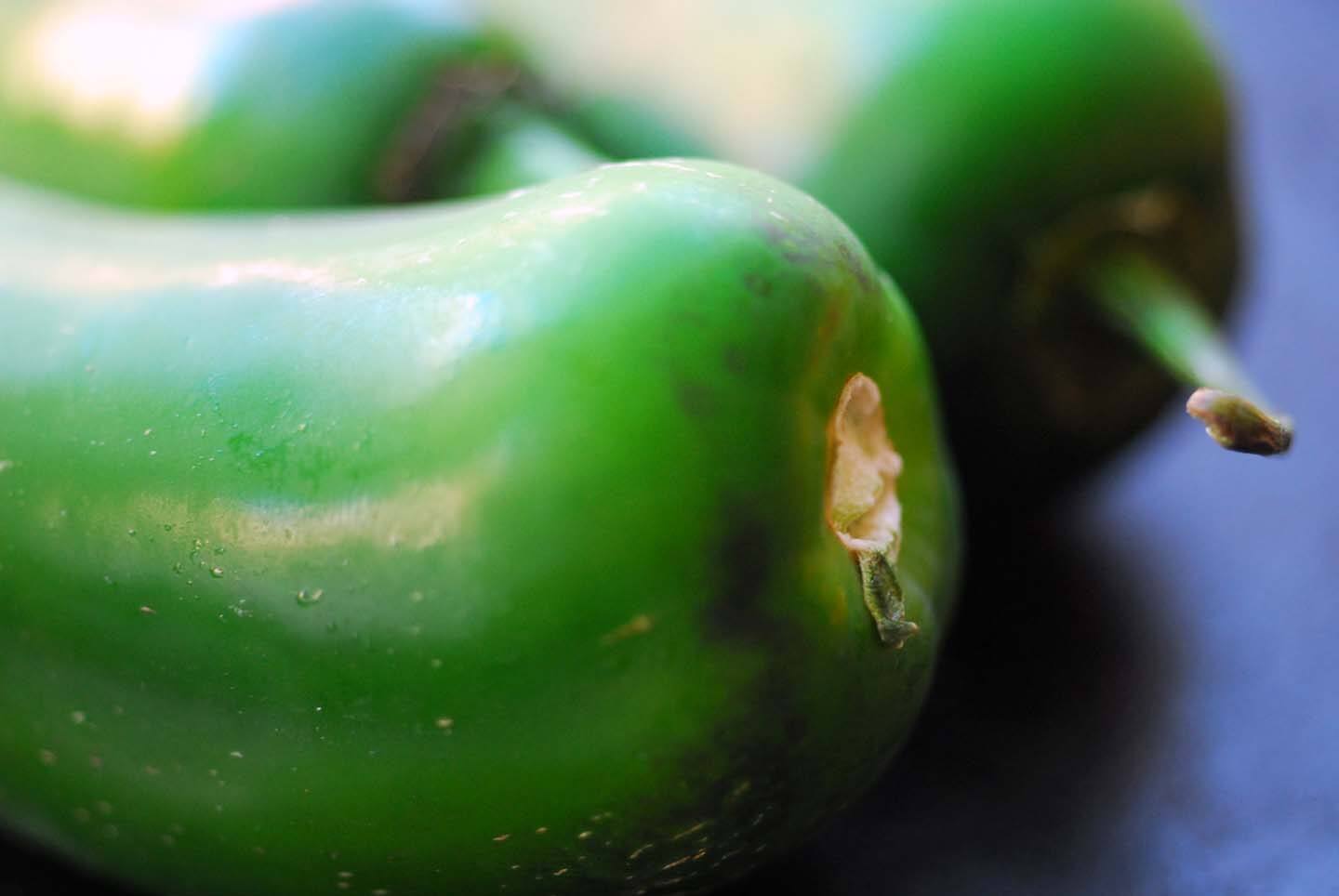 I guess that's been my reluctance toward no-knead bread: I like to knead. Bread baking can be so non-eventful that if I didn't knead, I probably wouldn't feel like I'd contributed much to the process. Not to mention the excellent upper-body workout kneading gives you.
Jalapenos are at their peak right now and after picking up a whole mess of them at the farmers' market, I was searching for ways to use them beyond salsa. I then remembered a delectable bread that can be found at Goode Co. Barbecue in Houston, Texas. Most barbecue places in the state will serve you a standard couple of slices of Mrs. Baird's white bread with your pile of smoked meat. This malleable bread is excellent for wrapping around a hot link or two to form an impromptu sandwich. But Goode Co. takes its bread to a whole new level—they make theirs in-house and it's laced with jalapenos and cheese. Barbecue purists may sniff at Goode Co.'s offering; they might say it's just too fancy-pants for real barbecue. Perhaps. But it sure is tasty.
After looking through the Houston Chronicle archives, I found a recipe for this bread that had been written by none other than Sheila Lukins, author of The New Basics Cookbook, home of that olive-rosemary loaf that made me so popular at dinner parties back in the day. I read through her recipe and while it looked good enough, I made some adjustments.
Where she called for a quarter cup of sliced jalapenos, I used a whole cup. Where she recommended white cheddar cheese, I used Longhorn. And I did some other fiddling, such as using buttermilk instead of regular milk, adjusting the flour quantities and skipping some of her overly detailed directions. I was a little worried that the recipe might not turn out OK, but it actually exceeded my expectations—this was a moist, spicy and cheesy loaf—the only things missing were some hot links and brisket.
Now that I can turn on my oven without stripping down to my skivvies, I'll be baking bread more often. And since I'm back in bread-making mode, I reckon I'll finally try no-knead bread as well. But for now, I'm happy with this jalapeno-cheese loaf, my first bread of the season.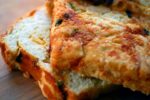 Jalapeño cheese bread
Ingredients
1

packet yeast (2 1/4 teaspoons)

1/4

cup

warm water

4

tablespoons

unsalted butter, melted

1

large egg

2 1/2

cups

bread or all-purpose flour, plus more if needed

1

cup

semolina flour

5

jalapenos, seeded and diced

2

cups

(8 ounces) sharp cheddar cheese, grated

1

cup

buttermilk

1

teaspoon

sugar

1

teaspoon

kosher salt
Instructions
Mix together the yeast and water. Mix together the melted butter, egg and buttermilk and add to yeast and water. Add the salt, sugar and bread flour to the liquids and mix well. Then add the semolina flour to the dough and mix well. If the dough is too wet, gradually add more bread flour 1/4 cup at a time.




Place dough on a floured surface and knead for five to ten minutes until dough is smooth. Form dough into a ball and place into a bowl greased with butter. Cover the bowl, and let rise in a warm place until doubled in size—about an hour.




Turn out dough on a floured surface, and slowly knead into the dough the jalapenos and cheese, a little bit at a time. When cheese and jalapenos are incorporated into the dough, place dough into a greased bread loaf pan. You can also sprinkle semolina in the bread pan for additional friction.




Cover the pan and let dough rise until doubled in size (it should be at the top or a bit over the top of the pan)—about an hour. Preheat oven to 350 °F. Bake the bread for 40-45 minutes on a center rack (when you thump the top and it sounds hollow, the bread is done).




Let cool for 10 minutes, and then slide it out of the pan, slice and enjoy!



Recipe Notes
If you can't find semolina flour, you can substitute bread or all-purpose flour and the recipe will be fine.