I went apple picking in Connecticut with my mom last weekend. It wasn't the first time I'd picked apples—we have apple trees at the family farm and every August they need to be harvested. (Though this year, some creature ate all the apples so there weren't any for us to eat.) But it was the first time I'd been apple picking in New England.
When we arrived at the farm, I was struck by how the air was fragrant with apples, made prominent by the recent rains. My mom said, "I wish there was a way to photograph this smell so I could keep it with me forever."
And everyone was so happy! The orchards were filled with teenagers, young families, grandparents and little kids, with nary a frown to be found. While ostensibly, apple picking could be construed as work, it's definitely joyful work. Is it because apples are so round and cute? Or is it because apples are the hallmark of a new season? I don't know, but having pulled vegetables out of the ground and plucked apples from trees, I can attest from personal experience that apple picking is definitely the superior farm task.


My mom was in Connecticut for a job interview. This is a very important job that I hope she gets, but at the same time I have mixed feelings about it as it would mean she would have to move away from Texas. And as my brother and dad have moved away from Texas, too, I told her that I just might have to move back home so someone in our immediate family would still live there. Of course, this would be highly ironic since if she does move to Connecticut she will only be a train ride away. She wasn't pleased with this bit of information.

When you live in New York City, you have very limited storage space. My mom has been gracious enough to store both a large trunk filled with all sorts of grade-school mementoes (photos, yearbooks and old papers) and my library of children's books ever since I moved out the house many, many years ago. But she told me this weekend that if she got the job that I'd have to reclaim these items as she would probably downsize. I was speechless—where would I put all this stuff?
As you can probably gather, I'm going through a bit of a crisis by her possible move. OK, so it's not really a serious crisis—I just have issues with change, even if it's for the best. But no matter, I needed some solace from all this news.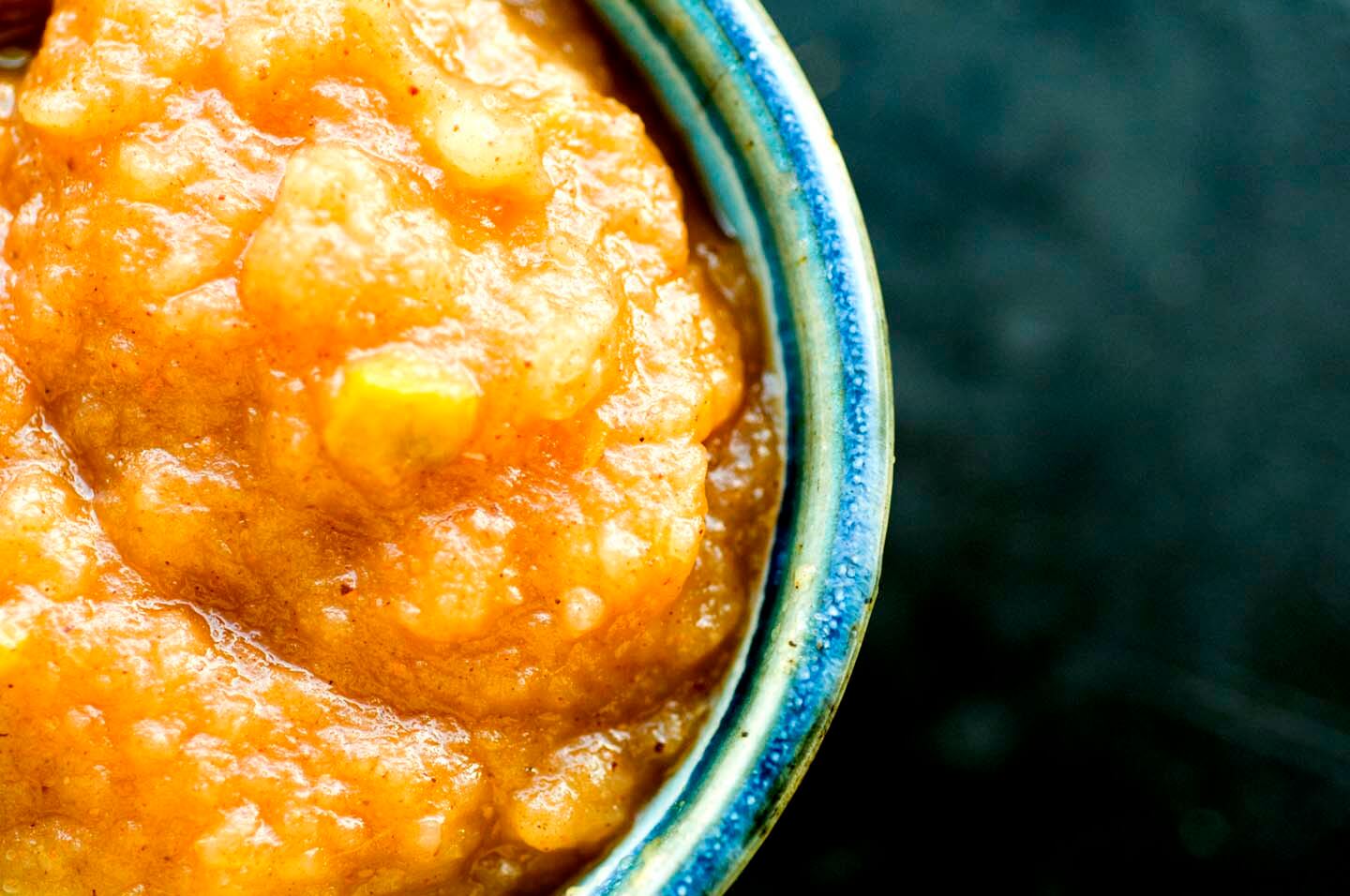 If my mom moves to Connecticut, one of the books I will be reintroducing into my library is an old childhood favorite, "Rain Makes Applesauce." But despite my love for this book, for some reason I'd never made applesauce.
When I returned home, I took a few of my apples and threw them in a pot with some spices, ancho chile powder and lemon zest. For a first-time attempt, it was pretty darn good. And while I'm a bit anxious not knowing how this Connecticut story will end, at least as I ate my applesauce I felt content and warm.
You can serve the applesauce as a side dish or as a condiment. (It's terrific on pancakes). And this spicy applesauce cake would work well with it, too.
Ancho chile applesauce
Ingredients
1 1/2

pounds

red baking apples, about 4, peeled, cored, and diced

1

teaspoon

ancho chile powder

1

teaspoon

ground cinnamon

1/4

teaspoon

ground nutmeg

1/4

teaspoon

ground cloves

1

teaspoon

lemon zest

1/2

cup

of water

1/4

teaspoon

kosher salt

1/4

teaspoon

vanilla extract

1/2

cup

brown sugar

1/4

cup

white sugar

Pinch

cayenne
Instructions
Place the apples, ancho chile powder, cinnamon, nutmeg, cloves, lemon zest and water in a pot, and cook on medium-low heat, stirring occasionally.

After about half an hour, the apples should be cooked down to almost mush. Stir in the sugars, vanilla, cayenne, and salt and cook on low for 5 minutes. Serve warm or cold. Will keep refrigerated for 1 week.
Notes
If you use really sweet apples, such as Honeycrisp, Fujis or Galas, you might find you don't need as much sugar. I used more-tart Winesap and Liberty apples, which is why I used this amount of sugar.