Recently, I was perusing my photocopies of old family recipes in search of inspiration. I was hoping to find a casserole since it's officially turn-on-the-oven weather, but instead I came across something even better: a delightful dessert called wacky cake.
I remember when my grandmother had given me that recipe. We had spent the afternoon in her dining room at the farm with boxes and books of her recipe cards strewn about the table. With each recipe she saw, a story followed—both long and short. And when she found this one, she was thrilled as she had forgotten about it. "Oh, wacky cake!" she said. "I used to make this with your mom and uncles. This is the best cake. It's a keeper!"
Wacky cake is so named because if you look at the recipe you'll scratch your head when confronted by the absence of eggs, butter, and milk. (At least that is my theory, if you have a better explanation, please, by all means share!)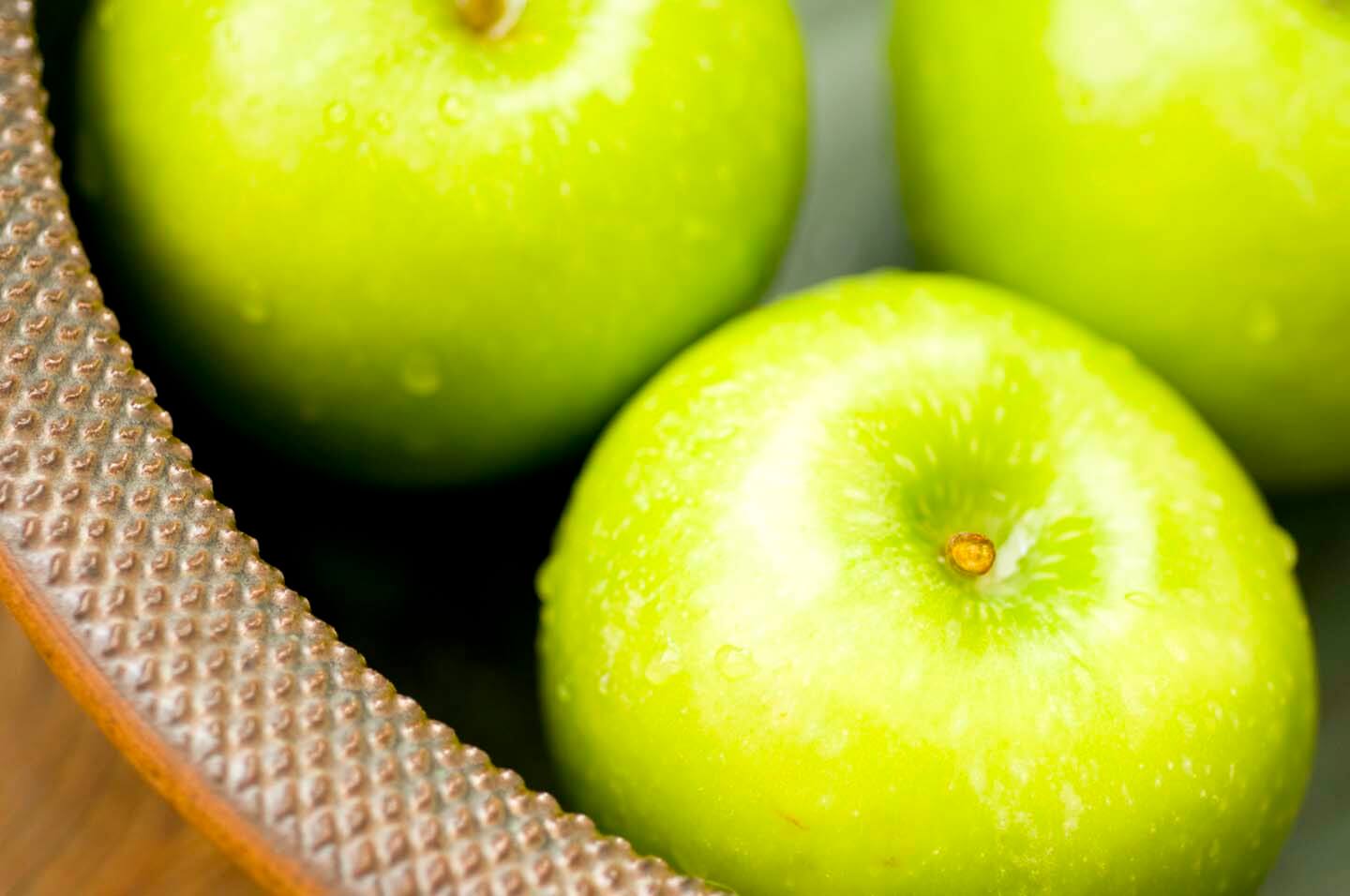 Likewise, the method of mixing is surprisingly simple: you just throw all the dry ingredients together in the baking pan and then make three holes to add the remaining liquid ingredients. The reaction of the vinegar with the baking soda makes the batter bubble and froth and provides all the leavening this cake needs.
Some say the recipe came about in the Great Depression, while others contend it came about during World War II, but no matter—this recipe is made for tight times with its lack of expensive ingredients. And yet it's also vegan, which makes it appealing for those who prefer to avoid or cannot consume dairy.
I was dubious about how the cake would taste, but this is a rich cake,  spongy and soft. The original recipe called for cocoa, but I thought it would be interesting to make a wacky apple cake. This was also moist with a hint of spice and the crunch of nuts. And in keeping with the simplicity of the recipe, I decided to forgo icing it and instead just sprinkled the top with powdered sugar.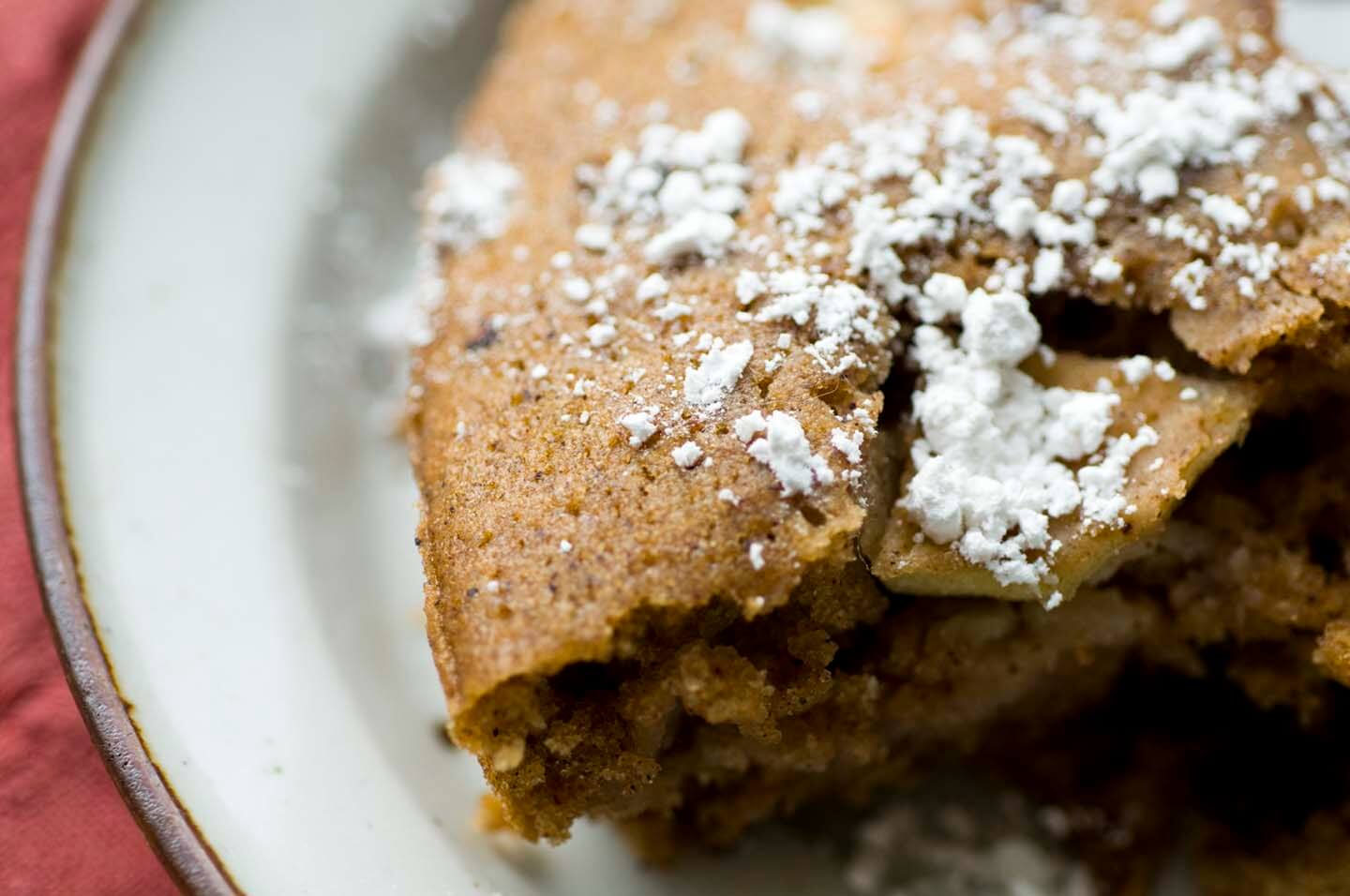 Because of both its ease of use and its science-experiment nature, this is a terrific recipe to make with kids. My grandmother recalled making it with my uncle Austin when he was a boy (though he almost put in a cup of baking soda once instead of a teaspoon, which could have been very interesting!) It works well as a quick evening dessert, and a warm slice goes well with a cup of coffee on a chilly fall morning.
I'm glad I now know about wacky cake, which—if you think about it—isn't very wacky at all!
Apple wacky cake
Ingredients
1 1/2

cups

all-purpose flour

1

cup

granulated sugar

1

teaspoon

baking soda

1

teaspoon

ground cinnamon

¼

teaspoon

ground nutmeg

1/2

teaspoon

kosher salt

1

tablespoon

apple cider vinegar

1

teaspoon

vanilla extract

5

tablespoons

canola oil

1

cup

cold water

1

cup

diced Granny Smith apples, peeled and cored

1/2

cup

chopped pecans

Powdered sugar, for serving
Instructions
Preheat the oven to 350°F.

Combine the flour, sugar, baking soda, cinnamon, nutmeg, and salt in a an un-greased 8×8 square or a 9-inch round baking pan. You can also use a 9-inch cast-iron skillet.

Poke 3 holes into the flour mixture. In the first hole, pour the vinegar. In the second hole, pour the vanilla. In the third hole, pour the oil.

Pour the water into the pan and stir the batter until well blended. Stir in the apples and pecans.

Place in the oven and bake for 45 minutes or until an inserted knife comes out clean. Sprinkle the top with powdered sugar before serving.