Creamy chipotle shrimp with mushrooms and wild rice
"It's time to be good," said the menu, which was showcasing a special section of seafood dishes. It was carnitas that had lured me to this West Texan Mexican restaurant but I'm always a fool for good seafood, especially Texan seafood. A plate of chipotle shrimp seemed especially promising, but when I placed my order the waiter told me the special seafood menu was available only on Fridays. "It's for cuaresma," he explained, which means Lent in Spanish. As it was Tuesday, I stuck with my original plan of carnitas instead.
On Fridays during Lent, Catholics and many Protestants don't eat meat, hence special Friday menus offering seafood at places where it's not usually served. Now Lent is known as a time of abstention, repentance and reflection. But despite the serious mood I find there's much to be joyful about during this season, namely the food.
Sure, I enjoy meat but I'll take any excuse to eat more Texan seafood, which is widely on offer during Lent. For instance, on Fridays you'll find many churches holding fish fries. Of course, churches in other parts of the country have Friday fish fries, but in Texas they're frying up catfish instead of say, cod. Then there are those who have their Friday crawfish boils, as crawfish just happen to be in season during the spring. And how convenient is that?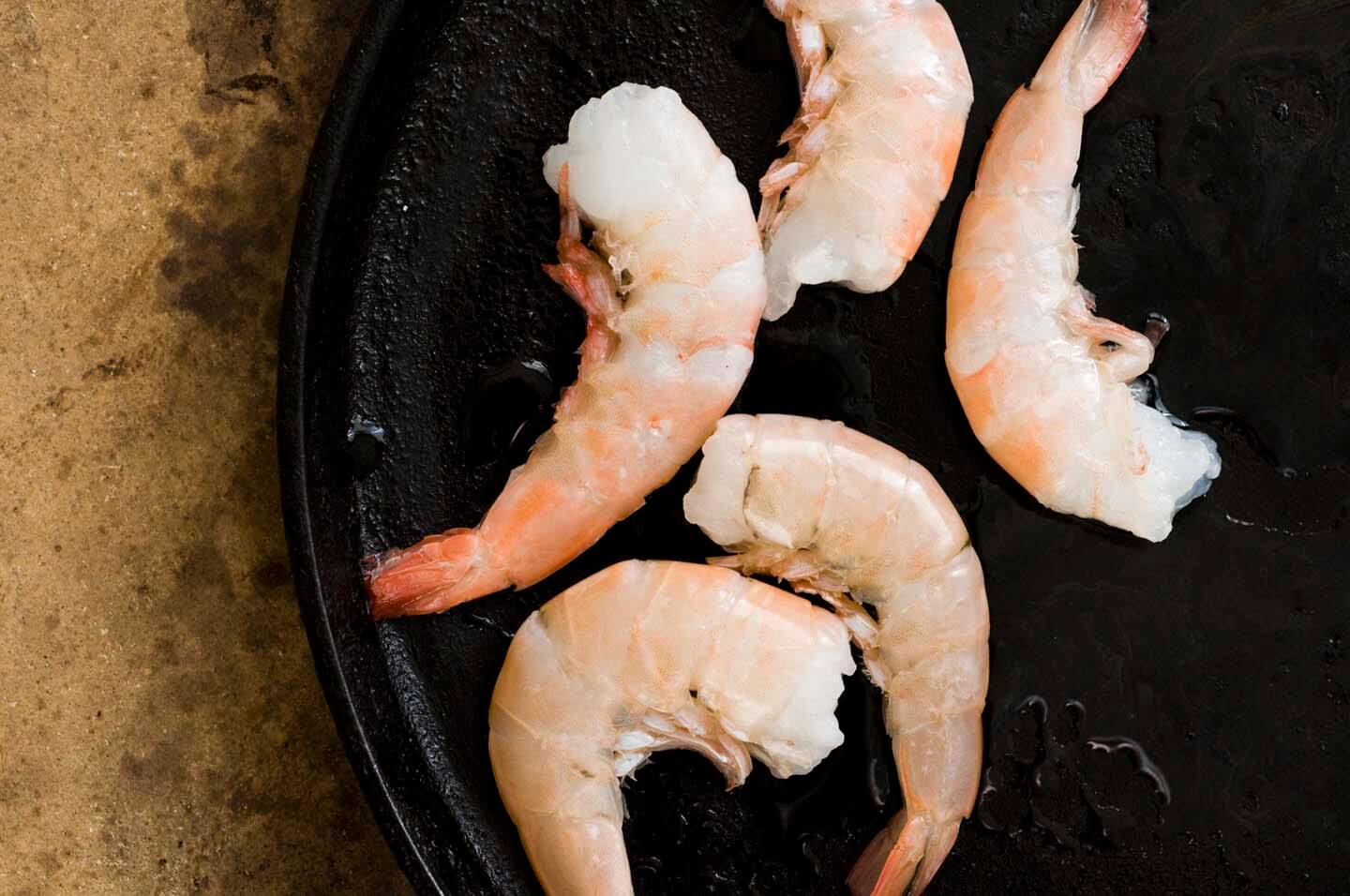 But as fun as a Friday fish fry or crawfish boil may be, my favorite Texan Lenten tradition is the aforementioned cuaresma menu found at Mexican and Tex-Mex restaurants. On offer you'll find Veracruz-style fish, shrimp quesadillas and the excellent Mexican bread pudding known as capirotada for dessert. And of course, you'll also find chipotle shrimp like I saw in West Texas but was unable to order that day.

As it goes, you want what you can't have and that shrimp had a powerful hold on me. When I returned to New York I was still thinking about it and had many questions: How was it prepared? Was the sauce tomato based or cream based? Were the shrimp griddled or grilled? Was it was served over rice or simply on its own? I was starting to drive myself nuts thinking about it, so I decided the best thing would be to make my own version. And that's just what I did.
There's a shrimp and wild rice casserole that makes an appearance in several of my Texan Junior League cookbooks. Using that as an inspiration, I whipped up a simple chipotle cream sauce in the blender and then poured it over a generous pile of wild rice that had been tossed with sautéed mushrooms and shrimp. The nutty wild rice was a solid background to the sweet shrimp and meaty mushrooms, while the spicy cream sauce did a fine job of holding it all together. I was pleased.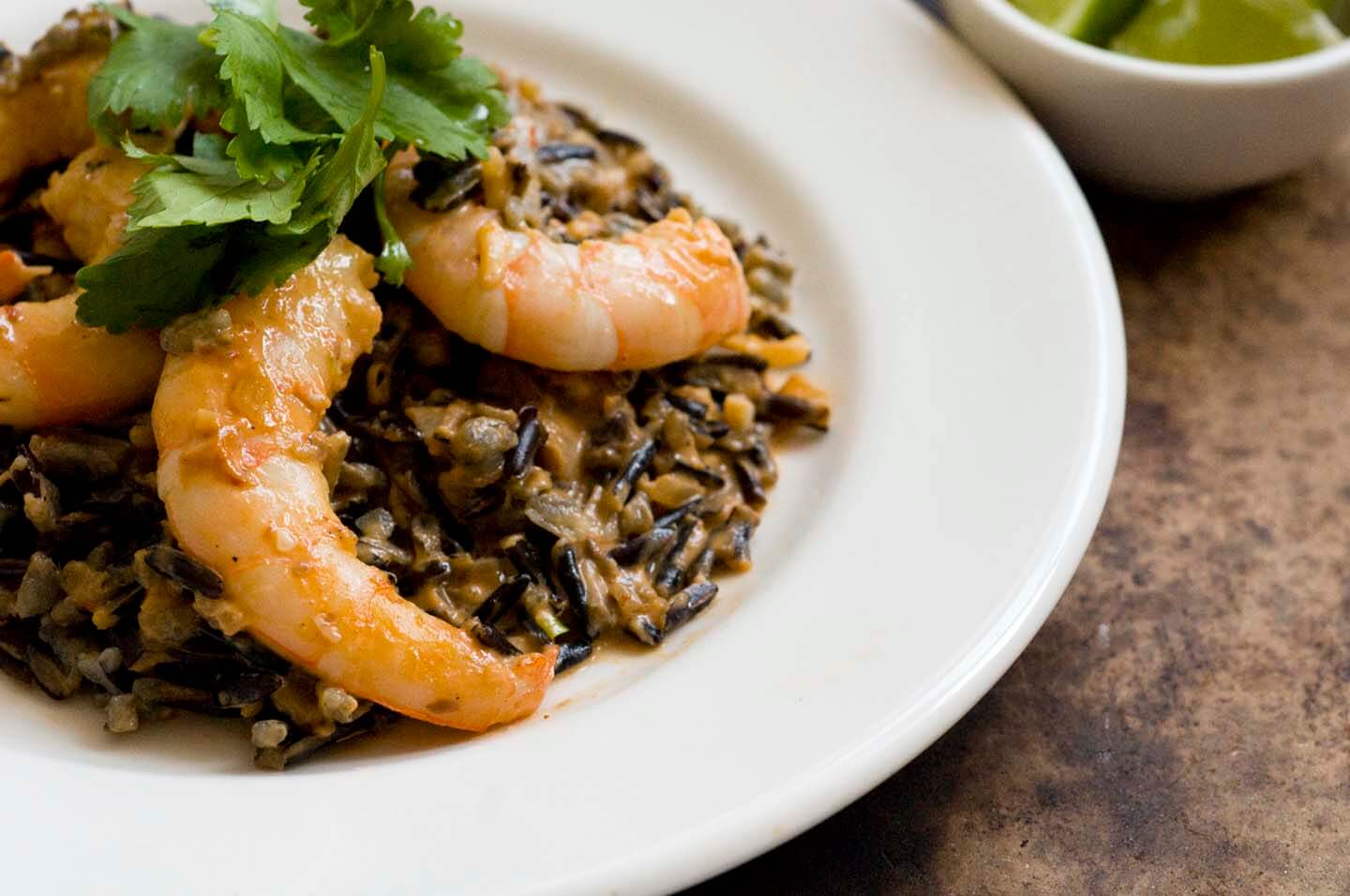 Was this version of chipotle shrimp what they were serving in West Texas that day? Probably not, but I do hope to return before Easter this year since there are many other cuaresma seafood dishes that merit exploration as well. As for you, even if you're not observing Lent, I'm pretty sure that if you like shrimp, chipotle chiles and wild rice, you'll find this dish simple yet fulfilling.
Creamy chipotle shrimp with mushrooms and wild rice
Ingredients
1

cup

half-and-half

1/4

cup

sour cream or Greek-style yogurt

1

canned chipotle chile in adobo

1/2

teaspoon

ground cumin

1/2

teaspoon

oregano

1/4

teaspoon

ground allspice

Pinch

cayenne

2

tablespoons

butter, divided

8

ounces

mushrooms, thinly sliced

1/2

medium yellow onion, diced

Salt to taste

2

cloves

garlic, minced

1

teaspoon

lime juice

1

pound

medium shrimp, 36-40 count, peeled and deveined

1

tablespoon

freshly squeezed lime juice

1/4

cup

chopped cilantro

3

cups

cooked wild rice (see note)
Instructions
To make the chipotle cream sauce, in a blender add the half-and-half, sour cream, canned chipotle chile, ground cumin, oregano, ground allspice and cayenne. Blend until smooth and light pink.

In a large skillet, on medium-low heat melt one tablespoon of butter. Add the mushrooms and the onions, and sprinkle with a pinch of salt. While occasionally stirring, cook until onions are translucent and mushrooms have released are soft and released some of their liquid, about 5 minutes. Add the garlic and cook for 30 more seconds.

Remove mushrooms, onions and garlic from the skillet with a slotted spoon and place in a bowl.

Leaving the skillet on medium-low heat, add the remaining tablespoon of butter and lime juice to the skillet. Add the shrimp and cook for a few minutes on each side until the shrimp is pink. Turn off the heat.

Return to the skillet the mushrooms, onions and garlic. Pour in the chipotle cream sauce and add the cilantro. Stir well to combine. Taste and adjust seasonings, adding more salt to taste.

Serve over warm cooked wild rice.
Notes
Cook the wild rice according to its package directions or your preferred method. If you've never cooked it before, here's what I do: I use a 4-to-1 ratio of water to wild rice, along with a tablespoon of butter and salt. I bring it to a boil uncovered, then cover the pot and let it simmer for about 50 minutes to an hour or until many of the kernels have popped and turned white, and it's slightly soft enough to eat but still a little chewy. At this point, there may still be water in the pot. I turn up the heat a bit and let it cook uncovered until all the water is gone, occasionally stirring. You can make the wild rice ahead of time and then reheat in a microwave or by bringing it to room temperature and stirring it in the warm shrimp and sauce.