Chocolate-cherry scones with cinnamon-orange butter
Sometimes you get a craving. For me, it was a slice of chocolate-cherry bread, that sweet yeasty loaf from Central Market riddled with chunks of bittersweet chocolate and tart, juicy berries. When I lived in Austin, it was a favorite of mine and while I've had other chocolate breads since, there's something about their version that's uniquely addictive.
It was summer and fortunately a trip to Houston was planned. When I arrived, I immediately visited Central Market so I could reacquaint myself with this long-favored bread. Now, it had been a while since I had bought a loaf, but I was surprised when I went to the bread department and couldn't find it. I asked the baker about its whereabouts and he said, "Come back tomorrow—we should have it then."
The next day, I returned to the store and went to the bakery. Again, I didn't see the bread. I asked the baker about it and he repeated what he had told me the day before. "Come back tomorrow—we'll definitely have it then."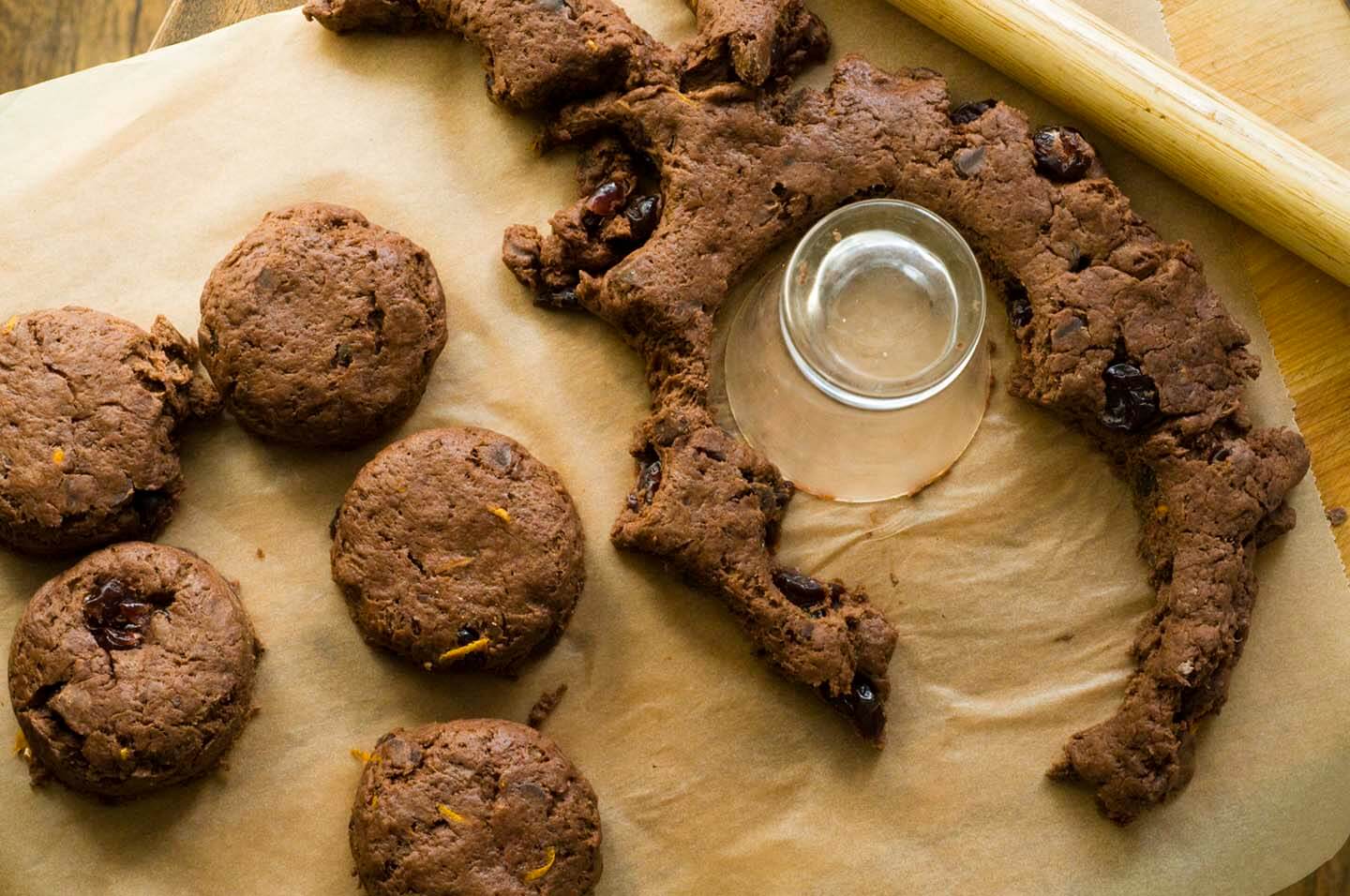 I was scheduled to return to New York the next day, but before I left, I dropped by the store one last time to see if they had the chocolate-cherry bread. And sadly, it wasn't there. A different baker was working and I asked him why they didn't have it. He told me that it was a special bread only sold around Christmas and Valentine's and if I wanted a loaf I should return during those holidays.

This was news to me. When I lived in Austin it seemed they always had it on offer along with free samples that helped foster my affection for it. Unfortunately, I wasn't able to go home for Christmas this year, so I attempted to recreate what I remembered about the bread back in New York City.
Making chocolate yeast bread seemed simple in theory, yet after trying several recipes none of them had the deep chocolate flavor I remember from the Central Market loaf. It was frustrating. But while making a batch of biscuits, I had an idea. I threw in some cocoa powder, bumped up the sugar, stirred in some chocolate and dried sour cherries just to see what would happen. And the resulting chocolate-cherry biscuits, or scones if you prefer, were extremely satisfying.
The scones were tender yet rich, warm with chocolate and bright with cherries. Finished with a sprinkle of raw sugar for crunch, these scones might not have been the exact bread that I remembered but they were just what I wanted.
Now, I will admit that these are a bit decadent as an everyday food, but they're perfect for special winter mornings, especially when slathered with cinnamon-orange butter. (Chocolate gravy would also be good.) And if you're looking for a special way to show someone you love them, I can't think of a better way than starting their day with a plate of chocolate-cherry scones, warm from the oven.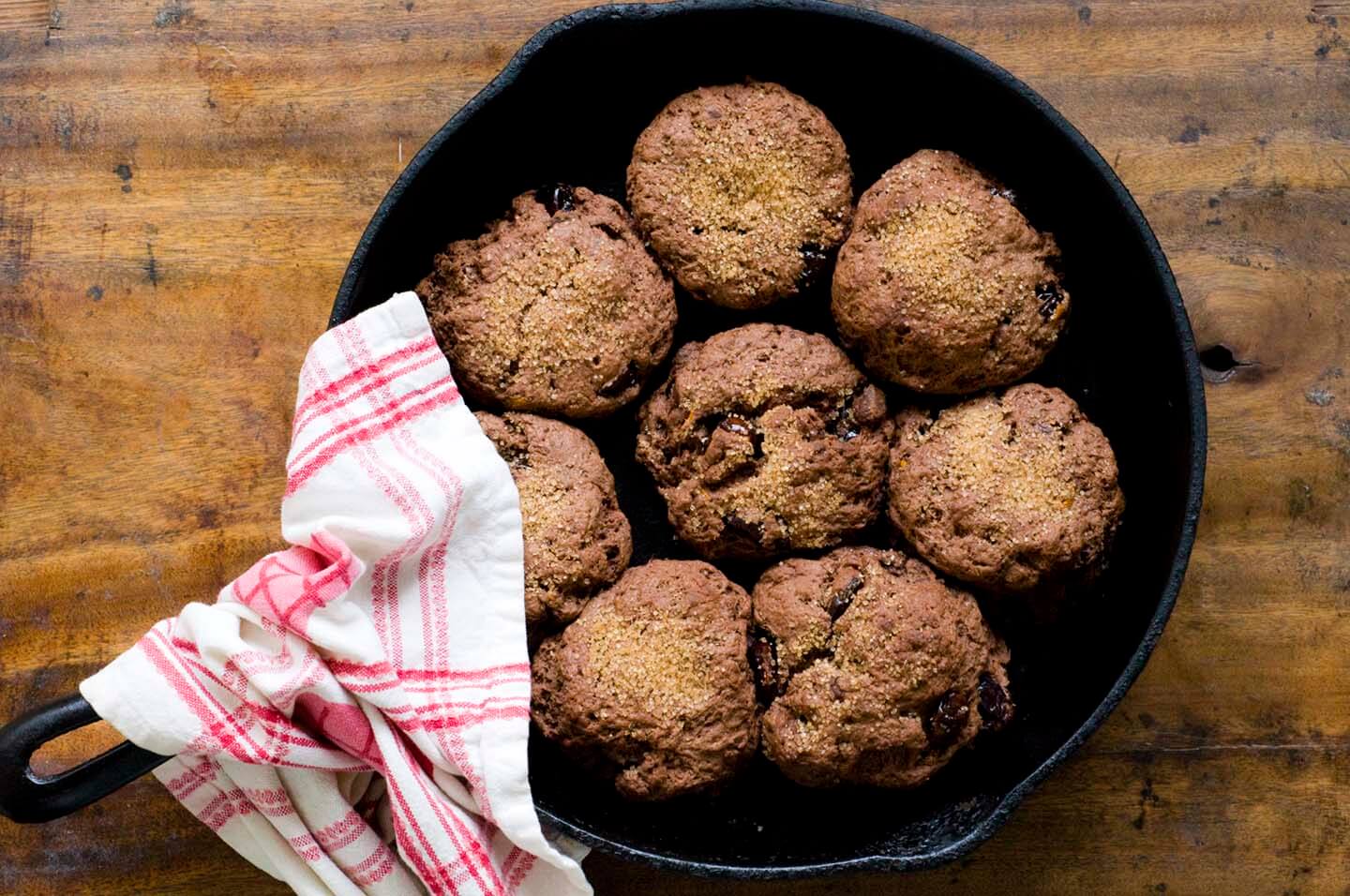 My work has me visiting Texas on Valentine's Day this year, so perhaps I'll finally get to eat the chocolate cherry bread that I remember. But if for some reason I still can't find it, I'm fine as these chocolate cherry scones may be a bit different, but they are just as good.
Chocolate-cherry scones with cinnamon-orange butter
Ingredients
Ingredients for the chocolate cherry scones:
2

cups

all-purpose flour

1/3

cup

cocoa powder

1

tablespoon

baking powder

1/3

cup

granulated sugar

1/2

teaspoon

kosher salt

1/2

teaspoon

ground cinnamon

8

tablespoons

1 stick well-chilled butter, cut into pieces

3/4

cup

semi-sweet chocolate chips

3/4

cup

dried cherries

1

tablespoon

orange zest

3/4

cup

half-and-half

1/2

teaspoon

vanilla extract

Raw sugar and powdered sugar for sprinkling
Ingredients for the cinnamon-orange butter:
8

tablespoons

1 stick unsalted butter, softened

1/2

teaspoon

ground cinnamon

1

tablespoon

orange zest

2

teaspoons

brown sugar
Instructions
Preheat the oven to 425° F and grease a baking sheet or a 10-inch cast-iron skillet.

Mix together the flour, cocoa powder, baking powder, sugar, salt and cinnamon. Cut the stick of butter into pieces, and work into the flour mixture with your hands or a pastry blender until it resembles pea-sized crumbs.

Stir in the chocolate chips, dried cherries and orange zest. Pour in the half-and-half and vanilla extract and mix until a shaggy dough is formed. The dough should be slightly sticky but manageable.

For neater scones, roll the dough out on a non-stick surface until it's 1/4-inch thick and fold over. Using a cutter, (can use a glass or a cup if don't have a biscuit cutter) cut out the scones from the dough. Roll out remaining scraps and repeat the process. Alternatively, you can simply spoon hand-sized balls of dough onto the greased sheet or skillet.

Sprinkle the tops with the raw sugar and bake until lightly brown, about 15 minutes or until the edges are firm and an inserted toothpick comes out clean. While the scones are baking, make the cinnamon-orange butter by stirring together the butter, cinnamon orange zest and brown sugar until well combined. When scones are done, serve warm with the cinnamon orange butter.