When I was young, meals would often be finished with a cold and creamy frozen fruit dessert that I knew as "sherbert." My great-grandmother called it that and even in her recipe cards and letters, when mentioning this simple yet satisfying bowl, she spelled it as such. It wasn't until I was an adult that I learned that there is no extra r. Its proper spelling is sherbet.
Now, pureed fruit blended with sugar and frozen is called sorbet. This I always knew. But for some reason, until I was doing research a few years ago, I didn't realize there was a connection between sorbet and sherbet, which is the abundance of fruit.
That said, sorbet has no dairy while sherbet's sweetened fruit puree is also mixed with milk or cream before freezing. In Texas, you'll also find sherbets prepared with sour buttermilk, which makes it especially refreshing.
The sherbet that my family served was usually citrus-based, such as orange, which is pretty common. Though pineapple sherbet is also a Texan classic, typically served at the end of a hearty Tex-Mex meal.
It wasn't until I was an adult that I had my first berry sherbet. It was a blend of blackberries, lemon juice, sugar, and buttermilk, and the combination created a dish filled with a lively sweet depth that was cool and stimulating on the palate.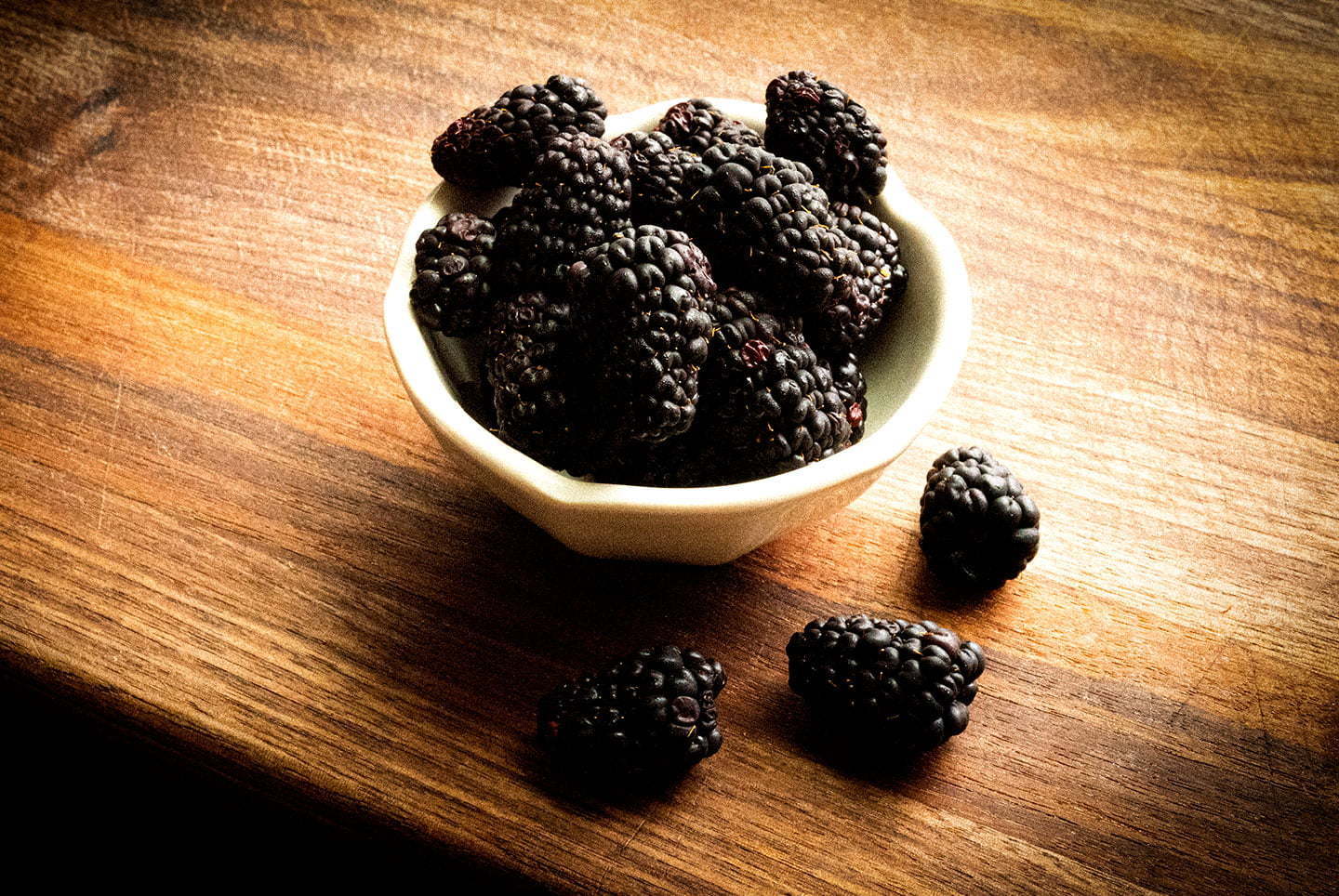 We're entering berry season here in Texas, and while I haven't encountered any dewberries in the wild just yet, I've heard reports they're popping up in the Southern and Central parts of the state and are ripe for harvesting.
For those unfamiliar with dewberries, they are simply wild blackberries. The blackberries we eat were cultivated from dewberries, with the primary difference being dewberries are smaller and usually sweeter.
Unlike blackberries, however, you can't buy dewberries at the store, and picking them in ditches or in creeks can be treacherous with the threat of snakes and thorny brambles. Though after a dewberry foraging session when you have a full bucket and enough to cook a cobbler, you will be thankful for your bravery and hard work.
Much like blackberries, dewberries are also excellent in other desserts besides cobblers. With the temperature rising, I was curious how they'd fare in a frozen dessert, such as a tangy, creamy sherbet. I gave it a try.
While I didn't have dewberries, I did have blackberries. I pureed them with sugar then strained them to remove the knobby seeds. I then blended them with whole milk kefir, a sour beverage that is like thicker, richer buttermilk, and added a bit of heavy cream, too, to ensure it wouldn't be too icy. For flavor, I stirred in cinnamon, vanilla, and lime juice, which all went well with the tart berries.
After churning and freezing the sherbet, I dipped in a spoon and took a bite. Besides its gloriously rich deep color, the dessert was both elegant and invigorating. A lively finish to any meal or a delicious pause to help keep you cool during the heat of the day. My great-grandmother, no matter how she pronounced it, would have approved.
—————
Would you like more Homesick Texan? Well, I've started offering additional recipes for paid subscribers to help with the costs of running the site. While I'm not taking anything away, if you'd like to support Homesick Texan and have access to exclusive, never-seen-before subscriber-only posts, please consider becoming a member; annual subscriptions are as low as $25. Thank you for reading, your consideration, and your support!
—————
Dewberry sherbet
Ingredients
2

cups

fresh or thawed dewberries/ blackberries

1

cup

sugar

1 ½

cups

kefir or buttermilk, preferably whole milk

½

cup

heavy cream

2

teaspoons

vanilla

2

teaspoons

ground cinnamon

1

tablespoon

freshly squeezed lime juice

Pinch

kosher salt
Instructions
Place the berries and sugar into a blender. Allow to sit for 20 minutes to release any juices, then blend on high until pureed.

Into a bowl, press the puree through a finely meshed colander or strainer to get rid of the seeds. Stir into the strained puree the kefir, cream, vanilla, cinnamon, lime juice, and salt. Taste and adjust the spices and sugar if needed.

Chill for 30 minutes then freeze according to your ice-cream manufacturer's instructions. You may serve it immediately, though it will be soft, or freeze for 4 hours to harden.
Notes
If you don't have an ice-cream maker, you can freeze the sherbet base over night, then spoon out the frozen portion and put it into a food processor or blender and pulse until smooth.