One Easter when I was living in New York City, I hosted a brunch for my friends. Since the traditional dessert in my family had been carrot cake, I decided to offer it, as well. Though feeling creative, I thought it would be fun to take the carrot peels and use them for decoration.
The orange strips did indeed add a blast of color, and certainly let my guests know what flavor of cake was underneath the thick layer of white, creamy frosting. Though I will confess their flavor was less than fetching, and as the carrots were not very sweet, the peels I used as garnish tasted like dirt. It was not a success.
It's been a long time since I attempted carrot cake again, and while I probably still have that recipe somewhere (without carrot peels, of course), I began to think of a lighter version. Because the days are warmer, the heaviness of a cream cheese frosting didn't seem too appealing.
Sure, there's tang in the cheese, but I still wanted something that could be enjoyed for breakfast, a snack, or for dessert. I could never have a cream-cheese-frosted slice of cake in the morning as the richness would cause me to fall asleep.
The carrot cake that I grew up eating is what I thought was the classic version of the dish. It's a dark cake seasoned with cinnamon and nutmeg. Brown sugar along with white is used to sweeten the cake, and of course, said carrots are present for both moisture and their natural sweetness.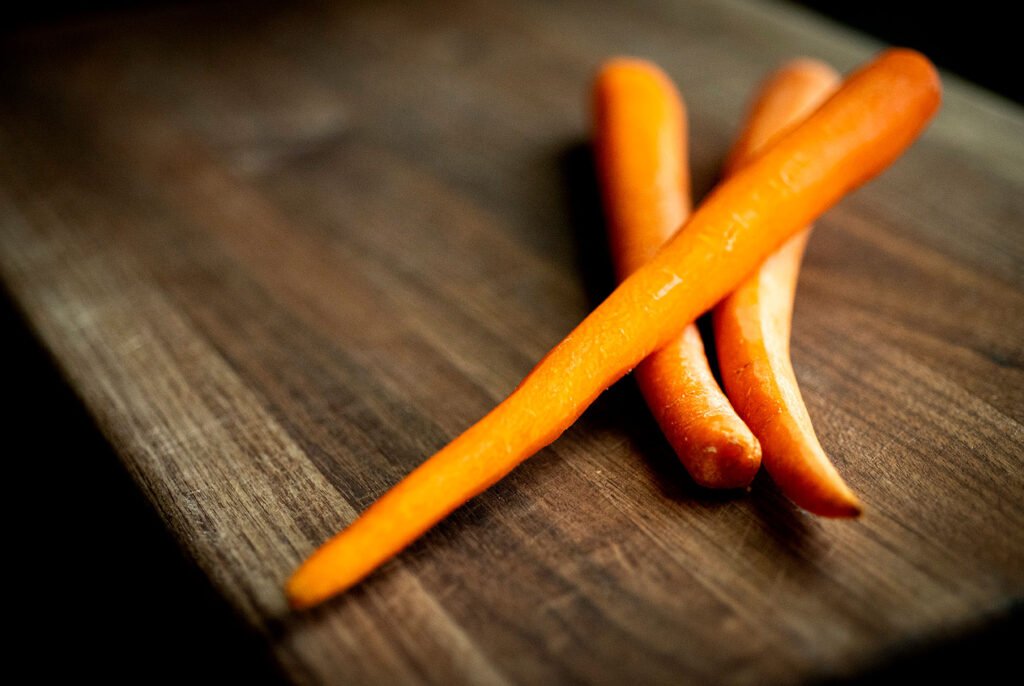 Much like other sweets made with savory fruits and vegetables, such as zucchini muffins and sweet potato pie, carrot cake is a surprise in its flavor if you've never had it before. Indeed, the only hint of carrot is the orange flecks that dot this tender dark crumb.
In researching the origins of carrot cake, I learned that cakes with carrots go back a long time. It was a popular dessert in France and colonial America, too. Now, these early versions didn't use cream cheese frosting. Even in the early 1900s, the cream cheese frosting was still absent but a light dusting of powdered sugar was sprinkled over each slice.
Another common ingredient in these earlier recipes was orange juice. Today's cakes often go with crushed pineapple, I thought that the zesty sweetness of orange citrus would indeed be a fine partner, so I decided to use that, along with some brewed coffee, to bring out more of the warm tones of the cinnamon and nutmeg.
Since I was foregoing the cream cheese, I decided not to use eggs. This would make the cake vegan, which means that it could be accessible to more people. My apple wacky cake was a fine guide to making an eggless carrot cake, and indeed, the final version was light, tender, and moist.
To keep it simple and accessible for all times of the day, I baked my carrot cake in a skillet. This means you could serve it for breakfast or as a snacking cake, as well as a final finish for a grand meal, and it would be appropriate for all events.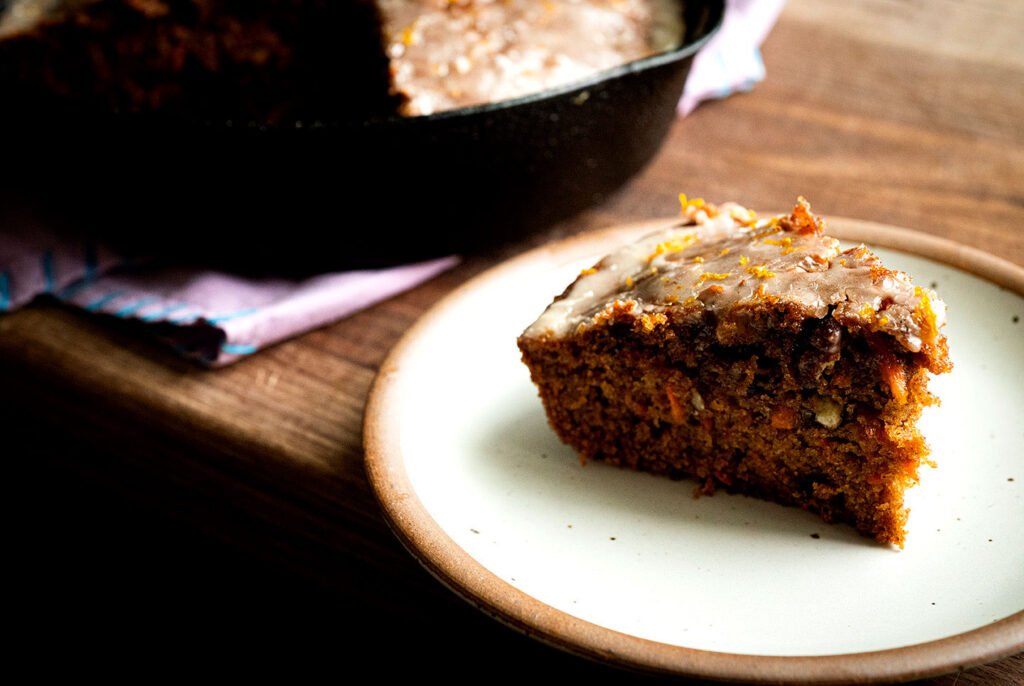 And harkening back to the powdered sugar dusting from earlier recipes, I made a powdered sugar glaze with orange juice and zest. It added just the right amount of sweetness and tang, and the orange zest gave the cake a lovely sparkle.
—————
Would you like more Homesick Texan? Well, I've started offering additional recipes for paid subscribers to help with the costs of running the site. While I'm not taking anything away, if you'd like to support Homesick Texan and have access to exclusive, never-seen-before subscriber-only posts, please consider becoming a member; annual subscriptions are as low as $25. Thank you for reading, your consideration, and your support!
—————
Carrot skillet cake
Ingredients
For the cake:
1 1/2

cups

all-purpose flour

1/2

cup

granulated sugar

½

cup

brown sugar

1

teaspoon

baking soda

1

teaspoon

ground cinnamon

¼

teaspoon

ground nutmeg

1/2

teaspoon

kosher salt

1

tablespoon

apple cider vinegar

1

tablespoon

vanilla extract

5

tablespoons

safflower oil

½

cup

brewed coffee

½

cup

orange juice

1

cup

grated carrot

1/2

cup

chopped pecans
For the frosting:
½

cup

powdered sugar

1

tablespoon

freshly squeezed orange juice

1

tablespoon

fresh orange zest

1/4

teaspoon

ground cinnamon
Instructions
Preheat the oven to 350°F and lightly grease an 8-inch cast-iron skillet or baking dish.

In a large mixing bowl, stir together the flour, sugar, brown sugar, baking soda, cinnamon, nutmeg, and salt until well combined.

Pour into the bowl the vinegar, vanilla, oil, coffee, and orange juice, then stir until everything is well combined and a dark batter is formed. It will be slightly fizzy, and this is good!

Stir in the carrot and pecans, then pour the batter into the prepared skillet or baking dish.

Cook the cake uncovered in the oven for 40-45 minutes or until browned on top and an inserted knife comes out clean.

Meanwhile for the frosting, stir together the powdered sugar, orange juice, orange zest, and cinnamon. After the cake has rested for 10 minutes but is still warm, spread the frosting over the cake.

Serve the cake immediately or at room temperature. It will also keep covered for 3 days.