A friend brought up an interesting point the other day. She said, "Why do Texans refer to all soft drinks as Coke?" And while it's true, I don't have an answer for that. (Do you?) But what's even more puzzling is that Coke isn't even a Texan product—it's from Georgia. Our local soda is >Dr Pepper, born in Waco in 1885 one year before Coca-Cola was conceived.
When Dr Pepper turned 117 years old in 2008, the town of Dublin, Texas had a weeklong celebration. If you're not familiar with Dublin, here's a bit of background. The bottling plant in Dublin at the time was the oldest Dr Pepper bottler in the world.
But what made it even more special is that it's one of the few plants that still bottle Dr Pepper with cane sugar rather than high fructose corn syrup. And yes, it tastes much, much better. In certain circles, drinking a Dublin Dr Pepper is akin to sipping a magical elixir.
Like all precious things, Dublin Dr Pepper was not easy to find back when it was in production. Before they lost their charter to bottle it, however, it was legend, with demand outstripping supply. Enter bootleggers and a black market. People went to great lengths to satisfy their thirst. After the Dublin plant lost their charter, the parent company, Cadbury Schweppes, began bottling its own version of cane-sugar Dr Pepper, and it became more widely available.
Now besides drinking cane-sugar Dr Pepper, people have also been known to cook with it, too. Using soft drinks in dishes is nothing new to Southerners as recipes for Coca-Cola cake, 7Up punch. salads, and Dr Pepper barbecue sauce abound. Heck, even on the Cadbury Schweppes web site there's a book called, naturally, Cooking With Dr Pepper and 7Up. Most of the recipes are for cakes, sauces, and marinades, but one jumped out at me: Dr Pepper peanut brittle.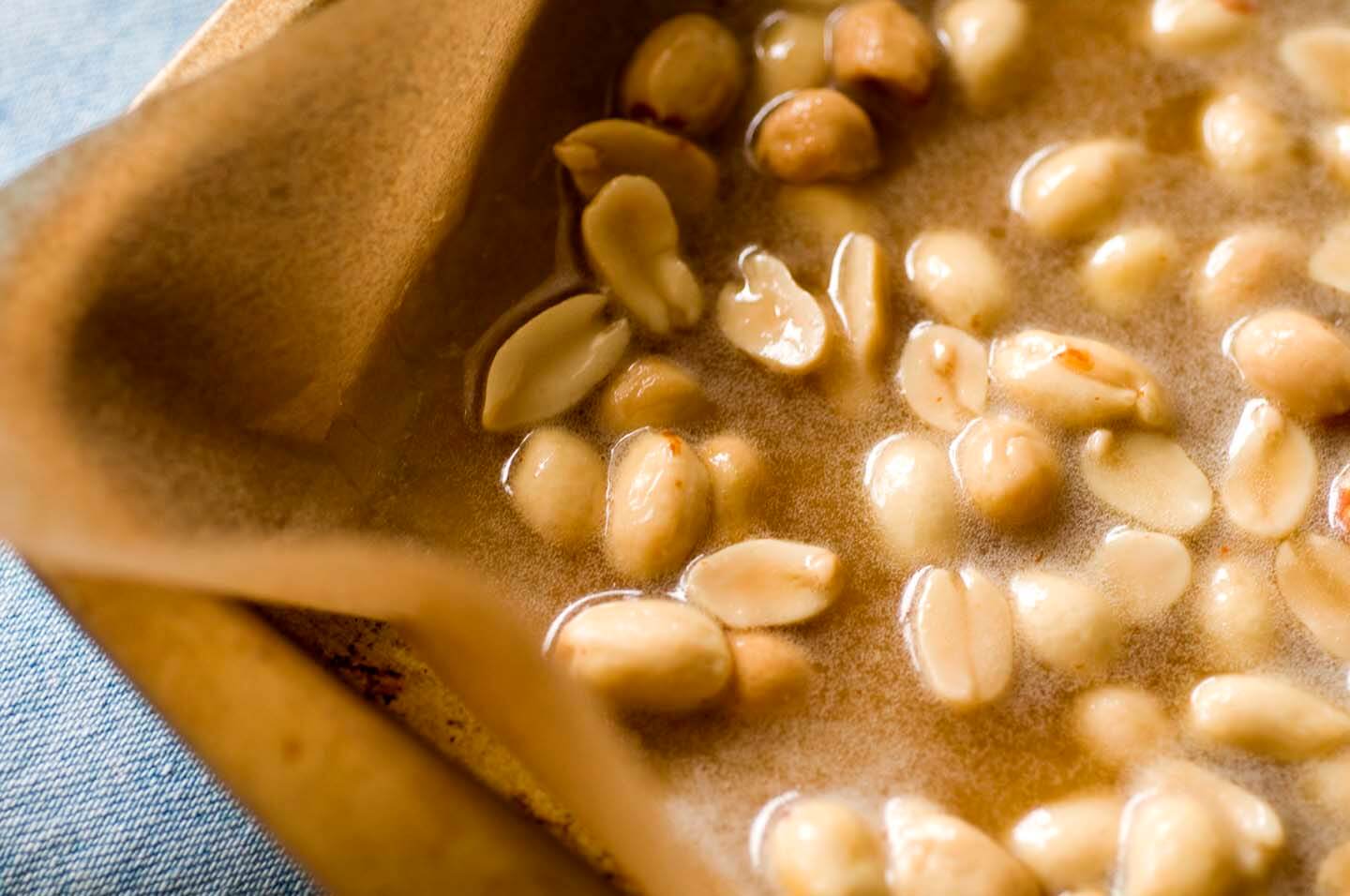 Texans have a long tradition of putting peanuts in their Dr Pepper. This phenomena, however, is not exclusive to Texas as others in the South are known to put peanuts in their Cokes. To wit, Barbara Mandell sings in her early '80's hit "When Country Wasn't Cool:"
"I remember circlin' the drive-in
pullin' up and turnin' down George Jones
I remember when no one was lookin'
I was puttin' peanuts in my Coke
I took a lot of kiddin', 'cause I never did fit in
now look at everybody tryin' to be what I was then
I was country, when country wasn't cool"
That said, Barbara Mandrell is a Texan, so while she used the word "Coke," she could have very well been singing about putting peanuts in her Dr Pepper. No matter, placing peanuts in your Dr Pepper (or Coke) is done for two reasons. One, the peanuts make your Dr Pepper fizz. And two, it tastes good. The salt from the peanuts cuts the sweetness of the soda, plus it's entertaining to have a bit of crunch in your mouth as you sip.
So when I saw the recipe for peanut brittle made with Dr Pepper, I had to try it. The flavor did not disappoint, as it was a pleasing combination of sweet and salty with each bite crunchy with peanuts. Instead of being glassy and sharp, like my pecan brittle, for instance, the texture is creamy—a bit like a praline.
But that just means it's easier on your teeth. As for the Dr Pepper, like most recipes that use it what you're really getting is the sugar, not too much of the flavor. this brittle is still a hit and the batch I shared with my colleagues was gone in five minutes.
I've recently found a reliable source of Mexican Coke (to the uninitiated, this is Coke made with cane sugar instead of high fructose corn syrup) in my neighborhood. I don't know what the distribution policy is for Mexican Coke, but the Korean deli where I buy it has it hidden away in the back of the store so part of the fun is the feeling I've discovered a hidden treasure. But it also tastes better—cleaner and brighter—as sodas made with cane sugar do.
There is talk that with rising corn prices bottlers will return to using cane sugar—a welcome development. In the meantime, if I want Dr Pepper made with cane sugar, I can order it online. I'm keeping my fingers crossed, however, that an enterprising New Yorker will decide to one day bootleg cane-sugar Dr Pepper here—I know that it would do very, very well. And while we Texans may refer to all sodas as Coke, what we really want is Dr Pepper. Or at least this Texan does.
Dr Pepper peanut brittle
Ingredients
1 1/4

cups

sugar

3/4

cups

butter

1 1/2

teaspoons

kosher salt

1/2

teaspoon

cayenne

1/4

cup

Dr Pepper

2

cups

roasted and salted peanuts

1/2

teaspoon

baking soda
Instructions
Line a baking sheet with parchment paper.

Combine the sugar, butter, salt, cayenne, Dr Pepper, and peanuts in a pot. Insert a candy thermometer while cooking on medium heat, bring to a boil stirring often.

When the temperature reaches 290° F, remove from heat and stir in the soda. Mixture will foam up and double in size.

Spread mixture thin on baking sheet using a silicone spatula and let it set. Once hardened, break into pieces and serve. Will keep in an airtight container for 1 week.