After dinner one Sunday night, a group of us were sitting around the table, relaxing after a satisfying meal. When discussing what we were doing in the next week. I mentioned that I had a few extra bottles Dr Pepper on hand and was thinking about making a cake with it. When the table volunteered that they would be willing subjects with whom to share my efforts, I decided to make my idea a reality.
Dr Pepper cake is an old Texan favorite. The cake, which uses the fruity dark namesake soda as part of the liquid, can take a couple of different forms. There's an oatmeal version, which is rich with warm spices, coconut, and pecans. Then there's a chocolate rendition, which has another classic, Texas sheet cake, as its foundation.
The history of Dr Pepper chocolate sheet cake can be traced to the mid-20th Century, though its exact origins are unknown. It's similar to another chocolate sheet cake, Coca-Cola cake, which also has unknown provenance though first recipes are said to have been published in the 1950s.
The earliest Dr Pepper cake mention I could find was from San Antonio, where a shopping center advertised it had on display a Dr Pepper birthday cake. The first recipe I encountered was from Oklahoma, and it appeared in the Ardmore paper in 1974. The Oklahoma cake was a chocolate sheet cake that replaced the boiling water with Dr Pepper, though it also included marshmallows, which isn't typically done these days.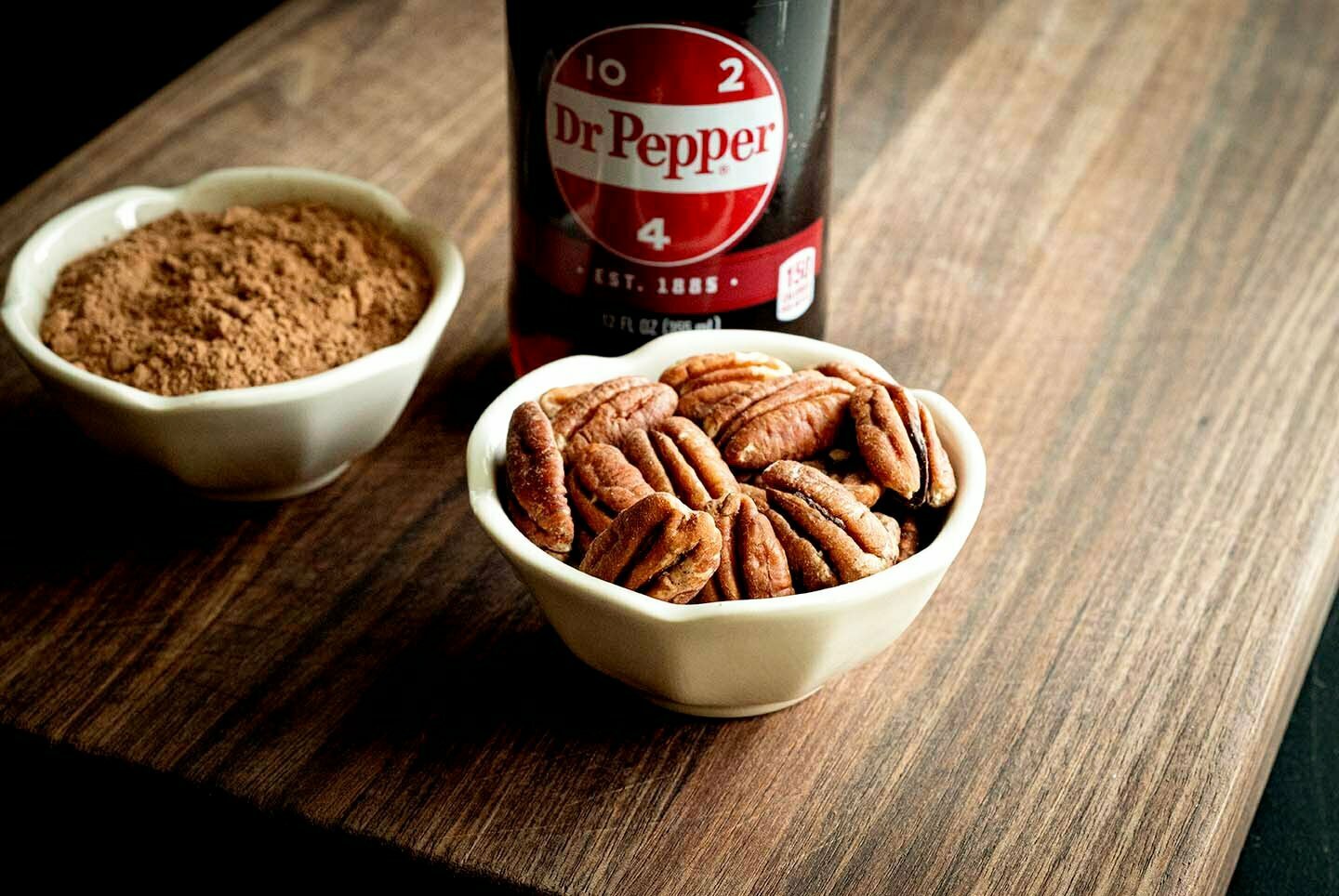 As for Texas sheet cake, its origins are also murky. In my research, I've traced the method of making a chocolate, rectangular, one-layer cake with a boiled frosting to a cake that was popular in the early 20th Century known as fudge cake.
Its provenance may not be Texan, though the earliest recipe I did encounter for fudge cake was in a 1908 edition of the San Antonio Light. The recipe called for the usual sheet cake ingredients, such as buttermilk, flour, and nuts. The only difference was the chocolate was delivered via bars and not cocoa, which is how we make our chocolate sheet cakes today.
While there is more to discuss about Texas sheet cake, today I'm focused on the Dr Pepper rendition. For my chocolate one, I take my basic sheet cake recipe and make a few changes. Besides substituting Dr Pepper for the water (the buttermilk stays), I've also started reducing some of the soda then blending that with butter, cinnamon, pecans, and a pinch of salt for spiced nuts.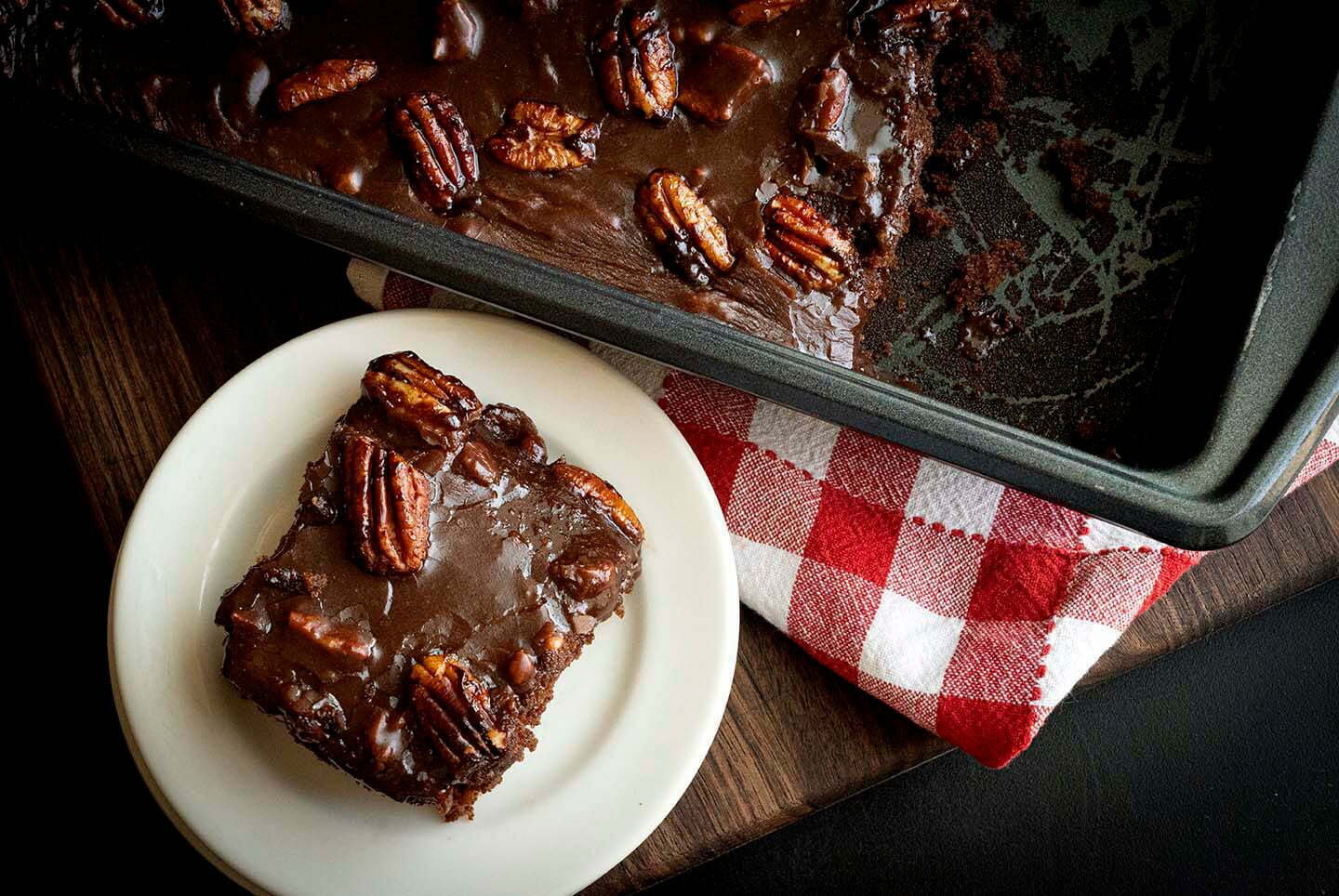 After the nuts are done, I chop some and swirl them into the chocolate frosting. Though I also leave a few whole, and layer them on top of the cake for both extra crunch and garnish. While these steps add a few more minutes to what is typically a fast recipe, I enjoy the extra boost of flavor the Dr Pepper gives to the pecans.
—————
Would you like more Homesick Texan? Well, I've started offering additional recipes for paid subscribers to help with the costs of running the site. While I'm not taking anything away, if you'd like to support Homesick Texan and have access to exclusive, never-seen-before subscriber-only posts, please consider becoming a member; annual subscriptions are as low as $25. Thank you for reading, your consideration, and your support!
—————
Dr Pepper sheet cake
Ingredients
For the cake:
2

cups

granulated sugar

2

cups

flour

2

sticks (1 cup) unsalted butter

1/4

cup

cocoa

1

cup

Dr Pepper, preferably made with cane sugar

2

large eggs, lightly beaten

1/2

cup

buttermilk

1

teaspoon

vanilla extract

1

teaspoon

baking soda

1

teaspoon

ground cinnamon

Pinch

kosher salt
For the Dr Pepper spiced pecans:
¼

cup

Dr Pepper, preferably made with cane sugar

4

tablespoons

unsalted butter

1

tablespoon

vanilla

1 ½

cups

whole roasted pecans

2

tablespoons

granulated sugar

1

tablespoon

ground cinnamon

1/2

teaspoon

kosher salt

Pinch

ground clove
For the frosting:
1

stick unsalted butter

1/4

cup

cocoa

6

tablespoons

whole milk

1

pound

(3 1/2 cups) powdered sugar

1

teaspoon

vanilla extract

1

teaspoon

ground cinnamon

1

cup

chopped Dr Pepper spiced pecans

Pinch

kosher salt

1/2

cup

whole Dr Pepper spiced pecans
Instructions
Preheat the oven to 400° F. Lightly grease a 9x13 pan.

To make the cake batter, stir the sugar and flour together in a bowl. Melt the butter on low in a saucepan, and when melted add the cocoa and Dr Pepper to the pan. Turn the heat to high and while stirring, heat until boiling. Turn off the heat.

Pour the cocoa mix over the sugar and flour and blend well with a spoon. Add to the batter the eggs, buttermilk, vanilla, baking soda, cinnamon, and salt, and blend well with a spoon.

Pour the batter into the pan, and bake uncovered for about 25-30 minutes, or until an inserted knife comes out clean.

While the cake is baking, to make the nuts, pour the ¼ cup Dr Pepper into a skillet, bring to a boil, then continue to cook on high until reduced in half to 2 tablespoons, about 3-5 minutes.

Turn the heat to low and add the butter. When melted, add the vanilla, then stir in the pecans until well coated. Stir in the sugar, cinnamon, salt, and clove, and while stirring, cook until the pecans are well coated and fragrant, about 3-5 minutes.

Remove from the skillet. Taste and adjust seasonings, if desired. (I usually sprinkle on a bit more cinnamon and sugar after cooking). These can also be made ahead of time and stored in an airtight container.

For the frosting, reserve 1/2 cup of the pecans as whole, then chop the remaining pecans.

Because you want to pour the frosting over the cake while the cake is still warm, 5 minutes before the cake is ready is a good time to make the frosting. Though you can also make the frosting immediately after the cake is done, just don't wait too long, as you want the cake warm when you cover it with the frosting.

To make the frosting, add the butter, cocoa, and milk to a saucepan, and while occasionally stirring, cook on high until melted and boiling. Remove from the heat.

Stir in the powdered sugar, vanilla, cinnamon, chopped pecans, and salt. Stir well until blended, then spread over the cake while both are still warm. Top the cake with the reserved whole pecans.