My grandma recently told me that she paid a visit to her 95-year-old sister in an assisted living home. "To brighten Aunt Frances's day," she said, "I brought her some ginger crinkles."
Ginger crinkles? I had never heard her mention before this treat so I asked what they were.
She told me that that they're a cookie that has been made spicy with ginger, cinnamon, and molasses. They're chewy with a bit of a crunch from being rolled in sugar. And they're called crinkles since cracks and fissures form on the cookie's surface.
As a ginger snap tends towards elegance with its smooth surface and crisp texture, a ginger crinkle is more roughhewn and homey—but it's no less delicious.

My grandma also mentioned that she had taken a batch to of the cookies to a church function. And wouldn't you know it, the ginger crinkles were so popular the plate was empty before she even had a chance to grab one for herself. Well, if they're a hit with the church ladies, I knew they had to be good!

"I was going to send you some crinkles but got lazy," said Grandma. "But there will be some at Thanksgiving."
Now, as is my wont whenever I return to Texas, I eat more meals in a day than is healthy to make up for all those tastes of home that just can't be found anywhere else. And last Saturday was no exception. In one afternoon I feasted on cheese enchiladas dripping in chile gravy, endless baskets of warm salty chips served with bowls of peppery hot sauce, a Whataburger with cheese and jalapenos, tender carne guisada nestled in a fresh flour tortilla, and a heaping plate of brisket, sausage, pickles, and black-eyed peas.


I was stuffed and holiday cookies (even my Aunt Julie's pumpkin spice recipe) whether they were pumpkin spice cookies, were definitely not on my mind. But as my grandma and I were watching "Book Talk," she reminded me that she had baked some ginger crinkles for me.
My belly was full, but I knew it would be disrespectful not to try them. So I grabbed one from the freezer (where she keeps everything). It was cold, but it still had a nice chew to it. But what really excited me was the burst of ginger and dark sweetness of the molasses. For such a rustic cookie, there was a real sophistication to its flavor.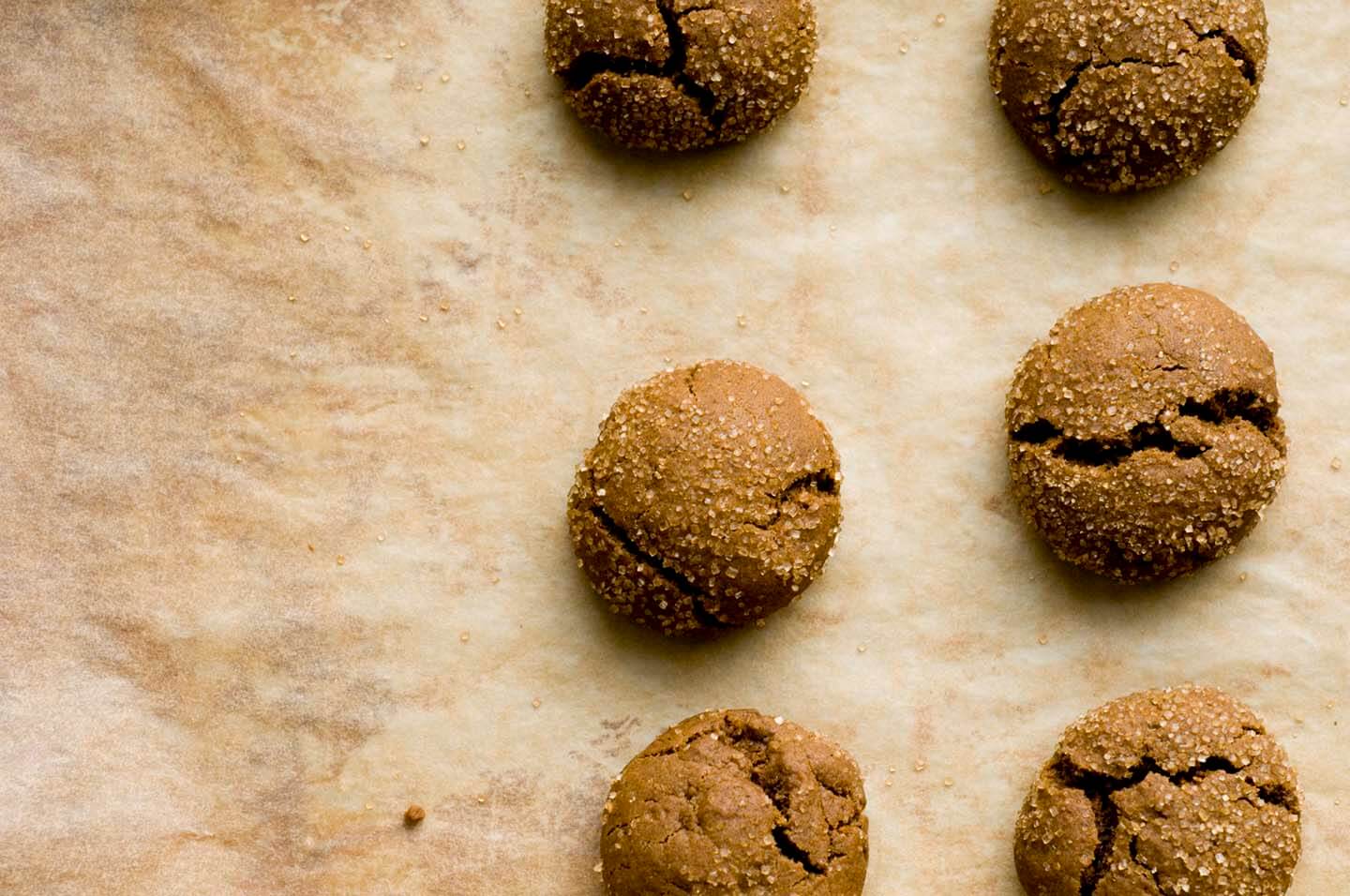 Holiday baking season has begun and these warm, spicy cookies are a simple way to bring joy into people's lives. Of course, be sure and save yourself a few as they will go fast.
Aunt Frances's ginger crinkles
Ingredients
1/2

cup

canola oil

1

cup

sugar

1

large

egg

1/4

cup

molasses

2

cups

all-purpose flour

2

teaspoons

baking soda

1/2

teaspoon

salt

1

teaspoon

cinnamon

1

teaspoon

ginger

1/4

cup

sugar for dipping
Instructions
Preheat the oven to 350° F.

Cream the oil, sugar, egg and molasses. Mix together the flour, soda, salt, cinnamon and ginger and add to the liquid ingredients.

Roll dough into walnut size balls (about 1/2 a tablespoon) and dip into sugar.

Bake until slightly brown for about 15 min.
Notes
Note from Aunt Frances: Do not overcook! Note from me: I was out of regular sugar so I used turbinado sugar, which was very tasty.