Hatch chile apple cobbler
Last weekend, I flew home to Texas for a family wedding. It was the Aggie branch of my family—a group that not only lives near College Station but they all also attended Texas A&M, a tradition began by my great-uncle Stewart who was an English professor at A&M back in the day.
The wedding was held in downtown Bryan, which is a charming small Texas town. Like many communities that have revitalized their center, it's bustling with life and beautiful architecture. For a wedding, it was a perfect location as we were able to walk from the church to the reception and then to the hotel where we all spent the night.
Of course, the real joy of the wedding was spending time with my family. From enjoying Saturday-morning migas with my mom, to flapping our arms as we did the chicken dance at the reception—it was one of those perfect weekends that's hard to describe with words or images. It just was.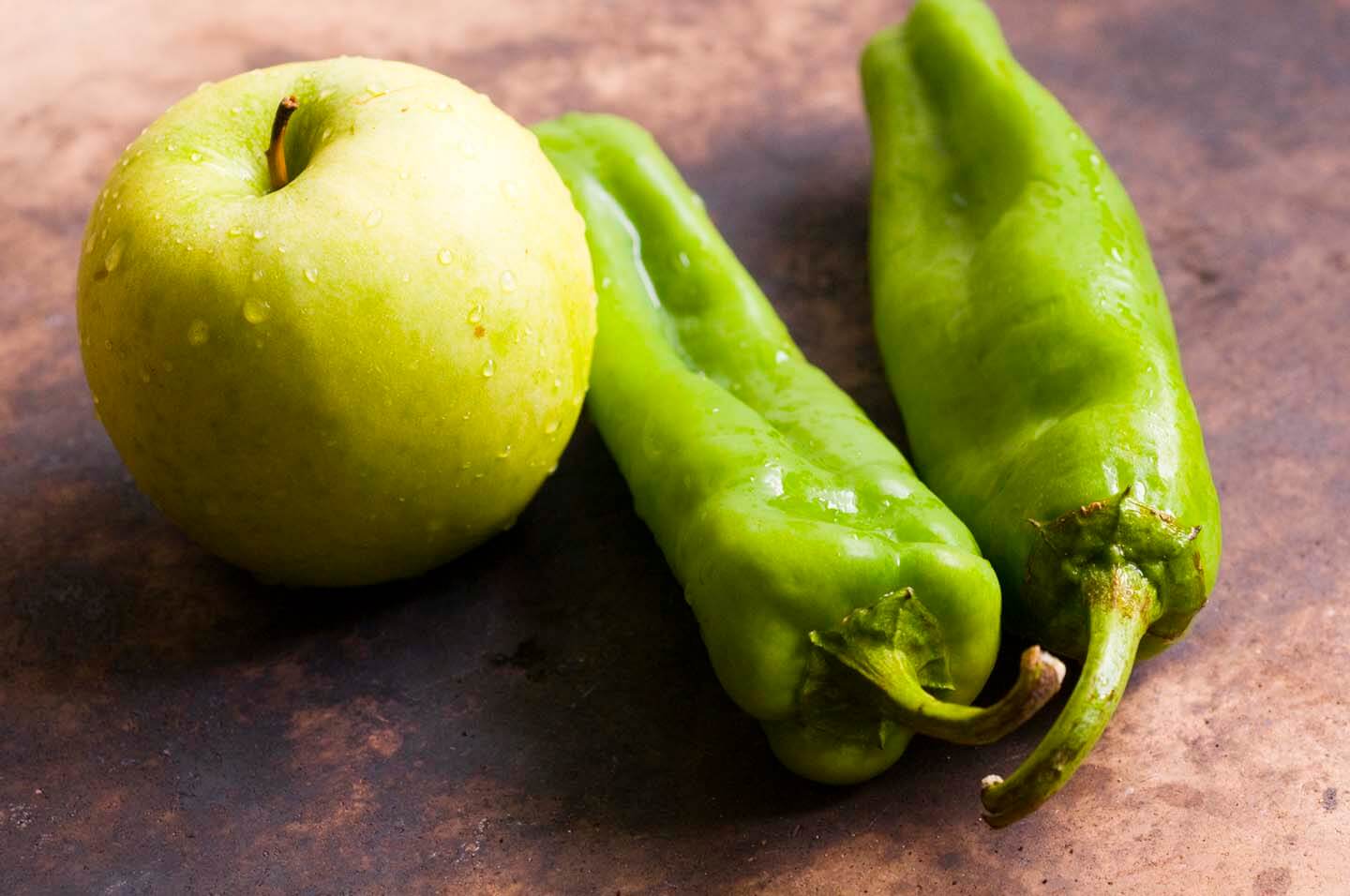 It's Hatch chile season, and when I booked my ticket to Houston for the wedding, I realized it cost the same for me to fly into Houston as it did to add a segment into El Paso, which is about an hour and a half away from Hatch, New Mexico. I'd always been curious to see the chiles at the source, so it was an easy decision to spend a day or so in West Texas.

When I told my family what I was doing, my mom said, "You do know that they have Hatch chiles at Central Market."
"Yes, I know," I said. "But I want to see where they come from."
She shrugged and looked at me like I was a little nuts. I didn't think too much about it. Instead, I ate wedding cake, joined a conga line, and ended up having one of the finest evenings of my life.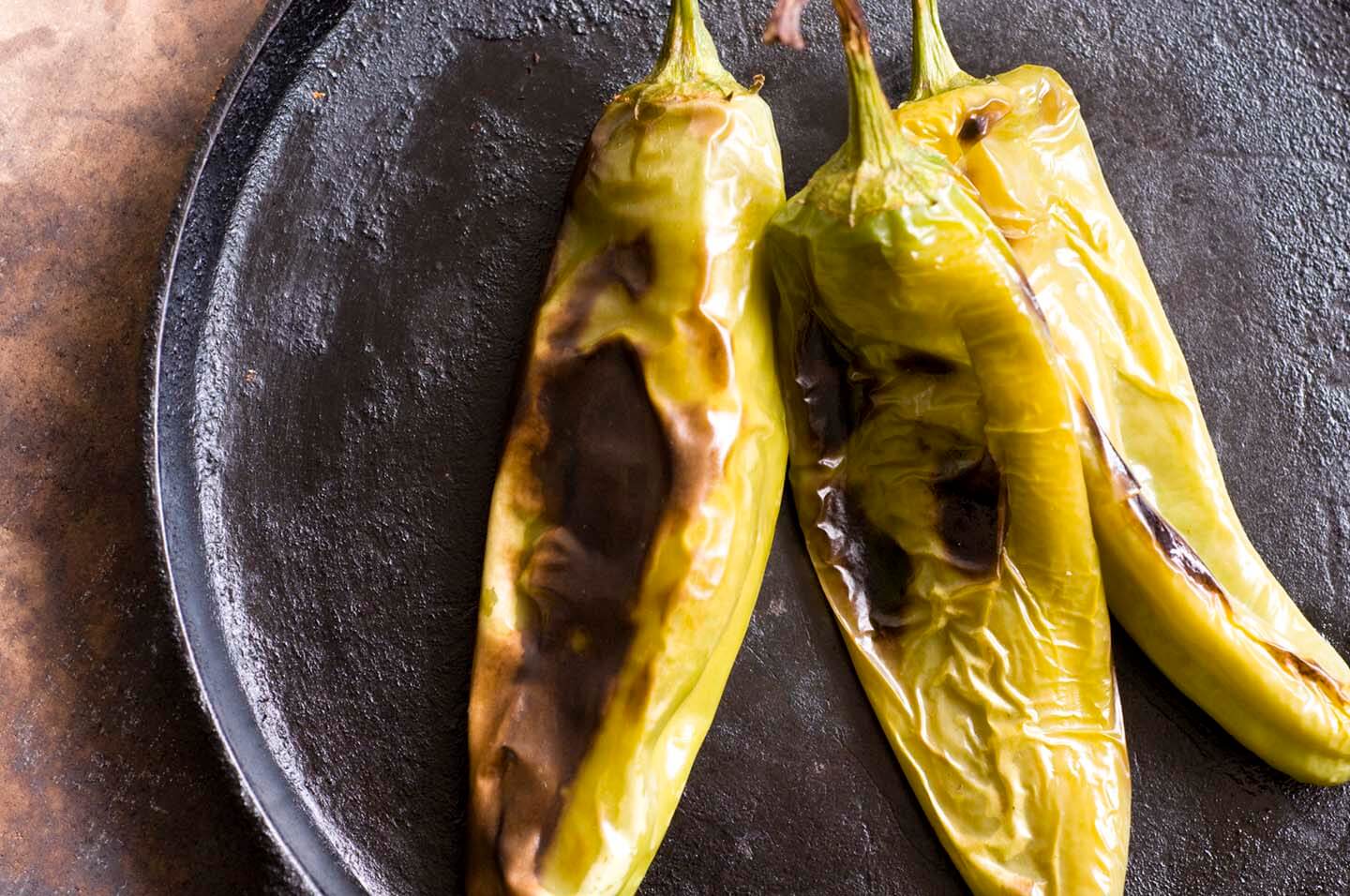 Of course, after a loving, warm gathering such as my cousin's wedding, spending time alone in the arid desert of West Texas and Southern New Mexico—no matter how stunning its rugged beauty—is destined to feel a bit lonely. Now don't get me wrong, I am the kind of person who thrives on striking out on my own. And I've often found that time in West Texas with its big sky and vast landscape is just what I need to decompress from my hectic New York City life. But this time, it felt a little too barren after the warm embrace of my family. A part of me wished I'd stayed those extra days with them instead.
My brief time in Texas reinforced how precious our time with loved ones can be. When I returned to New York, I wanted to make a dish with my Hatch chiles that reminded me of home, so I decided to make a Hatch chile apple cobbler. Apple and chiles are a perfect pair, and those first August apples always remind me of my grandma's farm, when her trees are heavy with fruit.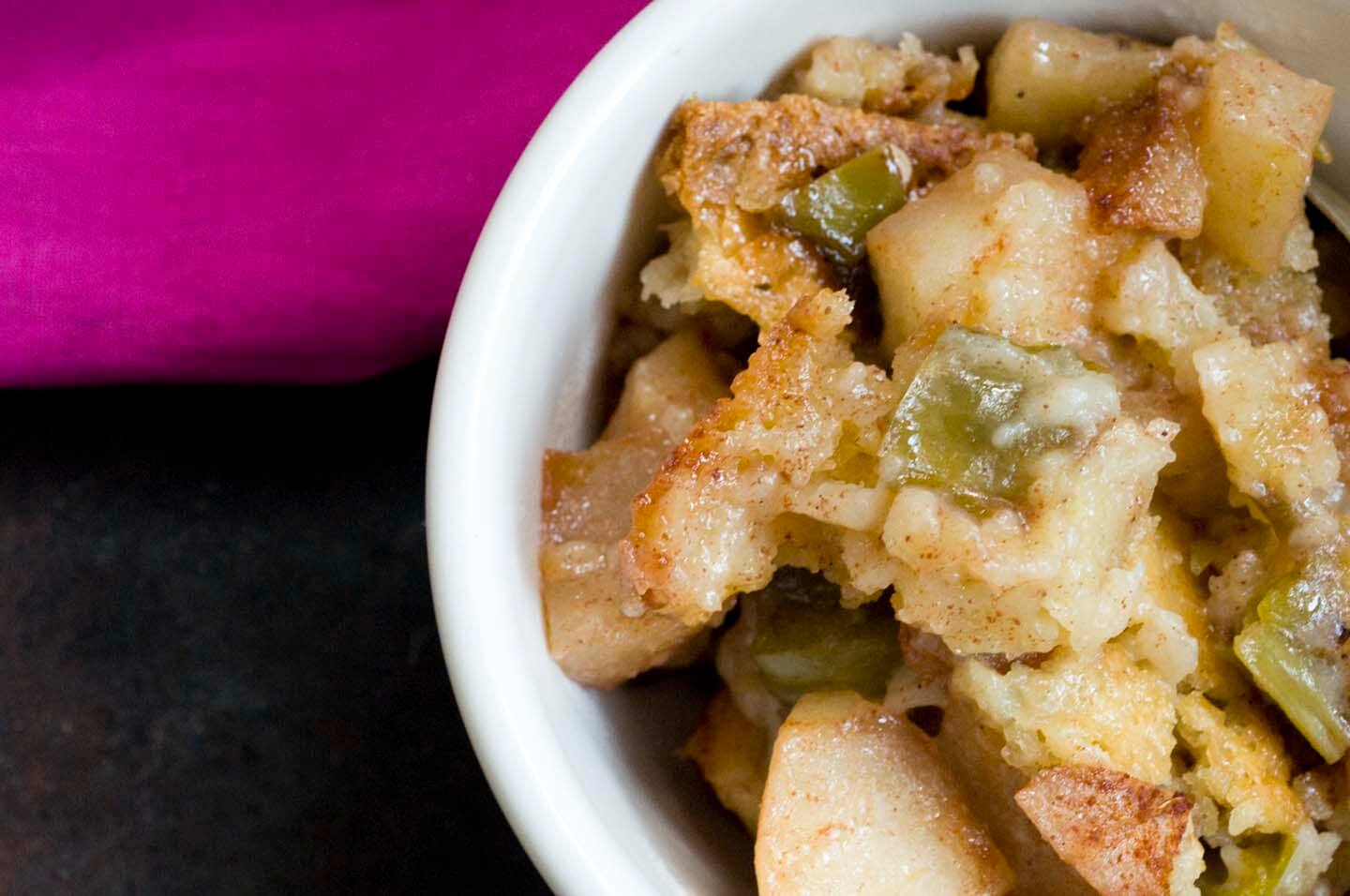 While eating this cobbler isn't quite the same as doing line dances with my Aggie cousins, their love is there in spirit, which for me is always the next best thing.
Hatch chile apple cobbler
Ingredients
For the filling:
3

Hatch green chiles

4

Granny Smith apples, about 1 3/4 pounds, peeled, cored and diced

1/2

teaspoon

ground cinnamon

1/4

teaspoon

ground allspice

1/8

teaspoon

ground nutmeg

2

teaspoons

brown sugar
For the crust:
1

stick unsalted butter

1

cup

all-purpose flour

1

cup

granulated sugar

2

teaspoons

baking powder

Pinch

kosher salt

1

cup

whole milk
For serving:
Whipped cream or vanilla ice cream, if you like
Instructions
Roast the chiles under the broiler until blackened, about 5 minutes per side. Place chiles in a paper sack or plastic food-storage bag, close it tight and let the chiles steam for 20 minutes. Take the chiles out of the bag and rub off the skin. Remove seeds and stems and dice. 
Toss the diced chiles with the diced apples, cinnamon, allspice, nutmeg and brown sugar.

Preheat the oven to 350° F. To make the crust, in a large cast-iron skillet, melt the butter on low heat. Once melted, turn off the heat. Stir together the flour, sugar, baking powder, salt and milk until a batter is formed. Pour the batter over the butter and do not stir. Spread evenly on top the diced chiles and apples, and bake uncovered for 45 minutes or until brown and bubbling. I eat it warm right of the pan, but it's also good with a dollop of whipped cream or ice cream, if you prefer.
Notes
If you don't have access to Hatch chiles, you can use regular Anaheim chiles. You can also substitute 2 jalapeño chiles or 1 poblano chile.