Jalapeño cheese dog mac & cheese
When I was in California last month for the photo shoot for Queso!, there was a copy of The Mac & Cheese Cookbook on hand at the studio. It was also published by Ten Speed and is the same size as mine, so looking through it gave me a good idea of what to expect with my book.
As I was flipping through the pages, oohing and ahhing at all the tempting recipes, my editor mentioned how much she had enjoyed cooking from it. "My favorite is the one with hot dogs and potato chips," she said.
Curious what that combination would entail, I quickly flipped to that recipe and it was as simple as it sounds—elbow macaroni and sliced hot dogs smothered in a creamy cheddar sauce and topped with potato chips. I made a mental note I would have to make it when I got back home.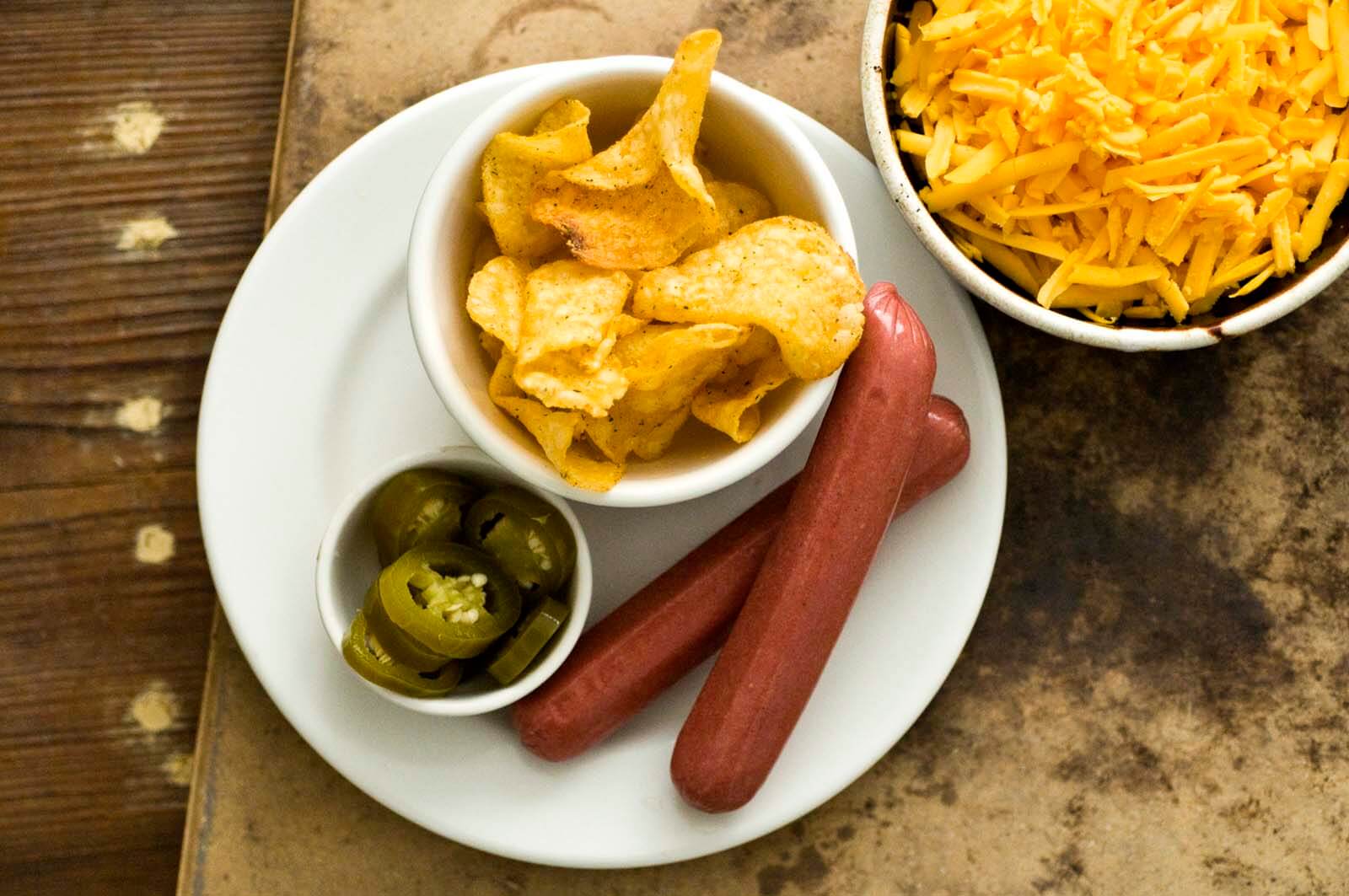 Now, as I pondered the dish, I began to think about all the ways I could adapt it. While Texans certainly eat their fair share of potato chips and hot dogs, there are other dogs popular across the state. For instance, bacon-wrapped Mexican hot dogs are common, as are San Antonio crispy dogs, corny dogs, chili-cheese dogs, and hot dog breakfast tacos. There are even places that top their dogs with macaroni and cheese. There was a lot to consider.

Then I remembered a hot dog I once had that was smothered in cheese sauce and topped with potato chips, which sounded like the idea behind the macaroni and cheese. That hot dog had been delicious, but I felt it could be more lively; a handful of chopped pickled jalapeños would have been the perfect touch. With that in mind, I then knew just what to do with my take on hot dog macaroni and cheese.
The authors, who own an Oakland restaurant called Homeroom that specializes in macaroni and cheese, use a basic béchamel as the foundation for their sauce, so I did the same. To this, however, I also added garlic and pickled jalapeños, before tossing it with the cooked elbow noodles and hot dog slices. A generous helping of cheddar cheese was mixed with the macaroni and then I broiled the skillet until bubbling. Before serving, I topped it with the potato chips, using jalapeño-flavored ones for extra heat.


Crunchy, creamy, snappy, and hot—the dish was jalapeño cheese dog mac & cheese heaven. And while that might not be a place you ever thought you wanted to visit, trust me—it might be a bit uncouth but it is very, very good.
—————
Would you like more Homesick Texan? Well, I've started offering additional recipes for paid subscribers to help with the costs of running the site. While I'm not taking anything away, if you'd like to support Homesick Texan and have access to exclusive, never-seen-before subscriber-only posts, please consider becoming a member; annual subscriptions are as low as $25. Thank you for reading, your consideration, and your support!
—————

Jalapeño cheese dog mac & cheese
Ingredients
8

ounces

elbow macaroni

3

hot dogs

3

tablespoons

unsalted butter

2

cloves

garlic

minced

2

tablespoons

all-purpose flour

2

cups

whole milk

12

ounces

3 cups shredded yellow Cheddar

1/2

teaspoon

kosher salt

1/2

teaspoon

black pepper

1/4

teaspoon

mustard powder

¼

teaspoon

cayenne

½

cup

chopped pickled jalapeños

2

cups

lightly crushed jalapeño potato chips
Instructions
Cook the macaroni in a pot of boiling, salted water until tender. Drain and rinse.

Meanwhile, cut the hot dogs in half lengthwise. Melt 1 tablespoon of the butter in a large oven-proof skillet on medium-high heat. Place the hot dogs in the skillet and cook for 5 minutes, turning once, or until beginning to darken on each side. Remove the hot dogs.

Turn the heat in the skillet down to medium-low and add the remaining 2 tablespoons of the butter to the skillet. Stir in the garlic and cook for 30 seconds then stir in the flour. While stirring, cook until the flour is beginning to brown, about 1 minute.

Pour in the milk, and while stirring cook until the sauce thickens, about 3-5 minutes. Stir in 2 cups of the cheese, a handful at a time, stirring until the cheese melts and the sauce is smooth. Stir in the salt, pepper, mustard powder, and cayenne. Turn off the heat.

Turn on the broiler and position a rack 4 inches away from the heating element. Cut the hot dogs into smaller pieces. Stir into the sauce the drained macaroni, hot dogs, and jalapeños. Taste and adjust seasonings, if you like. (Be careful with the salt, however, as the chips and hot dogs will also be salty.)

Cover the macaroni evenly with the remaining 1 cup of cheese and then place under the broiler until the top is bubbling, a couple of minutes. Remove the skillet from the oven and top with the crushed potato chips. Serve warm.
Notes
It's important to grate your own cheese! Pre-shredded cheese in a bag has fillers to prevent it from clumping that also keep it from melting smoothly into the sauce, so I don't recommend using it.