Mexican chocolate granola
My people are granola people. My family has been both eating it and making it for as long as I can remember and I have, too.
Most of us are conventional and eat it in bowls with milk or stirred into yogurt for breakfast. One branch of the family, however, also shakes out handfuls and eats the granola on its own as a snack.
And then there are my nephews, who live in Oregon where it's cold many months of the year. During the winter, they often ask for their granola to be served hot.
One of my nephews, Austin, was given a writing assignment by his sixth-grade teacher. The topic, oddly enough, was granola. In his essay, he discussed how much he appreciates this rustic cereal made from oats, nuts, and dried fruit for its crunchy, sweet, and slightly salty nature.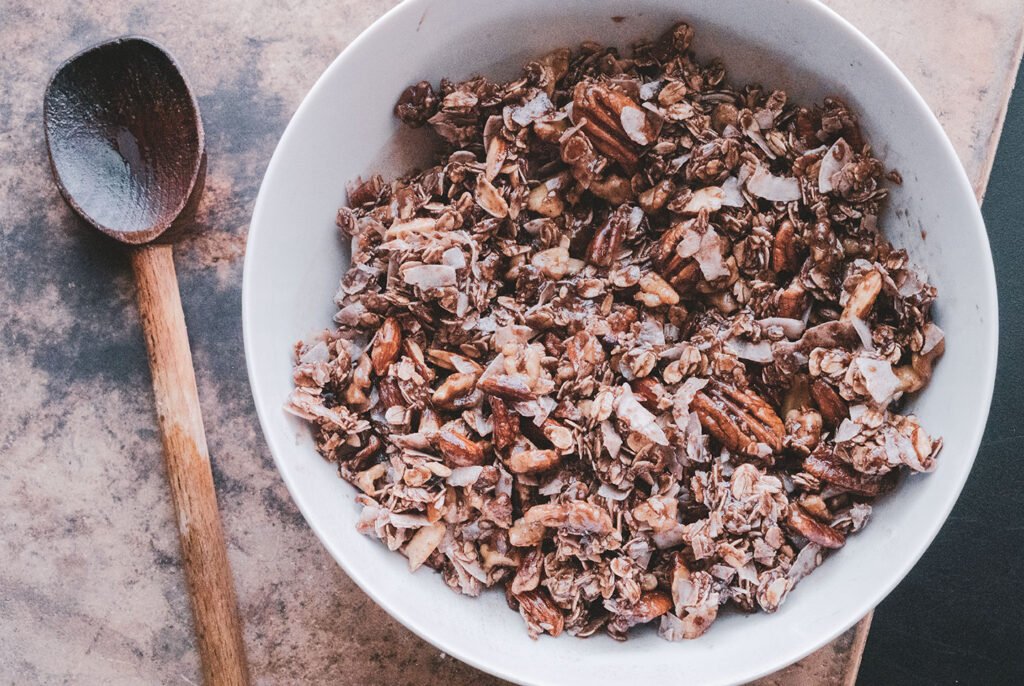 He added that while it's designed for the morning, it also makes an especially fine topping for ice cream. "You can enjoy it however you like," he wrote, reinforcing that granola is good at any time.
Austin then went into his personal relationship with granola, saying that his Aunt Lisa had written a cookbook that included a recipe, and that everyone needed a copy of that cookbook in their kitchen. My sister-in-law was so proud, she shared his assignment with the family.
Despite my family's fondness for granola, we haven't done much experimenting with the original formula that my uncle Austin (yes, there are lots of Austins in my family) has been sharing with us for years. Sticking with the tried and true is good and all, but sometimes a little change doesn't hurt either.
On my nephews' recent visit to Texas, a friend offered them cups of Mexican hot chocolate while we were touring the kitchen of their restaurant. They loved its sweet and slightly spicy warmth, a change from the hot chocolate they usually get at their home in Oregon. Inspired by that experience and my family's love for both granola and chocolate, I decided to stir some cocoa powder into our classic recipe.
The result had a warm depth of flavor, which I enhanced with generous shakes of nuts, coconut, and dried raisings and cherries, along with cinnamon and vanilla, which gave it the flavor profile of Mexican hot chocolate. I also threw in some small chocolate chips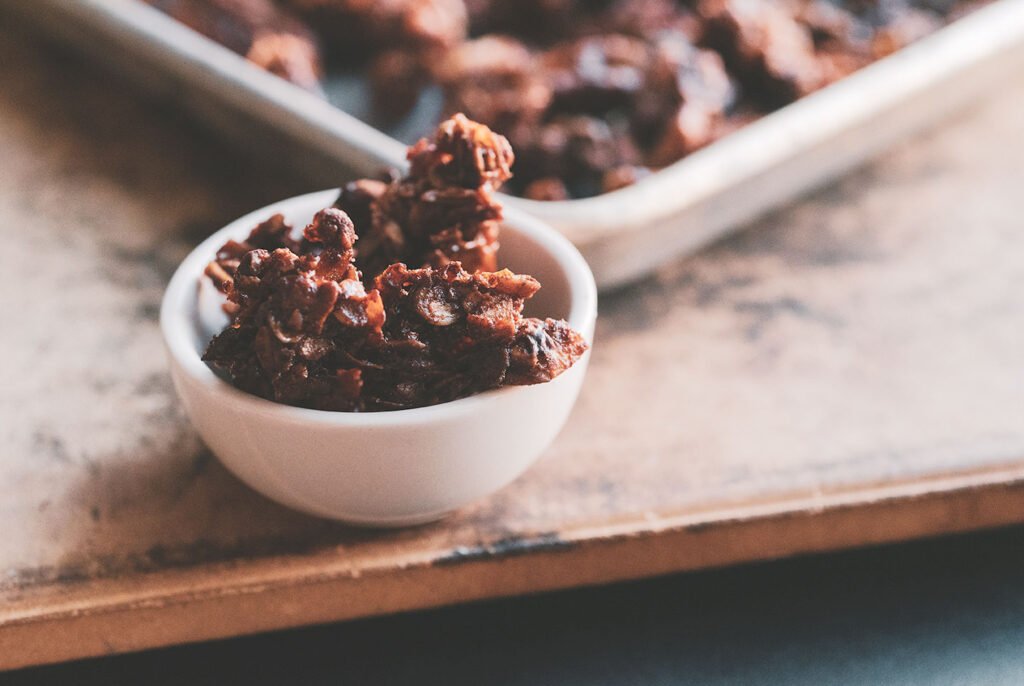 Indeed, if eating this granola as a cereal, the milk will turn sweet and chocolate flavored, too. While I thought it would make good gifts, my only problem was I couldn't stop snacking on the granola. Fortunately, it takes little effort to make and I made another fresh batch in no time at all.
—————
Would you like more Homesick Texan? Well, I've started offering additional recipes for paid subscribers to help with the costs of running the site. While I'm not taking anything away, if you'd like to support Homesick Texan and have access to exclusive, never-seen-before subscriber-only posts, please consider becoming a member; annual subscriptions are as low as $25. Thank you for reading, your consideration, and your support!
—————
Mexican chocolate granola
Ingredients
2

cups

rolled oats (not instant)

1

cup

sliced almonds

1

cup

halved or chopped pecans

3

tablespoons

cocoa powder

2

tablespoons

brown sugar

1

tablespoon

powdered milk (optional)

1

teaspoon

ground cinnamon

1

teaspoon

kosher salt

1/2

teaspoon

espresso powder

1/2

cup

safflower oil

1/2

cup

honey

1

tablespoon

vanilla extract

1

cup

coconut flakes

1/2

cup

raisins or dried cherries (optional)

½

cup

mini semi-sweet chocolate chips (optional)

Flaked sea salt, for garnishing
Instructions
Preheat the oven to 350°F and lightly grease a baking sheet. In a large bowl, stir together the oats, almonds, pecans, cocoa powder, brown sugar, powdered milk, cinnamon, salt, and espresso powder.

Separately, stir together the oil, honey, and vanilla extract and then pour over the oats. Stir until well combined. Stir in the coconut. Taste the raw granola and adjust the sweeteners and spices, if you like.

Pour the granola onto the baking sheet, and then bake uncovered for 25-30 minutes or until fragrant and toasted, stirring the granola every 10 minutes.

Remove the granola from the oven and then stir in the dried fruit and/or chocolate, if using. Sprinkle the flaked sea salt on top.

Will keep in an airtight container for a month.