Mollejas tacos (sweetbread tacos)
Mom asked me what I'd eaten that day. I was visiting her in Houston, and she's always amused by how much I pack into my belly in such a short amount of time. As I ran down my list, which included enchiladas, tortilla soup, chips and salsa, I mentioned I'd had sweetbread tacos.
"Sweetbread tacos?" she said. "That sounds good!" My mom has a sweet tooth, and she assumed that sweetbread meant, well, a sweet bread. When I explained to her that sweetbreads aren't actually breads, and instead they're the thymus glands of a cow—let's just say she was less than enthused.
Now, this is often a common reaction from people when you mention sweetbreads. (A strange name, yes, but I reckon it's a bit more enticing than calling them cow glands). I myself was afraid to try them until one day several of us were having a fancy French meal in New York, and my friends being far more experienced with sweetbreads than I, assured me that I would like them.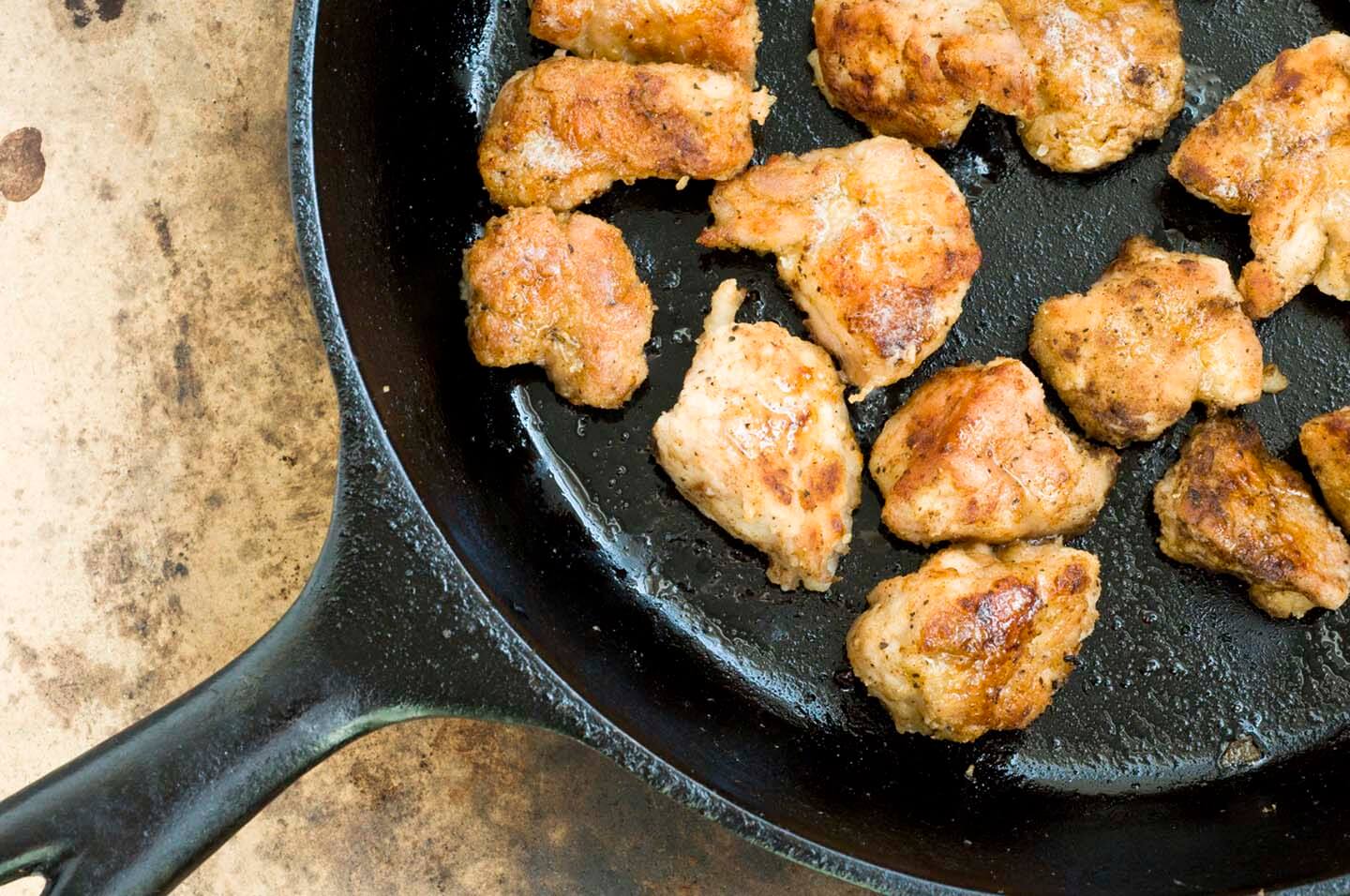 And they were correct.

Typically, they're either pan fried or grilled, which gives the meat a crisp bite that yields to a silky center. The flavor is a little minerally and a little earthy—if you enjoy fried chicken liver or fried oysters, then you'll enjoy sweetbreads. To paraphrase Hugh Acheson, they're like the world's best chicken nugget.
While they are very popular in France, they're seen less often on American menus. Though in South Texas, as well as Northern Mexico, they're very popular. When driving around the Rio Grande Valley, you'll see mollejas, which is how you say sweetbreads in Spanish, at most taquerias. And many South Texas cooks will serve skewers of mollejas along with fajitas, ribs, and other meats when they fire up the grill.
If you've never cooked with sweetbreads, there's a bit of labor involved—namely soaking them for a few hours to remove some of the blood, and then parboiling them, which helps the membrane and the gristly bits separate from the meat. Also note that they're highly perishable and need to be cooked within a day of purchasing.
After I've soaked and boiled my sweetbreads, I then marinated them again in a spiced-up buttermilk for a few hours for a bit of flavor. Now, in South Texas, mollejas are often grilled but because I don't have an outdoor space, I pan fry mine instead. To ensure an extra crisp shell, I lightly dredge them in flour before cooking.
A lack of a grill, however, does not make them less flavorful. And once they're cooked, when you take a bite you'll see that all that work was worth it. To serve, I like to scoop them into warm tortillas, top them with pico de gallo and sour cream. They make for a fine taco and a rich one too, as mollejas are not a lean meat.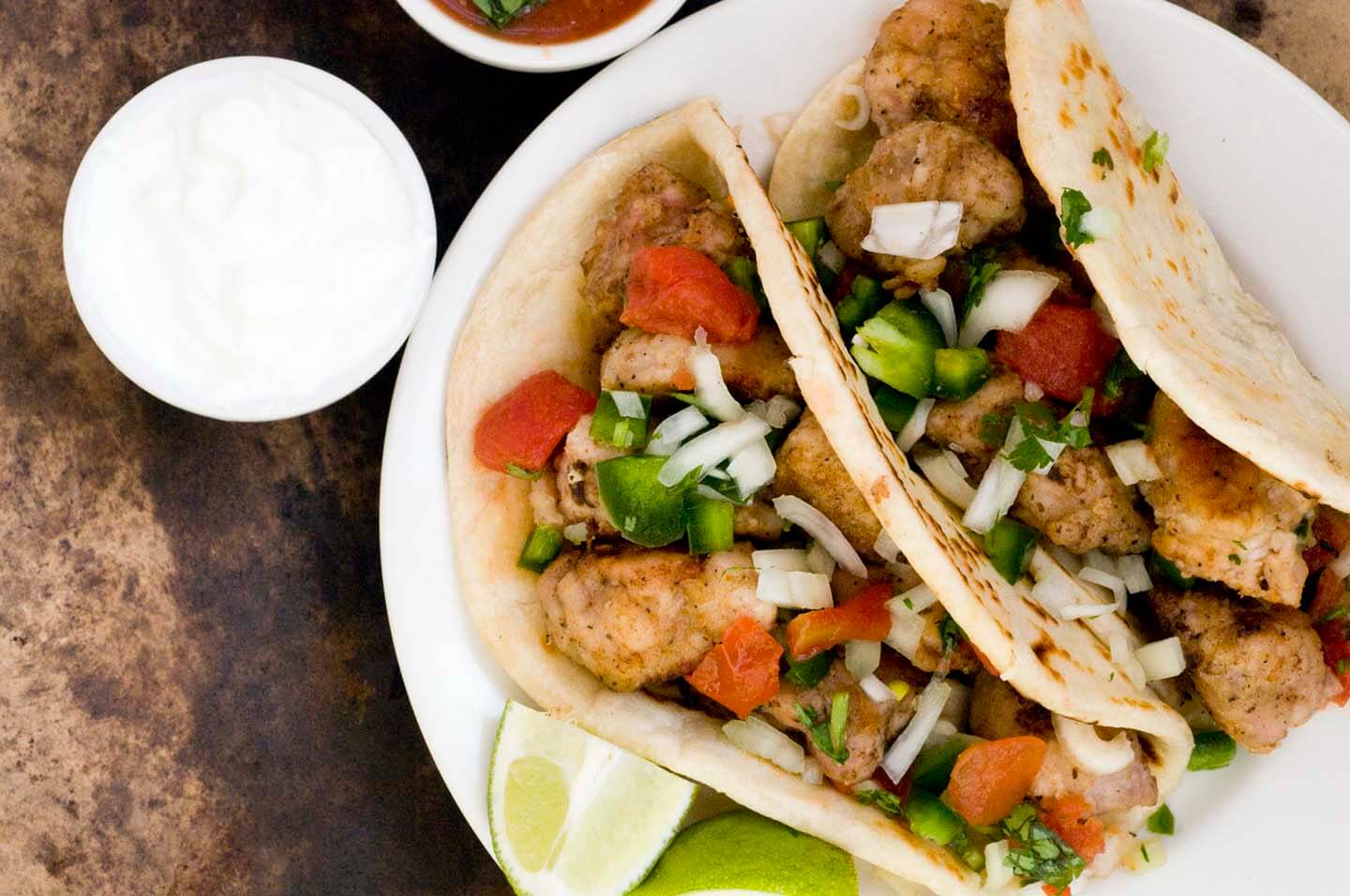 I'm still not sure if I can get my mom to try mollejas. But if you're an adventurous eater or craving a taste of South Texas, then I highly recommend them. Sweetbreads may not be sweet, but they sure are delectable.
Sweetbread tacos (mollejas tacos)
Ingredients
1

pound

veal sweetbreads

1

cup

buttermilk

1

jalapeño sliced

1

clove

garlic, minced

1/2

teaspoon

ground cumin

1

cup

all-purpose flour

1/2

teaspoon

kosher salt, plus more to taste

1/2

teaspoon

black pepper, plus more to taste

Pinch

of cayenne

2

tablespoons

unsalted butter

Warm tortillas

Pico de Gallo, for serving

Sour cream, for serving
Instructions
Place the sweetbreads in a sealable container, cover with cold water, and soak for at least 2 hours.

Discard the soaking water and place the sweetbreads into a pot large enough to hold them. Cover with cold water and bring to a boil. Allow the sweetbreads to cook until they are white and puffy, about 5 minutes. Drain sweetbreads in a colander and then place in a bowl with ice water to stop them from cooking.

Take the cooked sweetbreads and pat dry with a paper towel. You'll see a thin membrane, which you need to peel off of the meat. Chop off any gristly bits and then chop the sweetbreads into 1-inch sized pieces.

In a sealable container, place the chopped and cleaned sweetbreads and cover with the buttermilk, jalapeño, garlic and cumin. Soak for at least 2 hours. Drain and rinse the sweetbreads. Mix together the flour, salt, black pepper and cayenne. Taste and adjust seasonings. Lightly sprinkle the sweetbreads with salt and pepper and then dredge into the flour.

In a large skillet on medium low, heat up the butter. Add the floured sweetbreads and cook on each side until lightly browned and crisp, about 5 minutes. Serve with warm tortillas, pico de gallo and sour cream.
Notes
Sweetbreads are highly perishable and need to be cooked within a day of purchasing. Once cooked, however, they can keep in the refrigerator for a couple of days.