Oatmeal bread and a case of the Januaries
I called my Grandma recently and asked how she was doing. With a sigh, she said she was suffering a case of the Januaries. "What's that?" I asked. She replied that it meant she didn't have much energy to cook or do much of anything. That's certainly not a good way to feel.
Do you ever suffer a case of the Januaries? After December, which is a lively month filled with festivities, gifts and fellowship, I can see how some would think that January is something of a letdown with its cold, short days. I, however, view January as a time to recharge my batteries—it's a fresh start! And since, fortunately, I am not suffering a case of the Januaries (though check back with me in February when I usually start shaking my fist at a mocking sun that gives off more light but still refuses to emit any heat ), I decided it would be nice to bake my grandmother some bread. But not just any bread—I decide to bake her a loaf of her mother's oatmeal bread.
When I spent time with my grandparents last summer, we had a blast going through all of the family recipes. Every dish came with a story, but Grandma especially lit up when we came across the card for Great-Grandma Gibson's oatmeal bread. "That's my favorite," said Grandma. Great-Grandma Gibson's oatmeal bread wasn't an everyday thing—she only baked it about once a week. But when Grandma would wake up and see a loaf cooling in the kitchen, she knew it was going to be a great day. She recalled one time when she came home from college and Great-Grandma had just pulled a loaf out the oven. "I was so hungry and it smelled so good, I probably ate most of the loaf with some butter (or maybe it was peanut butter)," she said.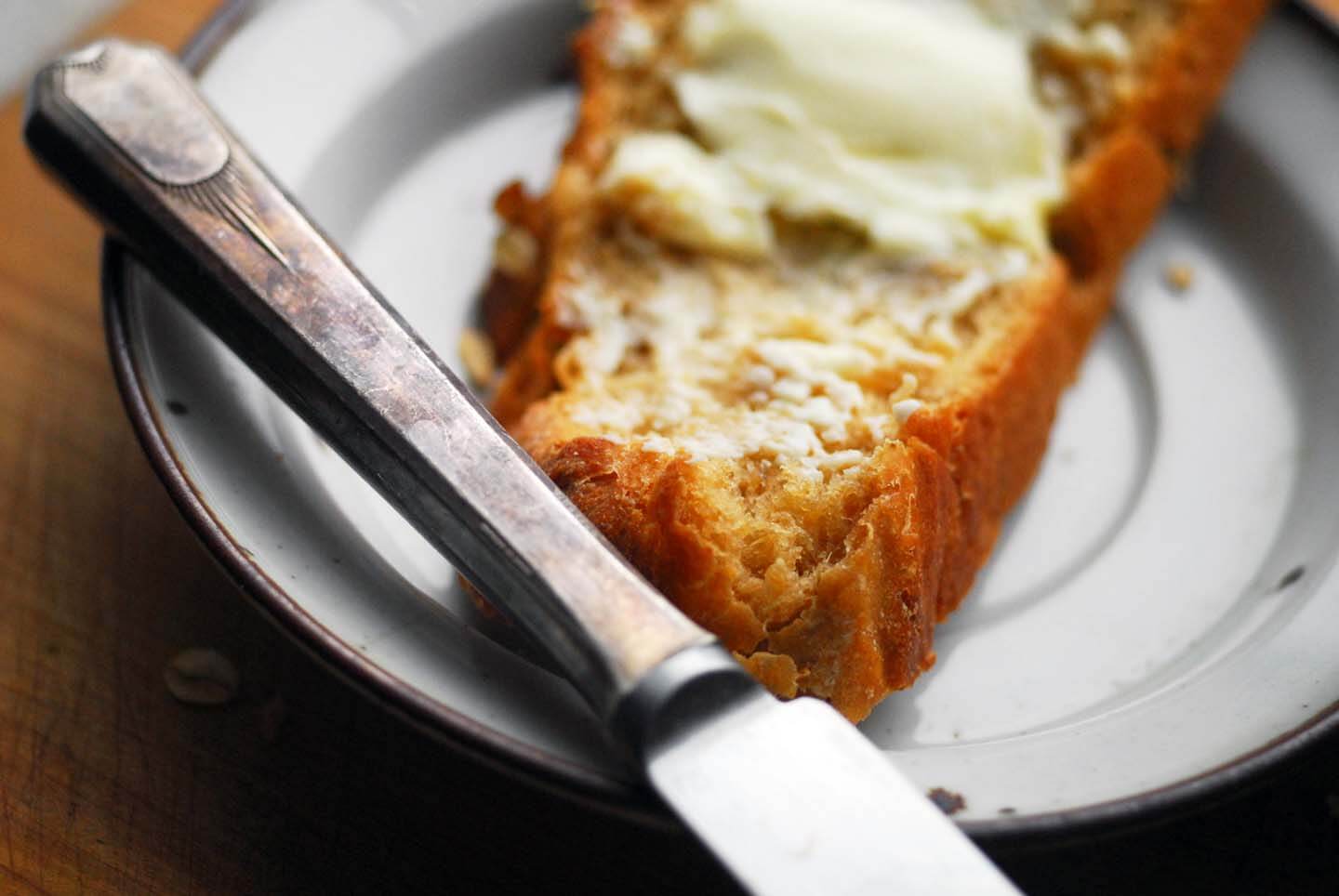 I'd never made Great-Grandma Gibson's oatmeal bread, but had eaten it on a few occasions as both my grandma and my mom have been known to bake it when a craving hits. And since it's such a beloved treat, I decided that this cold winter evening would be perfect for firing up the oven and baking some history.
I found my copy of Great-Grandma Gibson's recipe card and the directions were brief. My grandmother at some point had penciled in a couple of modifications, but I had to squint to read the light marks on the too-dark copy I'd made. Fortunately, I had all the ingredients on hand, and as her recipe makes two loaves I was pleased that I would get to save one for myself.
The dough takes some time as I used non-instant oats that Great-Grandma recommended let steep in hot milk for a couple of hours. And her original ingredient list called for yeast, yet there was no mention of letting the dough rise. I finally made out a faint handwritten word that said "rise," so after mixing all the ingredients I kneaded the dough until it was smooth (though Mom later told me that kneading is not necessary, which is part of the recipe's charm and ease). I then formed two round loaves and let them rise for an hour or so. After they had doubled in size, I brushed them with a milk wash, sprinkled some oats on top and slid them into the oven. There was no indication on how long to bake the bread, so after forty-five minutes I checked on them and when I thumped the bottoms they sounded hollow. The bread was done!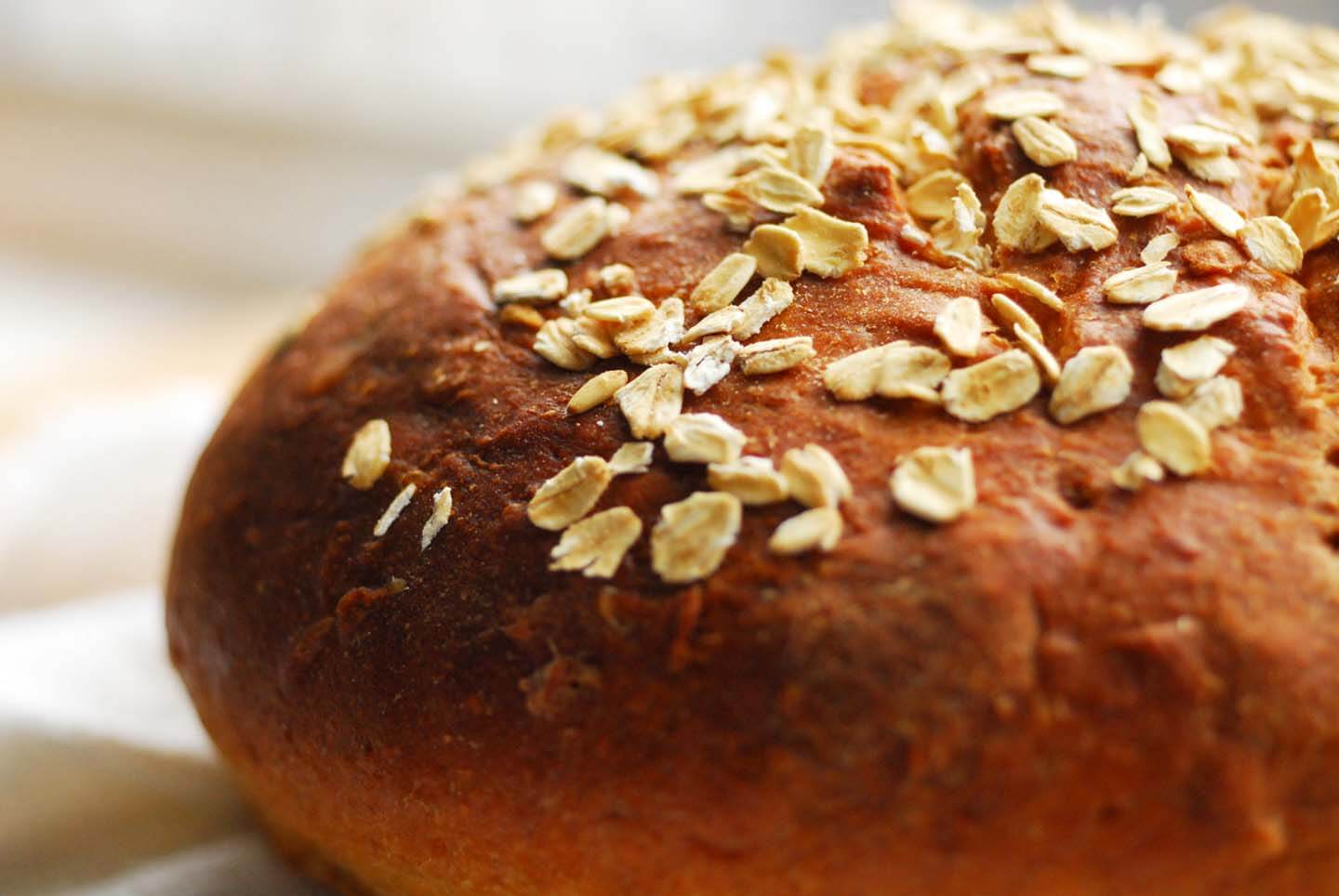 Pulling the fragrant loaves out of the oven, I couldn't wait for them to cool—I sliced off a thick piece, slathered it in butter and took a bite. And I then understood how my grandma ate almost a whole loaf in one sitting as each bite was slightly sweet and nutty with a moist, soft crumb. It was heavenly.
So Grandma, your loaf of oatmeal bread is in the mail. And may it help your case of the Januaries go away!
—————
Would you like more Homesick Texan? Well, I've started offering additional recipes for paid subscribers to help with the costs of running the site. While I'm not taking anything away, if you'd like to support Homesick Texan and have access to exclusive, never-seen-before subscriber-only posts, please consider becoming a member; annual subscriptions are as low as $25. Thank you for reading, your consideration, and your support!
—————

Great-Grandma Gibson's oatmeal bread
Ingredients
Ingredients for the bread:
1

cup

rolled oats (not instant)

2

cups

boiling milk

2

packets yeast

1/2

cup

of warm water

2

teaspoons

kosher salt

1

large egg, beaten

1/2

cup

honey

4

tablespoons

shortening, room temperature

5 to 5 1/2

cups

all-purpose flour
Ingredients for the oatmeal topping:
1

tablespoon

milk

1

tablespoon

water

1/4

cup

rolled oats
Instructions
Add oatmeal to hot milk and let stand for 2 hours.

In a large bowl, dissolve the yeast in warm water. Stir in the salt, egg, honey, shortening, oatmeal, and 5 cups of flour. Stir until well combined. If the dough is too wet, add more flour until it's smooth.

Divide evenly into two 9×5 loaf pans or form into two balls and on a parchment-paper lined sheet. Cover and let rise in a warm place until doubled in size (about an hour). To make the topping, stir together the milk and water. Brush each loaf with the milk and then sprinkle evenly over each loaf the oatmeal.

Bake at 350°F for 40 to 45 minutes.