The proof is in the biscuit pudding
People deal with grief in different ways. Me? I eat. These past two weeks, I've gone through countless casseroles, half a ham, pints of homemade pimento cheese (which a very sweet woman from my grandma's church made for my family because I had written that it was funeral food), a five-pound brisket I smoked myself (more on that later), jars of salsa, bags of chips, loaves of bread and countless cheeseburgers. My appetite has been voracious. But one of my favorite things I've eaten is something I hadn't had in a long time: biscuit pudding.
When you leave unexpectedly for a trip, you don't plan ahead. So when I went to Texas, I had fresh homemade biscuits and a new quart of milk, which by the time I returned a few days later were both nearing expiration. I hate to see things go to waste, and I most certainly didn't want to throw away biscuits, so I decided that making them into a sweet pudding would not only make good use of them but be satisfying to eat as well.
There's something about bread puddings that makes me feel cozy and warm. Biscuit puddings are no different. They're easy on the mouth—each bite soft and slightly sticky. But the occasional burst of tart dried fruit, crunchy nuts and bittersweet chocolate keep things lively enough that you don't get completely bored. I don't make bread puddings often, but when I do it always reminds me of college when we'd eat pans of it while pretending to study for exams.


At my school one of the core classes required for all was something called Heritage of Western Culture. Yes, it was as broad and exhausting as it sounds, with three semesters devoted to learning everything from Aristotle to Zeno, with a lot of Kierkegaard, Nietzsche, Hegel and Newton thrown in between. When it came time to take a test, a large group of us would decamp to the local pancake house for all-night study sessions. While it was kind of a depressing place, we chose this restaurant because it was open 24 hours, had unlimited refills on coffee, few other customers, and a salad bar that offered amongst the vegetables a huge tray of bread pudding.
While the coffee was weak and the salad was wilted, the bread pudding was surprisingly phenomenal. It was cold, soft and dense, each bite spiked with pecans and raisins. We couldn't stop eating it, and you could mark how much time had passed by how much bread pudding had been consumed. I never learned much in these group study sessions, but I always attended for the opportunity to eat bread pudding all night long.
Now if you should find yourself with days-old biscuits (though I must think that would be a rare occasion), I highly recommend turning them into a pudding. I added tart and bright dried cherries to mine, with some pecans from the farm and dark-chocolate chunks that melted into pockets of bittersweet cream. Fresh from the oven, the pudding is soft and a bit molten, but when it cools, it turns more spongy and solid; I like to eat it both ways. Some people enjoy adding whipped cream or powdered sugar on top of their biscuit pudding, but I prefer mine plain.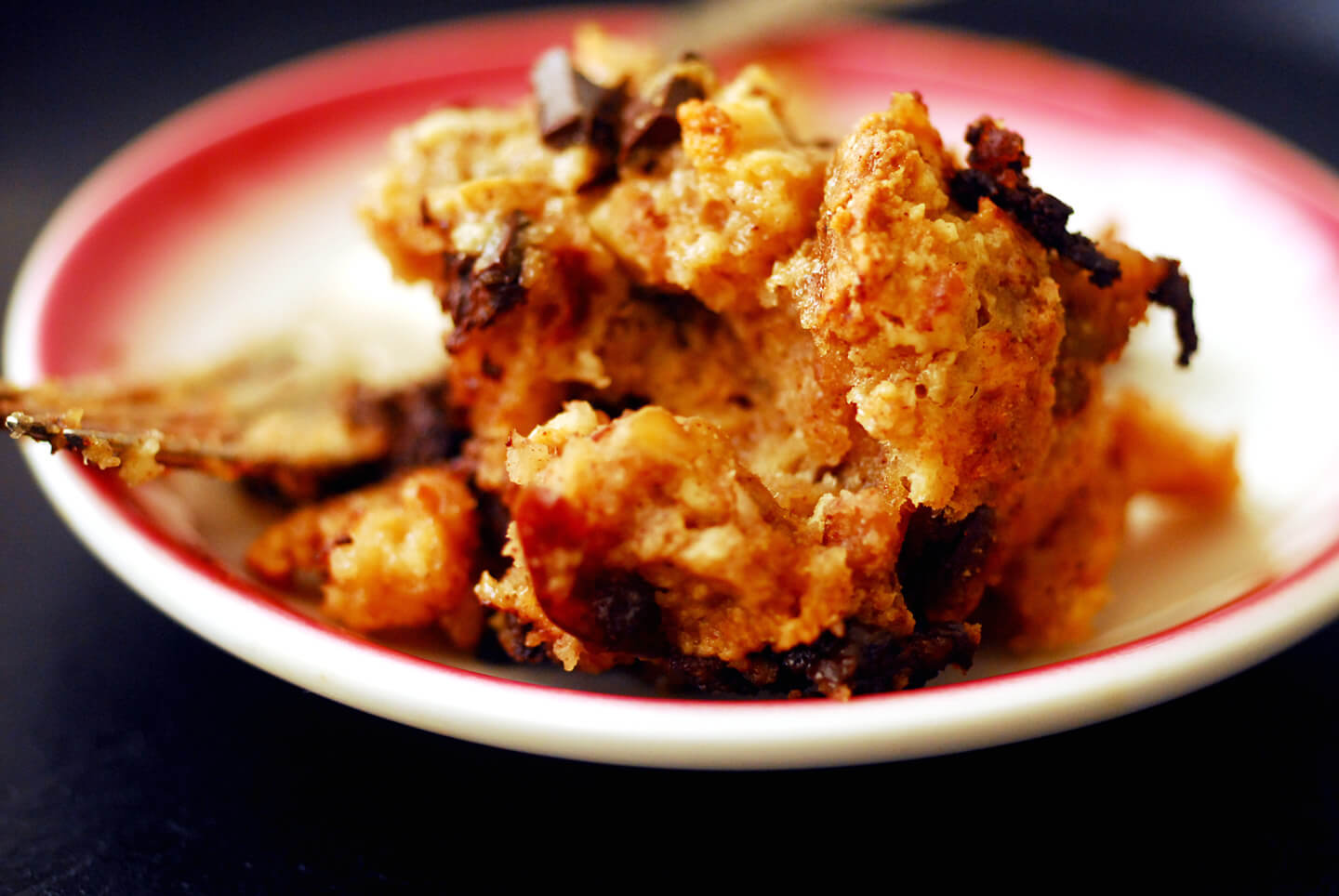 I don't enjoy grieving, but it has been a kind of perverse pleasure going crazy with my appetite. I'm done with that, however, and will now return to my normal eating schedule. But I am pleased that my hunger gave me the energy and impetus to make biscuit pudding—a forgotten friend that I have enjoyed becoming reacquainted.
Biscuit pudding
Ingredients
4

cups

crumbled biscuits

1

cup

whole milk

1

cup

half-and-half

2

large eggs

1/2

cup

sugar

1/2

cup

brown sugar

1

teaspoon

cinnamon

1

teaspoon

vanilla

1/4

teaspoon

salt

1/2

cup

chopped dried cherries

1/2

cup

chopped pecans

1

cup

chocolate chips
Instructions
Preheat the oven to 350° F.

Crumble the biscuits into a greased loaf pan, and let soak in the milk and half-and-half for fifteen minutes.

Beat the eggs with the sugar, cinnamon, vanilla, and salt, and stir into the milk and soft biscuits making a batter.

Mix the cherries, nuts and chocolate into the batter.

Bake for 1 hour, or until solid. If you insert a knife to test for doneness, it should come out mostly clean, though the melted chocolate may coat it a bit.
Notes
You can add 3 tablespoons of cocoa to the batter to make a chocolate biscuit pudding. Can also add any dried fruit or nuts you prefer.