Red chile cheese enchiladas
In the spring of 2009, I visited El Paso. While I'd been there before, for this trip my plan was to fly into the city, rent a car, and then continue to Marfa like I'd done in the past. But when I told a friend that I would be in her hometown, she insisted I spend a few meals in the city before hitting the road. "The food is unlike any you've ever had," she said.
She gave me a list of places to try and one of them was Carnitas Queretaro. As the name implies, this is a pork-centric restaurant that specializes in said little meats and my plan was to try the namesake dish. The morning I visited, however, a server walked past me carrying a plate of enchiladas. They were bright red and smothered with white molten cheese, and it was so fragrant that as she passed I turned my head to follow the plate to its destination. A few minutes later, the server approached my table to take my order. I nodded to where she'd dropped off the enchiladas and said I wanted the same.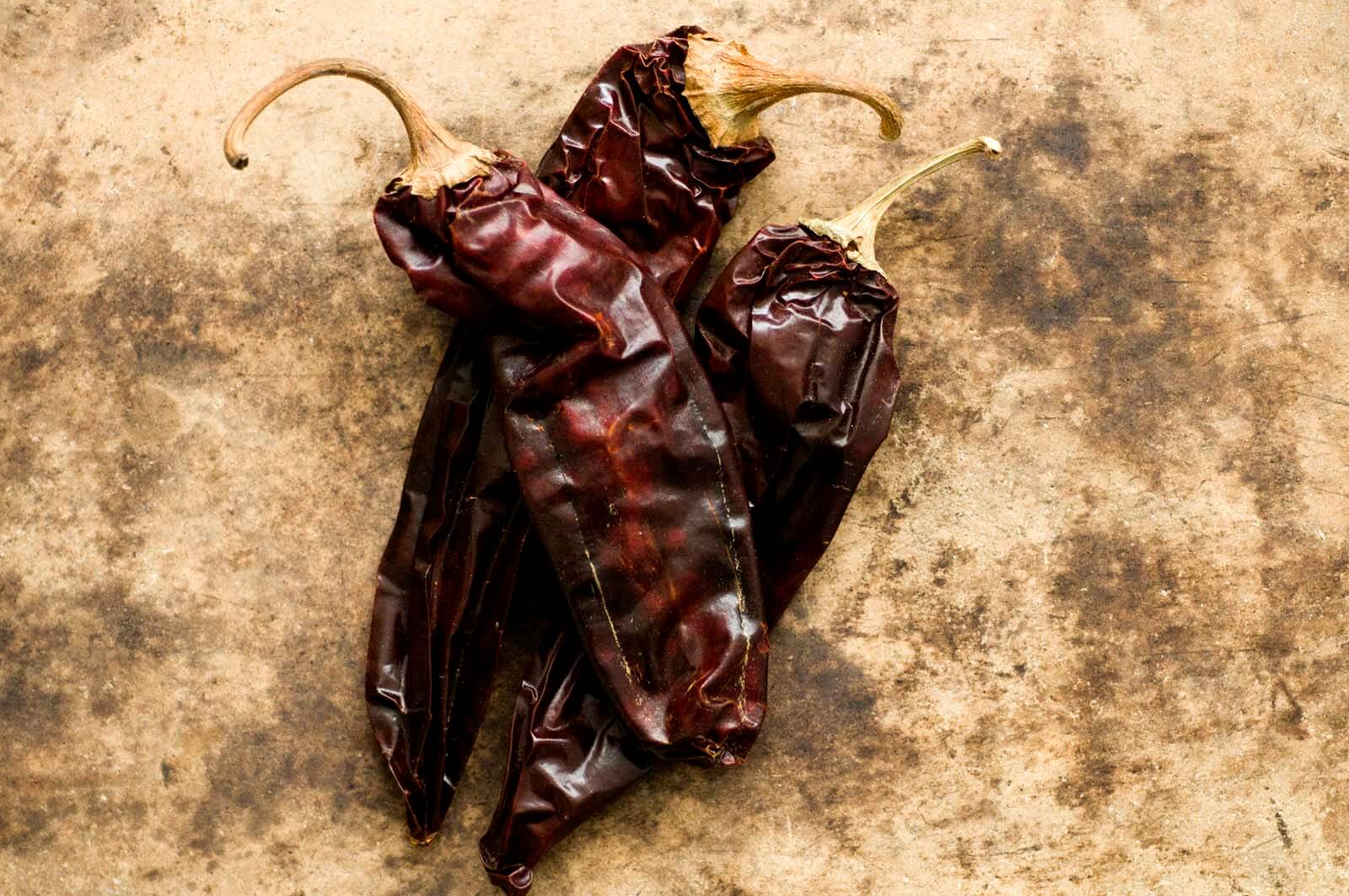 When my enchiladas arrived, a light steam rose from the hot plate. On it were two soft corn tortillas smothered in that rich, vibrant sauce along with a blanket of melted cheese. I took my first bite, and they were earthy, chewy, and creamy with a touch of heat. The red chile sauce made them distinct from other cheese enchiladas I'd had in Texas, but they were still familiar. They were excellent and I loved them.

Now, typically Tex-Mex cheese enchiladas have a sauce made with ancho chiles, which is a dried poblano pepper that is earthy with bittersweet hints of raisins and chocolate. In El Paso, however, the dried chiles commonly used come from long, green chiles, what people may refer to as Hatch chiles, which are in the same family as Anaheim chiles. These chiles, which can be called New Mexico chiles or chiles colorado, differ from anchos in that they are fruitier, though they too have that earthy essence. While neither is terribly hot, I do find that New Mexican chiles can sometimes be more fiery than anchos.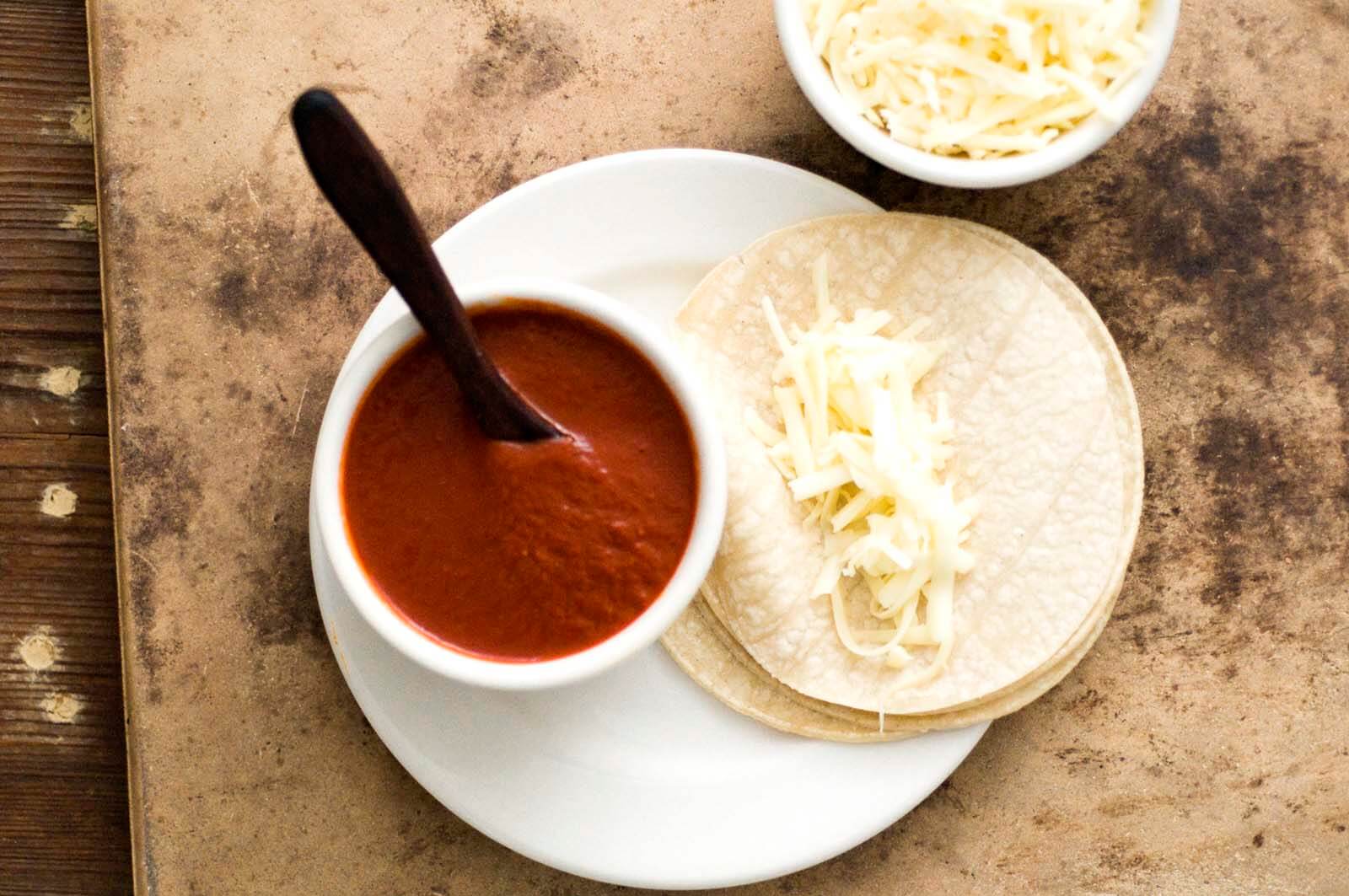 While I've returned to El Paso several times since that visit, when I was recently looking at photos from my trip in 2009, it occurred to me I had never attempted to make those red chile cheese enchiladas at home. That needed to change. Fortunately, I happened to have some New Mexican chiles in my pantry, and so I began to craft my sauce, which is the foundation of the dish.
Red chile sauce is ubiquitous in El Paso and while most recipes are similar I discovered that no family makes their sauce the same way. For mine, I decided to go with lots of garlic, onion, cumin, and oregano, along with broth and the dried chiles, which made a flavorful sauce. Some may strain the sauce or add flour to thicken it, but I found if you pureed it long enough in the blender you could eliminate those steps. For the enchiladas, I used Monterey Jack since in El Paso white cheese is preferred over the yellow cheese more popular throughout the rest of the state. To serve, a garnish of thinly sliced onions, pickled jalapeños, and a scoop of guacamole made them complete.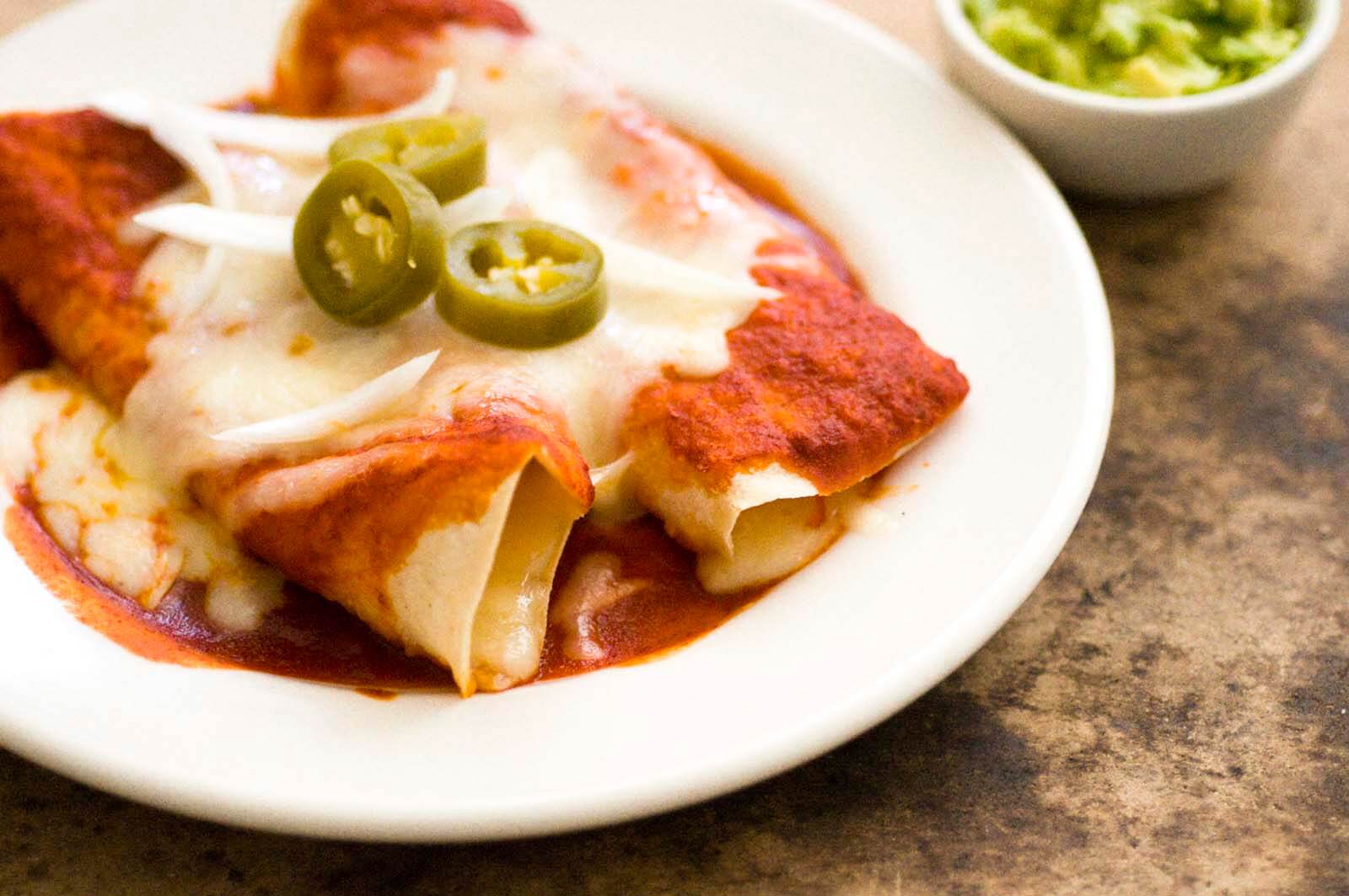 The resulting plate was just as I remembered, and these hearty, cheesy enchiladas were West Texas-style comfort food at its finest. And as I took each bite, I thought about how wonderful it is that Texas with its vast and varied landscape contains such a diverse and delicious cuisine. I'm glad that I followed my friend's advice to spend time eating in El Paso, and I look forward to visiting again soon.
Red chile cheese enchiladas
Ingredients
Ingredients for the red chile sauce:
12

dried New Mexican chiles, about 3 ounces, seeded and stemmed

1

bay leaf

1

tablespoon

vegetable oil

1/2

cup

chopped yellow onion

4

cloves

garlic, chopped

1

teaspoon

ground cumin

1

teaspoon

dried oregano

2

cups

chicken or vegetable broth

Salt
Ingredients for the enchiladas:
2

tablespoons

vegetable oil

12

corn tortillas

1 1/2

pounds

3 cups shredded Monterey Jack or Muenster

Diced or thinly sliced yellow onion, for serving

Pickled jalapeños, for serving

Guacamole, for serving
Instructions
In a dry skillet heated on high, toast the New Mexican chiles on each side for about 10 seconds or just until they start to puff. Fill the skillet with enough water to cover the chiles and add the bay leaf. Leave the heat on until the water begins to boil and then turn off the heat and let the chiles soak until soft, about 30 minutes. Once hydrated, discard the soaking water and the bay leaf then rinse the chiles. Place the chiles in a blender.

Meanwhile, to make the sauce, in a medium saucepan heat the oil on medium-low heat. Add the onion and the garlic and while occasionally stirring, cook until softened and fragrant, about 3-5 minutes. Turn off the heat. Add the onion and garlic to the blender, along with the cumin, oregano, and broth. Puree for 5 minutes or until smooth.

Pour the sauce into the saucepan and cook on medium-low heat for 10 minutes or until warm and slightly reduced. Taste and adjust seasonings, adding salt if needed. You should have about 3 cups of sauce, though if you have a bit more or less that's fine.

For the enchiladas, first preheat the oven to 350°F and pour the oil into a 9×13 baking dish. To quickly warm the tortillas, place them in the baking dish (it's okay if they overlap) and make sure they get covered in the oil. Place the uncovered in the oven for 3-5 minutes or until the tortillas are soft and warm. Remove the tortillas from the baking pan and keep covered. Pour half the red chile sauce into the baking dish.

To assemble the enchiladas, place a warm tortilla on a clean surface and add 1/4 cup of the cheese and then roll the tortilla. Place rolled tortillas in the baking dish, seam side down. Repeat with the remaining tortillas. Evenly pour over the enchiladas the remaining salsa, then top with the remaining cheese.

Bake uncovered for 15-20 minutes or until the cheese has melted. Top the enchiladas with the onion and jalapeños, and serve warm with guacamole on the side.
Notes
Dried New Mexican chiles can be found in the spice or international section at many supermarkets or at Mexican grocers. If you can't find them, guajillo chiles are a good substitution.