Many cuisines around the world feature a ham and cheese sandwich. For instance, in France, there is a ham and cheese baguette. In Cuba, there is the Cubano. In Italy, the ham and cheese panini. And in Korea, there is ham and cheese toast.
Mexico is no different. There you will find the sincronizada, which is ham and cheese toasted together between two flour tortillas until melty and warm. It's a fine combination that is excellent with only those three ingredients, though it also takes well to embellishments such as tomatoes, lettuce, and avocados.
Now, you may be thinking with its melted cheese and warm tortillas that the sincronizada sounds like a quesadilla. Indeed the two are similar. When I investigated what marked the two as different, however, I learned there are slight variations to each form.
A quesadilla in Mexico was traditionally formed with corn masa. While on our side of the border they are more often made with flour tortillas, the dish originated with cheese melted between folded masa or corn tortillas.
Sincronizadas, however, are always made with flour tortillas. That's one difference. Though another is the inclusion of ham with the cheese. While sometimes you will see chicken sincronizadas or beef sincronizadas, traditionally they were crafted only with ham and cheese and no other proteins.
As for the cheese, it's believed that sincronizadas originated in the Mexican state of Oaxaca, and as such, that state's eponymous white soft cheese is often used. Though other white cheeses such as asadero, Mexican manchego, mozzarella, and Monterrey Jack are found, as well. Some even combine slices of orange American cheese with the white cheeses.
The name's origins are murky, with some sources saying it's a nod to the rise in synchronized (sincronizada in Spanish) transmissions in cars in the 1970s when the dish made its debut. Others have said it's because the two flour tortillas stacked are synchronized. And indeed, those two in-synch tortillas with a filling in between is another way this dish varies from quesadillas, as it always has two flour tortillas, whereas quesadillas can be made with one tortilla folded instead.
All this said, how does a sincronizada taste? It's a warm bite loaded with the pull of melted cheese, the sweet and savory chew of baked ham, and the crisp crunch of a buttered and toasted tortilla. For mine, I also spread in guacamole loaded with tomatoes and diced fresh jalapeños for contrast and zest.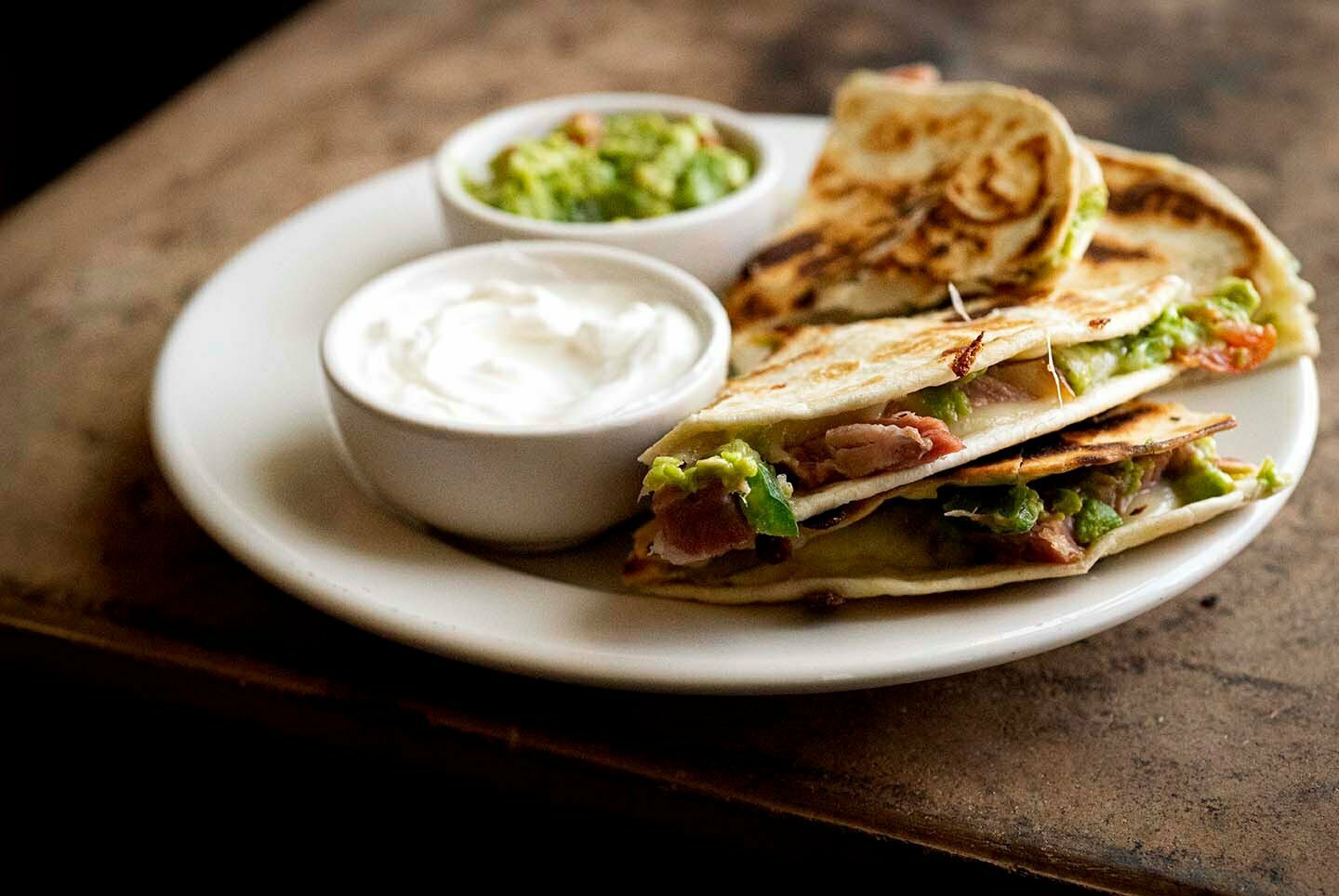 While you can offer them on their own, I like to dip mine in more guacamole along with a cool scoop of sour cream. You can prepare them with thinly sliced deli ham, though they work well with thicker slabs of leftover baked hams, too. They're quick to prepare and satisfying to eat. Sincronizadas are a welcome addition to the ham and cheese sandwich canon.
—————
Would you like more Homesick Texan? Well, I've started offering additional recipes for paid subscribers to help with the costs of running the site. While I'm not taking anything away, if you'd like to support Homesick Texan and have access to exclusive, never-seen-before subscriber-only posts, please consider becoming a member; annual subscriptions are as low as $25. Thank you for reading, your consideration, and your support!
—————
Sincronizadas
Ingredients
2

avocados, peeled and pitted

2

jalapeños, seeded and diced

½

cup

grape tomatoes, diced

2

cloves

garlic, minced

2

tablespoons

lime juice

½

teaspoon

kosher salt

2

tablespoons

unsalted butter

8

flour tortillas

8

ounces

sliced ham

8

ounces

shredded Monterey Jack or Mozzarella

Sour cream, for serving
Instructions
First, make the guacamole by mashing the avocado in a bowl with jalapeños, tomatoes, garlic, lime juice, and salt. Taste and adjust the salt if needed.

For the sincronizadas, in a skillet heated on medium-low, melt ½ tablespoon of the butter. Add a tortilla and layer over the entire surface in this order: ¼ cup of the cheese, ¼ of the sliced ham, 2 tablespoons of guacamole, and another ¼ cup of the cheese. Top with another tortilla.

After the cheese has melted and the 2 tortillas are beginning to stick, flip the sincronizada and cook for a couple more minutes or until the bottom tortilla is toasted. Remove the sincronizada and cover with foil to keep warm. Repeat the process for the remaining tortillas and filling.

Cut into wedges and serve warm with remaining guacamole and sour cream.