Sopa de lima (Mexican lime soup) recipe
Whenever I get together with my Texan friends in New York, we'll usually cook our favorite dishes from back home. Enchiladas, chicken-fried steak, brisket and chile con queso all make frequent appearances—the Texan cuisine we serve is comfortable and familiar. I don't mind this at all.
But on a recent visit to a friend's house, he served me a flavorful chicken soup that was topped with fried tortilla strips, Monterrey Jack cheese, lime slices and avocado. It was a bit like tortilla soup, but tangier and lighter. "Is this Texan?" I asked. "Sort of," he said. He then explained that this soup—which is called sopa de lima or Mexican lime soup—originally hails from the Yucatan region of Mexico. But he used to eat it growing up in San Antonio, and it reminded him of home.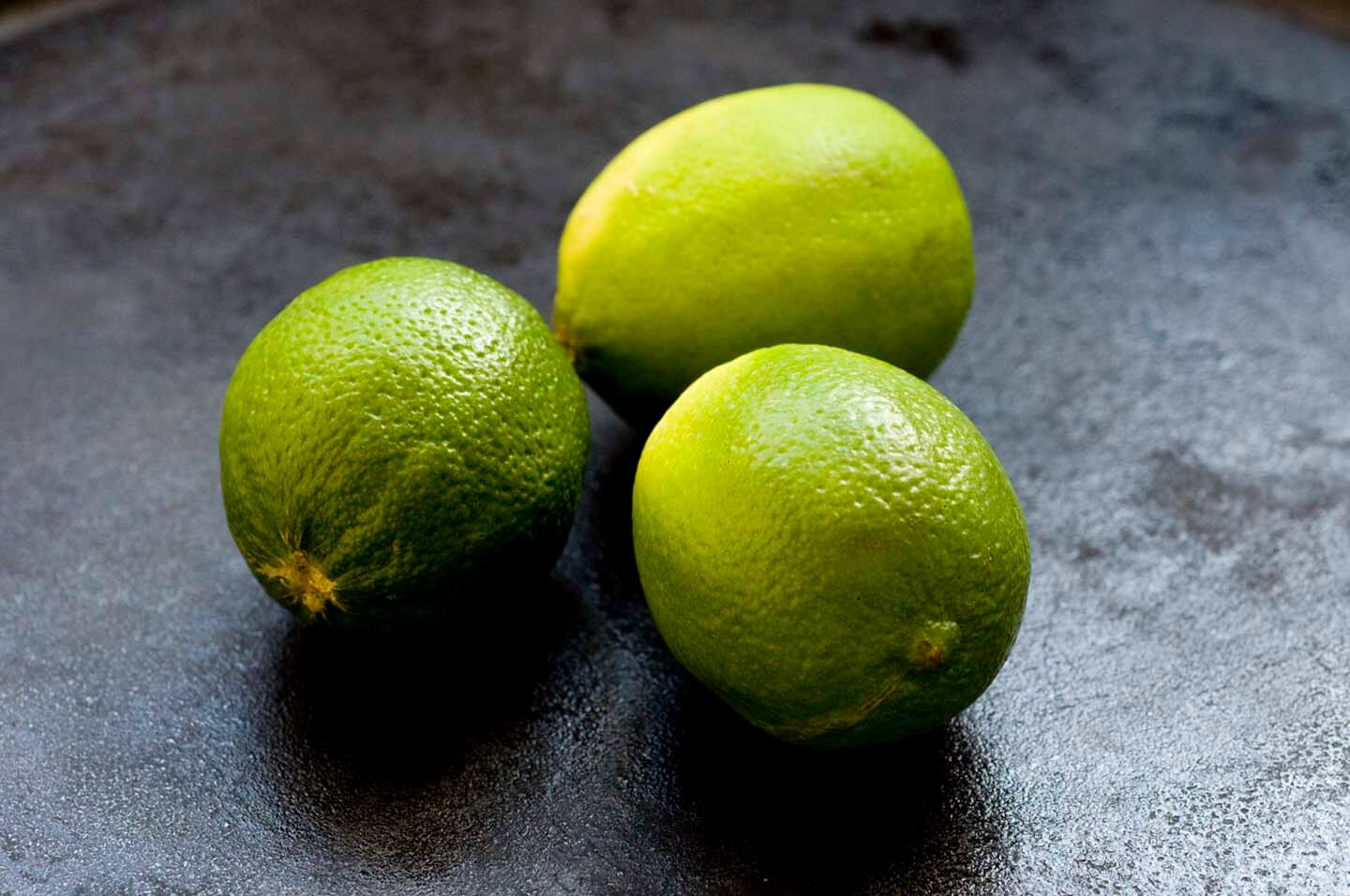 I loved that soup, but I didn't think about it again until I began to feel a tickle in my throat and a heaviness in my chest; if I wasn't careful, a cold could be coming. Clearly, I needed a quick fix, and I figured that sopa de lima—which is chock full of vitamin C from the lime juice—was what I needed to stave off getting sick.
I asked my friend for the recipe, and he pointed me towards one he'd found in the New York Times. It looked good, but it called for boneless, skinless chicken breasts, which I don't think add much flavor to a soup. So I decided to tinker with the recipe and make it with a whole chicken, instead.
I made some other changes, too. Besides its use of lime juice, one of the hallmarks of sopa de lima is that it calls for allspice and cinnamon, flavors not often found in a chicken soup. The recipe I saw called for these spices to be briefly introduced at the end, but I decided that throwing them into the pot from the beginning would give the soup more depth of flavor. I also altered the original recipe by adding a mess of garlic and using the zest from the lime, as well.
If, like me, you're a big fan of limes, you'll appreciate this bright, refreshing soup. Now, apparently the limes in the Yucatan have a different flavor than the limes we eat in the U.S. But even if this soup isn't completely authentic to its source material, it has that Tex-Mex flavor that I love. And whether you're serving it to guests or eating it for its more salubrious effects, I think you'll love it, too.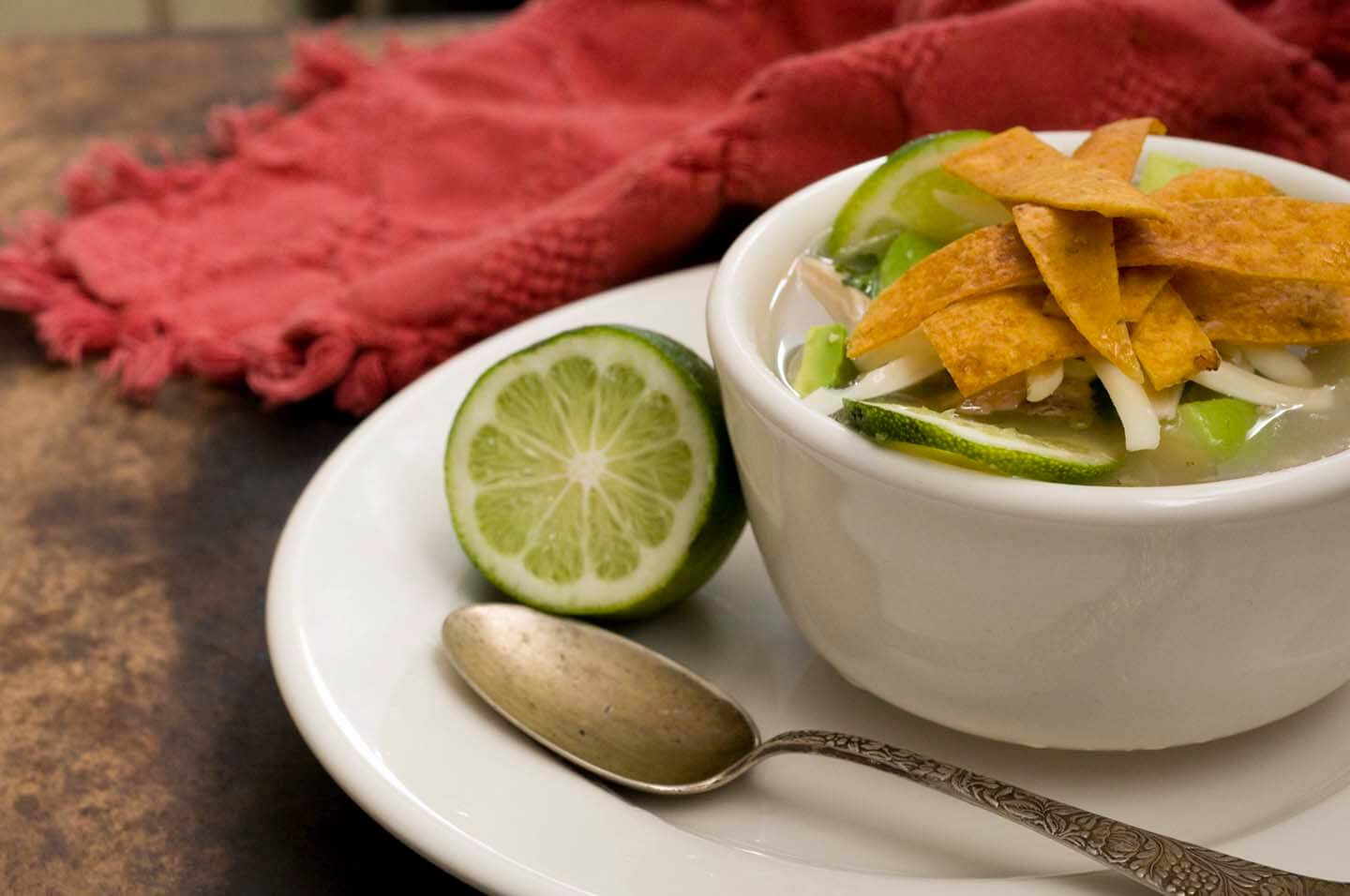 I like to make my broth from scratch, but if you want to save time you can use prepared broth instead. While I'm biased, of course, and think the soup will taste better if you start with a whole chicken, it's still delicious if you take a short cut with already-made broth and cooked, perhaps leftover, chicken. Just be sure and top the soup with crisp fried tortillas, shredded cheese and creamy avocados, as those flourishes elevate this soothing soup into something festive and special.
Sopa de lima (Mexican lime soup)
Ingredients
For the broth:
1 (3- to 4-)

pound

whole chicken, halved

1

medium yellow onion, quartered

8

cloves

garlic

2

teaspoons

black peppercorns

4

whole cloves or 1/4 teaspoon ground clove

8

allspice berries or 1/4 teaspoon ground allspice

2

cinnamon sticks or 1/2 teaspoon ground cinnamon

1

leafy stem of cilantro

1

teaspoon

kosher salt
For the soup:
Oil, for frying

4

corn tortillas, cut into strips

1

medium yellow onion, quartered

10

cloves

garlic

1/2

teaspoon

ground cumin

1/2

teaspoon

oregano

1

cup

chopped cilantro, divided

Pinch

cayenne

2

teaspoons

lime zest

1/4

cup

lime juice

Kosher salt

Black pepper

1/2

cup

(4 ounces) shredded Monterrey Jack, for serving

2

jalapeños, seeded and diced, for serving

1

avocado, pitted, peeled, and cubed, for serving

1

lime, cut into slices, for serving
Instructions
To make the broth, place the chicken in a large pot, along with the onion, garlic, peppercorns, cloves, allspice berries, cinnamon sticks, cilantro, and salt. Cover with 10 cups of water, bring to a boil and then turn down the heat and simmer uncovered for 45 minutes.

While the broth is cooking, make the fried tortilla strips. Heat in a heavy skillet 1/4 inch of vegetable oil to 350°F . In batches, fry the tortilla strips until lightly browned and crisp, about a minute. Drain on a plate lined with a paper towel and lightly sprinkle with salt.

When the broth is done, remove chicken from the pot and turn off the heat. After it's cooled, remove the skin, pick the meat off the bones, and either shred or cut into bite-sized pieces. Sprinkle chicken with salt to taste. 

Meanwhile, strain the cooled broth, throwing out the vegetables. Remove the fat from the broth with a gravy separator. Or alternatively, you can take a quart-sized plastic storage bag and pour some broth into it. Snip a bottom corner of the bag and drain the broth, stopping when you get to the fat layer that is on top. (You will probably have to do this in batches). Pour the strained broth back into the pot. You should have about 2 quarts.

To continue making the soup, place the quartered onion and 10 cloves of garlic under the broiler. Cook until blackened, about 10 minutes, turning once. Place the cooked onion and garlic into the blender, along with 1 cup of the strained broth. Blend until smooth and then pour into the soup pot. 

Stir into the pot the ground cumin, oregano, 1/2 cup of the chopped cilantro, cayenne, and lime zest. Bring to a boil and then turn down the heat and simmer uncovered for 10 minutes, then add the shredded chicken. Cook for 5 more minutes. Stir in the lime juice. Taste and adjust seasonings, adding salt and pepper as needed. 

Serve warm topped with shredded Monterrey Jack, fried tortilla strips, diced jalapeños, remaining 1/2 cup of chopped cilantro, avocado, and lime slices.
Notes
To make this more quickly, you can substitute 2 quarts chicken broth and 2 cups shredded cooked chicken instead of making the broth with a whole chicken from scratch.