My great-grandma Blanche loved applesauce cake. In fact, her recipe collection has no less than five versions of this classic snack cake, all of them different. So when I decided to make my own applesauce cake recently, I knew where to turn for inspiration. But as I went through her cards, it was a challenge deciding which one to choose.
Her stack of recipes is a motley collection of scribbles found on index cards, insurance company letterhead, and torn pieces of notebook paper. They're smudged with various spots and splatters, which tells me that the recipes were tested and loved. While sometimes her directions aren't exactly clear, if I spend enough time looking at them I can usually figure out what to do.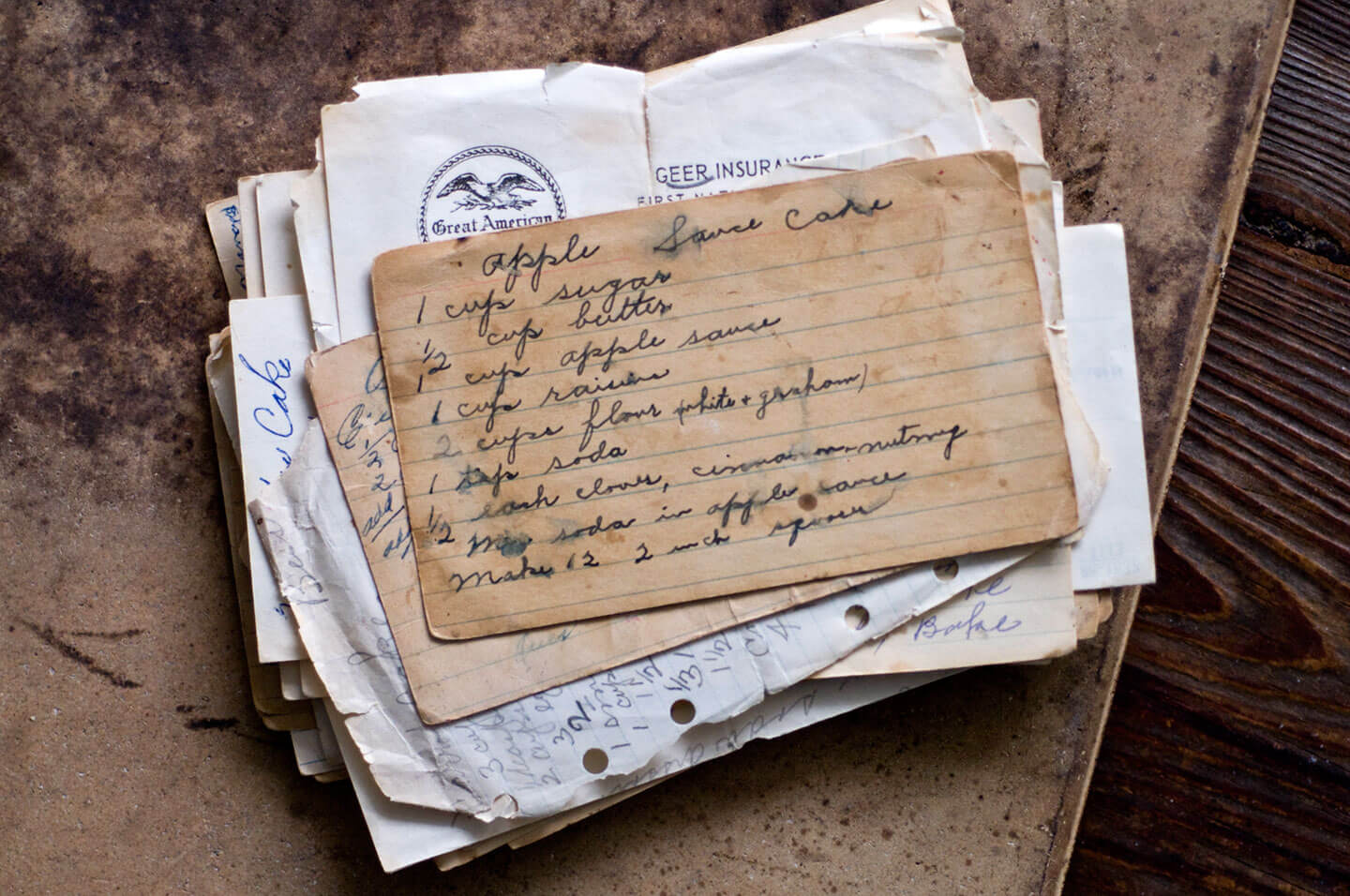 In the case of her applesauce cakes, several of them required the cook to make the applesauce from scratch while others called for shortening. These didn't appeal to me as to make them would require a trip to the store and I wanted to work with what I had on hand. As I kept reading through her cards, at last I found one that used prepared applesauce and butter, two things already in my refrigerator. This was the one, this was a keeper.
When I went to assemble the rest of the ingredients for the cake, I was surprised to see that there weren't any eggs in the recipe nor was there any liquid, such as milk or buttermilk. The cake instead just called for sugar, butter, applesauce, flour, raisins, spices, and baking soda. There was also little guidance as the only directions were to mix the soda with applesauce. No oven temperature was given, no time for how long to bake, nor any other hints though she did say that the recipe yielded 12 two-inch pieces.
While I wasn't sure if this recipe was a fragment or the real deal, I was curious to see how a cake without eggs or milk would turn out and since my great-grandma had never let me down before I proceeded in good faith. I followed Great-Grandma Blanche's list of ingredients, adding some chopped pecans for crunch and a spoonful of ground ancho chile powder for its earthy heat.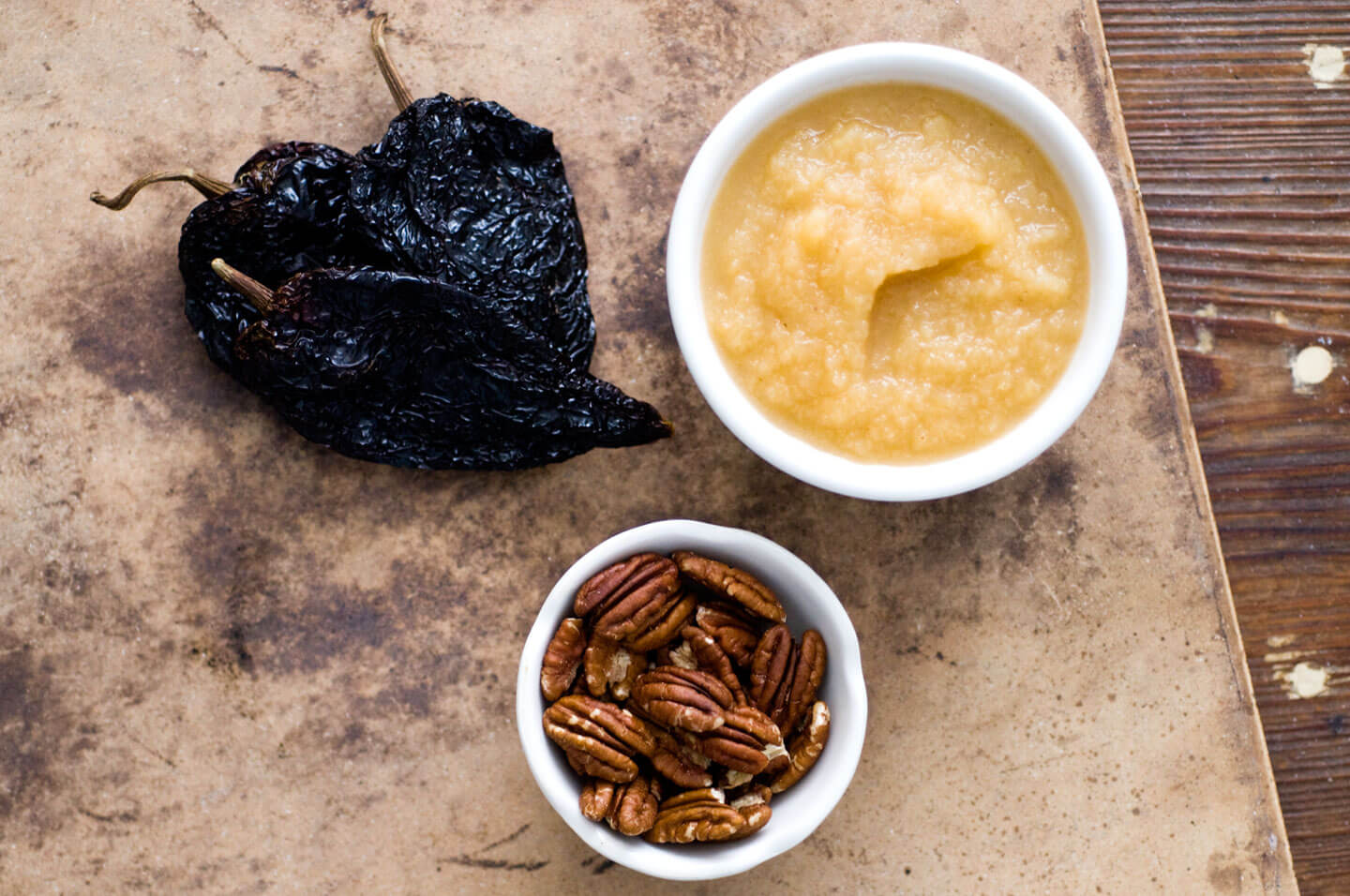 The batter came together easily, and I baked it in a skillet at 350 degrees, since most of her other cake recipes called for this temperature. For baking time, I decided to start with 40 minutes for the time and then see how far I needed to go from there.
A few minutes after sliding the skillet in the oven, my home was filled with the honeyed scent of baked apples and warm spices such as cinnamon, nutmeg, and clove. The time passed quickly and when I pulled the cake out of the oven it had risen (which I wasn't sure if it would do) and had a gorgeous caramelized brown tone. I stuck a knife into the center and it came out clean. The cake was done.
After letting it cool, I cut a slice and the cake was tender with a compact crumb neither crumbly nor velvety but somewhere in between. I took a bite and it was soft and flavorful with the chile, spices, pecans, and juicy sweet raisins making each bite lively. It was also moist enough that no icing was needed.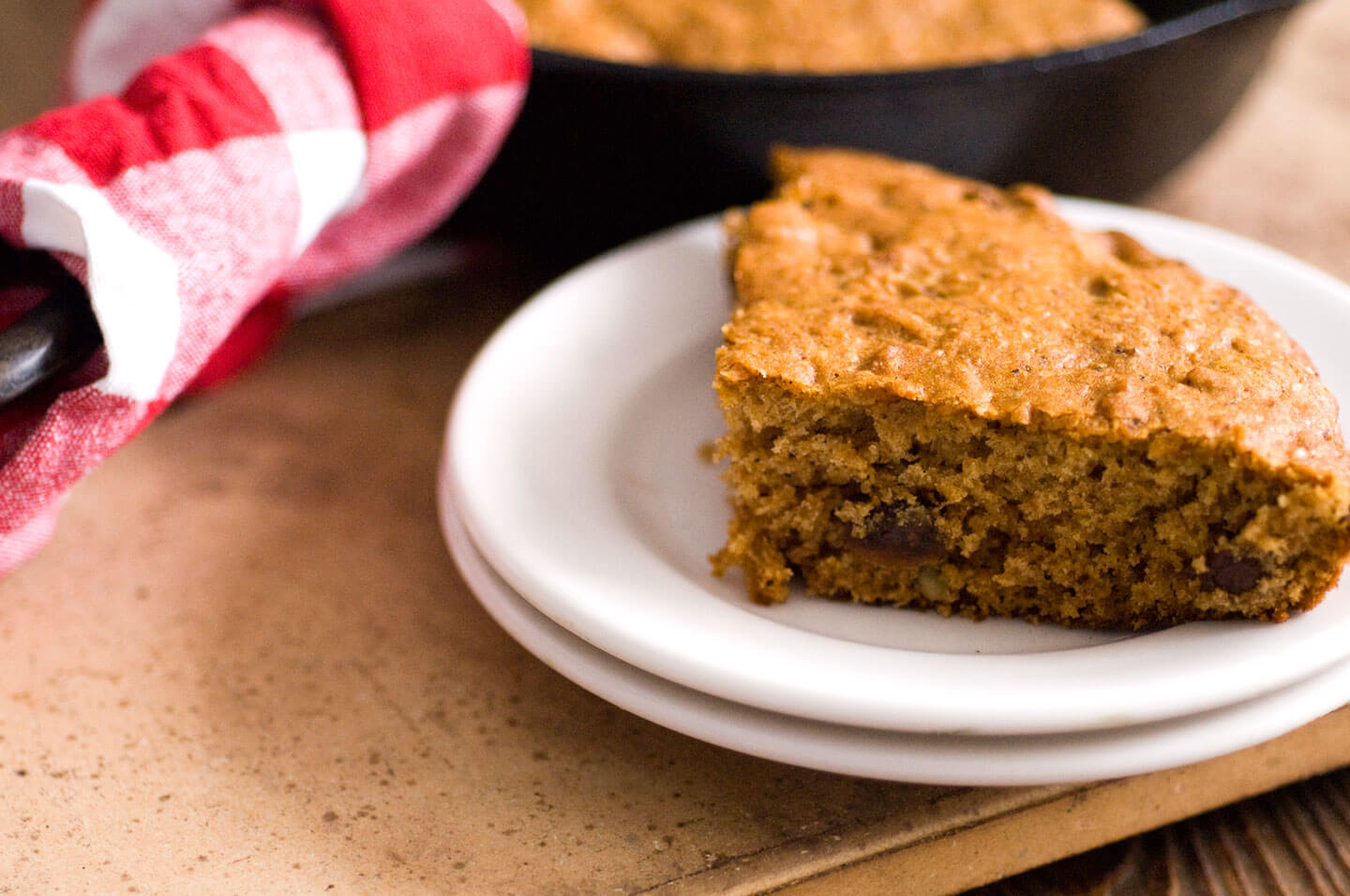 Wanting to make something simple and sweet, this spicy applesauce cake just might be my new favorite thing. And if you're looking for a quick and easy snack cake, it may become your new favorite thing, too.
Spicy applesauce cake
Ingredients
1

cup

sugar

8

tablespoons

(1 stick) unsalted butter, room temperature

2

cups

all-purpose flour

1/2

teaspoon

ancho chile powder (optional)

½

teaspoon

ground clove

½

teaspoon

ground cinnamon

½

teaspoon

ground nutmeg

Pinch

kosher salt

1

teaspoon

baking soda

1

cup

applesauce

1/2

cup

raisins

½

cup

chopped pecans
Instructions
Preheat the oven to 350°F and lightly grease a large oven-proof skillet or a 9-inch square baking pan.

In a mixing bowl, with a wooden spoon cream together the sugar and butter until well combined. Stir in the flour, ancho chile powder, clove, cinnamon, nutmeg, and salt. Stir together the baking soda and applesauce then add it to the batter. Stir until well combined then stir in the raisins and pecans.

Spread the cake batter into the skillet then bake uncovered for 40-45 minutes or until browned and an inserted knife comes out clean. Serve warm. Will keep covered for 3 days.