Okra: people either love it or hate it. But okra and I have a more complicated relationship. My head tells me that I don't like okra—I find it slimy and strange. But if you present me with a plate of fried okra or a jar of pickled okra, I'll eat it—happily and greedily.
I come late to okra, which belies my Southern heritage, I know. I only started eating fried okra a few years ago (though have since made up for much lost time) and pickled okra is an even more recent addition to my table.
A Texan friend had called me, thrilled that she had found "Talk O' Texas" brand of pickled okra at a New York grocery store. I must have not expressed the appropriate amount of enthusiasm for her discovery because she said, "What's wrong, don't you like okra pickles?"
I admitted that I had never even tried them before, I was so adamantly against the vegetable. She chided me and told me that my attitude needed to change as I was missing out on a very good thing.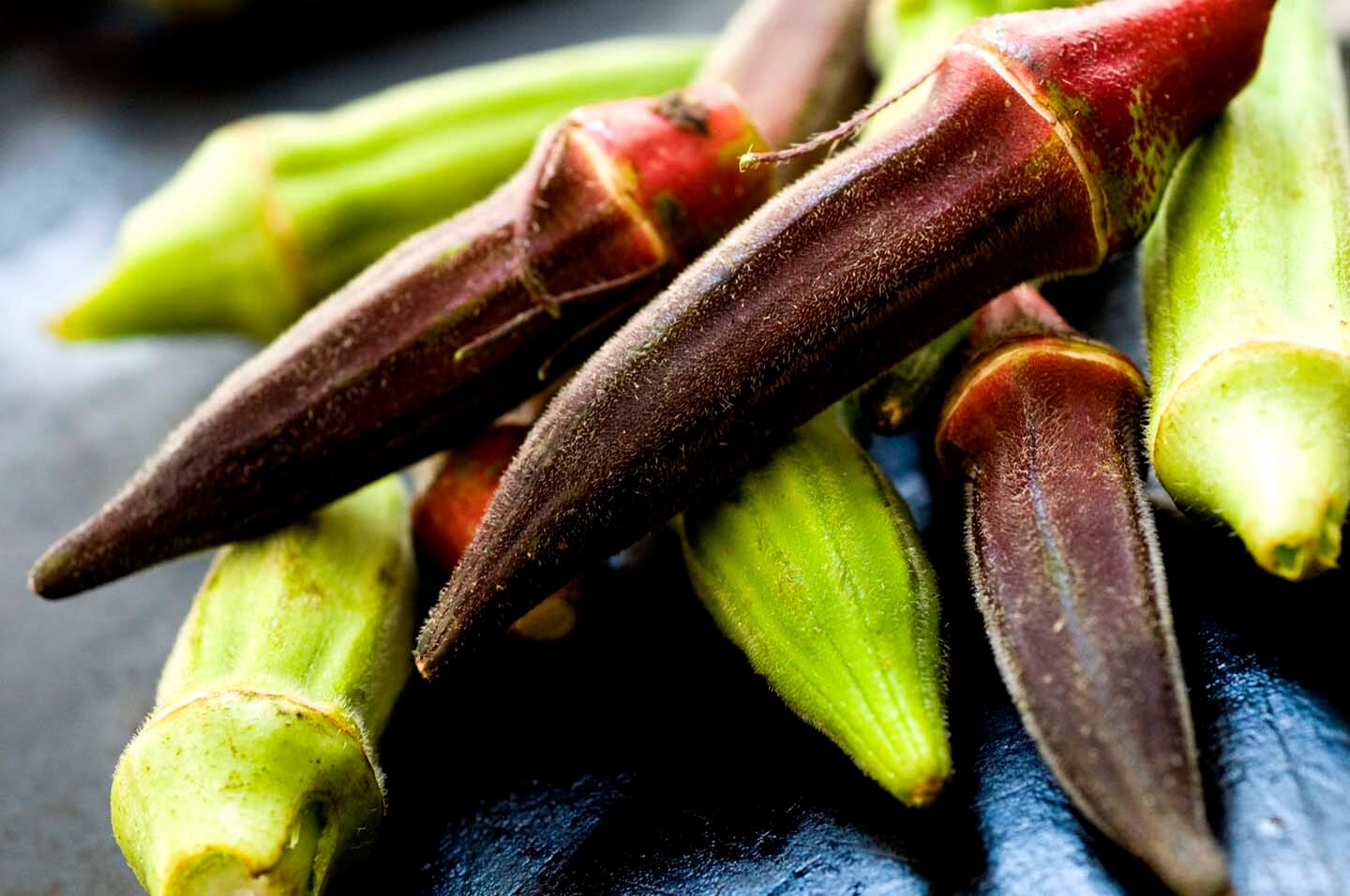 It wasn't until last October that I finally took the okra-pickle plunge. I was at the annual Southern Foodways Symposium in Oxford, Mississippi and during a gumbo luncheon, jars of Tabasco spicy pickled okra were offered as gifts. None of my table mates wanted their jars and since I hate to see good food go to waste, I ended up with several jars of the pickles.
That night, after enjoying myself a bit too much, I ended up in my motel room hungry. Having only the pickles on hand, I decided that they would have to suffice. But surprisingly, I found them more than adequate—I actually enjoyed eating them and was thankful that I had more than one jar as I learned that I my friend was correct—pickled okra is indeed a very good thing.
Okra pickles are especially refreshing right now. Cold and crisp, I like to toss them into salads, dip them in hummus or use as a garnish in a glass of vegetable juice. You can fry them, too. There are still slight texture issues—yes, that's a slight hint of softness in the center of each pod—but I find that the tang of the vinegar and fire of the chiles used in the brine make up for what I normally find unappealing.
And if you see red okra, definitely grab some. It's a bit drier than the green okra and makes for an especially fine pickle—plus it turns the brine a rosy shade.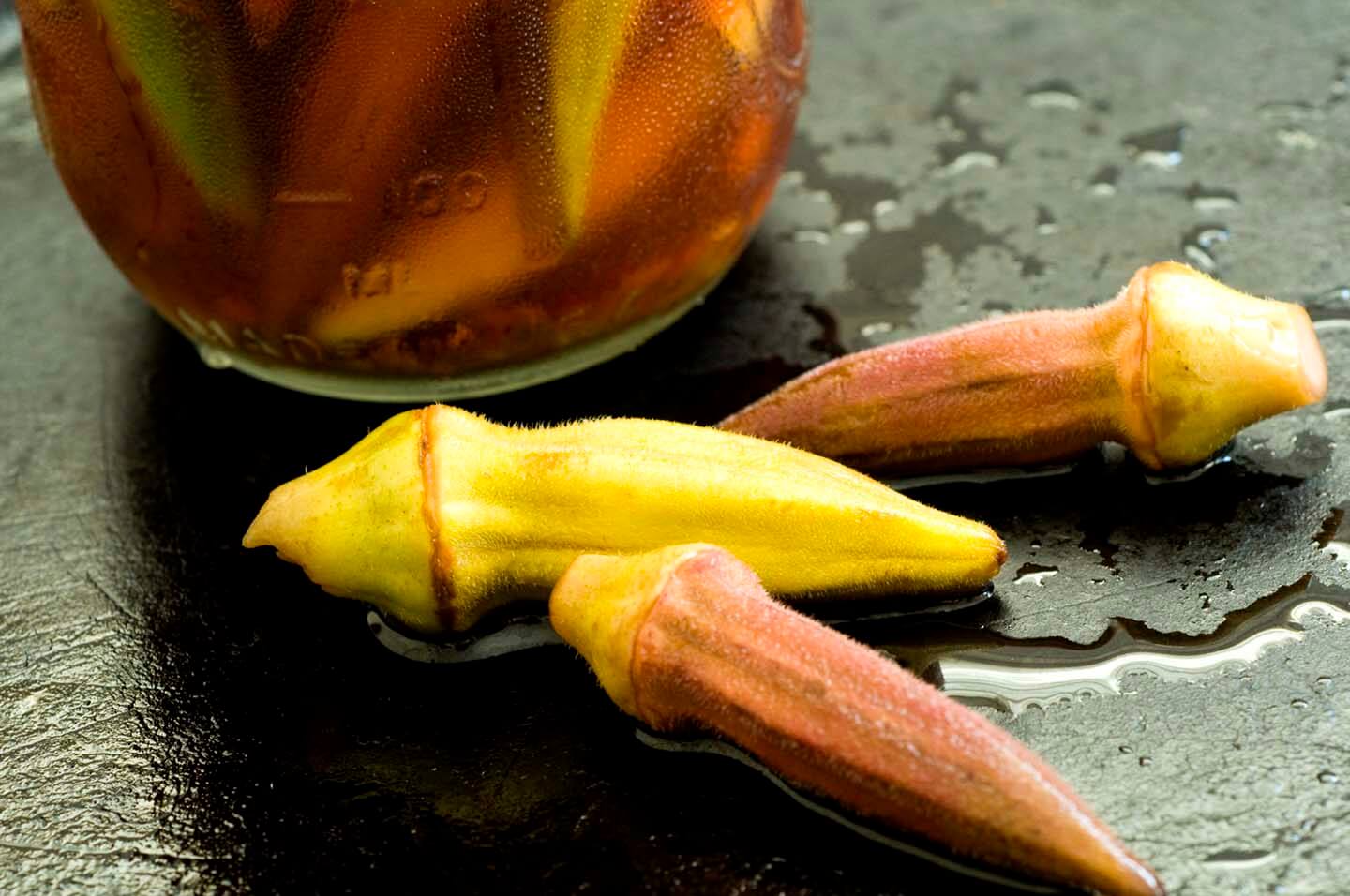 I'm not going to chide you if you don't like okra—I realize opinions on it are heated. But no matter how you feel, do yourself a favor and at least try these spicy okra pickles. Who knows, you might even change your mind.
Spicy pickled okra
Ingredients
2

pounds

okra, stems trimmed

8

garlic cloves

1

cup

fresh dill

4

serrano chiles, cut in half, lengthwise

2

teaspoons

chile flakes

2

teaspoons

cumin seed

4

teaspoons

salt

3

cups

apple cider vinegar
Instructions
Evenly divide between 4 sterilized pint-sized jars the okra, dill, Serrano chiles and garlic cloves.

Bring the vinegar and spices to a boil and pour into the jars. Fill up the rest of the jar with water.

Let cool (about half an hour) and then cover and refrigerate.

Will be ready in a day and will keep in the refrigerator for a few months, though they probably won't last that long.