For the past few years, my family has decided that Tex-Mex is the way to go on Christmas. We don't get too fancy as my mom's working at church, but there will be chili, guisada, guacamole, tortillas, salsas, beans, rice and Uncle Austin's squash enchiladas.
Of course, it's July and nowhere near Christmas. But if you have zucchini in your garden, you're well aware of the bounty these plants produce—it can be staggering. And right about now, you're probably begging friends and neighbors to help you eat some of this prolific vegetable.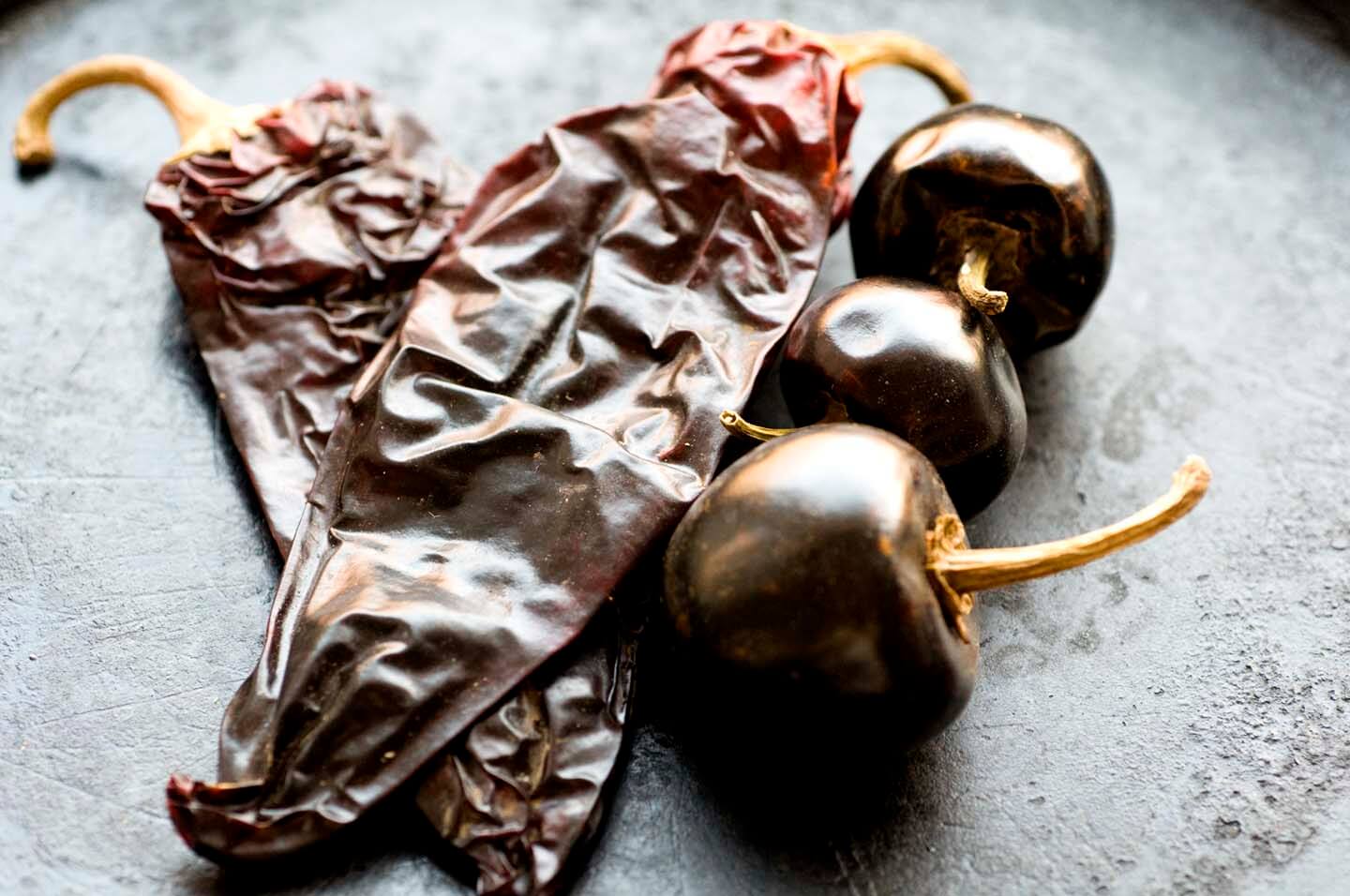 Now, I don't have a zucchini plant, but I did find myself with a surplus of summer squash. And after making a couple of casseroles and batches of pickles, I realized I'd have to come up with something else to use up my supply. Thanks to inspiration from my Uncle Austin, I made summer squash enchiladas.

His recipe is a secret—no one's even allowed in the kitchen when he's making them—so I had to improvise. But I do know that he uses fresh chiles in his sauce and this makes all the difference.
I wanted to keep the sauce light, so I used the not-too-fiery cascabel chile, which is a cute round chile that looks like an apple and makes a rattling sound when you shake it. And for the filling, I simply sautéed the squash with some onions, garlic and jalapeño chiles until they were warm and slightly tender but still with some bite.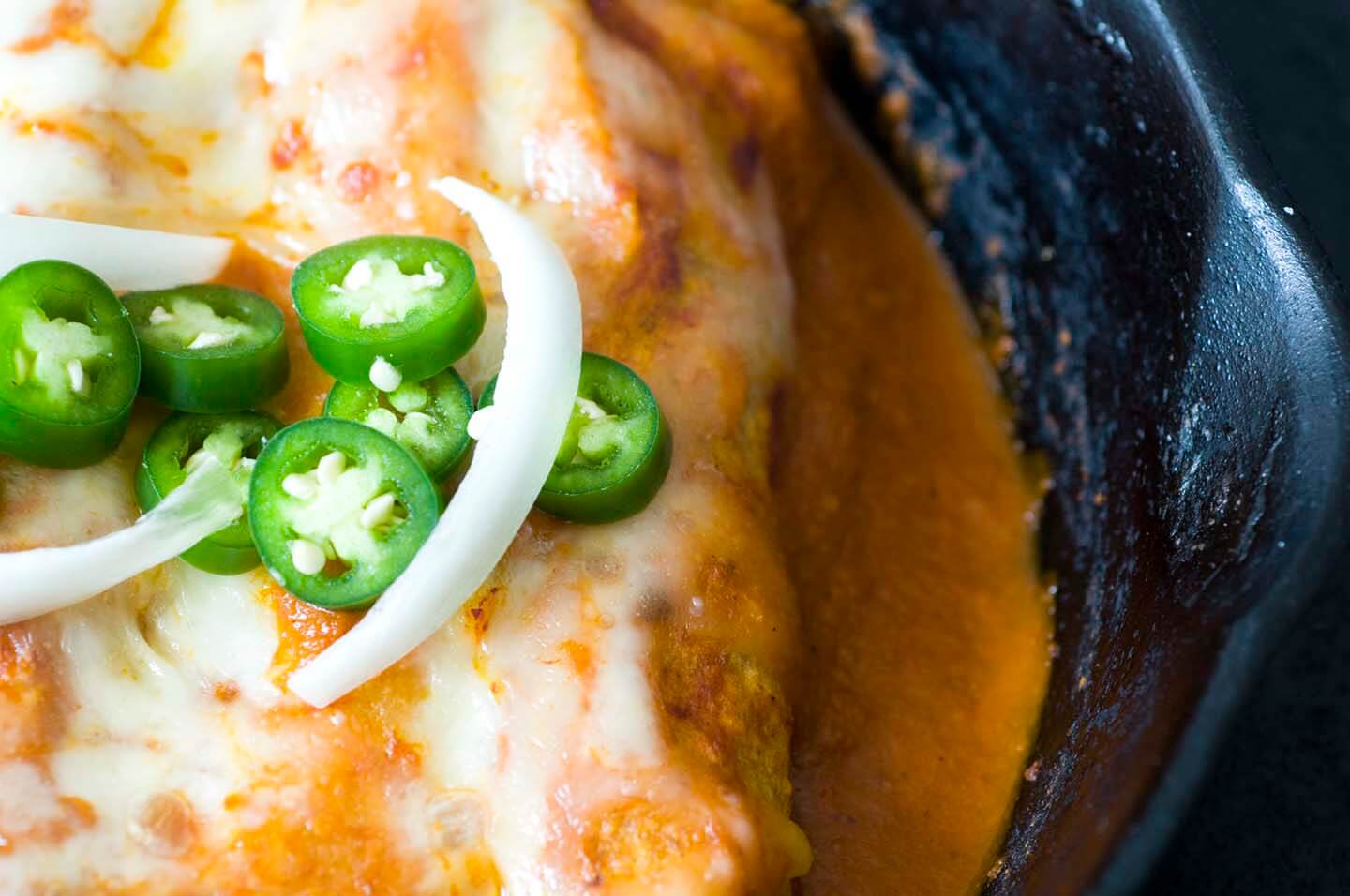 My favorite thing about making enchiladas in the summer months is that you don't have to keep them in the oven for too long. And while I usually prefer crisp, cool salads this time of year, sometimes you do get a craving for a dish a bit more substantial—and these squash enchiladas will fulfill that desire quite nicely.
Summer squash enchiladas
Ingredients
For the enchilada sauce:
10

dried cascabel chiles or 6 dried guajillo chiles

2

teaspoons

of oil, divided

1/2

medium yellow onion, diced

4

cloves

garlic, chopped

1

canned chipotle chile

1 15-

oz.

canned tomatoes, drained

2

cups

of chicken broth

1

teaspoon

cumin

1/2

teaspoon

oregano

Salt and black pepper to taste
For the filling:
1

tablespoon

vegetable oil

1/2

medium yellow onion, diced

2

cloves

garlic, minced

1

jalapeño, stems and seeds removed, diced

2

zucchini and 2 yellow squash, diced

1/4

cup

cilantro, chopped

1/2

teaspoon

ground cumin

Salt

Black pepper

Cayenne
For the enchiladas:
12

corn tortillas

2

cups

shredded cheese, a mix of Monterey Jack and cheddar
Instructions
To make the sauce, in a dry skillet heated on high, take the chiles and toast the chiles on each side for about 10 seconds or just until they start to puff. Leave the heat on and cover the chiles with water. When the water begins to boil and then turn off the heat and let chiles soak until soft, about 30 minutes. Drain the chiles and add to a blender.

Heat 1 teaspoon of oil in a skillet and cook the onions for 10 minutes. Add the garlic and cook for another minute. Place onions and garlic into a blender. Add the canned chipotle chile, the tomatoes, chicken broth, cumin, oregano and blend until smooth.

In a pot, heat 1 teaspoon of oil on low heat, pour in the sauce and simmer for 15 minutes, stirring occasionally. Add salt and black pepper to taste and adjust other seasonings as needed.

To make the filling, in a large skillet, heat up the oil on medium-low heat. Add the onions and cook until translucent, about 10 minutes. Add the garlic and jalapeños and cook for a minute. Add the diced zucchini and yellow squash, cilantro, cumin and sauté for 10 minutes. Add salt, black pepper, and cayenne to taste.

Preheat the oven to 350. Grease a 9×13 baking dish. Wrap the tortillas in foil and place in the oven for 5 minutes while the oven is preheating.

Remove tortillas from oven, open the foil (be careful as there may be hot steam), take a tortilla and with tongs dip it into the sauce. Shake off most of the sauce, but make sure that it's moist enough to be pliable. Lay the tortilla on a plate or clean cooking surface, add a spoonful of the filling down the center of it and then roll the tortilla. Place rolled enchilada in greased baking dish and repeat with remaining tortillas.

Pour sauce over enchiladas and top with shredded cheese. Bake for 10 minutes or until cheese is lightly browned and bubbling. Serve topped with avocado wedges and cotija cheese.
Notes
Cascabel chiles are round, about the size of a golf ball and they make a rattling sound when you shake them. Guajillo chiles are red, slender and usually about 4 inches long—they look very similar to New Mexico dried red chiles. Now, in Houston I've seen guajillo chiles labeled cascabel chiles—so if it's long and slender and not round, chances are it's a guajillo chile. These chiles are commonly found at Mexican grocers, all across the US. If you can't find them, you can substitute ancho chiles, which may be easier to find–I'd use 4.