For me, nothing says summer more than fried chicken. I can't tell you how many picnics, family gatherings, and weekend lunches I've had in my life where we served fried chicken. It's one of my main dishes of the season.
A few days ago, a group of us were sitting around discussing all the different styles of fried chicken, and one friend mentioned that recently she'd had Vietnamese fried chicken. While it wasn't the like the fried chicken her grandmother made, it was still terrific.
Curious, I asked what made Vietnamese fried chicken different from the usual. She then explained that the chicken was glazed in a sweet and sour sauce. While the sticky sauce made the dish a little messier, you didn't mind as that sauce was so, so good.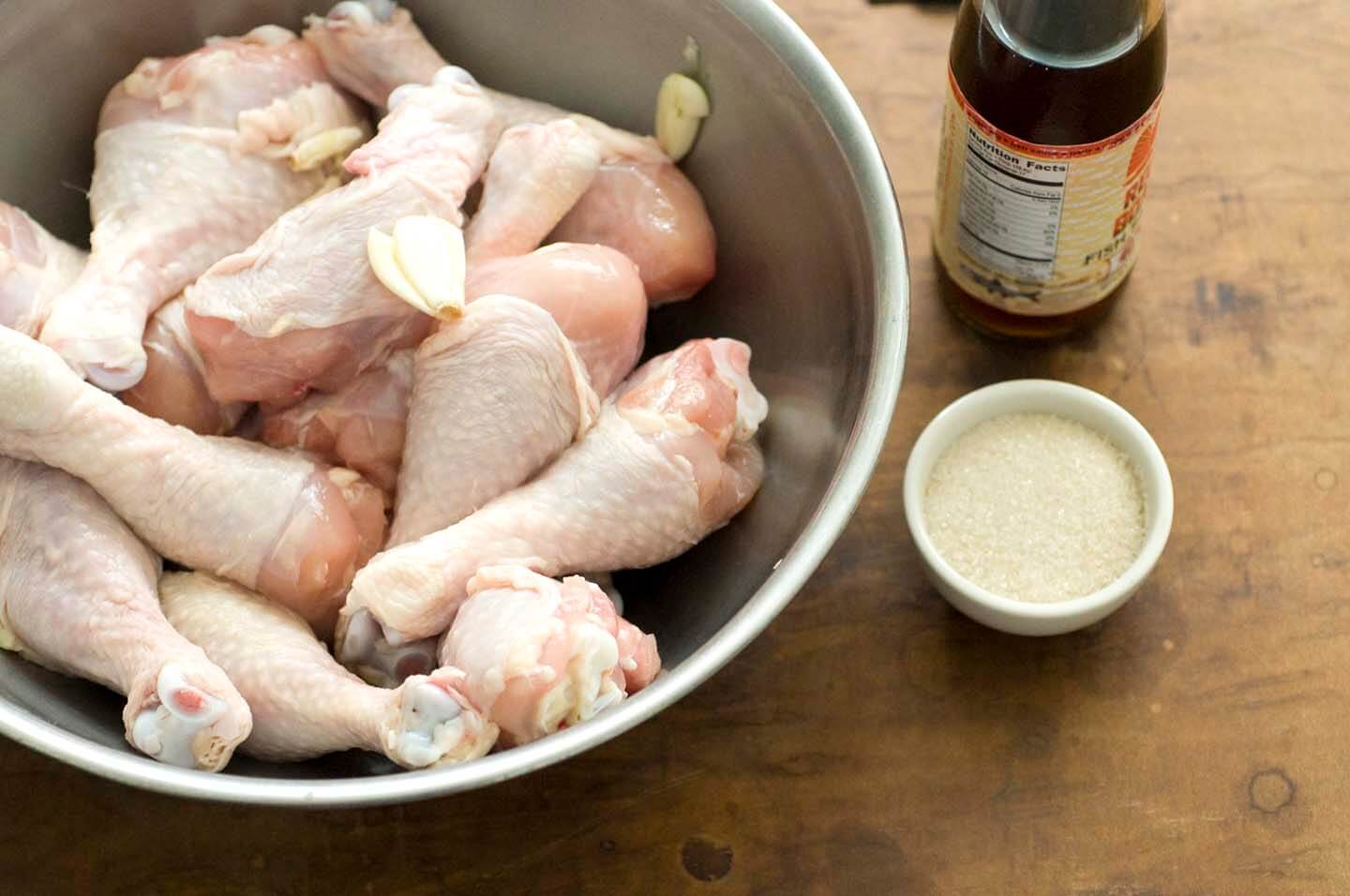 Now, I have to admit that the first time I had Vietnamese food wasn't in Texas but on a trip to Washington, D.C. when I was nine. Back then, there just were a handful of Vietnamese restaurants in Houston. But over the years, as the Vietnamese population in Texas has grown, Vietnamese restaurants have become quite common throughout the state, and it's now the odd place that doesn't have at least one restaurant offering Vietnamese cuisine.

That said, while I've had many Vietnamese dishes, fried chicken was not one I'd tried. My friend's hearty recommendation, however, lead me to do some research on the topic. While each recipe was different, they did all have a common theme—a finishing touch of garlic, fish sauce, chiles, and a hint of sugar. Clearly, those four things were the foundation for the sweet and sour glaze that distinguished Vietnamese fried chicken from what my great-grandma used to make.
Now fish sauce, if you've never tasted it, can seem strange. This stuff is strong and as the name implies, it tastes of fish. A little definitely goes a long way, so when making both the marinade and the glaze for the fried chicken, I was a bit worried that adding more than a drop would overpower the dish. That said, its role is to provide a savory warmth, and I shouldn't have worried as cooking the sauce with the other ingredients tempers its flavor and makes it an excellent team player. So if fish sauce is new to you, do not be afraid!


As for the fried chicken itself, you coat the chicken in rice flour, which makes it extra crisp. (And for those who are concerned about such things, rice flour is gluten free.) While you could use a variety of pieces, I chose to use all drumsticks as they make for easy eating. Cooking the fried chicken is not difficult; if you've made fried chicken before you'll be familiar with the process, and if you haven't know that it doesn't require much more skill than being able to deal with hot oil and a bit of patience.
However, it's that final slathering of the chicken with a glaze made from fish sauce, garlic, sugar, and hot sauce that takes this dish over the top. After you generously mop each piece with the tangy, sweet, and spicy glaze, you then serve the chicken with cilantro, lime wedges, and more hot sauce. A pile of napkins will come in handy, too.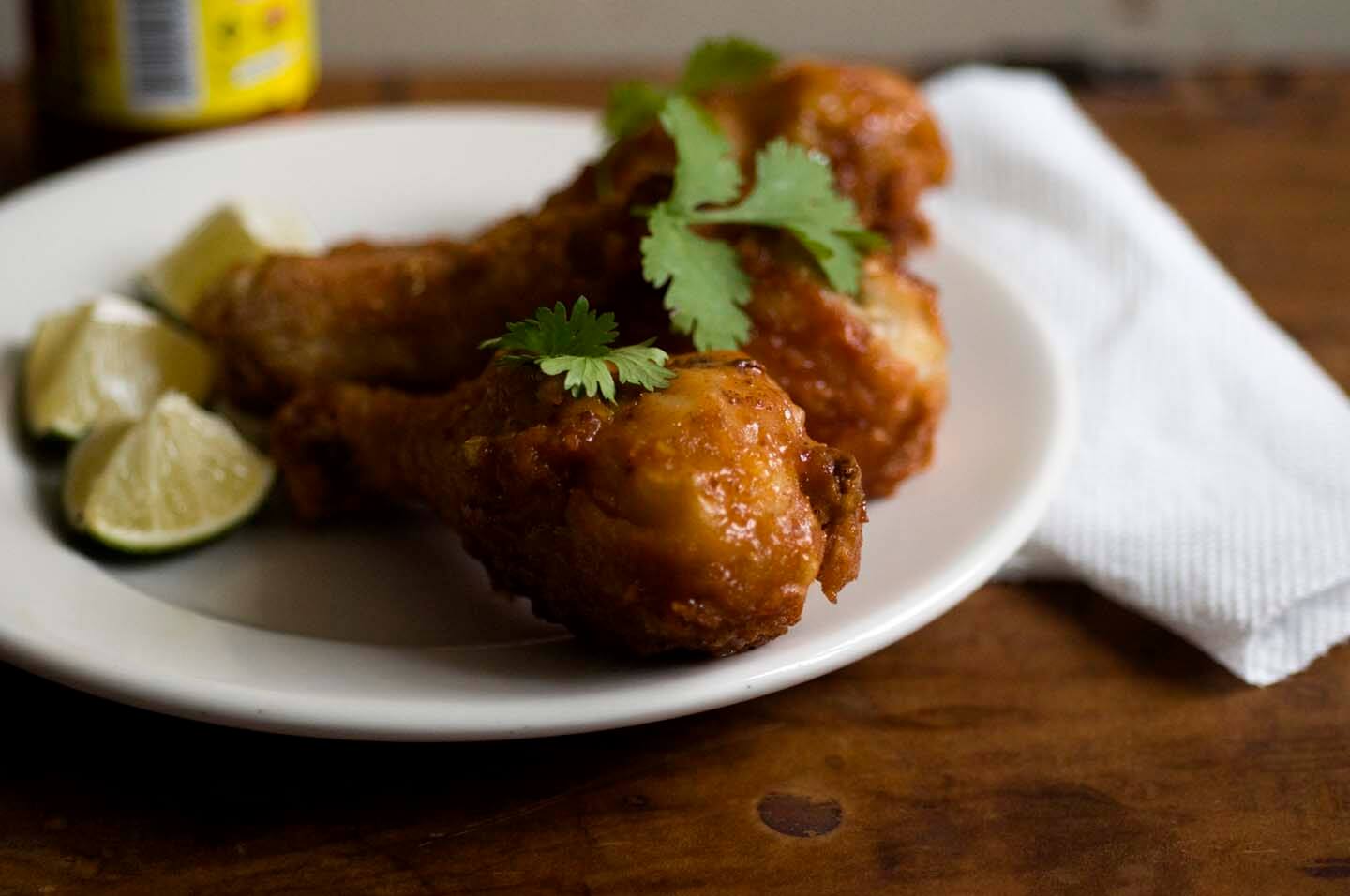 This is definitely not my great-grandma's fried chicken, but that's okay, as it's a fine dish that represents Texas today—a state with many cultural influences. Though no matter its origins, this fried chicken is also just very, very good, and a welcome addition to my summertime table.
Vietnamese fried chicken
Ingredients
Ingredients for the chicken:
1 1/2

cups

warm water

4

cloves

garlic, smashed

1

tablespoon

granulated sugar

2

teaspoons

kosher salt

1/4

cup

fish sauce

3

pounds

drum sticks

1

cup

rice flour

Vegetable oil, for frying
Ingredients for the sweet and sour glaze:
4

cloves

garlic, minced

2

tablespoons

brown sugar

2

tablespoons

water

2

tablespoons

fish sauce

2

tablespoons

hot sauce, such as Sriracha

1/4

teaspoon

ground ginger

2

tablespoons

freshly squeezed lime juice

Salt
Ingredients for serving:
Cilantro

Lime wedges

Lots of napkins
Instructions
To make the marinade, stir together the warm water, garlic, sugar, and salt. Once the sugar and salt have dissolved, stir in the fish sauce. Pour the marinade over the drumsticks in a bowl, food-storage container, or food-storage bag, and allow the chicken to marinate covered in the refrigerator for 1 to 4 hours.

After the chicken has marinated, line a sheet pan with parchment paper and place the rice flour in a large bowl. Remove the chicken from the marinade, dredge each piece in the rice flour until well coated, and place the flour-coated chicken pieces on the sheet. (They can be close together, but should not overlap.) Allow the flour-coated chicken pieces to rest unrefrigerated for 1 hour. This step will help the coating adhere better when the chicken fries. Discard the marinade.

To fry the chicken, line a sheet pan with paper towels. On medium-high, heat to 350°F 1/2 inch of vegetable oil in a large heavy skillet, preferably cast iron. If you don't have a candy thermometer, after 5 minutes of heating, stick a wooden spoon into the oil. If the oil bubbles the spoon, it should be hot enough. Working in batches, place the chicken pieces in the oil, skin side down, turn down the heat to medium, cover the skillet and cook for 7 to 8 minutes.

Take off the cover, gently turn over the chicken with tongs or a wooden spoon, and continue to cook uncovered for 7 to 8 more minutes. Stick an instant read thermometer in the largest piece, and check that it's 150°F. If so, place the fried chicken the paper towels to drain. If not, continue to cook for a couple more minutes. Repeat for the remaining pieces, using the same oil.

To make the glaze, take 1 tablespoon of the cooking oil and heat it up on medium-low in a skillet. Add the garlic and cook for 30 seconds or until softened and fragrant. Add the brown sugar and water, and while stirring cook until glossy and foamy, about 2 minutes. Stir in the fish sauce, hot sauce, and ginger, and cook until thickened, about 2 minutes. Turn off the heat, stir in the lime juice, and add salt to taste.

Brush the glaze on the fried chicken and serve with cilantro, lime wedges, hot sauce, and plenty of napkins.
Notes
If you want to make this with other pieces besides just drumsticks, note that larger pieces such as thighs and breasts will take a bit longer to cook. For instance, I'd probably figure in about 19-20 minutes for those pieces, turning once. Also, you can find rice flour in most stores now in the baking aisle, but if you can't find it regular all-purpose flour can be substituted. Fish sauce can be found in the condiment aisle or the international aisle. Finally, if you don't want to use hot sauce that's fine, but you may want to add an extra tablespoon of sugar and fish sauce so you'll have enough glaze.