Chicken tortilla casserole
For the past few weeks, like many folks this time of year, I've been sneezing, coughing and feeling wretched. But while this year may be off to a slow start, I ended last year in the best way possible—flying around the country, visiting those that I love.
It's unusual for me to go over a week on the road eating only home-cooked meals, as usually when I travel—especially to Texas—I find myself in restaurants more often than home kitchens. Even when I'm visiting family, we'll often pack up the car and head to our favorite Tex-Mex spot—old, familiar places where the staff gives us such a warm welcome it feels like calling on a friend.
But not this trip. Every place I stopped, people cooked and then we sat around a table and enjoyed a meal or two. Sure, that sounds simple and often it was. Though it being the holidays and all, there were plenty of fancy meals, as well.
The best thing about all of this cooking, however, was that I didn't do any of it. Nope, I let everyone else do the cooking and took it easy. That may have been the best gift I received all year!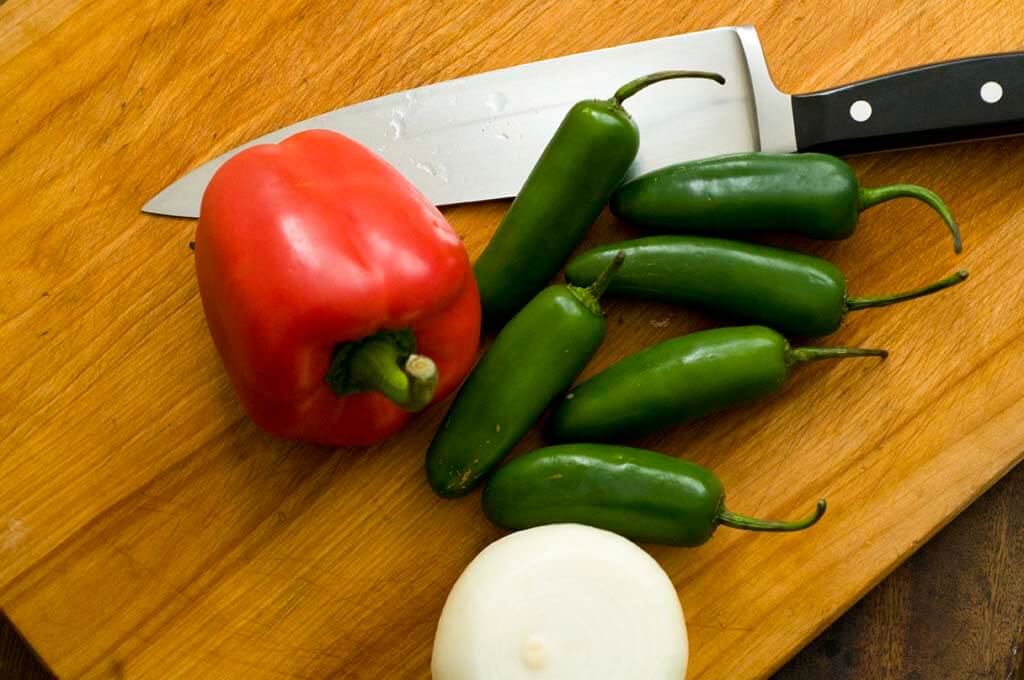 As I've been on the road the past few months for work and joined people for dinner, I've joked that the theme of my next book is that I will go to someone's house, have them cook for me, and then I'll write about it. And I've been served some incredible meals! Of course, I love to share food that I've made, but I have to admit that it's been fun being able to kick back and simply enjoy time with those that I love.
Now, don't worry—I have no plans to stop cooking—it's what I wake up and do every day, and being able to work with food makes me feel like the luckiest gal in the world. But usually when I get together with people you'll find me bustling away in the kitchen—chopping onions, stirring pots, and rolling out biscuits.
While this is fun, I had forgotten how to relax. But this trip, once I started coughing and sneezing I realized it was probably better to step aside and let others take care of me.
(Though before I stopped cooking, I prepared for myself a get-well concoction made up of a whole head of garlic, apple cider vinegar, honey, and other things I found in my dad's fridge, such as broccoli, peas, ham, lemon, and yogurt. No, it didn't work and the lingering smell did not make me popular.)
During the holidays, many delicious meals were offered. I can't name a favorite because there wasn't one—they were all special and satisfying in their own way. From the turkey my dad smoked on Christmas Eve, to the tamales the family rolled together on a snowy night, from my Grandma's homemade pie, to my brother's buttermilk pancakes—everything we ate was splendid.
Near the end of my trip, we visited family in Anderson, a charming small town in Grimes County, Texas. My cousin had us over for Sunday lunch, and after a few hours on the road it was satisfying to stop, sit in her warm kitchen, and visit.
At that point, my cold had begun to limit my sense of smell and taste, which was upsetting as I wanted to enjoy one of my final meals in Texas. There was no need to worry, however, as when we walked in the door my cousin told us we'd be eating Tex-Mex. She then pulled out of the oven a bubbling casserole fragrant with the flavors of cheese, chicken, and chiles. It smelled fantastic.
As she placed the dish on the table, she told us it was called racetrack casserole. "It reminds me of the soft chicken tacos I once ate at a Mexico City racetrack," she explained, going on to say that her chicken tortilla casserole was sort of like King Ranch chicken, without the cream of chicken soup and stuff. She added that it came together quickly, and if you used leftover chicken or rotisserie chicken, the meal was great for weeknights.
The casserole's name made me smile. While it was new to my mom and me, my cousin's family didn't need any explanation about racetrack casserole, as they were well familiar with this old favorite.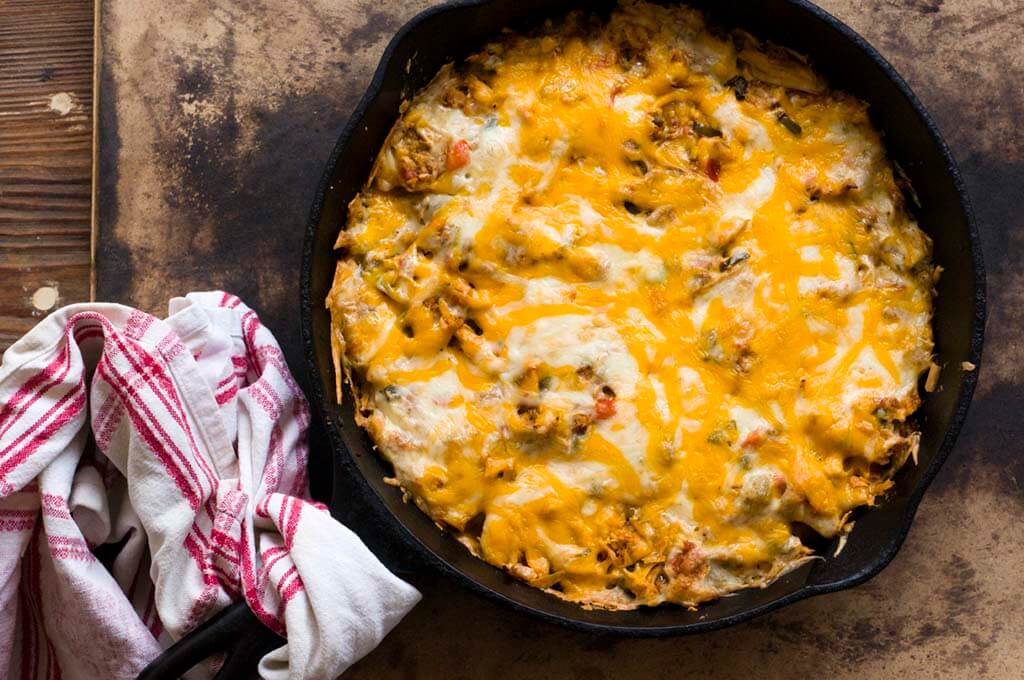 We slid onto our plates warm slices of the Mexican inspired casserole, oozing with the flavors of chicken enchiladas with its layers of tortillas, cheese, chicken, and chiles. "It's not the prettiest thing," said my cousin, "but it tastes good." And she was correct.
Perhaps it was the chiles, perhaps it was the cheese, or perhaps it was the company, but this casserole was just what I needed on a cold grey day. And like so many of the meals I'd eaten while sharing time with my family, it was the best way to end the year.
—————
Would you like more Homesick Texan? Well, I've started offering additional recipes for paid subscribers to help with the costs of running the site. While I'm not taking anything away, if you'd like to support Homesick Texan and have access to exclusive, never-seen-before subscriber-only posts, please consider becoming a member; annual subscriptions are as low as $25. Thank you for reading, your consideration, and your support!
—————
Chicken tortilla casserole, also known as racetrack casserole
Ingredients
Ingredients for the chicken:
1

3-pound

chicken

1

sprig cilantro

1

jalapeño, cut in half

1/2

tablespoon

kosher salt

1

teaspoon

black peppercorns

Or

1

3-pound

cooked chicken, roasted or poached, shredded

1/4

cup

chicken broth
Ingredients for the casserole:
1

tablespoon

vegetable oil

1

medium yellow onion, diced

1

red bell pepper, seeded and diced

5

jalapeños, seeded and diced

4

cloves

garlic, minced

1

(10-ounce)

can tomatoes and green chiles, such as Ro-Tel

1/2

cup

chopped cilantro, plus more for garnishing

1

teaspoon

chili powder, plus more for garnishing

1

teaspoon

ground cumin

1

teaspoon

dried thyme

Salt

10

corn tortillas, quartered

8

ounces

(2 cups) shredded Monterey Jack

8

ounces

(2 cups) shredded Cheddar

Salsa, for serving

Sour cream, for serving

Guacamole, for serving
Instructions
Place the chicken in a large pot and cover with 1-inch of water. Add to the pot the cilantro, jalapeño, salt and peppercorns. Bring the pot to a boil and then turn the heat down to low. Simmer uncovered for 45 minutes. Remove the chicken with tongs from the water and when cool enough to handle, remove the skin and shred the chicken. Toss the chicken with 1/4 cup of the cooking broth (reserving the rest of the broth for another use), then taste and add salt if needed.

Alternatively, if you want to skip making the chicken you can shred an already cooked 3-pound chicken, and toss with 1/4 cup of chicken broth.

Preheat the oven to 350°F and lightly grease a 9×13 baking dish.

In a large skillet or Dutch oven, heat the oil on medium-low heat. Add the onions, bell pepper and jalapeños and while occasionally stirring cook until soft, about 10 minutes. Add the garlic and cook for 30 more seconds. Add to the skillet the shredded chicken with broth, tomatoes, cilantro, chili powder, cumin, and thyme, and stir until well combined. Turn off the heat, taste and adjust seasonings. Add salt to taste.

To assemble the casserole, line half of the tortillas along the bottom of the baking dish. Evenly sprinkle on top half of the chicken mixture, half of the Monterey Jack and half of the Cheddar cheese. Repeat the layering with the tortillas and chicken, then topping with the rest of the cheese.

Bake uncovered for 20-30 minutes or until brown and bubbling. Garnish with chopped cilantro and serve warm with salsa, sour cream, and guacamole. Leftovers will keep in the refrigerator for 3 days.
Notes
Some frequently asked questions include:
Can you substitute flour tortillas for corn tortillas? You can if your prefer.
How do you reheat frozen enchilada casserole? Cook it covered at 350°F for 45 minutes to an hour if frozen, 30 minutes if thawed. 
Which is better for enchiladas white or yellow corn tortillas? Either will be fine.