Chile colorado con carne (red chile beef stew)
One recent Sunday after a hearty beef stew dinner, my family sat in my grandma's living room taking the New York Times dialect test. It was interesting to see how the paper judged our way of speaking, though it was a little surprising to discover that several Native Texans who had never lived outside the state supposedly had accents from Jackson, Mississippi. How did that happen? We decided that the test was perhaps flawed.
What the test did successfully reveal, however, was how many words there could be for one thing. Take my grandma's beef stew, for instance. It was slowly simmered beef in a broth rich with tomatoes and vegetables. Now, most people I know would agree that this dish was indeed stew. But someone with Eastern European roots might call it goulash, and someone from Latin American might say it was guisado. Heck, I wouldn't be surprised if someone just simply said it was a bowl of soup. Clearly there are many ways to label an object.
So, what do you call a slowly simmered stew made with beef and red chile peppers? In most parts of Texas, you'd automatically assume this was chili, especially if ancho chiles—either in the form of powder or whole chiles—were involved. But in Far West Texas, when you encounter beef stewed with red New Mexican chiles, which are sometimes known as chiles colorados (the word colorado colloquially means red in Spanish), the dish is known as chile colorado con carne. And yes, while Texas chili and chile colorado are related, the two are not exactly same.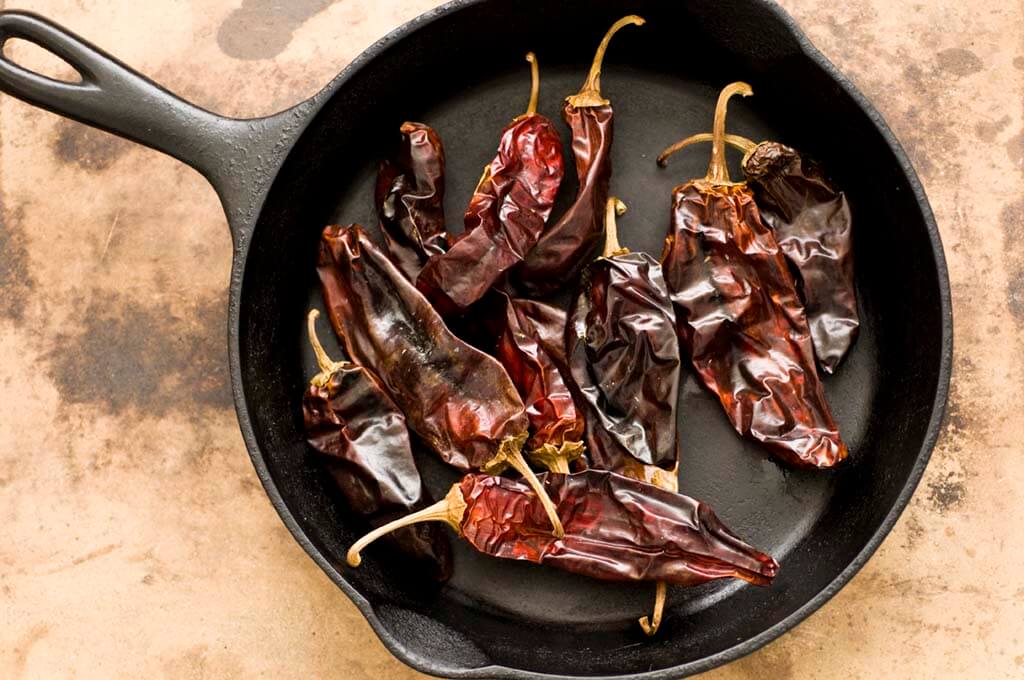 So how do they differ? Well, besides the different chile peppers used, Texas chili is traditionally made without tomatoes, though you will find them in chile colorado. Likewise, fillers are verboten in Texas chili yet potatoes are welcome in chile colorado. And while Texas chili is usually all beef, people often cook their chile colorado with pork instead.

I make Texas chili all the time. It's one of my favorite things. But even though I'm not from West Texas and didn't grow up with chile colorado, I enjoy it during the cold months, too. Fortunately, my mom visits New Mexico every year and brings me back a big bag of New Mexican red chiles, and they are always put to good use.
The recipe that inspired mine comes from a book published in 1898 called The El Paso Cookbook. It starts with New Mexican chiles, beef, tomatoes, onions, and garlic. From that base, I then embellish it with a few more spices, along with some bacon and beer. I also prefer it with potatoes; a touch that I find sets this dish apart from regular Texas chili. The chile colorado takes a while to make, as you want to slowly cook the meat until it's fork tender. But after a few hours hanging out in a broth rich with piquant New Mexican chiles both the beef and the potatoes taste marvelous. It's well worth the wait.
In El Paso, you'll usually find chile colorado con carne served on a plate though I prefer to have it in a bowl, as I find it easier to eat that way. It goes best with flour tortillas and you can either use them to sop of the leftover sauce in the bowl or spoon some of the chile colorado into the tortillas to make your own soft tacos.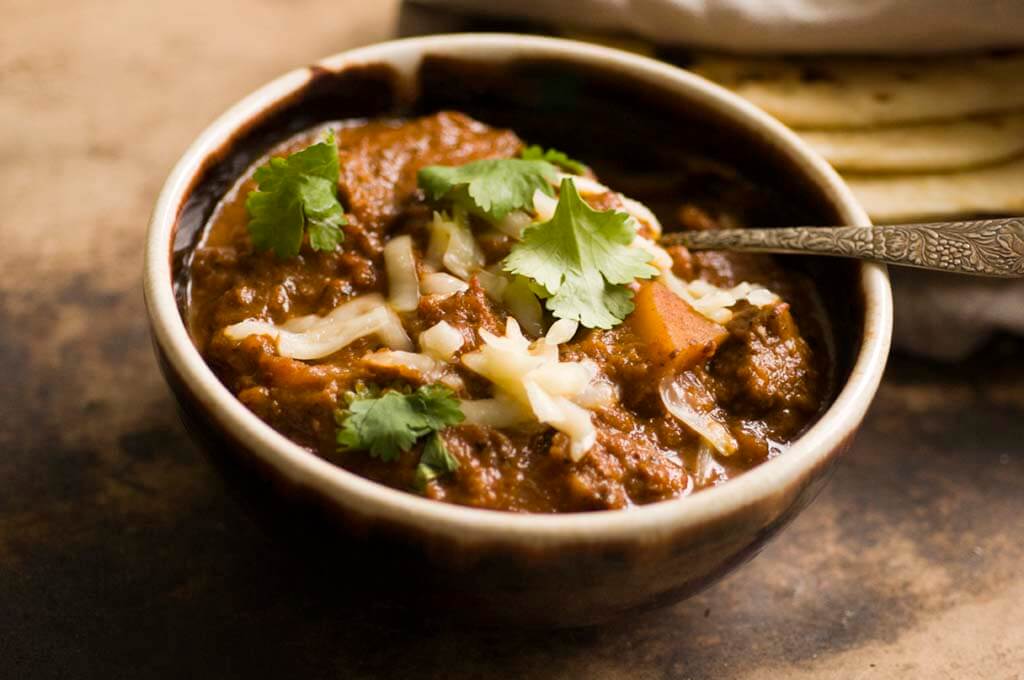 If you've never had chile colorado, it may be new to you but I think that you'll find it very familiar. Texans love beef and Texans love chiles and both of these are in abundance here. And no matter if you label it a chili, guisada, soup, or stew, I think everyone can agree this is a hearty, satisfying dish perfect for a cold day.
—————
Would you like more Homesick Texan? Well, I've started offering additional recipes for paid subscribers to help with the costs of running the site. While I'm not taking anything away, if you'd like to support Homesick Texan and have access to exclusive, never-seen-before subscriber-only posts, please consider becoming a member; annual subscriptions are as low as $25. Thank you for reading, your consideration, and your support!
—————
Chile colorado con carne (red chile beef stew)
Ingredients
12

about 3 ounces dried New Mexican chiles, seeded and stemmed

6

slices

about 4 ounces bacon

4

pounds

chuck roast, cut into 1/2-inch cubes

1

teaspoon

kosher salt

1

teaspoon

black pepper

1

medium yellow onion, diced

8

cloves

garlic, minced

1

(14.5-ounce)

can diced tomatoes

1

bottle dark Texas beer, such as Shiner Bock

2

cups

beef or chicken broth

1

tablespoon

ground cumin

1

tablespoon

dried oregano

1/2

teaspoon

ground allspice

Pinch

of ground cloves

1

bay leaf

2

large russet potatoes, peeled and cubed

1

tablespoon

freshly squeezed lime juice

Chopped cilantro, for serving

Shredded Monterey Jack, Muenster, or Asadero cheese, for serving

Warm corn or flour tortillas, for serving
Instructions
In a dry skillet heated on high, toast the New Mexican chiles on each side for about 10 seconds or just until they start to puff. Fill the skillet with enough water to cover chiles. Leave the heat on until water begins to boil and then turn off the heat and let chiles soak until soft, about 30 minutes. Once hydrated, discard the soaking water and rinse the chiles. Place the chiles in a blender along with 1 cup of clean water and puree until smooth.

Meanwhile, in a large heavy pot, such as a Dutch oven, fry up the bacon on medium heat until crisp and the fat has rendered, about 10 minutes, turning once. When it's done, remove the bacon from the pan and drain on a paper-towel lined plate, leaving the bacon grease in the pot.

Sprinkle the beef with the salt and pepper and then add to the pot, cooking on each side on medium heat until lightly browned. Transfer browned beef into a mixing bowl. (You may have to do this in batches.)

Leaving on the heat on add the onions to the pot and cook until translucent, about 5 minutes. Add the garlic and cook for another 30 seconds. Pour in the tomatoes, beer, broth, and chile puree, then stir in the cumin, oregano, allspice, cloves, and bay leaf. Add the beef and any accumulated juices and then crumble in the cooked bacon.

Turn the heat up to high. Bring to a boil and then turn the heat down to low. Stirring occasionally, simmer the stew for 2 to 2 1/2 hours or until the beef is fork tender. Taste and adjust seasonings. Add the potatoes and cook for 45 minutes more or until the potatoes are tender. Stir in the lime juice and add salt to taste.

Serve warm with cilantro, cheese, and tortillas.