As I watched the woman in the video finish preparing her recipe for chalupas poblanas, I was surprised when she picked one up, folded it in half, and took a bite. A chalupa in name, but she ate it as you would a taco.
Now, I know that folding a corn tortilla may not appear to be a revolutionary act, but I was shocked to see her eat chalupas in that fashion. See, in Texas when we hear the term "chalupa" we are accustomed to a flat crisp tortilla layered with a bounty of toppings such as refried beans, cheese, lettuce, and tomatoes.
You can enjoy a Tex-Mex chalupa with your hands, much like an oversized nacho, though usually it's approached with a knife and fork. But it is never, ever folded in half as the fried tortilla is far too brittle. Attempting to bend a chalupa would create a mess as it would shatter in your hands.
So, imagine my surprise seeing a Mexican chalupa pliant and supple enough to be molded into a different shape. This was cause for investigation.
First turning to Diana Kennedy's The Cuisines of Mexico, I learned about the chalupas of Chilapa, which take corn masa and form it into a canoe shape before frying and filling with beans. Indeed, chalupa in Spanish means canoe so this shape and use of the term makes sense. There are also other regional variations on the dish in Mexico, however, which don't use a canoe-shaped foundation but instead go with the flat corn tortilla we're used to in Texas. What marks these different from each other are the toppings.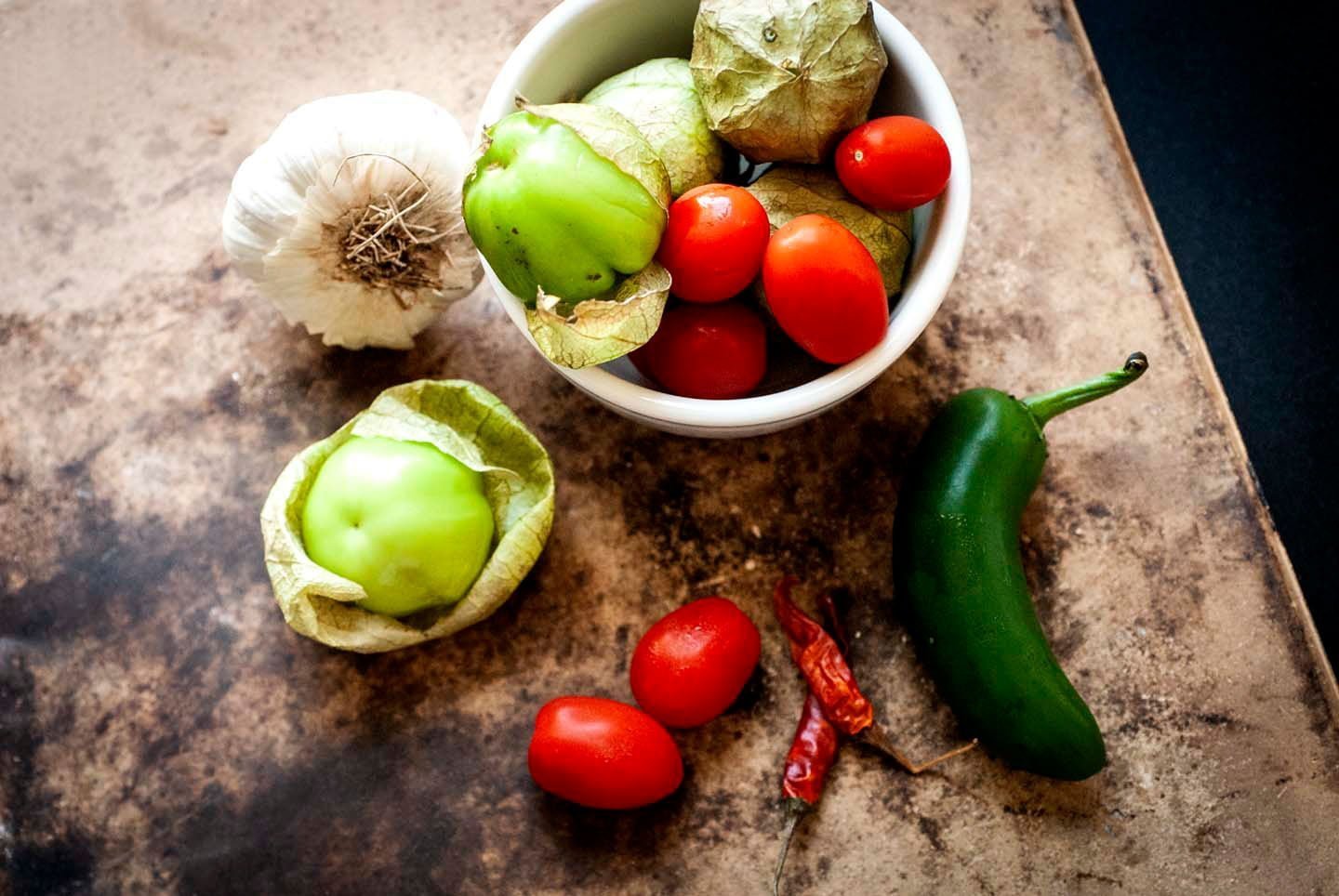 For instance, in Querétaro, they layer onto the tortillas a blend of chorizo, carrots, beets, and escabeche. In Morelos, they go heavy on the meat and cheese with a dollop of salsa to finish. In Chiapas, they're slathered in refried black beans and stacked with pork and cabbage. And in the state of Puebla, you find chalupas poblanas that take each tortilla and smother it in fresh salsa before garnishing with shredded meat, onions, and crumbled cheese.
While I'm up for anything on a corn tortilla, the chalupas poblanas sounded the most refreshing out of all the Mexican variations. Each tortilla looks so festive with its broad strokes of red or green salsa, and going light with the protein and other toppings means that you will have room for other dishes after enjoying a chalupa or two. Plus, you can fold it!
In the state of Puebla, these are a popular street food though they can appear on more formal restaurant menus, as well. They are also considered a celebration dish. Indeed, Cinco de Mayo is a Pueblan holiday that celebrates its victory over France. And while unlike the United States, you won't find too many gatherings to mark the occasion except in the state of Puebla, if you do find yourself there then chalupas poblanas may very well be on your menu.
To prepare mine, I poach chicken then cook the peppers, aromatics, tomatillos, and tomatoes in the broth. For the red and green salsas, I blend the tomatillos into one salsa, then take a portion of that and add tomatoes and chiles de arbol for the red.
For the foundation, I take corn tortillas and dip them in hot oil. Lard is the traditional fat of choice, though you can also use any other oil that you prefer. What's interesting, however, is that you don't fry the tortillas until they're crisp and brittle, instead they're cooked just until tender and warm, much like you'd do for preparing tortillas for soft tacos or enchiladas.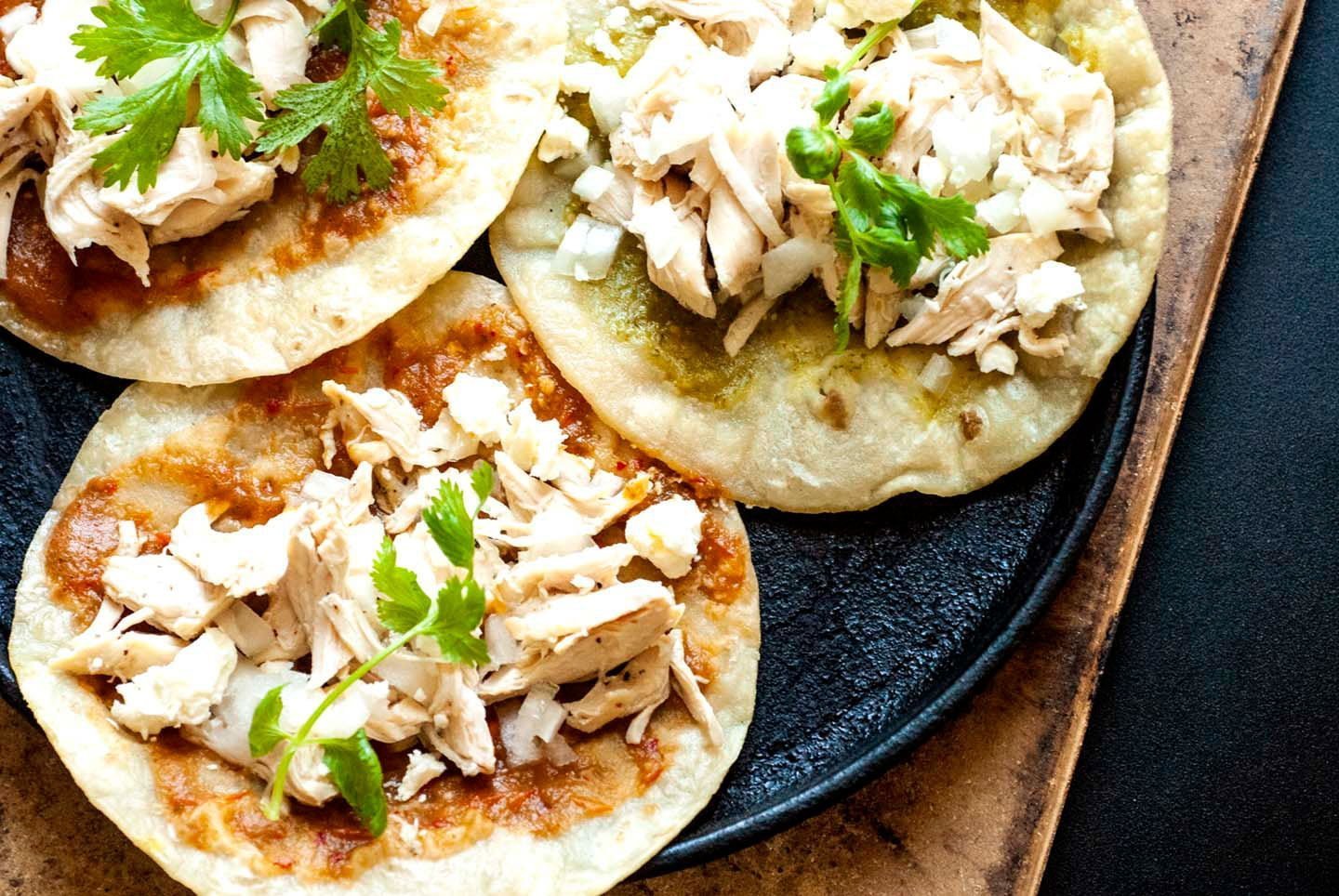 After it's hot bath, the tortillas are then swabbed in salsa, topped with shredded meat along with a light sprinkle of onions, cheese, and cilantro. You then fold it in half, take a bite, and enjoy the cool contrast of sweet onion, savory chicken, tangy cheese, and earthy salsas enveloped in a soft tortilla. A chalupa in name, perhaps, but devoured as you would a taco.
—————
Would you like more Homesick Texan? Well, I've started offering additional recipes for paid subscribers to help with the costs of running the site. While I'm not taking anything away, if you'd like to support Homesick Texan and have access to exclusive, never-seen-before subscriber-only posts, please consider becoming a member; annual subscriptions are as low as $25. Thank you for reading, your consideration, and your support!
—————
Chalupas poblanas
Ingredients
1 1/2-

pounds

chicken breasts or thighs

1

tablespoon

kosher salt

1/2

tablespoon

black pepper

1/2

teaspoon

ground cumin

2

tablespoons

freshly squeezed lime juice

1/2

pound

tomatillos (about 8), husked

1/4

pound

grape tomatoes (1/2 cup)

6

cloves

garlic, peeled

1

jalapeño

4

chiles de arbol

1

cup

cilantro, plus more for garnishing

Oil for frying

8

corn tortillas

1/2

cup

diced onion, for serving

1

cup

queso fresco or feta, crumbled, for serving
Instructions
Place the chicken in a pot, skin side down, then cover with water. Add the salt, pepper, and cumin then bring to a soft boil on medium heat. Once it begins to gently bubble, turn the heat down to low and simmer uncovered for 15 minutes or until the internal temperature is 150°F. (If using boneless, skinless parts, you'll want to cook for about 8 minutes instead.)

Remove the chicken and place in a bowl. Strain the broth and return the broth to the pot.

When the chicken is cool enough to handle, remove the skin and bones then shred the meat with your hands. Toss with the lime juice.

Meanwhile, to make the 2 salsas—a salsa verde and a salsa rojo—place the tomatillos, tomatoes, garlic, jalapeño, and chiles de arbol in the pot with the broth. Bring back to a boil on high, then turn the heat down to low and simmer for 8-10 minutes or until softened. Turn off the heat.

With tongs or a slotted spoon, remove the tomatillos, garlic, and jalapeño from the pot and place in a blender along with 2 tablespoons of the broth from the pot. (Leave the tomatoes in the pot for now.) Add the cilantro to the blender then puree until smooth. Taste and add salt and cumin if desired. This is your salsa verde.

Pour the salsa verde out from the blender leaving in the blender 1/2 cup of the salsa. Add to the blender the tomatoes and chiles de arbol. Puree until smooth, then taste and add salt and cumin if desired. This is your salsa roja. You may keep the rest of the broth for another use.

To prepare the tortillas, pour enough oil in a heavy skillet to come up 1/2 inch up the sides and heat to 350°F, about 5 minutes. If you don't have a thermometer, you can test the temperature by sticking a wooden spoon into the oil. If it bubbles around the spoon, it should be ready for frying. Line a large plate or sheet with paper towels.

Fry the tortillas on each side until softened and just beginning to brown, about 30 seconds. The key is to get them hot and pliable but not crisp and crunchy. Drain the tortillas on paper towels.

To prepare the chalupas, evenly spread on half of the tortillas the salsa verde, and evenly spread on the other half the salsa roja. Top each tortilla with the shredded chicken, queso fresco, diced onion, and cilantro. To eat, fold each in half as you would a taco and eat with your hands.
Notes
If you don't have chiles de arbol on hand, I'd add a few more grape tomatoes and another jalapeño instead for the salsa roja or 1 chipotle chile in adobo sauce. Likewise, the salsas and chicken can be made ahead of time. I use grape tomatoes as they're always fresh and flavorful, but if it's tomato season, you can substitute 2 ripe plum tomatoes instead.