For a Texan, one of the finest things in life is gathering at a Tex-Mex table with friends and family, sharing stories as we dip our chips, being cautious when warned about the hot plates, and enjoying the occasional serenade from a band of guitar-wielding mariachis. For many Texans, the comfort of a meal at your local Tex-Mex spot is pure joy.
Of course, nothing beats a home-cooked meal, though for me a close second is a visit to a beloved Tex-Mex restaurant. Indeed, when I've been away, Tex-Mex is often my first meal when I return. And if I'm dining with my mom, then she will most likely be ordering a plate of chalupas, a favorite of hers.
A chaulpa is a fried tortilla layered with refried beans, shredded lettuce, diced tomatoes, and a sprinkle of shredded yellow cheese. This is its most basic incarnation, though it can easily be enhanced with a dollop of guacamole or a scoop of protein such as taco meat or shredded chicken.
Chalupas have been appearing on Texas menus since the 1930s and are a classic addition to the cuisine's canon. Like most Tex-Mex dishes, chalupas have a Mexican counterpart, in which—depending on what part of Mexico you encounter it—the foundation is flat, as it is in Texas, or formed into a canoe shape, hence the name, which means canoe in Spanish.
In Mexico, the toppings can vary from only salsa to a variety of meats, or even a stack of pickled vegetables. In Texas, however, the chalupa traditionally follows the pattern of tortilla, refried beans, lettuce, tomato, cheese, and perhaps guacamole and/or a protein. You may think of it was one large nacho and this would not be incorrect.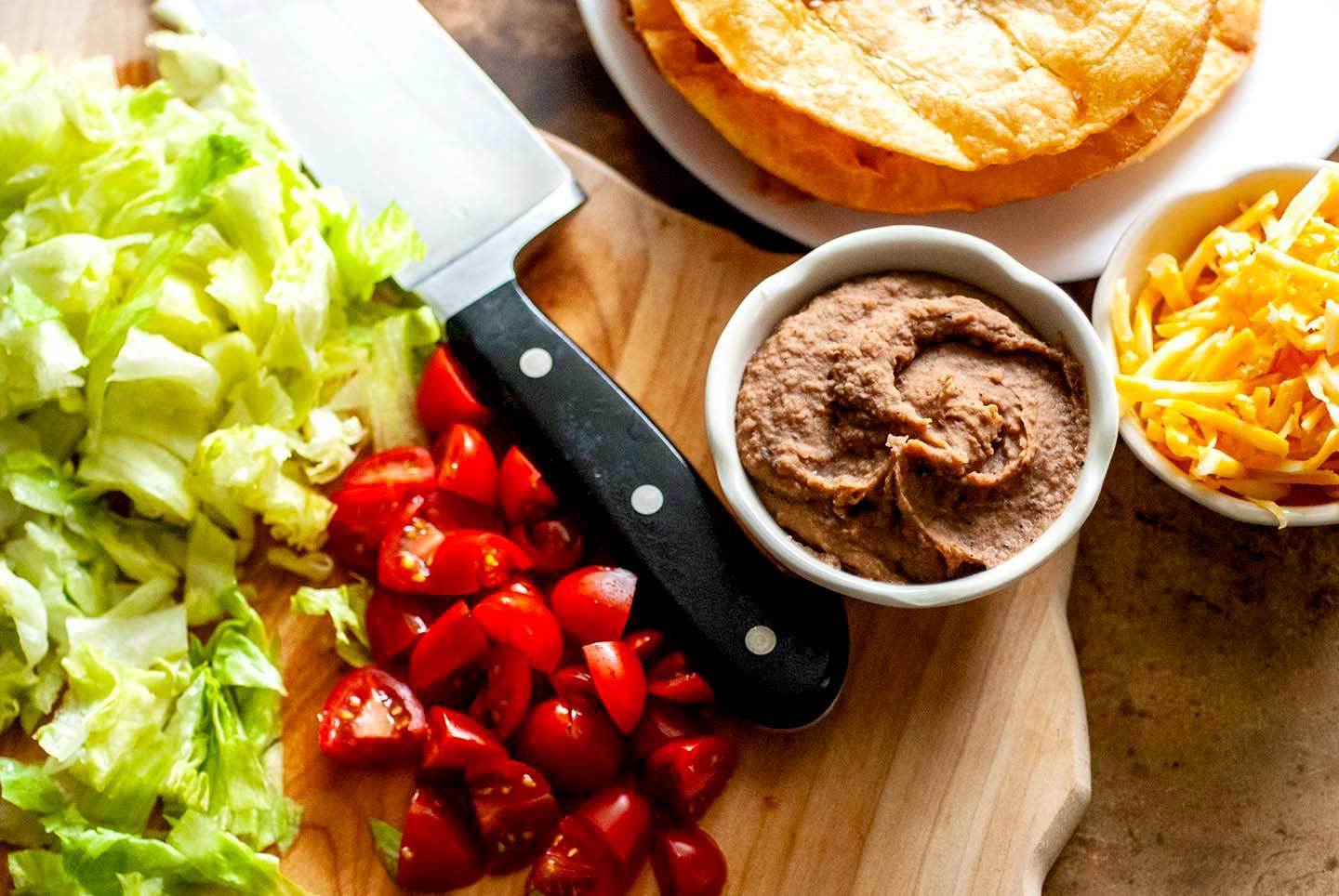 In Texas, you will sometimes encounter the same dish with the name tostada or tapatia. If you were to ask me what is the difference, I will admit I haven't discerned that quite yet. Clearly, a road trip for more experiential research is in order! Though no matter its name, a crisp fried corn tortilla layered with toppings is always refreshing and good.
Now, the key to satisfying, heart-warming Tex-Mex is to fix the dishes with care and use quality ingredients. Chalupas, while not complicated, are no different. For instance, while it's an easy dish to prepare, attention to detail is the difference between a so-so chalupa and one that is truly exemplary.
For instance, it's important to fry your own tortillas. Sure, it's smothered in toppings but the true connoisseur can tell the quality of the chalupa's foundation. The refried beans should have flavor. And I don't think additional proteins are always necessary, but if you do add meat, insure it's well seasoned. Likewise, using fresh produce makes a huge difference.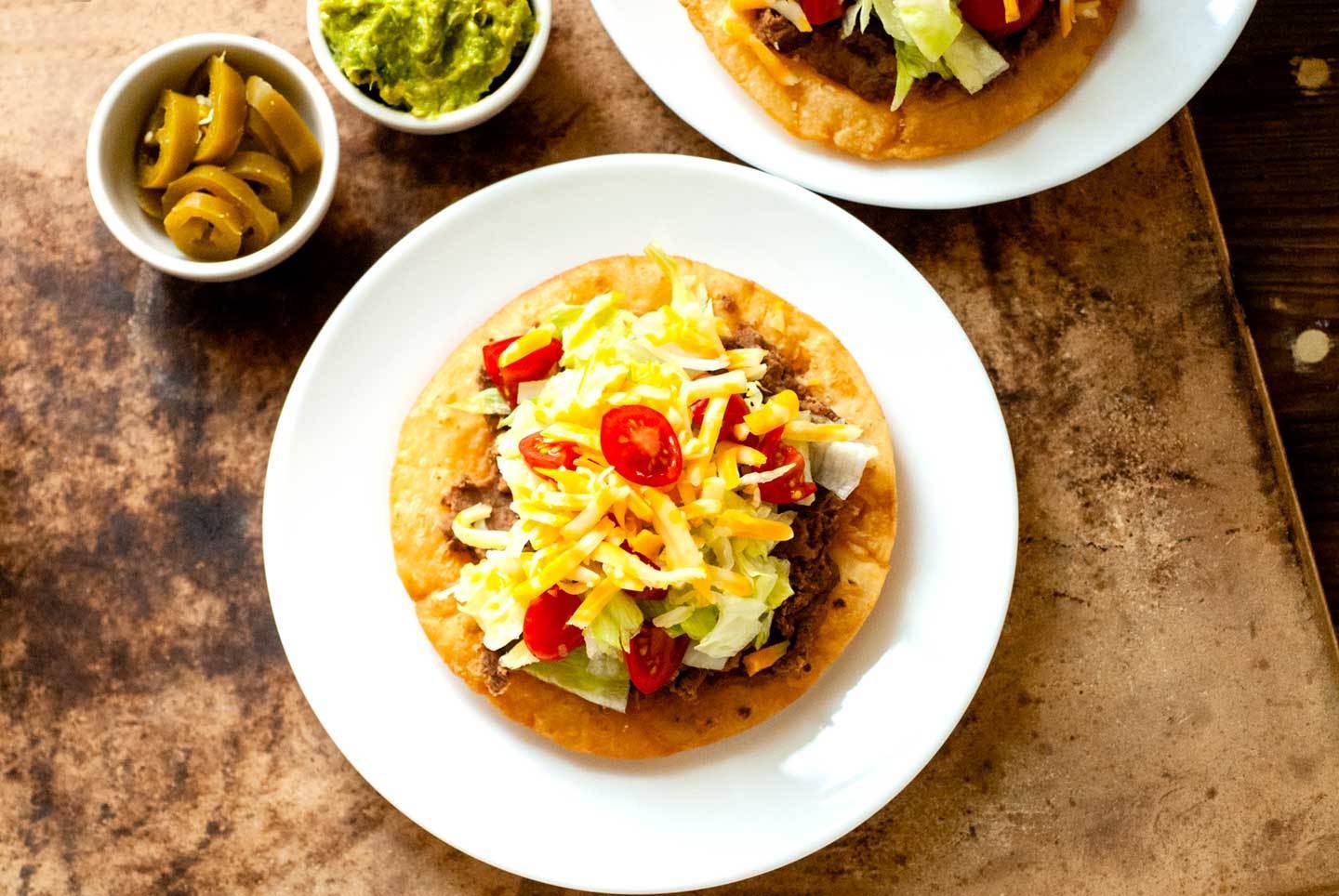 As a home-cooking advocate, I do feel the best food comes from your own kitchen but sometimes you just want your your combo plate without having to fuss with making it. Though no matter where you gather, when the food is less than satisfying, if the company is good and the atmosphere lively, then a Tex-Mex meal is always an excellent way to share time with those that you love.
—————
Would you like more Homesick Texan? Well, I've started offering additional recipes for paid subscribers to help with the costs of running the site. While I'm not taking anything away, if you'd like to support Homesick Texan and have access to exclusive, never-seen-before subscriber-only posts, please consider becoming a member; annual subscriptions are as low as $25. Thank you for reading, your consideration, and your support!
—————
Tex-Mex chalupas
Ingredients
Oil for frying

8

corn tortillas

Salt

2

cups

refried beans

1/4

pound

cheddar cheese, shredded

2

cups

shredded iceberg lettuce

1/2

cup

diced grape tomatoes or 1 ripe plum tomato, diced

Guacamole, for serving

Sliced pickled jalapeños, for serving

Salsa, for serving
Instructions
To make the fried tortillas, pour enough oil in a heavy skillet to come up 1/2 inch up the sides and heat to 350°F, about 5 minutes. If you don't have a thermometer, you can test the temperature by sticking a wooden spoon into the oil. If it bubbles around the spoon, it should be ready for frying. Line a large plate or sheet with paper towels.

Fry the tortillas on each side until crisp and lightly browned, about 1 minute. Drain the fried tortillas on paper towels and lightly salt.

If not already warm, heat up the refried beans.

To assemble the chalupas, spread each fried tortilla with 1/4 cup of refried beans. Top with lettuce, tomatoes, and shredded cheese. Serve with guacamole, pickled jalapeños, and salsa on the side for garnishing.