Turkey and sausage jambalaya
Last weekend, I saw Willie Nelson for the first time. Considering his legendary status, it's incredible to me I'd never been to one of his shows. But I wasn't alone as my friend who gathered our group to celebrate her birthday had also never seen him in concert. It was a fun evening, as you would expect.
The club, Billy Bob's in Fort Worth, was packed with tons of people joining us in dance and song. He started with "Whiskey River" and then worked his way through all his beloved hits, ending with "On the Road Again." Like many Texans, his music has been a constant all my life so hearing him perform in person was like visiting an old friend.
This celebration, however, differed from how we typically mark my friend's birthday. Instead of going out, her husband will prepare a big batch of jambalaya for us to enjoy at home. It's been the tradition for years, and when I asked how how it began, her husband said there wasn't much of a story behind it, just one year she requested the dish and it was such a hit it became the new favorite. (Previously, he'd cooked for her Frito pie.)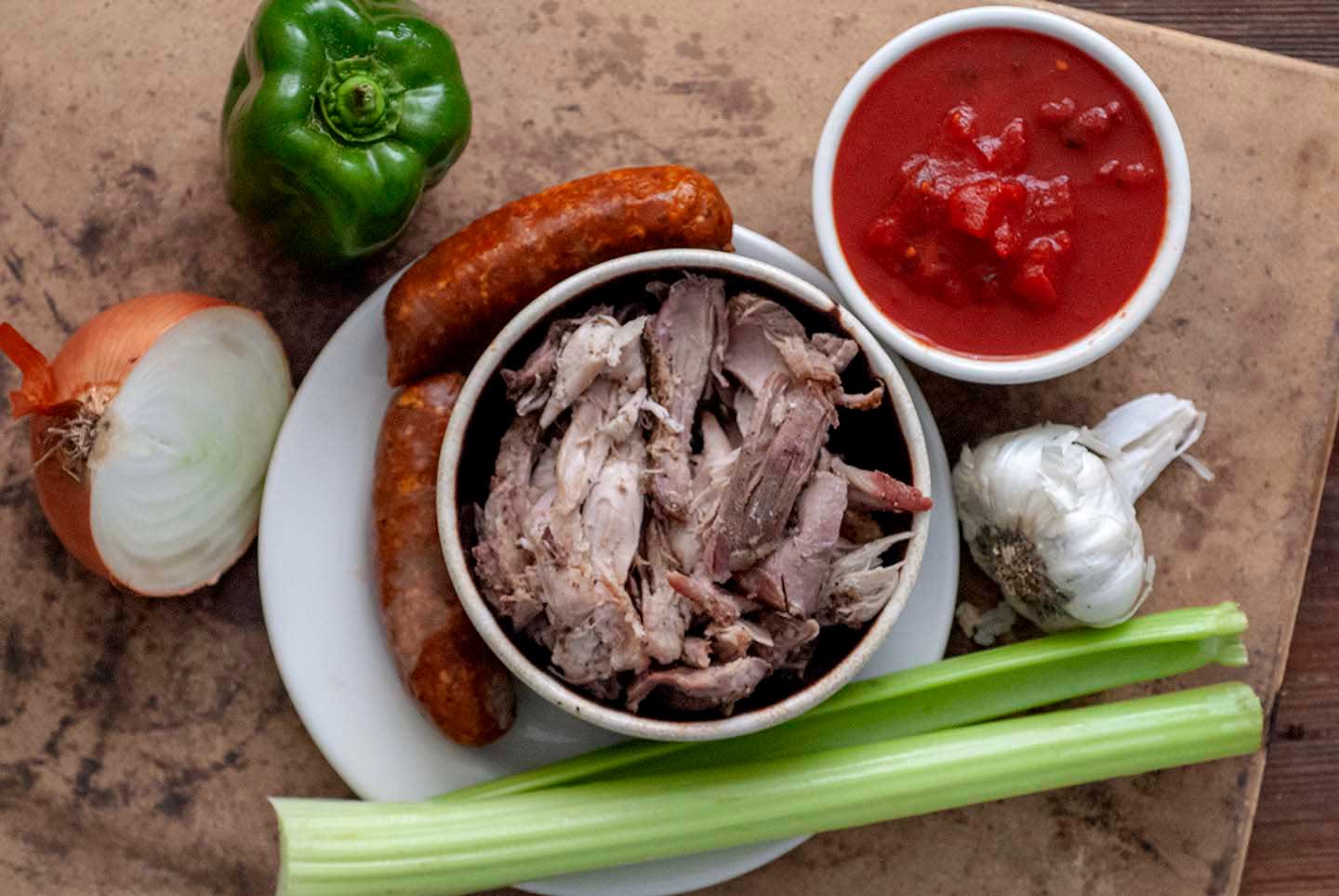 Growing up, my family didn't eat jambalaya so I'm late to the party. Though I was introduced to it by another legendary country crooner, Hank Williams, who sang about the subject in a song named after said Cajun dish. In this classic, Hank tells about going to see his girl and how after being served jambalaya (as well as crawfish pie and gumbo), they'll all have big fun on the bayou. With a catchy tune such as that stuck in your head, it stands to reason that it would indeed make a fine get-together food.
Now, even though my friend didn't have her annual jambalaya feast, I still found myself craving it. So, after an early Thanksgiving dinner, I took my bounty of remaining turkey and threw it into a skillet along with rice, aromatics, peppers, and tomatoes, along with smoky sausage for additional flavor.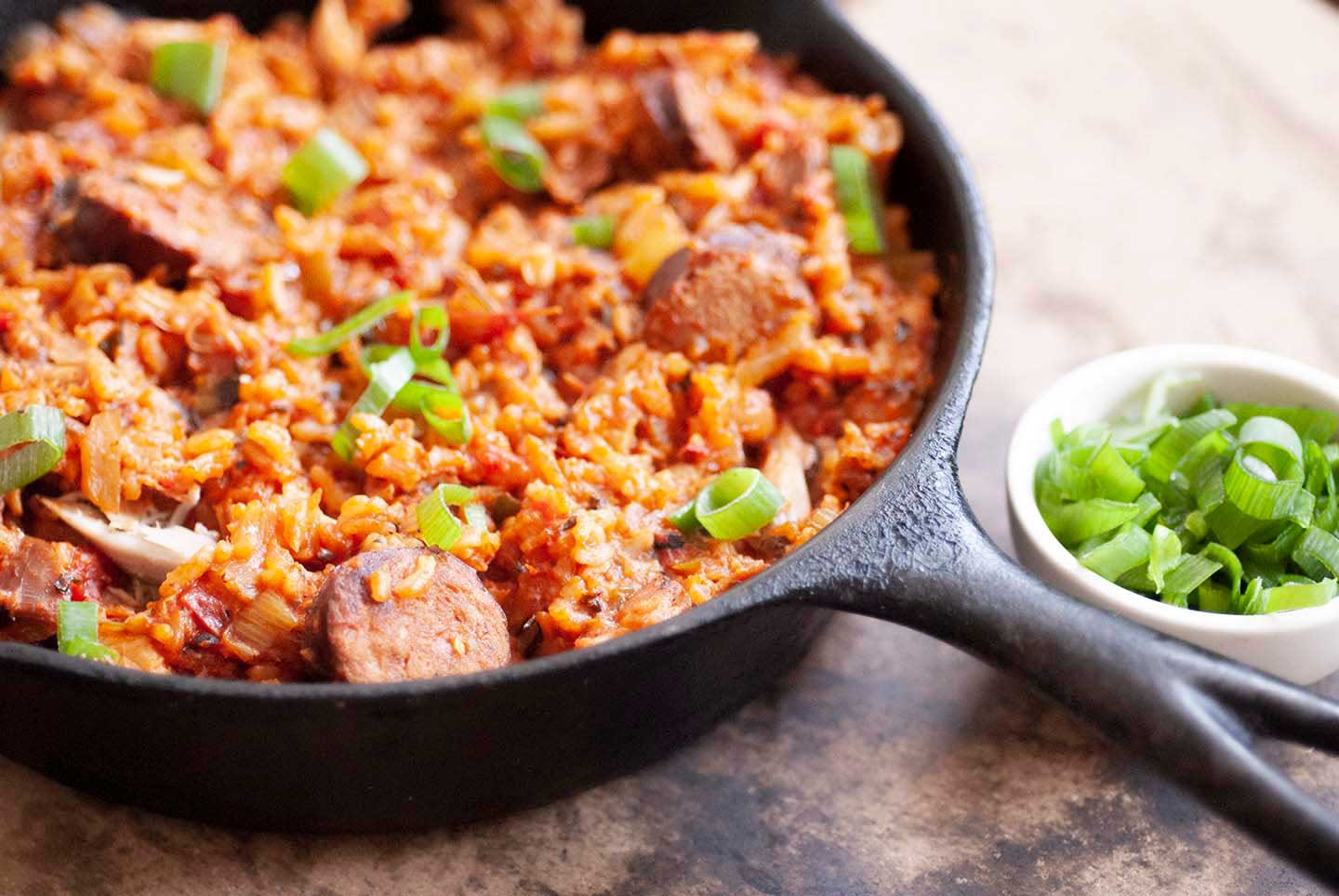 The result was a savory, satisfying meal that was an excellent way to use up my leftovers. It also took little time to make, which makes it perfect for busy nights. Though it's certainly festive enough to be shared on special occasions, too. No matter the case, however, my desire was satisfied. And that's big fun indeed.
Turkey and sausage jambalaya
Ingredients
1

teaspoon

vegetable oil or bacon fat

1

pound

Andouille or other smoky sausage sliced into rounds

1

medium yellow onion, diced

2

ribs

celery, diced

2

jalapeños, seeded, stemmed, and diced

1

bell pepper, seeded, stemmed, and diced

4

cloves

garlic, minced

1

28-ounce can crushed tomatoes, preferably fire roasted

1/2

cup

chopped fresh parsley

1

teaspoon

dried thyme

1

teaspoon

dried oregano

1/4

teaspoon

cayenne

2

cups

chicken broth

1

cup

uncooked rice

4

cups

chopped cooked turkey

4

green onions, green part only, chopped

Kosher salt
Instructions
In a 4-quart pot or large, deep skillet, heat up the oil on medium-low heat. Add the sausage, and cook while occasionally stirring until it just begins to brown and some of the fat is rendered, about 5 minutes. Add the onion, celery, jalapeños, and bell pepper to the pot, and cook while occasionally stirring for 5-7 minutes or until the onions are translucent and the peppers are softened. Stir in the garlic and cook for 30 more seconds.

Add to the pot the tomatoes (do not drain the can), parsley, thyme, oregano, cayenne, chicken broth, rice, and turkey. Stir until well combined, turn the heat up to high and bring to a boil. Once it's at a boil, turn the heat down to low, cover the pot, and cook until the rice is tender and has absorbed a lot of the liquid, about 20-25 minutes.

Remove the lid and stir in the green onions, Taste and adjust seasonings, adding salt to taste. Serve warm.