When I walked into Resident Taqueria in the East Dallas neighborhood of Lake Highlands and saw that the day's special day was a corny dog taco, I thought it must be a joke. Who would make a taco with a corny dog, I wondered. That said, my curiosity was piqued, so I asked the woman taking orders at the counter if it was any good. She nodded and said it was one of her favorites and it was extremely popular. I decided to try one, also getting a puffy taco and a bowl of queso in case the corny dog taco was a miss.
Soon after I took a seat by the window, my queso and tacos arrived. The queso had a tang to it that lead me to think it had been made with real cheese instead of processed, though it was still creamy and smooth. The chips were crisp and the salsas had kick. As for the tacos, the puffy with beef was good but surprisingly, it was the corny dog taco that shined.
The corny dog taco came dressed with a crunchy cabbage slaw, mustard, and dots of hot sauce. The acidity and texture of the condiments and additions were a good contrast with the rich corny dog. The stick had been left inside and while at first I attempted to eat the taco with it still inserted, I soon learned that it would be easier if I removed it first.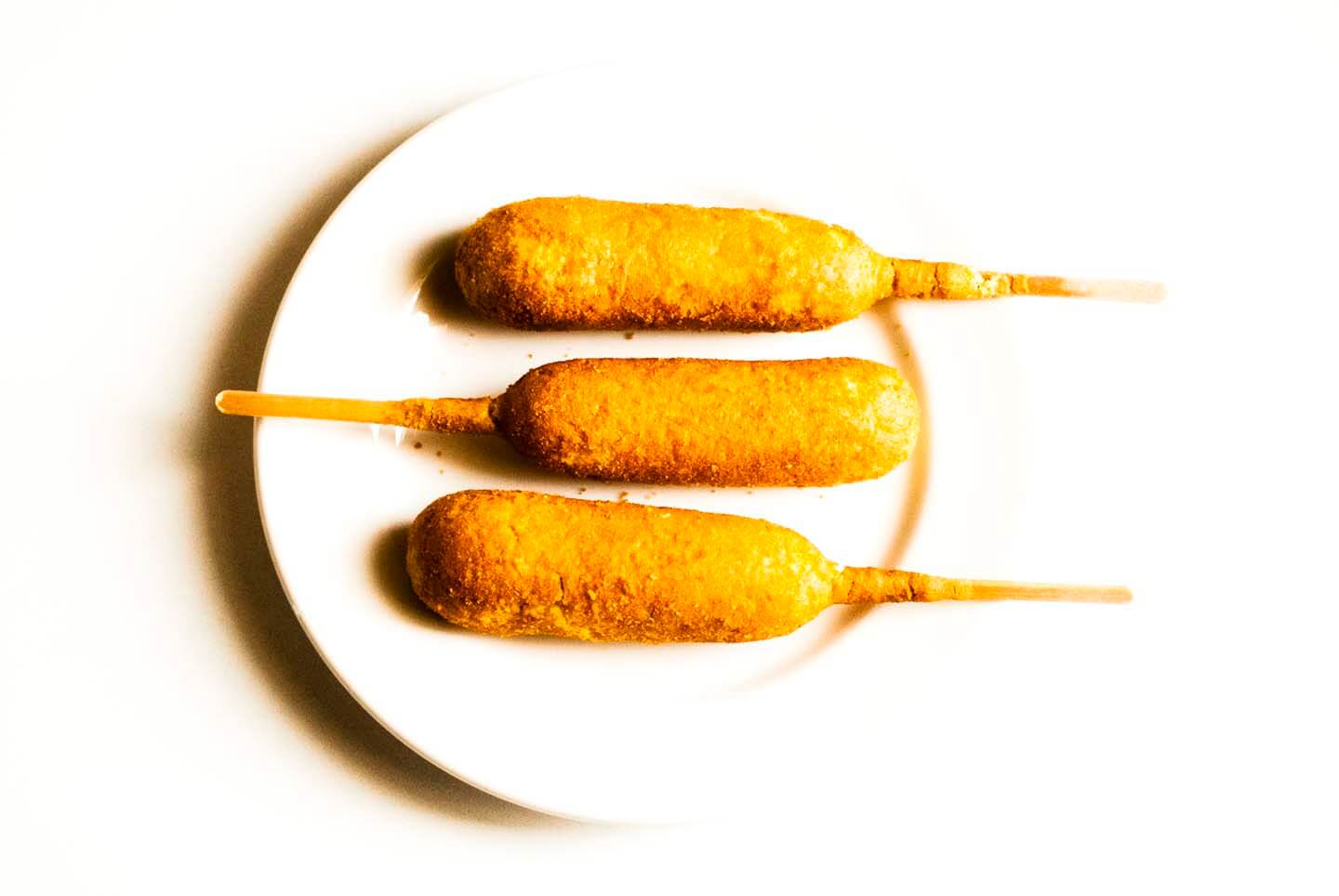 When I asked the chef, Andrew Savoie, about the genesis of the taco, he said it originated at the staff's family dinner. It was such a hit they decided to offer it as a special to their customers. While it's not on the regular menu, it's available often as it's so popular.
Indeed, the combination of the classic Texas State Fair cornbread-battered fried hotdog nestled in a flour tortilla was sheer genius. And since both Tex-Mex and the State Fair are beloved Dallas institutions, the taco is a serious contender for perhaps the most Dallas-y dish ever.
It's now State Fair season and the lure of corny dogs and other fun, fried foods are in the air. While I'm close enough to Fair Park these days that if I want a dog I can just head over there, but as far as I know, they still don't have corny dog tacos at the Fair. As I was craving one recently, I decided to make a batch at home.
Now, many typical taco fillings go with both hot dogs and cornbread, such as beans, chili, and cheese. With a corny dog taco these might be more Texan accoutrements, but I appreciated the brightness of the mustard slaw that had been at Resident, so I made one inspired by there's, and blended shredded cabbage, jalapeños, garlic, onion, and cilantro with a mustard dressing.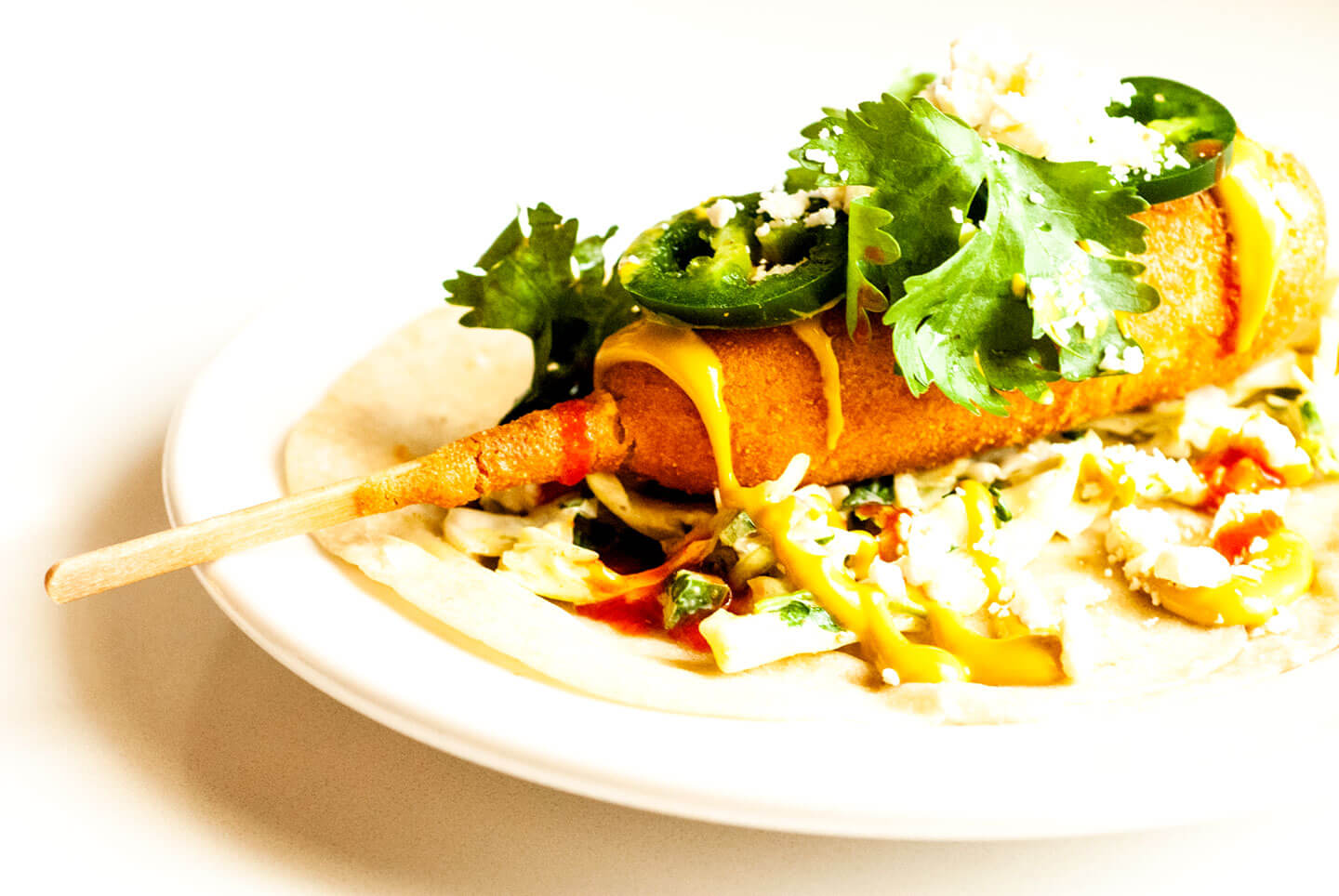 For the tacos, I heated up flour tortillas then added a hearty spoonful of the slaw. I placed a hot corny dog on top then dressed it with squiggles of mustard, cilantro, jalapeños, hot sauce, and crumbles of Cotija cheese.
After sliding out the stick, I folded the tortilla and took a bite. It was crunchy, tangy, hearty, and refreshingly good. After finishing my first taco, I made another. If you love corny dogs and tacos, I'm guessing you'll have another, too.
—————
Would you like more Homesick Texan? Well, I've started offering additional recipes for paid subscribers to help with the costs of running the site. While I'm not taking anything away, if you'd like to support Homesick Texan and have access to exclusive, never-seen-before subscriber-only posts, please consider becoming a member; annual subscriptions are as low as $25. Thank you for reading, your consideration, and your support!
—————
Corny dog tacos
Ingredients
For the jalapeño mustard slaw:
2

cups

shredded cabbage

1

jalapeño, seeded and diced

1/4

cup

diced red onion

2

cloves

garlic, minced

1/2

cup

chopped cilantro

1

teaspoon

kosher salt

1/2

teaspoon

ground cumin

1

tablespoon

mayonnaise

1

tablespoon

yellow mustard
For the tacos:
8

corny dogs

8

flour tortillas

Yellow mustard

1

jalapeño, cut into rounds

Cilantro leaves

Shredded Cotija or feta cheese

Hot sauce
Instructions
To make the slaw, stir together the cabbage, jalapeño, onion, garlic, cilantro, salt, cumin, mayonnaise, and mustard until well combined. Taste and adjust seasonings and add more mayonnaise and/or mustard if desired. Chill until ready to serve.

Warm up the corny dogs and tortillas.

To assemble the tacos, place on a warm tortilla a couple spoonfuls of the slaw, the place on top of the slaw the corny dog.

Squiggle the dog with mustard, then garnish with jalapeño slices, cilantro, Cotija cheese, and hot sauce. Remove the stick if you haven't already, fold the taco, and eat.