Cranberry crumb bars with mulling spices
This week I've been baking batch after batch of cookies as we head towards Christmas. I'm not sure why cookies are the sweet treat most associated with the season, but perhaps it has something to do with their portability, which not only allows you to take a batch with you when you go visiting but also allows your host to send you home with a few, as well. Of course there's also the endless variety of cookies, which when sitting next to each other on a plate can be as lively and festive as a tree draped with ornaments and lights.
In Texas, one of the more popular gatherings this time of year is the cookie exchange. While each party can be different—with some being relaxed and others rigid with rules—the purpose is always the same: to share cookies with your family and friends. It's a good way to spend a December afternoon.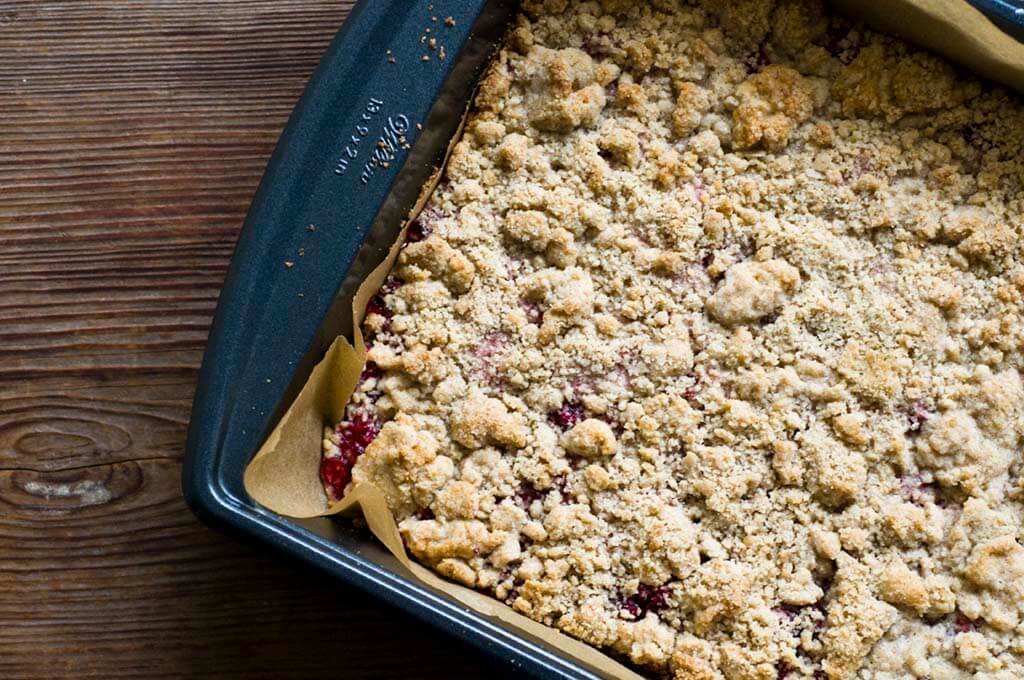 While I have my favorite cookies to bake, I'm always on the lookout for new ones to add to my rotation. And when I spotted cranberry crumb bars with mulling spices in Deb Perelman's The Smitten Kitchen Cookbook, my decision was made.

Earlier this year, some fellow bloggers and I attended a cookie exchange at Ina Garten's home. We had a lot of fun and it was a great way to spend an afternoon. Deb, author of the wonderful blog Smitten Kitchen, was also at the cookie exchange and since then I've been excited about cooking from her book.
It's her first, and much like her blog it's not only beautiful but also filled with delightful anecdotes about cooking and life. When you read her book, you feel as if you're hanging out in the kitchen with her watching her cook. And it's filled of with a host of recipes that make you want to head into your own kitchen and get cooking, as well. With dishes such as Maya's sweet and sour holiday brisket, gingerbread spice Dutch baby, or tres leches rice pudding—I didn't know where to begin. But as I said, it was those cranberry crumb bars that spoke loudest to me and demanded that they be made right now.
Fruit-filled bar cookies are some of my favorites, as they also have a bit of pie in their make-up as well—a point duly noted by Deb in her head note. And indeed these cranberry bars are like little portable slices of pie with a tart and sweet filling sandwiched between a crumbly, buttery crust.
If you've been indulging in sweets all day, the cranberries' tartness in these cookies is refreshing. Because they're not super sweet, they're even appropriate at breakfast, though they're equally at home hanging out with all the other cookies on the holiday display. But my favorite thing is that Deb has added spices such as cinnamon, cloves and nutmeg to the crumb, which will make you feel cozy when it's chilly outside.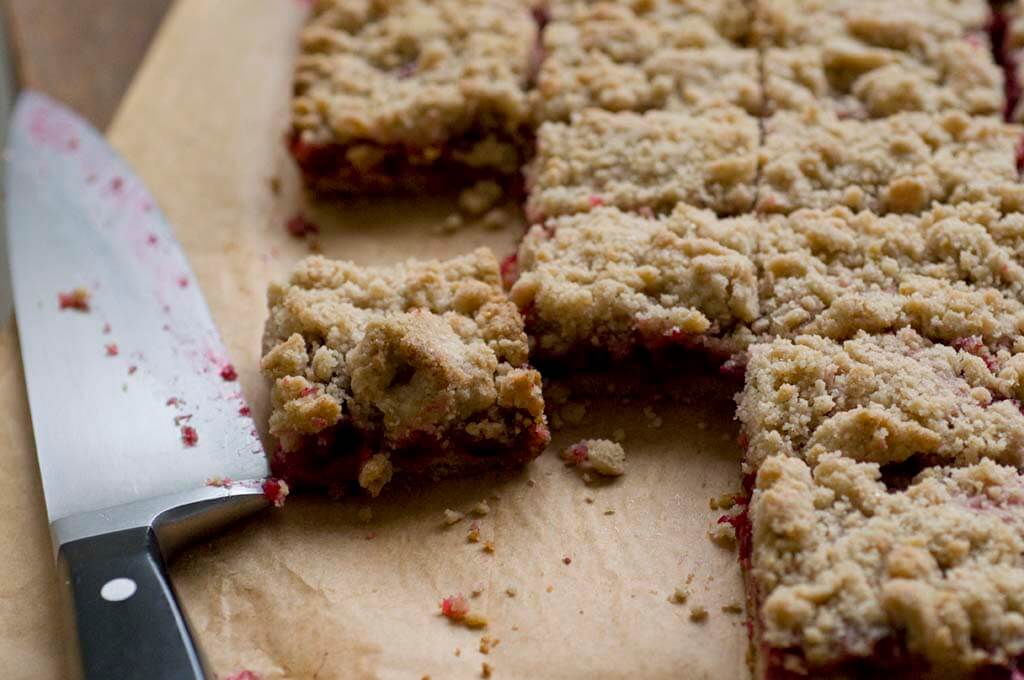 When you bake these cookies, your home will be filled with the warm scent of the holidays. Your neighbors will ask, "What are you baking?" And the man delivering packages will be very grateful to be given a few. This recipe yields quite a few cookies, which makes them perfect for sharing. But even if you feel like you shouldn't eat another cookie, be sure to save yourself at least one or two.
Cranberry crumb bars with mulling spices
Ingredients
Ingredients for the crumb:
16

tablespoons

225 grams or 2 sticks unsalted butter, chilled, plus more at room temperature for the pan

3

cups

375 grams all-purpose flour

1

cup

200 grams sugar

1/2

teaspoon

table salt

1

teaspoon

baking powder

1/2

teaspoon

ground cinnamon

1/4

teaspoon

ground nutmeg

1/8

teaspoon

ground cloves

1/8

teaspoon

ground allspice

1

large egg
Ingredients for the filling:
1/2

teaspoon

freshly grated orange zest

1 1/2

tablespoons

orange juice

3

cups

340 grams or 12-ounce bag fresh cranberries

1/2

cup

100 grams sugar

1

tablespoon

cornstarch
Instructions
Preheat your oven to 375°F. Line the bottom of a 9-by-13-inch baking pan with parchment paper, and butter the sides and the parchment. In a large, widish bowl, whisk together the flour, sugar, salt, baking powder, and cinnamon, nutmeg, cloves, and allspice. With a pastry blender or fork, work the chilled butter and the egg into the flour mixture until the mixture resembles a coarse meal. Pat half the crumb base into the bottom of your prepared pan; it will be thin.

In the bowl of a food processor or blender, briefly pulse the orange zest, orange juice, cranberries, sugar, and cornstarch until the berries are coarsely chopped but not pureed. Spread the filling over the crumb base. Sprinkle the remaining crumbs evenly over the cranberry mixture.

Bake cookies for 30 to 35 minutes, or until lightly brown on top. Cool completely before cutting into squares.