El Paso-style chile con queso, 1947
El Paso has long been one of my favorite cities. When I considered where to live upon my return to Texas, El Paso was high on the list, and eliminated solely because I didn't know anyone there and it would still require a plane ride to visit my family. That said, the beautiful landscape, friendly people, and delicious food made that choice a challenge.
I've been visiting El Paso for quite some time, though in the early days I'd simply fly in, rent a car, then drive to Marfa. I never stayed in town long. One trip, however, I was talking to a friend who grew up there, and she advised that before I hit the road I try the chile con queso, saying it wasn't like the Tex-Mex queso I'd grown up eating. She gave me a list of places to try and I followed her advice.
If you've read my book on queso, then you know the rest of this story. Essentially, I was blown away by how the El Paso style of queso differed from the Tex-Mex style. Indeed, when most people think of queso they think of a hot bowl of creamy processed cheese, dotted with green chiles and ready to be dipped into with tortilla chips.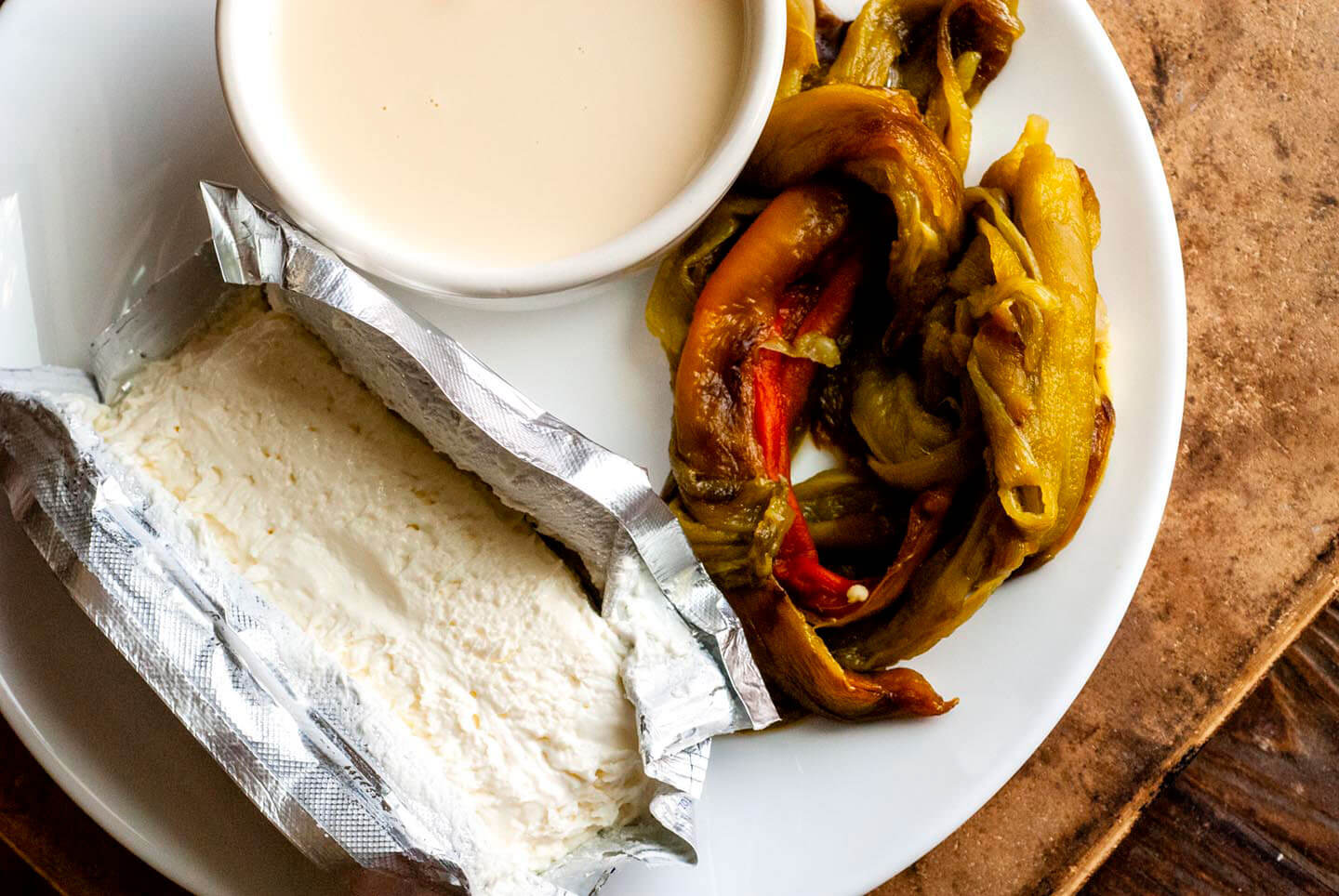 In El Paso, however, the chile con queso is not the same. While yes, there are cheese and chiles, the cheese is white melting cheese such as asadero, Muenster, or Monterey Jack. And the roasted long green chiles are abundant, with both the peppers and the cheese being equal partners. It differs from queso flameado (or fundido), in that there is liquid, such as broth or dairy, to thin the mixture. While it can be enjoyed with chips, it's also spooned into tortillas, wrapped into burritos, and used as a sauce for roasted meats and enchiladas, too.
The full background is recounted in my book, but to make a long story short, the queso in El Paso is a direct link to chile con queso's Mexican origins. It is the original queso and as such is worthy of much respect. It may not be what one is used to, but it is no less delicious. I love it and believe you will, too.
In doing my research, I came across many renditions of El Paso queso. Some recipes called for broth, some called for heavy cream, and some called for milk. I tried all of them, and they were all delicious. The challenge for me was which ones to include in the book.
One of the recipes that didn't make it into my book was a curious one that came from a 1947 cookbook produced by the El Paso Herald Post. What marked it different from the others was it used only three ingredients: cream cheese, evaporated milk, and a handful of roasted and chopped long green chiles.
As it was the only one that didn't have white semi-hard cheese in it, I was dubious when preparing it for the first time. Yet it came together in a flash and tasted like many of the rest. While I tried it with additional seasonings such as ground cumin and garlic powder, I found that just a hit of salt was plenty to make the queso shine. This simple dip soon became a new favorite.
If you're not familiar with El Paso-style chile con queso, it may seem unusual at first. But when you tuck into it with tortillas chips or flour tortillas, know that you will immediately recognize a familiar queso friend, and a dish that is as splendid as the place from where it came.
—————
Would you like more Homesick Texan? Well, I've started offering additional recipes for paid subscribers to help with the costs of running the site. While I'm not taking anything away, if you'd like to support Homesick Texan and have access to exclusive, never-seen-before subscriber-only posts, please consider becoming a member; annual subscriptions are as low as $25. Thank you for reading, your consideration, and your support!
—————
El Paso-style chile con queso, 1947
Ingredients
8

long green chiles

8-ounces

cream cheese

2

(5-ounce)

cans evaporated milk

Kosher salt
Instructions
First you'll need to roast the chiles. Place the chiles under the broiler until blackened, about 5 minutes per side. Place the chiles in a paper sack or plastic food-storage bag, close it tight and let the chiles steam for 20 minutes. Take the chiles out of the bag and gently rub off the skin. Remove the stem and seeds, then chop the chiles.

Add the cream cheese and evaporated milk to a saucepan, then over medium-low heat melt and blend the two while stirring. After 5 minutes, the cream cheese should be melted and blended with the evaporated milk. Stir in the chopped chiles, then taste and add salt (I start with 1 teaspoon and go from there). Serve warm.
Notes
If you prefer to used canned green chiles, you'll need 8 ounces.