When it comes to comfort food, refried beans are at the top of my list. Ever since I could remember, they were my go-to, both when times were uncertain and when times were good. Someone asked me recently if I could only eat one thing for the rest of my life, what would it be. It took me no time to answer—refried beans. Though I added that a stack of fresh flour tortillas for scooping would be welcome as well.
My recipe for refried beans is inspired by one I used to enjoy at the late and lamented Austin Tex-Mex stalwart, Las Manitas. Their beans were rich and flavorful, and since I lived so far away, I wanted to be able to make them at home.
One day I called the restaurant and asked if they'd share with me their secrets. They were generous and told me that bacon grease was what made their beans so velvety and smooth. I then came up with a similar method and it's the beans I make most often.
A few years ago, however, I began to hear about a style of refried beans that are found in Mexico. They are known as frijoles de puerco, which translates to pork beans. And as the name implies, much pork is involved in their preparation.
Like the refried beans from Las Manitas, a base of bacon grease is often used, though sometimes lard is used in its place. There are aromatics such as onions and garlic for flavor, and some recipes mix in pureed chiles, such as chipotle or ancho chiles, or even chile powder, as well. White Mexican melting cheeses, such as Chihuahua, Oaxaca, or quesadilla can be stirred into the blend, though occasionally a hearty handful of crumbled Cotija is added instead.
Depending on the region that the frijoles de puerco are made, other ingredients such as tuna and olives might be included. Though besides the abundant use of pork fat, the other consistent factor amongst all regions and all recipes is crumbled Mexican chorizo, a tangy sausage made from pork, vinegar, and chiles. Hence, the name.
After spending a few years slightly obsessed with these beans, a passion that lead me to watching countless Mexican cooking videos and reading Mexican recipes on the subject, I realized that as much fun as researching these beans and imagining how delicious they may taste, perhaps it was time to come up with a batch on my own.
While these beans, as far as I can ascertain, are not found often (if at all) in Texas, there is no reason why a refried-bean aficionado wouldn't appreciate a batch. To make them is a simple process, as you puree cooked pinto beans then augment them with said fats and sausage. For mine, I flavor them with garlic, onions and jalapeños, along with a spoonful of chili powder to give them a more distinctive Texan taste.
I then blend a large handful of shredded Monterey Jack into the bubbling beans along with a hearty spoonful jalapeño pickle juice (not only my Mom's secret bean ingredient but apparently, a favorite of Mexican cooks, as well), to lighten and brighten the dish.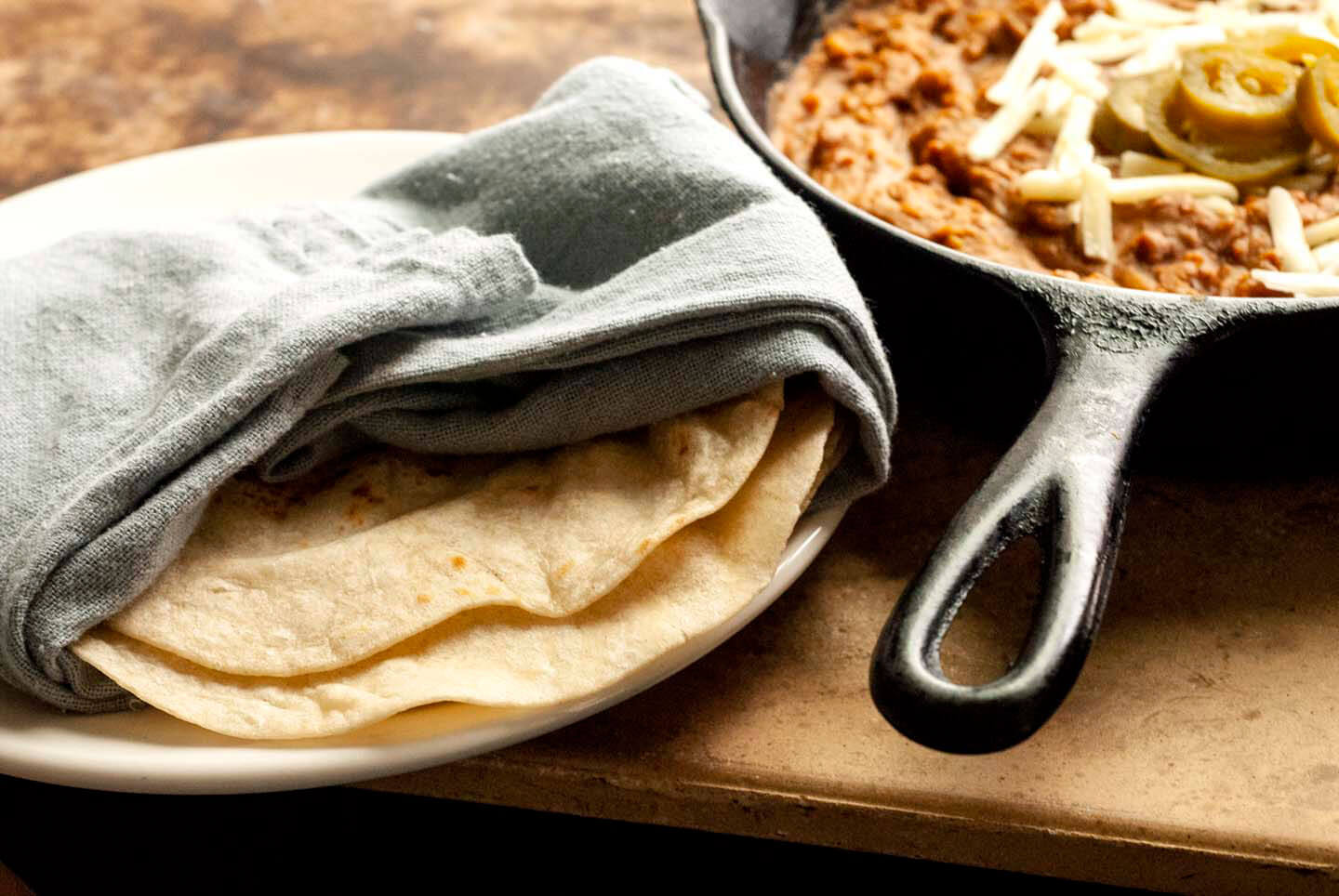 When you spread these creamy, cheesy, savory beans into a warm fluffy flour tortilla, or perhaps scoop them up with a salty tortilla chip, you will understand why in Sonora they call their version of frijoles de fiesta or party beans, as these beans are indeed joyful and festive. And sometimes we need all the joy we can find.
—————
Would you like more Homesick Texan? Well, I've started offering additional recipes for paid subscribers to help with the costs of running the site. While I'm not taking anything away, if you'd like to support Homesick Texan and have access to exclusive, never-seen-before subscriber-only posts, please consider becoming a member; annual subscriptions are as low as $25. Thank you for reading, your consideration, and your support!
—————
Frijoles de puerco
Ingredients
6

cups

cooked pinto beans or 3 (15-ounce) cans pinto beans

2

tablespoons

bacon grease, lard, or vegetable oil

12

ounces

Mexican chorizo, removed from its casing

1/2

cup

diced yellow onion

4

cloves

garlic, minced

1/2

cup

pickled jalapeños, diced

1/4

cup

pickled jalapeño juice

2

teaspoons

chili powder

1

teaspoon

ground cumin

1/2

teaspoon

black pepper

Salt

4

ounces

Monterey Jack, shredded (1 cup)

Tortilla chips, for serving
Instructions
Drain the beans reserving 1/2 cup of the bean liquid. Place the drained beans and liquid in a blender and puree until smooth.

In a large skillet, heat the bacon grease on medium low and add the chorizo, breaking up the loose sausage with a spoon. While stirring occasionally, cook for 7 minutes or until it's just beginning to brown.

Add the onion to the skillet and while cooking occasionally, cook until softened and fragrant, about 5 minutes. Stir into the skillet the garlic and jalapeño and cook for 30 seconds.

Pour into the skillet the pureed beans, and add the jalapeño pickle juice, chili powder, cumin, and black pepper. Stir until everything is well combined then cook the beans, while occasionally stirring until they are warm and slightly reduced, about 10 minutes.

Stir in half the cheese and cook until it's melted, a couple minutes. Taste and adjust seasonings, adding salt if needed (though it's probably not).

Top the beans with the remaining cheese and pickled jalapeño slices, then serve warm with flour tortillas and/or tortilla chips. It can be served as a side, a taco filling, or a dip.