Jailhouse chili, Dallas County style
In 1962, Dallas Morning News columnist Frank X. Tolbert published an article titled, "That Bowl of Fire Called Chili" in the Saturday Evening Post, which was a popular magazine that reached a multitude of readers across the United States. It was one of the first love letters to Texas chili to appear on a national level by one of its biggest fans. Tolbert struck such a nerve with readers that he received over 29,000 letters.
Tolbert would be the first to admit that not all the correspondence he received was laudatory. In the piece, he'd published a recipe for a Dallas County sheriff's chili recipe from the 1930s. The lawman was named Smoot Schmidt and his bowl of red was said to have been served in the Dallas County jail system up until the early 1960s.
This recipe, which was said to have been requested by former inmates upon discharge, was a classic Texas chili recipe that echoed early Texas chili recipes. This means that it was a simple bowl that incorporated beef, chiles, garlic, and cumin.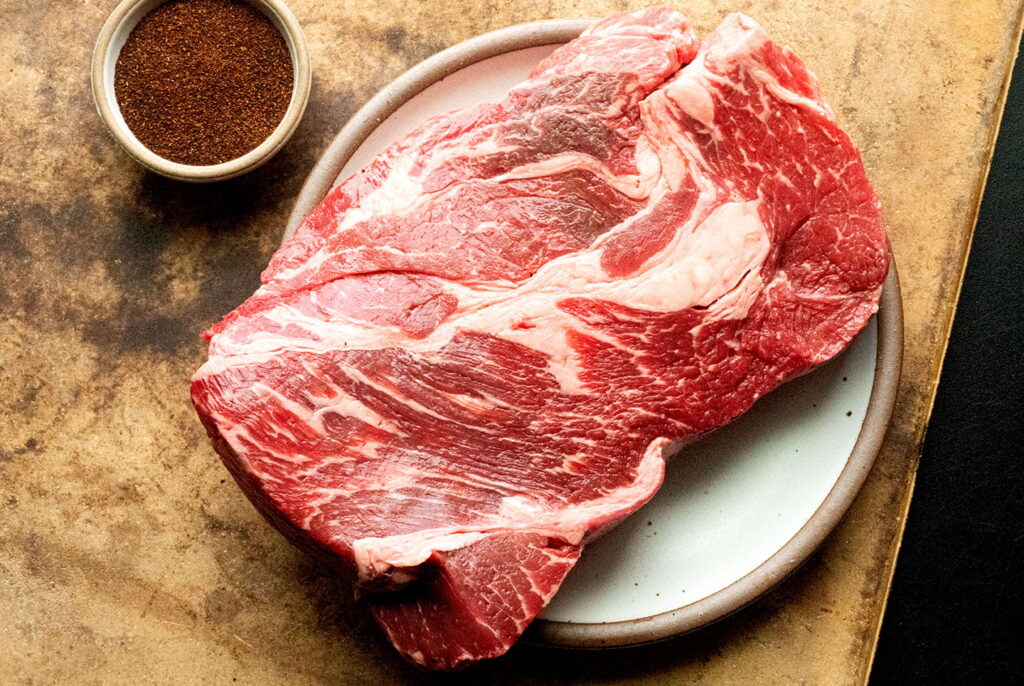 For this bowl of red, chili powder was used to create the peppery sauce instead of pureed peppers. There were no onions or tomatoes in this version, but there was plenty of garlic and a suggestion to serve the recipe with beans. The beef could be either coarsely ground or finely chopped. A large handful of melted suet provided the fat.
The sheriff of Bexar County, Bill "Billy Goat" Hauck, complained about the Dallas chili. San Antonio, the capital of Tex-Mex, is in Bexar County and the sheriff alleged that his correctional system surely produced the superior bowl.
He even claimed he'd arrest Tolbert for insinuating that Dallas's chili could be better. Rivalries between Texas cities on iconic recipes of our state's cuisine are nothing new. That said, Hauck never shared his recipe, so it remains a mystery on how it was improved over the Dallas bowl.
Here's my take on the Dallas County jailhouse recipe. I didn't have access to the suet called for so I cooked my beef in tallow, though lard, shortening, or bacon grease, for a smokier flavor, works, too.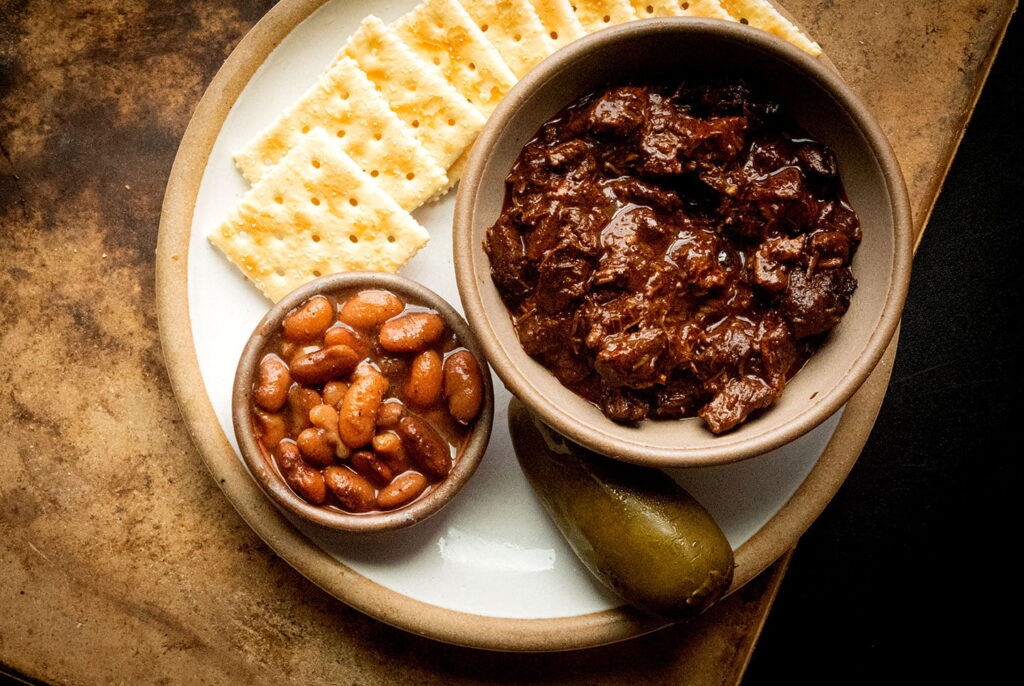 The original also called for plain paprika, mainly for color, though I went with smoked paprika, again for a fiery depth. For the recommended beans on the side, I offered pintos, though the first suggested pink or kidney beans. Finally, I crumbled in chiles de arbol for heat, which gives this simple yet hearty chili a lively kick.
—————
Would you like more Homesick Texan? Well, I've started offering additional recipes for paid subscribers to help with the costs of running the site. While I'm not taking anything away, if you'd like to support Homesick Texan and have access to exclusive, never-seen-before subscriber-only posts, please consider becoming a member; annual subscriptions are as low as $25. Thank you for reading, your consideration, and your support!
—————
Jailhouse chili, Dallas County style
Ingredients
¼

cup

suet, lard, or vegetable shortening

3

pounds

chuck roast, cut into ¼-inch cubes

2

teaspoons

kosher salt

1

teaspoon

white pepper

6

cloves

garlic, minced

1/2

cup

chili powder

2

tablespoons

smoked paprika

2

tablespoons

ground cumin

1

tablespoon

crushed dried chiles de arbol

6

cups

water

1

tablespoon

masa harina

Pinto beans, for serving (optional)

Chili garnishes such as cheese, onions, sour cream, jalapeños, chips, and/or crackers, for serving (optional)
Instructions
Melt the fat in a Dutch oven on medium-low heat. Season the meat with the salt and white pepper.

Working in batches, brown the meat in the pot, stirring occasionally. After it's browned, about 10 minutes, transfer the meat with a slotted spoon to a large mixing bowl. Repeat the browning until all the meat is done.

Once the meat is browned, add the garlic to the pot and cook for 30 seconds, stirring a couple of times.

Return the meat to the pot and stir in the chili powder, smoked paprika, cumin, and the crushed chiles.

Pour half the water into the bowl that the meat was in, swirl it around, then pour it into the pot. Add the remaining 3 cups to the pot, too.

Bring the pot to a boil on high then turn down to low. Simmer for 3 hours or until the gravy is reduced and the meat is tender. If the liquid gets too low, feel free to add more water.

Stir in the masa harina until well combined, then taste and adjust seasonings, if you like. Continue to cook for 15 minutes.

Serve warm with optional beans and other chili garnishes, on the side.