When life gives you too much tallow, perhaps it's time to make flour tortillas. At least that was my conclusion, after successfully using this rendered beef fat in bread and biscuits.
Though why would I have beef tallow? Unlike bacon grease, which accumulates every time you fry up a skillet of bacon, beef tallow is harder to extract. Much like lard, you need to render the fat to make it usable.
Indeed, if you're cooking a full packer brisket, for instance, you will have lots of leftover fat. While you could throw it away, if you use my lard rendering technique, you will instead have a jar filled with quality fat with a hint of beef flavor.
Some people like to melt their tallow on a smoker. When I've tried this, however, I find that the fat is too smoky, which can be harsh. While for some this may be an advantage, I prefer tallow's savory beef essence to shine and if you smoke the tallow, that may be lost.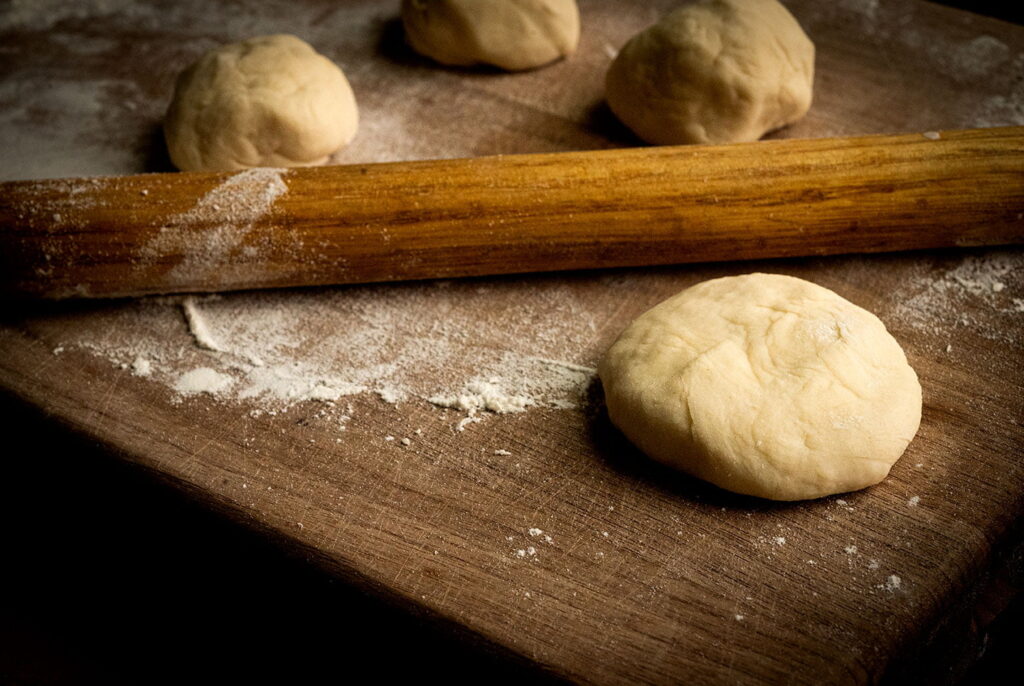 Working with tallow is much like working with any other solid fat such as shortening, lard, or butter. It will solidify when cold in the refrigerator but when it's left out at room temperature, it will soften.
For these tortillas, I first melt the tallow in water with an equal portion of butter. This is because I find that the butter, which is also in this recipe for tortillas, mellows out the flavor of tallow and keeps the tortillas balanced.
After the fat has melted, I stir in my flour and baking powder until a soft dough forms, then let it rest for an hour for the gluten to become more malleable.
Much like lard, the high ratio of fat to liquid in tallow makes for a pliable dough. When rolling out these tortillas, you'll find that they're supple and easy to shape.
You can use tallow tortillas anytime you crave one, though they're especially designed to go well with smoked meats, such as brisket or sausage. Even on its own, however, a warm tortilla hot off the skillet is an excellent treat, too.
—————
Would you like more Homesick Texan? Well, I've started offering additional recipes for paid subscribers to help with the costs of running the site. While I'm not taking anything away, if you'd like to support Homesick Texan and have access to exclusive, never-seen-before subscriber-only posts, please consider becoming a member; annual subscriptions are as low as $25. Thank you for reading, your consideration, and your support!
—————
Tallow flour tortillas
Ingredients
¾

cup

water

1

tablespoon

rendered beef tallow

1

tablespoon

unsalted butter

2 ¼

cups

all-purpose flour

2

teaspoons

baking powder

1

teaspoon

kosher salt
Instructions
Add the water, tallow, and butter to a pot and heat on medium. When the fats have melted, about 3-4 minutes, turn off the heat.

Stir into the pot the flour, baking powder, and salt. Stir until a smooth dough has formed, adding more flour if needed.

Cover the dough and let it rest for an hour before rolling.

After an hour, divide the dough into 12 balls. Lightly flour a clean surface and one at a time place a dough ball on the floured surface, pat it out into a 4-inch circle, and then roll with a rolling pin from the center until it's thin and about 8 inches in diameter.

Keep the rolled-out tortillas covered until ready to cook.

In a dry cast-iron skillet heated on medium-high, cook for 30 seconds on one side, flip it, and then cook for 1 minute on the other side. It should start to puff a bit. Flip it again and cook for 30 more seconds. Place cooked tortillas in a basket lined with cloth or a tortilla warmer. Repeat the process for the remaining balls of dough.

These will keep refrigerated for 1 week.
Notes
Beef tallow can be purchased pre-rendered in Texas at Whole Foods and usually wherever Epic Provisions products are found. Farmers market stands that sell beef will often have it, too. If you wish to render your own, you can follow the method I use for lard.