Tex-Mex beef and bean stew, aka Lakemont chili
My family has a dear friend who moved from Houston to Georgia when she and her husband retired. She's an excellent cook and from time to time, she and I will swap notes about recipes, restaurants, and kitchen equipment.
For instance, a few years ago when I was shopping for slow cookers, I contacted her, as she always has the best tips on cookware and appliances. When I asked her what kind she used, she gave me lots of solid advice, such as don't get one with paddles as it may stir the food but it will never get warm.
As we discussed the different pros and cons about slow cookers, she mentioned that often she prepares chili in hers and it's always a hit. Curious about her recipe, I asked if she'd be willing to share it and she graciously agreed. She told me it was called Lakemont chili, named after the place in Georgia where she and her husband now lived.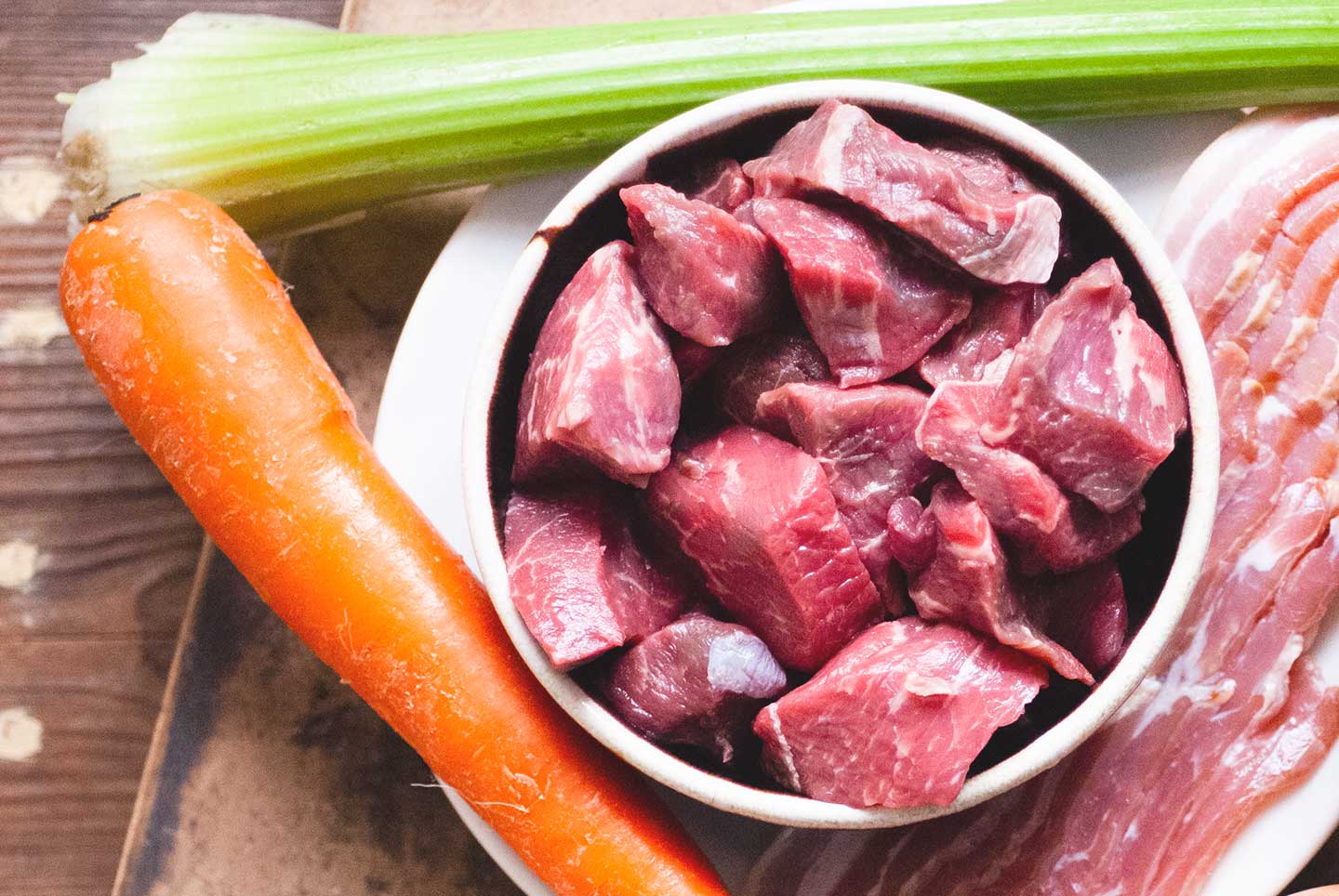 When I was telling to my mom about how excited I was to get this Lakemont chili recipe, she laughed and said it may have chili in the name, but it wasn't true Texas chili. I asked her to explain, and she said that there were ingredients such as carrots, celery, bay leaves, tomatoes, and (gasp!) beans in said chili.
Indeed, as everyone knows I'm quite the chili purist so I would never deem any stew with those aromatics and vegetables as chili either. That said, my mom admitted that while not truly Texan, it was no less delicious.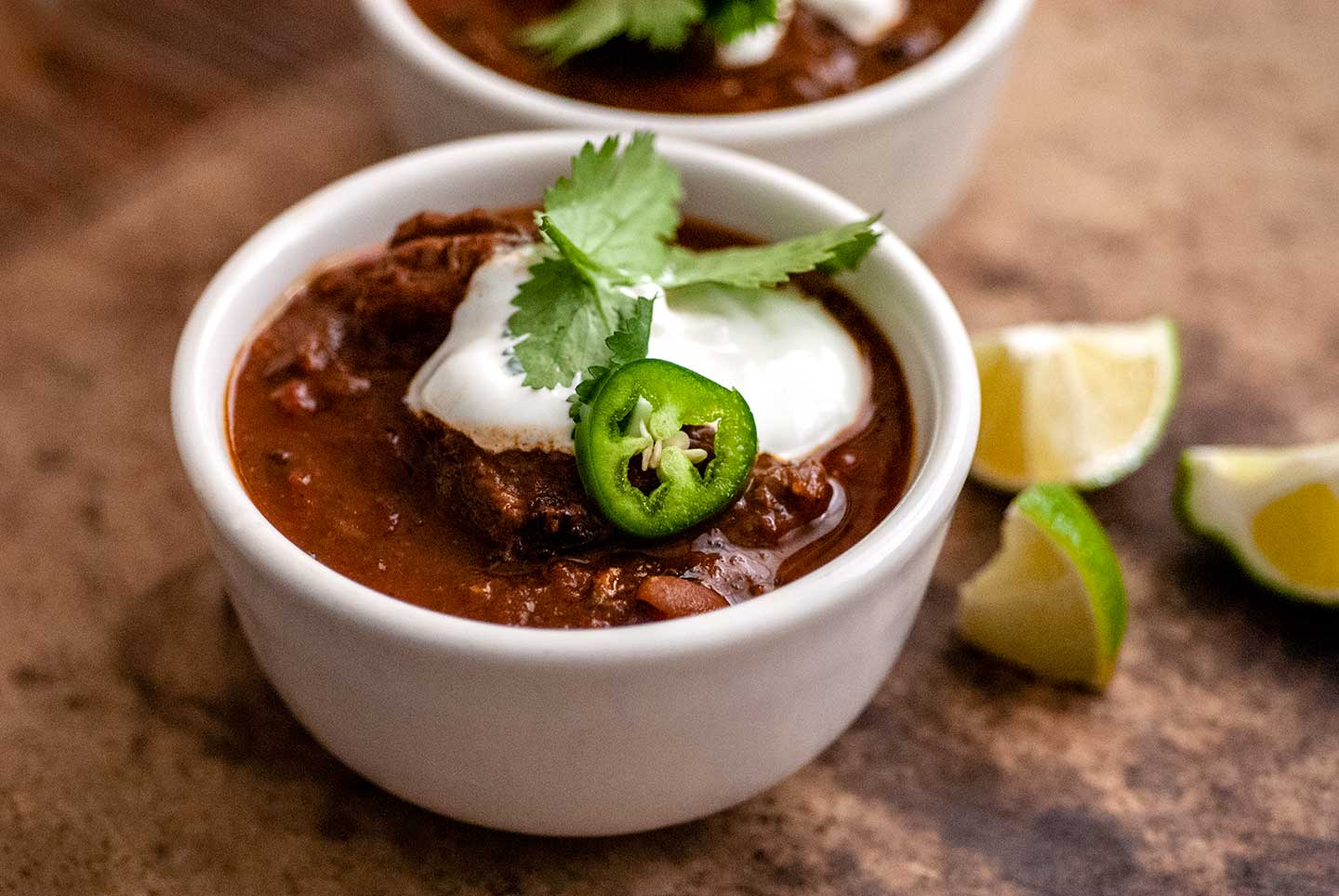 Since I've learned the recipe, it's become a weeknight favorite, one in which I throw all the ingredients into the slow cooker before I go about my day. When I return home, I'm greeted by the inviting aroma of chuck roast that's been slowly simmered in a savory gravy made from bacon, beer, tomatoes, aromatics, spices, and chiles.
Yes, there are also beans, but if you can keep an open mind, please know that this Lakemont chili is heartwarming, comforting, and very good. So, while not an authentic Texas-style chili, Lakemont chili is still a welcoming Tex-Mex beef and bean stew.
—————
Would you like more Homesick Texan? Well, I've started offering additional recipes for paid subscribers to help with the costs of running the site. While I'm not taking anything away, if you'd like to support Homesick Texan and have access to exclusive, never-seen-before subscriber-only posts, please consider becoming a member; annual subscriptions are as low as $25. Thank you for reading, your consideration, and your support!
—————

Tex-Mex beef and bean stew, aka Lakemont chili
Ingredients
6

ounces

uncooked bacon

1

pound

chuck roast, cut into 1-inch cubes

1/2

medium yellow onion, finely diced

1

carrot, finely diced

1

celery rib, finely diced

6

cloves

garlic, minced

1

bottle Mexican lager

1

(15-ounce)

can black beans, drained or 2 cups cooked black beans

1

(15-ounce)

can pinto beans, drained or 2 cups cooked pinto beans

1

(28-ounce)

can diced tomatoes, preferably fire roasted

1

(8-ounce)

can tomato sauce

1/2

cup

chopped cilantro

1

bay leaf

3

tablespoons

chili powder

1

tablespoon

ground cumin

1

teaspoon

kosher salt

1/2

teaspoon

black pepper

2

tablespoons

lime juice

Sour cream, for serving
Instructions
In a large cast-iron skillet, on medium-high heat, cook the bacon until just beginning to crisp, about 8 minutes, turning once. With a slotted spatula, remove the bacon, leaving the grease in the skillet. When cool enough to handle, crumble the bacon and place it in a 6-quart slow cooker.

Meanwhile, add the beef to the skillet and while occasionally stirring, cook on medium-high heat until browned. With a slotted spatula, remove the beef and place into the slow cooker.

Add to the skillet the onion, carrot, and celery, and while occasionally stirring, cook until softened, about 5 minutes. Stir in the garlic and cook for 30 more seconds.

Take the vegetables and add them to the slow cooker, then pour the beer into the skillet, swirl around, scraping the bottom of the skillet to get all the browned bits, and the pour it into the slow cooker.

Add to the slow cooker the beans, tomatoes, tomato sauce, cilantro, bay leaf, chili powder, cumin, salt and pepper. Cover the pot and cook on low for 6-8 hours or high for 4-6 hours or until everything is well blended, tender, and good.

Alternatively, you can cook it in a covered Dutch oven or pot in the oven at 325°F for 3-4 hours.

Before serving, taste and adjust seasonings. Then stir in the lime juice. Serve topped with sour cream.