Marfa and a plate of stacked enchiladas
"Oh Texas, rise and sing along, forever a part of you is gone. Oh Texas, say a word today in praise of the Old Borunda Cafe" From the song "Old Borunda Café" by Bob Campbell
Last week, I hungered for a big bowl of sky. Stuck in New York City, I decided to satisfy my appetite by looking at West Texas real estate web sites.
Enter an amazing piece of property in Marfa, Texas. The real estate agent (yes, I'd gone so far as to place a call) told me that it wasn't officially on the market but with the right offer the owner would sell. I asked for a ballpark and she quoted me a figure a bit out of my price range, but very reasonable for what you get: an old adobe compound comprised of five buildings that could be filled with several living and work spaces. There's also a gorgeous private yard with stone patios and pathways, a fire pit and a garden with one of the most impressive patches of lavender I've ever seen.


If you're not familiar with the Old Borunda Café, former owner Tula Borunda Gutierrez is credited with the creation of the Tex-Mex combination plate—you know, the classic No. 1 dinner made up of an enchilada, tamale or a taco, refried beans, and rice. This building is a historical monument to Texas' native cuisine!
Robb Walsh recently questioned the fate of vintage Tex-Mex. Sure, cuisines evolve and change. But should we ignore a cuisine's roots even if our palates have learned to appreciate other tastes? Of course not! Tex-Mex was built on a foundation of refried beans, corn tortillas, brown chili gravy and orange cheese. And while there is room at the Tex-Mex table for other colors, say, more green, white and red, sometimes nothing satisfies a Tex-Mex itch more than a plate of cheese enchiladas nestled between refried beans and rice with a taco or a tamale on the side.

Over the past few days, I've tried to forget this building but for some reason it keeps calling me. I haven't decided what I'd do with it, but one of the ideas I was bouncing around in my head was starting a cooking school for those wishing to learn more about Texas food in a majestic, desert setting (never mind that I've never taught a class, ran a business or been trained how to cook). Another is to pay homage to the building's roots and use it to house some sort of Texas foodways organization.

Of course, you may say, the obvious thing is to open a café, but I don't think that's something I'd want to do, at least under the old café's name. In Marfa, relatives of the former owner of the Old Borunda Café have a place called Borunda Bar & Grille, which is known for its stacked enchiladas. What are stacked enchiladas, you may ask. Well, in most parts of Texas, enchiladas are rolled tortillas stuffed with a filling, covered in a sauce. But often in West Texas (and also New Mexico) the filling and sauce is instead layered between flat tortillas. They look a bit different but the end taste is the same, not to mention stacked enchiladas are a heck of a lot easier to make.

Another feature of stacked enchiladas is the inclusion of a fried egg on top. I don't know how this tradition came about, but it's a brilliant addition. When the yolk mixes with the sauce, its creamy transformation takes the sauce from merely delicious to truly decadent. I was born and raised a rolled enchilada girl, but I can appreciate a plate of stacked ones. Especially those made with chile sauce. And if I squint, I can see in the stack the rugged terrain of West Texas with the egg standing in for clouds and the sun. It's West Texas on a plate.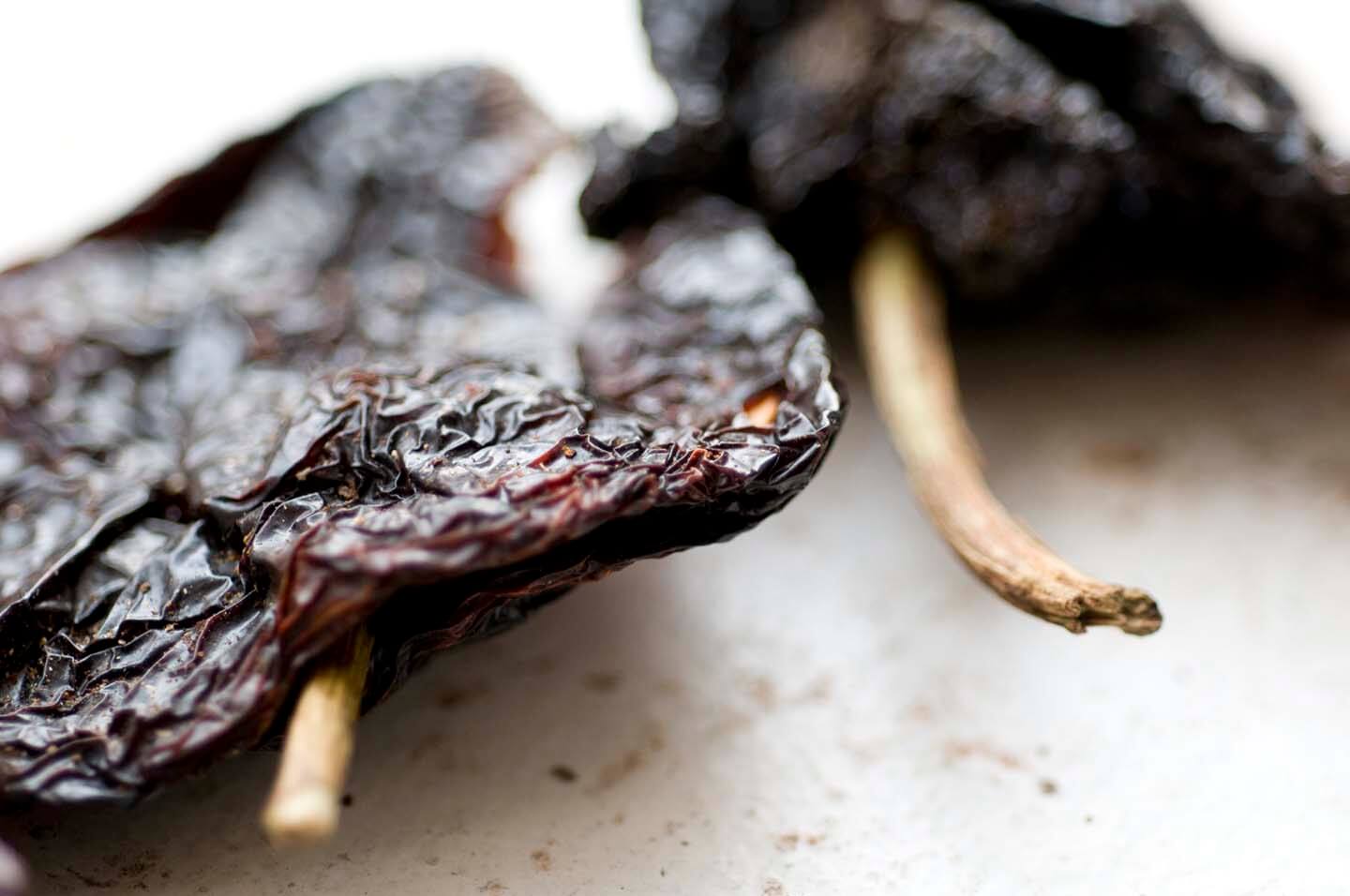 I don't have any family or roots in far West Texas, but if you ever travel there you'll agree that it's both breathtaking and mesmerizing. And while my dreams for this building may not be what my future holds, for now they're keeping me happy as I ponder a life filled with big sky above and lavender below.
West Texas stacked enchiladas
Ingredients
10

ancho chiles or New Mexico chiles, seeded and stemmed

2

chipotle chiles in adobo

1

teaspoon

adobo sauce

3

cloves

garlic, minced

1/2

medium onion, diced

1

teaspoon

ground cumin

3

cups

chicken broth

2

tablespoons

lard or peanut oil

12

corn tortillas

1 1/2

cups

shredded Cheddar

1 1/2

cups

shredded Monterrey Jack

4

large eggs

Oil, for frying the eggs
Instructions
In a dry skillet heated on high, toast the ancho chiles on each side for about 10 seconds or just until they start to puff. Fill the skillet with enough water to cover. Leave the heat on until the water begins to boil and then turn off the heat and let the chiles soak until soft, about 30 minutes. Once hydrated, discard the soaking water, rinse the chiles well, then place into a blender.

Put softened chiles, chipotle, adobo, garlic, 1/4 cup of the diced onions, cumin, and one cup of chicken broth in a blender and puree until everything is mixed together. It should be thick and smooth.

Heat one tablespoon of lard on medium in a pot and transfer chile puree to pot. Fry puree for a couple of minutes, slowly adding remaining broth.

Preheat oven to 450° F.

Heat at medium the remaining tablespoon of lard in skillet. Cook each tortilla for about 30 seconds on each side (or until soft). Keep warm in a towel or a warmer.

Place tortilla in a pan. Drizzle 1/4 cup of the sauce on each tortilla and then add 1/4 cup of shredded cheese and 1 teaspoon of onions. Add another tortilla, and add same amount of sauce, cheese and onions. Add the third and final tortilla, and again top with sauce, cheese and onions. Repeat until you have four stacks (can cook stacks individually or in a pan that will hold all 4 stacks).

Cook enchiladas for five minutes or until cheese is melted and bubbling.

While enchiladas are cooking, fry up 4 eggs to your preference. When enchiladas are done, place fried egg on top.