What's a taco burger, a friend asked me when I told her what I was cooking for dinner. I explained it was all the components of the traditional crispy taco, such as picadillo, iceberg, shredded yellow cheese, tomatoes, and guacamole. The difference, however, was that for the burger, you piled everything in between a bun instead of layering it into a fried corn tortilla.
That sounds like a sloppy Joe, my friend said. I agreed that the filling was similar in texture, though the meat was combined with different ingredients.
Indeed, for my Tex-Mex sloppy Joe, I use lots of tomatoes and ketchup, which gives the preparation a hint of sweetness. Its flavor profile is closer to barbecue than Tex-Mex, though I do add peppers and spices such as cumin, hence the name.
For my taco burgers, I instead cook up a batch of my classic crispy beef taco filling, and nothing sweet is added, with its flavoring coming from chili powder and cumin, along with peppers, aromatics, cilantro, and lime juice. Though I take it a step further for the burger and stir in refried beans to help it adhere together better once it's on the bun.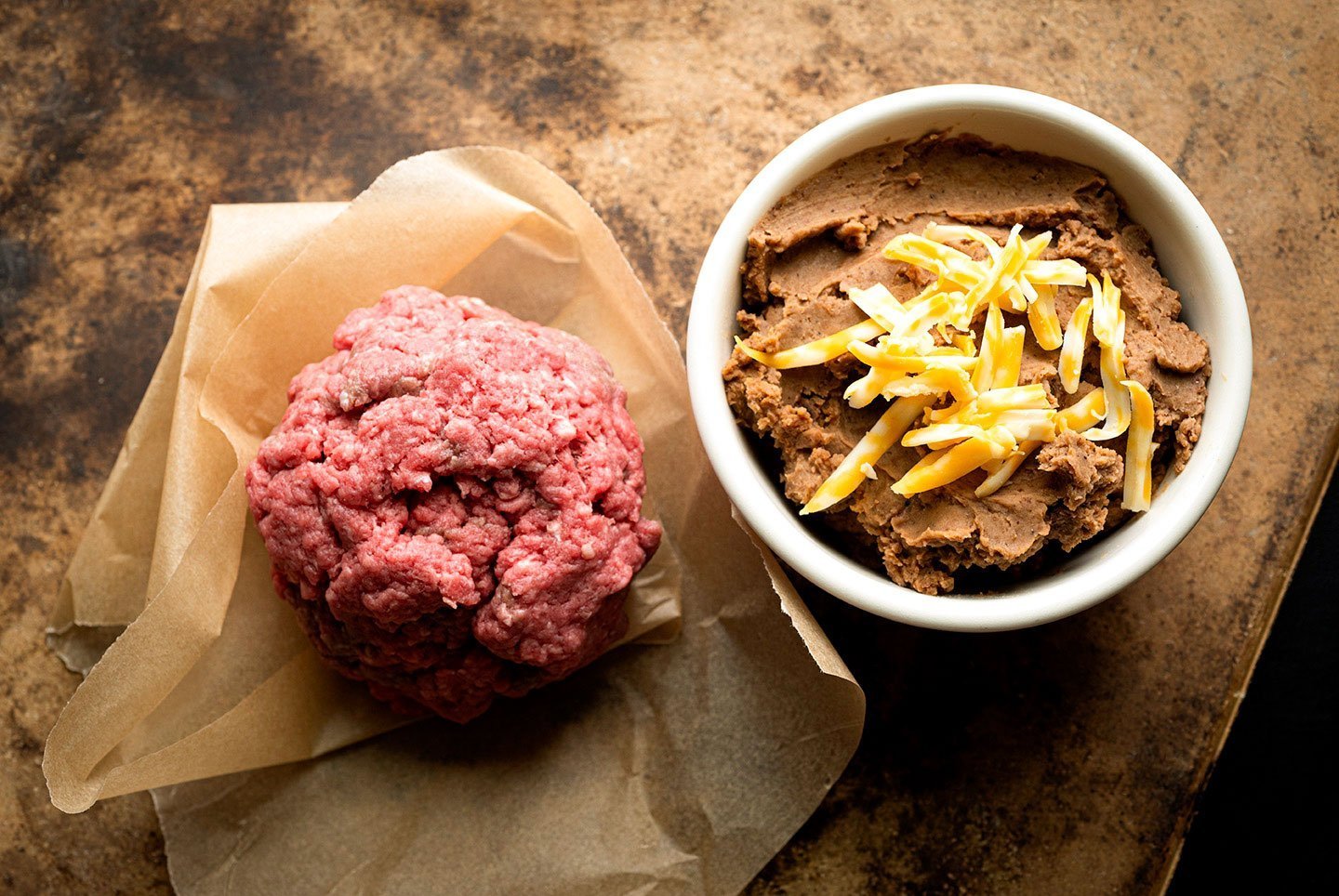 Taco burgers are an American invention with murky origins, though the first press mention has them on the 1959 menu at the Big Rig Café in Farmington, New Mexico. That same year, they were also featured at Austin's Burgerhaus.
Some point to the 1960's Southern California fast-taco scene, centered in San Bernardino's Taco Bell and Baker's, as where the dish became most popular. While mainly a regional favorite, when Taco Bell went national, so did the taco burger. Though they dropped it from the menu in the 1970s, which also corresponded with the dish's Southwestern decline, as well. These days, they can be tough to find.
That said, there are still places that sell them. In Texas, for instance, you can find them at Taco Casa and Taco Delite, for instance. While our experience with tacos in Texas has evolved to include countless permutations, the taco burger has always remained the same.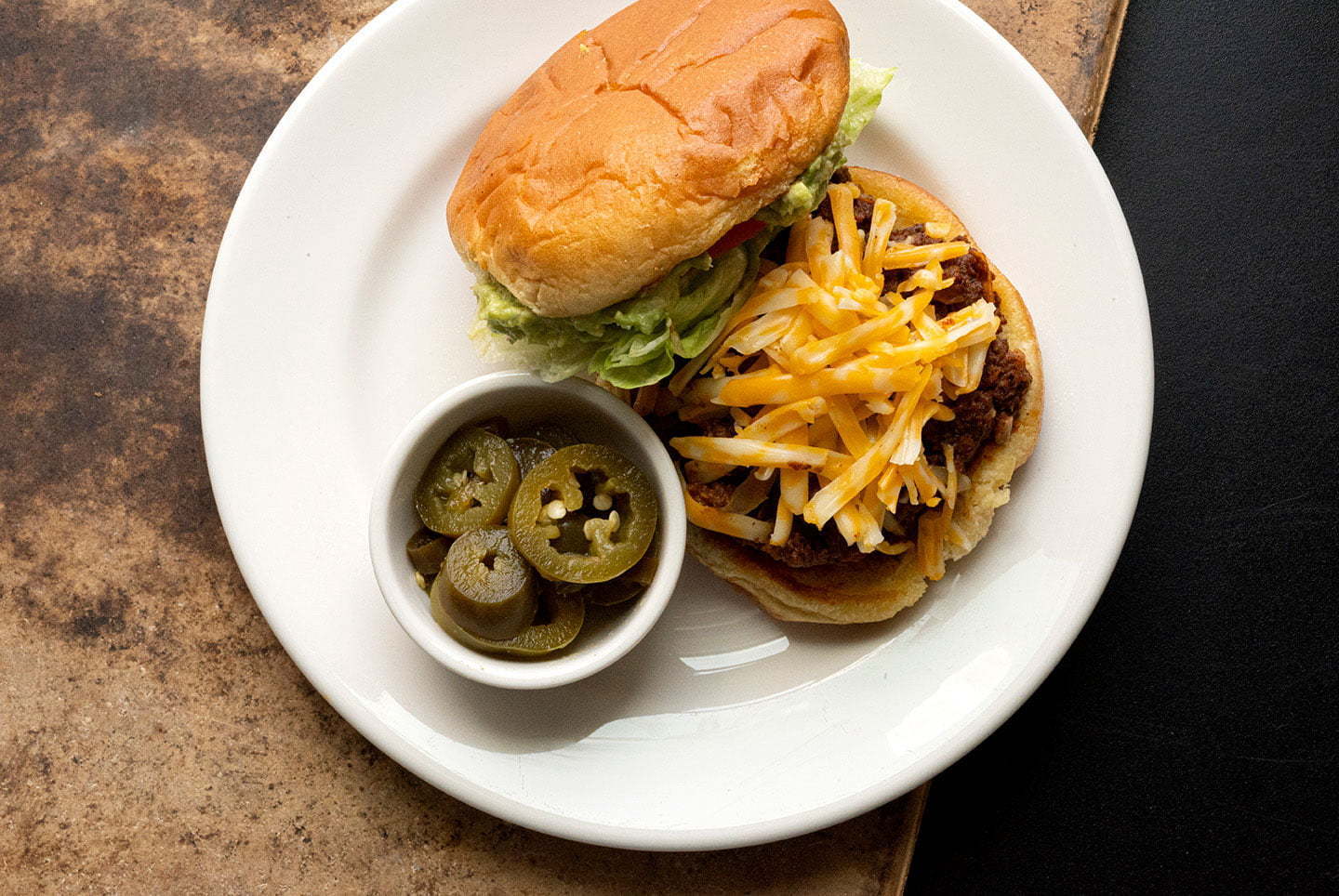 While for some this may sound boring, I find its familiarity comforting. I love a cheeseburger and I love an old-school crispy taco, so combining the two just works. They're also quick to prepare and make a good weeknight dinner for the family. So, if it's been a while since you've had a taco burger, or like my friends somehow missed the long-ago trend, give them a try. You'll be glad that you did.
—————
Would you like more Homesick Texan? Well, I've started offering additional recipes for paid subscribers to help with the costs of running the site. While I'm not taking anything away, if you'd like to support Homesick Texan and have access to exclusive, never-seen-before subscriber-only posts, please consider becoming a member; annual subscriptions are as low as $25. Thank you for reading, your consideration, and your support!
—————
Taco burgers
Ingredients
1

tablespoon

safflower oil

½

medium yellow onion, diced

2

jalapeños, seeded and diced

4

cloves

garlic, minced

1

pound

ground beef

2

tablespoons

chili powder

1

tablespoon

ground cumin

1

tablespoon

dried oregano

2

teaspoons

kosher salt

1

teaspoon

black pepper

¼

cup

diced ripe tomatoes

½

cup

chopped cilantro

½

cup

refried beans

1

tablespoon

freshly squeezed lime juice

4

ounces

Cheddar or Colby-Jack cheese, shredded (1 cup)

Shredded iceberg lettuce

Sliced ripe tomatoes

Pickled jalapeños, for serving
Instructions
To make the filling, in a large skillet, heat the oil on medium-low heat and add the onion and jalapeño. While stirring occasionally, cook until the onions and jalapeño are softened, about 5 minutes. Add the garlic and cook for 30 more seconds.

Add to the skillet the ground beef, chili powder, cumin, oregano, salt, pepper, tomatoes, and cilantro. Stir until everything is well combined then turn the heat down to low and simmer while stirring occasionally until the meat is browned, about 15 minutes.

Stir in the refried beans and the lime juice until well combined, then cook for a few more minutes until everything is warm. Taste and adjust seasonings. Remove from the heat.

To assemble the taco burgers, warm the buns. Top the bottom of each bun with ¼ of the filling, then top that with the shredded cheese. On each top bun, spread some guacamole, then add the lettuce and tomato. Serve warm, with pickled jalapeños on the side.