Black-eyed peas for New Year's Day
My first New Year's Day in New York City, I was panic struck: where was I going to find my annual dose of black-eyed peas? Not having any of the ingredients on hand and with all the stores closed, I was afraid I'd spend 1996 poor and unfortunate. Call me superstitious, but I reckon I need all the help I can get. So after much wandering around the Upper West Side, with only slice joints and the occasional Chinese take-out open for business, a friend suggested we go to Harlem.
But of course! Being new to the city, I hadn't visited Harlem yet because it still had an edgy reputation (that would, fortunately, soon be reversed). But if I didn't have my black-eyed peas for wealth and luck, I was certain to be doomed. So we decided to go to Sylvia's, a beloved soul food restaurant that's been open since 1962.
Once we finally arrived, all was well: Harlem was welcoming and Sylvia's was warm and full of good cheer. And most importantly, we had our fill of slow-cooked black-eyed peas dripping with peppers and bacon.
After that, I became a frequent visitor to Harlem's excellent restaurants—everything from church kitchens to the all-you-can-eat buffets with the diners and fine dining establishments thrown in for good measure. But I'm not here to talk about Harlem, I'm here to talk about black-eyed peas.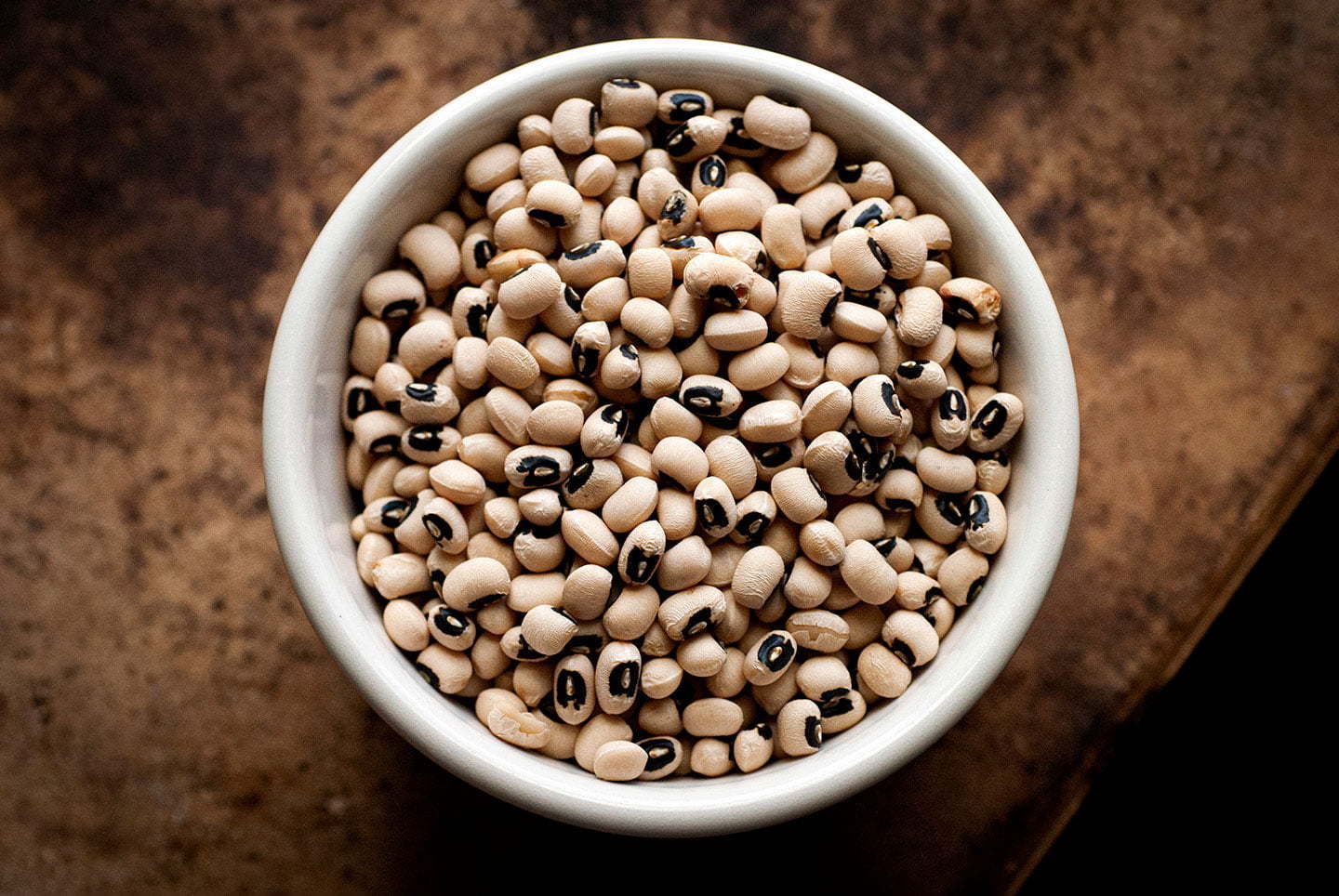 This southern staple has nourished me my whole life. My grandparents grow them on their farm and nary a dinner is complete without a heaping bowl of the legumes. Of course, I'm a bit biased when I say the black-eyed-peas from Chambersville, TX are the best, but there is something about terroir—it's just as important for peas as it is for grapes.
They're not only healthy for both your body and the earth (the plants release nitrogen and some farmers plant them just to enrich the soil) but they're tasty and versatile to cook with as well. You can serve them chilled with peppers in a dish called Texas caviar, you can add them to your queso, or you can add them to a cheesy casserole. Though perhaps the most classic way to eat them is this family recipe, which slowly cooks them with bacon, peppers, and Ro-Tel tomatoes for extra kick.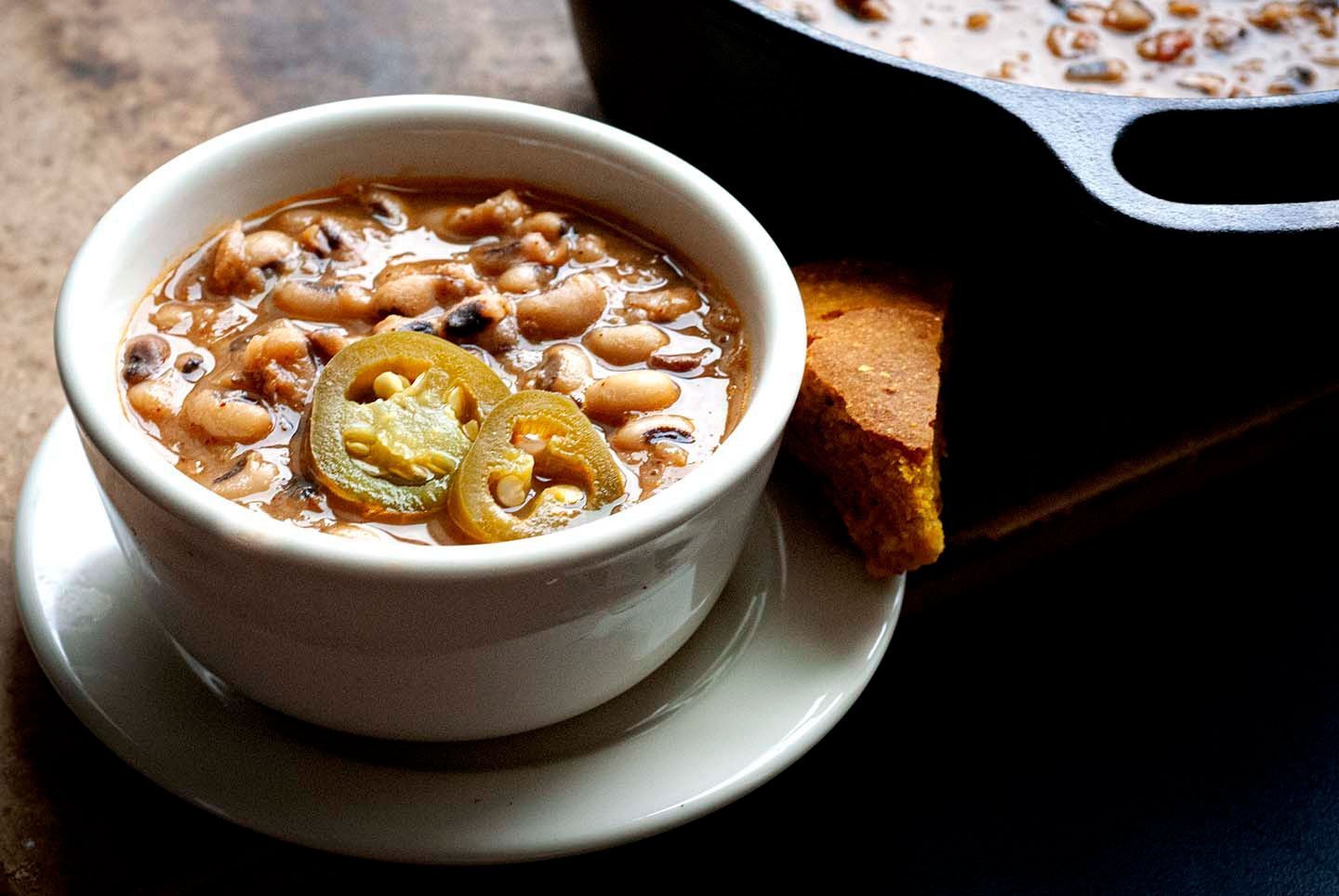 If you need that extra push of good fortune in the new year, consider eating black-eyed peas. Do they work? I have no idea, but let's just say, the one year I didn't eat them on New Year's Day I broke my wrist skiing. Ouch! Suffice to say, I never made that mistake again!
—————
Would you like more Homesick Texan? Well, I've started offering additional recipes for paid subscribers to help with the costs of running the site. While I'm not taking anything away, if you'd like to support Homesick Texan and have access to exclusive, never-seen-before subscriber-only posts, please consider becoming a member; annual subscriptions are as low as $25. Thank you for reading, your consideration, and your support!
—————
Big pot of Texas black-eyed peas
Ingredients
6

ounces

bacon

1/2

medium-yellow onion, diced

2

jalapeños, seeded and diced

4

cloves

garlic, minced

1

pound

dried black-eyed peas

1

(10-ounce)

can tomatoes with green chiles (such as Ro-Tel) and its juices

1

tablespoon

chili powder

2

teaspoons

kosher salt
Instructions
In a large pot, cook the bacon on medium low heat, turning once, for 10 minutes or just until some of the fat has rendered. With a slotted spatula, remove the bacon and place on a paper-lined plate.

Drain all but 2 tablespoons of the bacon grease, reserving the rest for another use. Return the pot the stove and add to the pot the onion and jalapeños. On medium heat, cook while stirring occasionally for 5 minutes or until softened and fragrant. Add the garlic and cook for 30 more seconds.

Add to the pot the dried black-eyed peas. Cover with 2 inches of water, then stir in the tomatoes, chili powder and salt. Chop the cooked bacon and add it to the pot, too.

Bring the pot to a boil on high, then turn the heat down to low, cover the pot, and simmer for 1 hour.

After this time, remove the lid and check on the peas. Add more water if needed, and then continue to cook on low uncovered until they are tender, about another half hour to hour depending on the age of the dried peas.

Taste and adjust seasonings, and serve warm.
Notes
This recipe and post first appeared on the site in 2006 and was updated in 2020.