Spring semester of my senior year in high school, when my friends and I were feeling daring we'd occasionally leave school for lunch. We only had 45 minutes so it had to be quick, and my school was in a remote area so there weren't many dining options nearby. Though there was one restaurant that appealed to everyone—the local Grandy's, which was only a short ride away.
If you're not familiar with Grandy's, it's a fast-food joint that specializes in Southern cuisine classics. So if you're looking for a quick chicken-fried steak along with biscuits, fried chicken livers and fried okra, Grandy's is your place. Indeed, that's what most of us ordered. But one friend, a gal who said she was watching her weight, always insisted on getting the chicken-fried chicken instead.
I hadn't thought about those carefree days or chicken-fried chicken in years. But when someone asked me how I made mine, I realized it was a topic that needed visiting. Before we go any further, however, let me clarify one thing: chicken-fried chicken is not the same as fried chicken. Instead, it has more in common with chicken-fried steak. This is confusing, I know. Let me explain.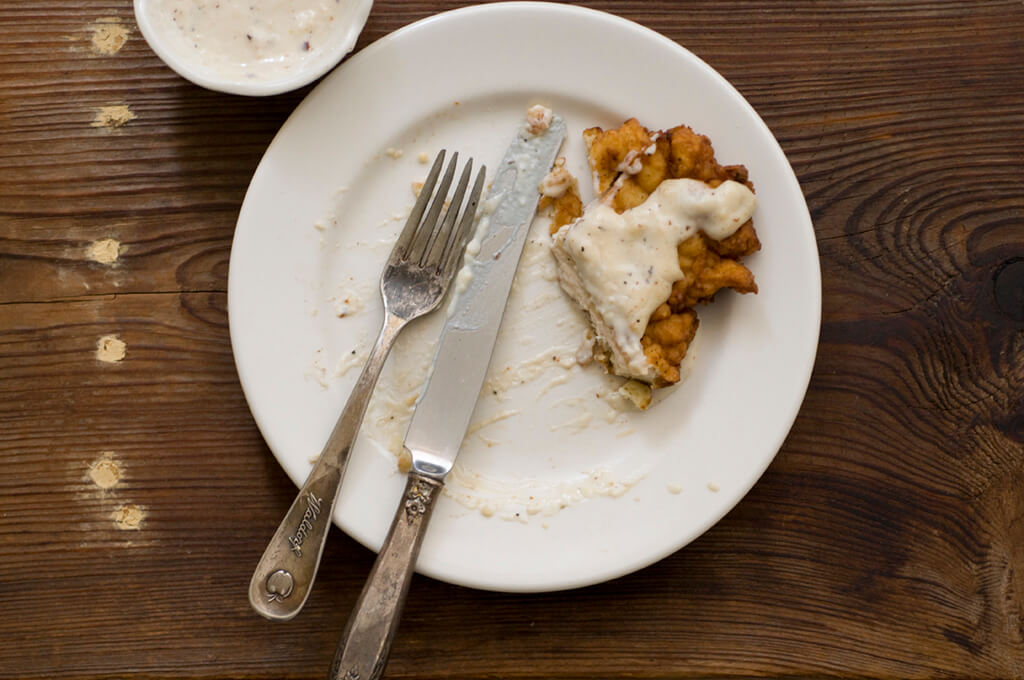 Two things differentiate fried chicken from chicken-fried chicken. First, fried chicken is bone-in chicken pieces from all parts of the bird that are coated in flour. Chicken-fried chicken, however, is a flattened chicken breast that is dredged in flour, then dunked into an egg and buttermilk wash, and then back into the flour again. The latter process being the same that is used to make chicken-fried steak, hence the name.
Of course, at this point, you could be wondering why chicken-fried steak has its particular name when you don't fry it as you would fried chicken, with chicken-fried chicken's egg and buttermilk wash and all. Well, this is indeed something to ponder but I'll let it sit for another day.
In any case, chicken-fried chicken is a large, thin slab of chicken breast that has a crisp coating on it, along with a healthy smothering of cream gravy. It is a glorious thing! Admittedly, I prefer dark meat. But a chicken breast is transformed when you salt it, batter it, fry it, and then drench it in gravy. What is often dry and chalky is now tender and palatable. Much like chicken-fried steak is a dish meant to rescue tough pieces of beef, I feel that chicken-fried chicken is there to make better the breast.
You see chicken-fried chicken all across Texas—from El Paso to Dallas. While I'm not sure how long it's been around, the first printed citations I read were in the early 1970s in the Abilene area. This, of course, doesn't prove its origins are in West Texas, but I could see that being the case. Clearly some chicken-fried chicken scholarship is in order!
To serve chicken-fried chicken, most folks lay it on a platter with their favorite side dishes and a big bowl of gravy. Though you can also cut the breasts in half and fry smaller pieces, which then tuck quite nicely into warm, buttery biscuits. Any way you slice it, it's hard to go wrong.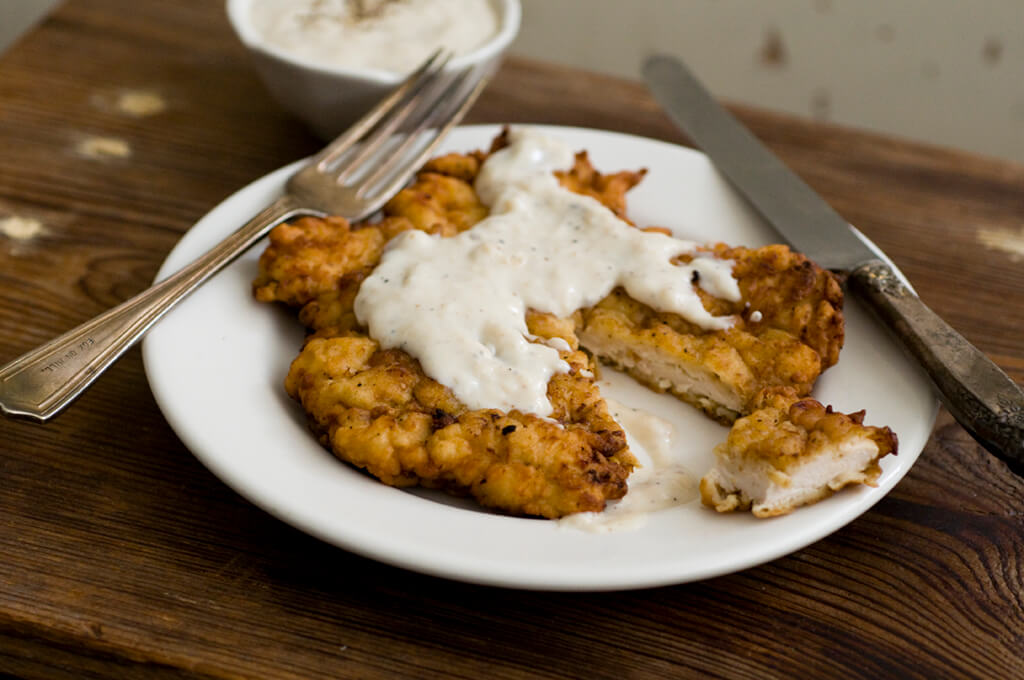 It's not difficult to make chicken-fried chicken, especially if you've already mastered chicken-fried steak. The hardest thing is being tolerant of the mess in your kitchen as I guarantee there will be flour, buttermilk, and grease all over the place. But that's okay because once the chaos has settled you can sit down and enjoy your slab of warm and crisp chicken-fried chicken. And after one bite you will know that all is right with your world.
—————
Would you like more Homesick Texan? Well, I've started offering additional recipes for paid subscribers to help with the costs of running the site. While I'm not taking anything away, if you'd like to support Homesick Texan and have access to exclusive, never-seen-before subscriber-only posts, please consider becoming a member; annual subscriptions are as low as $25. Thank you for reading, your consideration, and your support!
—————

Chicken-fried chicken
Ingredients
4

boneless, skinless chicken breasts (about 2 pounds)

1 1/2

cups

all-purpose flour

1/2

teaspoon

kosher salt

1

teaspoon

black pepper

1/4

teaspoon

cayenne

2

eggs

1

cup

buttermilk

Oil for frying
Instructions
Pound the breasts until they are 1/4-inch thick.

Mix together the flour with the salt, black pepper, and cayenne and place on a plate. Whisk together the eggs with the buttermilk. Lightly sprinkle the breasts with salt and pepper then dredge each into the flour. Dip the flour-coated breasts into the eggs and then dredge in the flour again. Place the breaded chicken breasts on a sheet pan.

Heat up the oven to 200°F. In a large heavy skillet, such as a cast-iron skillet, on medium-high heat up an inch of oil to 350°F, about 5 minutes. If you don't have a thermometer, you can test the temperature by sticking a wooden spoon into the oil. If it bubbles around the spoon, it should be ready for frying.

Working in batches, gently lower each breast into the oil and cook for 2 minutes per side, or until lightly browned, turning once. Drain on a paper towel and place in the oven while you fry the remaining breasts.