Cucumber and tomato salad
On a late July weekend in the Hill Country, my friends and I prepared a group meal. We shared the cooking duties, with one at the grill, one making dessert, and another gathering snacks. As for me, I was in charge of the sides. At the market that morning we'd found an abundance of red ripe tomatoes, fragrant green cucumbers, and red onions. From that bounty, I found my inspiration and prepared a cucumber and tomato salad.
Cucumbers and tomatoes are natural companions, as the sweet, earthy tomatoes play well with the crisp cucumbers. Slivers of red onion give the two even more spark. It's a simple salad that never fails to satisfy. Though the key is to use ripe fruit and keep the vinaigrette light and simple, as you want the cucumbers and tomatoes to shine.
This time of year, when tomatoes are at their peak, little is required to serve them. While I do have a recipe for a tomato and cucumber salad with cornbread croutons, which is spiked with Tex-Mex spices and cheese, sometimes you crave something less involved, as in-season tomatoes are so juicy and sweet they stand well on their own.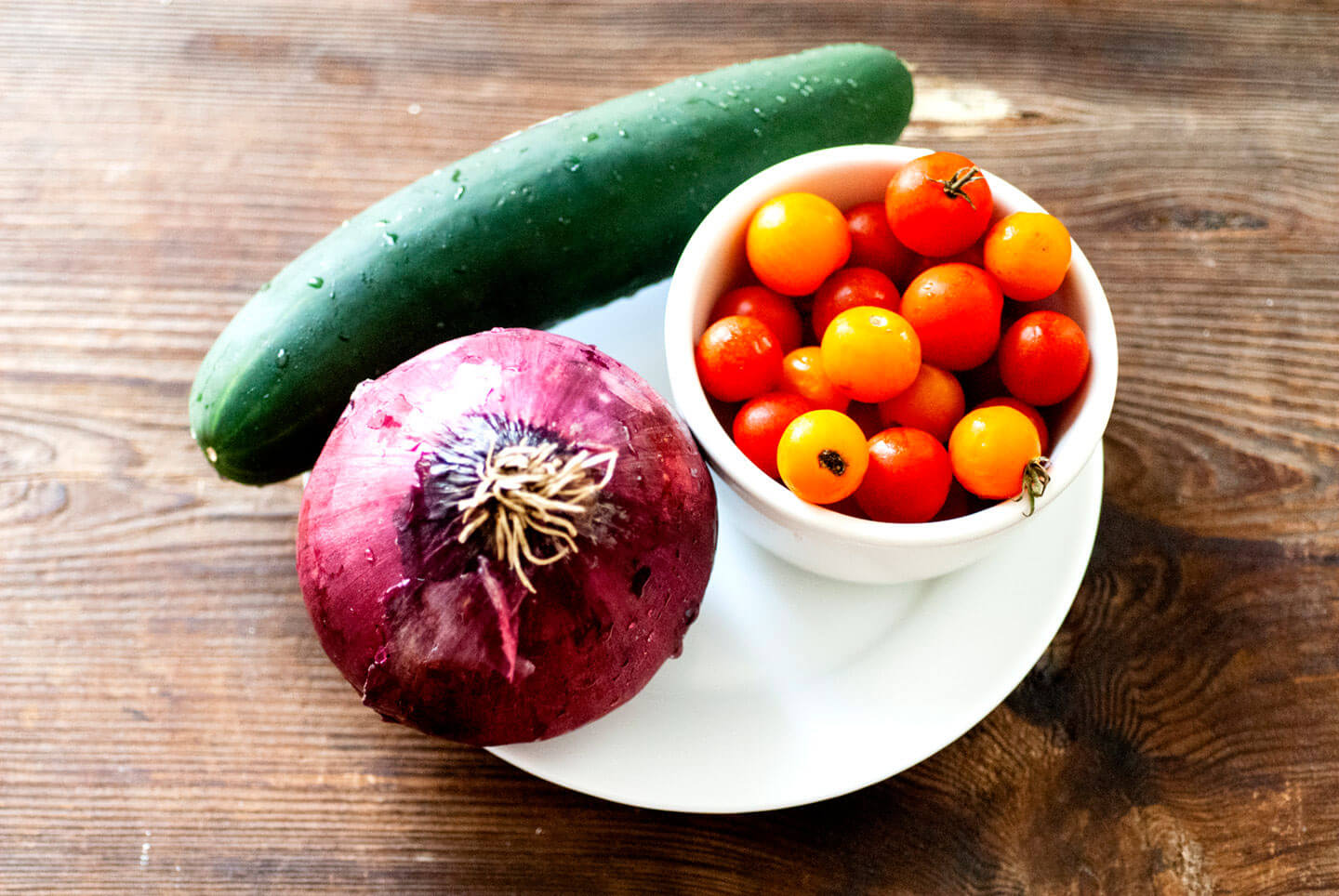 While a creamy cucumber salad is also refreshing, this one is even more juicy and light. Indeed, keeping the salad minimal is essential.
For instance, on another weekend trip, a guest used a packet of powdered French dressing on our cucumbers and tomatoes. While I'm not averse to making things easier, we discovered that the heavy seasonings and malted undertones in the package overwhelmed the delicate fruit to the point that what should have been a light, refreshing dish became heavy and harsh. No one was happy with the results.
After that fiasco, a friend asked for a recipe to follow. Since cucumbers and tomatoes have a long history of being served together in Texas, to come up with the perfect method I looked at old recipes for inspiration. For instance, a 1916 Lampasas recipe used a simple dressing of oil and vinegar with a dash of red pepper. A Dallas recipe from 1950 called for an equal amount of vinegar and water. And in 1960, a Rio Grande Valley recipe suggested splashes of lemon juice and lime.
For mine, I followed the classic vinaigrette ratio of one part vinegar to three parts oil. The main thing, however, is to not use too much of either as the fruit is plenty juicy on its own. For my tomatoes, I used cherry tomatoes, which are perfect for salads as they are reliably sweet and flavorful. A simple seasoning of salt, pepper, and dill provides plenty of flavor, and a handful of diced red onions gives it extra pop.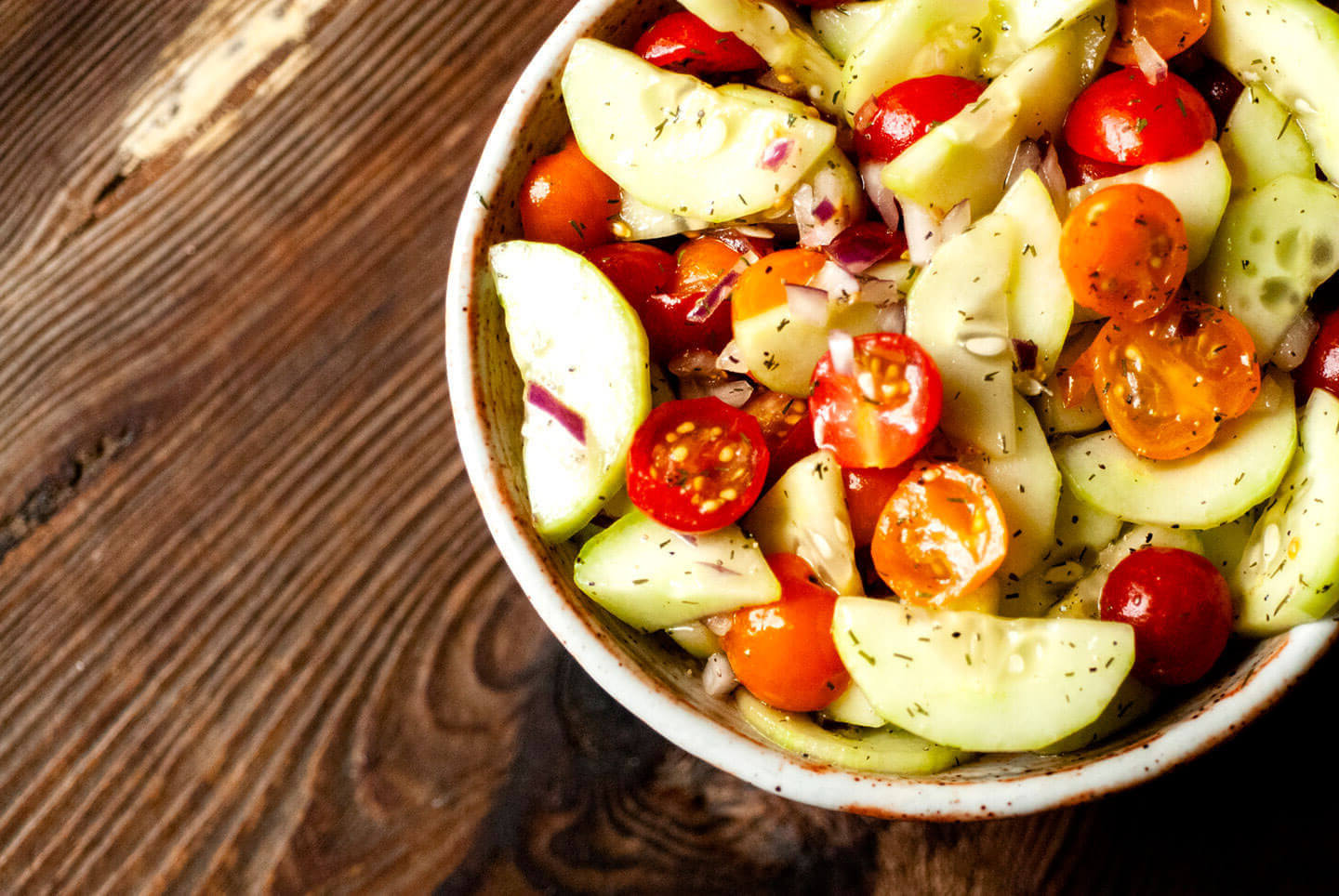 This crisp, cool dish goes well with barbecue, cheese hamburgers, tacos, and even eggs.
You could even follow the example of a Mrs. Elliot of Denison who in 1908 served it with chicken patties, pickles, and sandwiches at her 42 gathering. While it's flavorful and maintains a good texture up to a day after preparing, I find it's at its peak just after stirring everything together.
Cucumber and tomato salad
Ingredients
2

cucumbers, peeled and sliced into half moons

1

pint

ripe cherry tomatoes, cut in half

1/4

cup

diced red onion

1

teaspoon

kosher salt

1/2

teaspoon

black pepper

1/2

teaspoon

dried dill

2

tablespoons

olive oil

2

teaspoons

white vinegar
Instructions
Stir together the cucumbers, tomatoes, red onion, salt, pepper, and dill until well combined.

Whisk together the olive oil and vinegar until well combined then gently stir into the salad. Taste and adjust seasonings, serving immediately.