So, first things first. I never had the famed Felix queso at its original home, a Southeast Texas regional chain of restaurants owned and operated by the late Tex-Mex pioneer Felix Tijerina that first opened in 1937. I'm not sure why my family never ate there but perhaps it's because we're Dallas transplants, and the people who are mad about Felix were usually born and bred in the Houston area.
That said, for years I've heard nothing but both praise and derision for this queso. The latter is due mainly to its peculiar appearance (some poorly lit photos make it look like unappealingly oily and inedible), while the former is due to its unique flavor and texture. And for those that love Felix queso, they really, really, really love it. It is so adored, in fact, that when the last standing Felix restaurant on Westheimer closed in 2008, people placed gallon-sized orders of the queso to stockpile in their freezers. These fans couldn't bear life without their beloved dip.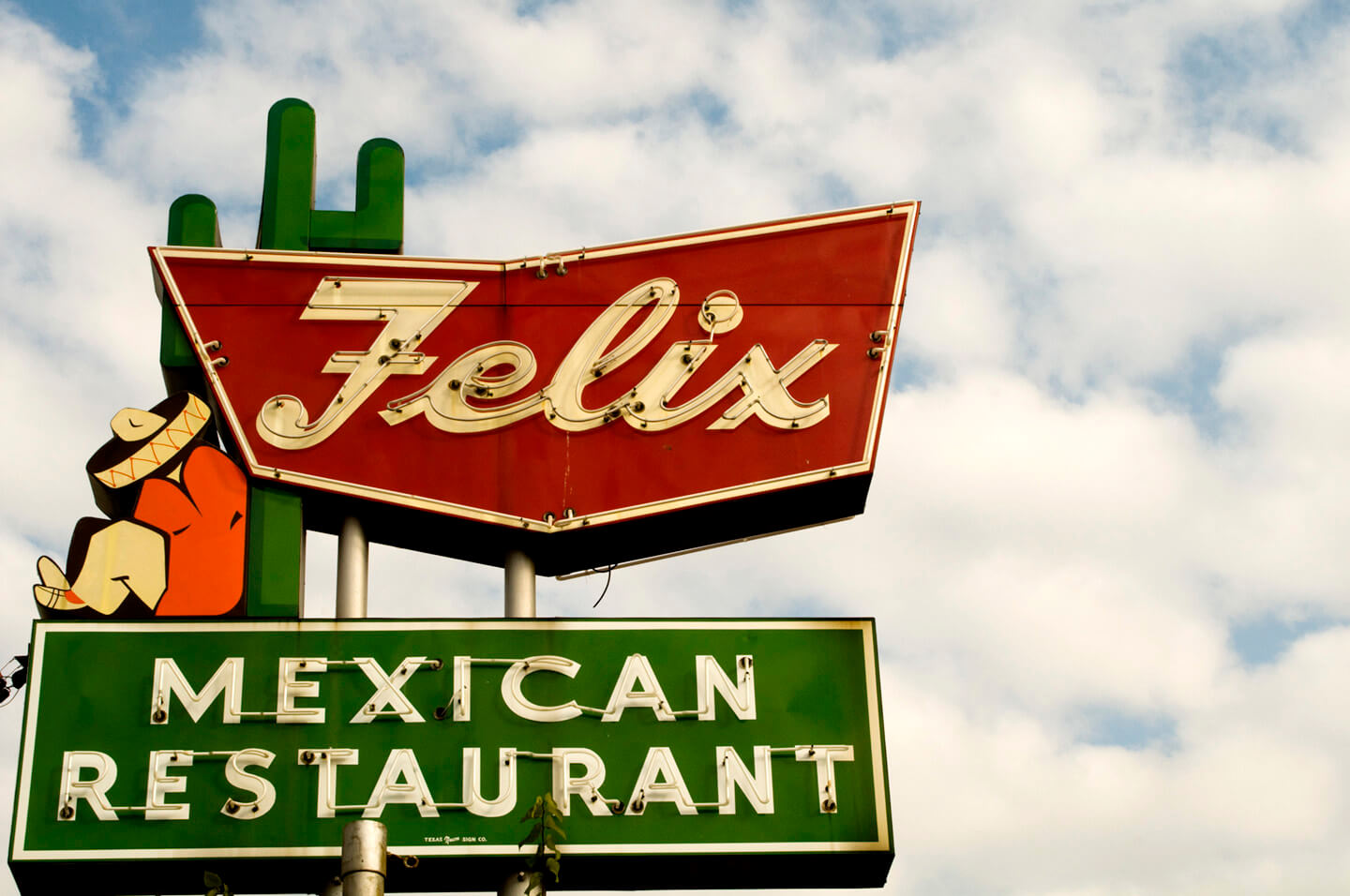 Fortunately, another Houston restaurant named El Patio bought the rights to the Felix recipes and you can now get many of the old favorites there, such as the cheese enchiladas, the crispy tacos, and of course, said queso. Since no book about queso would be complete without a recipe for this Houston icon, last year when I was doing my queso tour across Texas while doing my research, I made a stop there one afternoon. I was thrilled to finally eat Felix queso at last.

When I got to the the restaurant it was around three in the afternoon, which is in-between meals so the room was quiet. I sat down and the waitress brought me a menu but without looking at it I told her that I was there for the Felix queso. She beamed and said, "Such a favorite!" I admitted to her that I'd never had it and was a bit dubious because of its bizarre appearance, but she shook her head and said it was excellent and that she ate it all the time. I placed my order then snacked on the crisp, salty chips and refreshing tomato salsa as I waited.
A few minutes later, she brought me my queso and it was indeed as odd looking in person as it was in photos. Perhaps not as ugly as some of the images I had seen, but it sat solid in the bowl like a whipped putty with a moat of red oil beginning to form on the queso's outer edges. I grabbed a chip and made the first dip.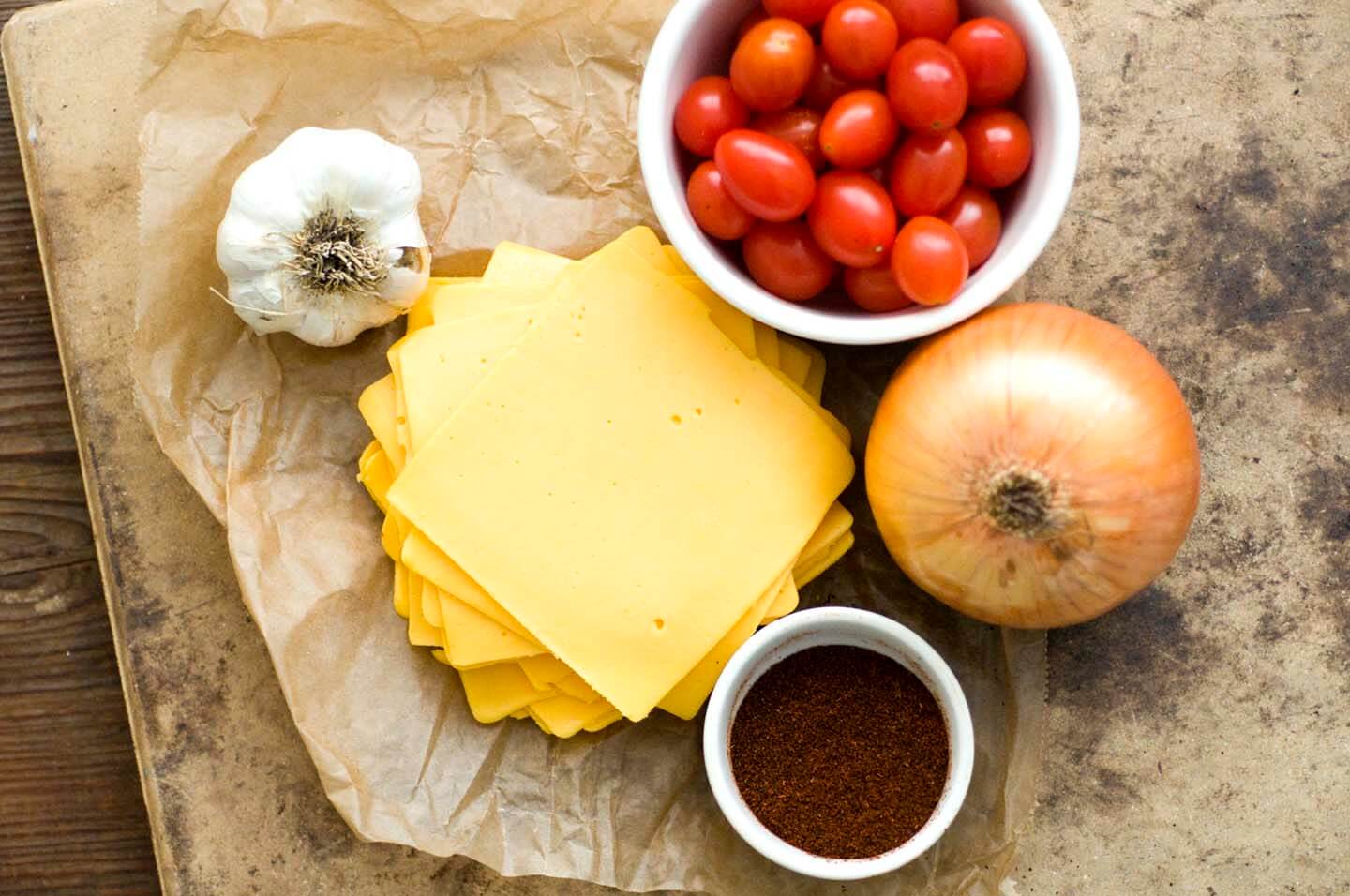 By the heft of the queso, I had assumed it would be hard to dip into, but the queso was yielding and my chip easily slid into the bowl. I took my chip, now loaded with cheese, and took a bite. Now, I'm not sure what I was expecting, but the queso was rich with the earthy notes of ancho chile, cumin, and paprika, and there was a hint sweetness from tomatoes and onions, too. It was the flavor profile of classic Tex-Mex. As for the texture, it was surprisingly fluffy and while it was certainly thick it wasn't heavy but instead pillow soft. To be honest, Felix queso is kind of hard to describe but I happily kept eating it and now understood why it was so beloved. There is no other queso quite like it.
After taking notes, when I returned home I attempted to make my own batch. After trying several recipes that have appeared over the years in various Houston publications that were all different, and after reading an interview with Felix's wife where she revealed that ancho chile played a key role, I came up with my own amalgamation, which not only appears in my book but I'm also sharing with you today.
Purists may scoff that it's not entirely accurate, but the slick of chile-spiced oil pooled on a thick bed of melted cheese is present and deliciously unique. And if you never had a chance to visit Felix when it was open or don't have plans to be in Houston soon to go to El Patio, I suggest trying this unique queso. It's not only a Tex-Mex classic and a piece of Texas culinary history, but it's also just fun to eat.
The process to make the queso is a bit unusual, since after you cook down the tomatoes and aromatics with the spices you then stir in a paste made from water and flour. It's not a classic roux, but this paste does give the queso its distinct texture. There's a lot of stirring involved, but it does go quickly and once you scoop the queso into a bowl and pass the tortilla chips, I imagine that the queso will disappear quickly, too. Felix queso may be curious but it's also wonderful. And while I'm late to the party, I'm so glad that I finally arrived.
Felix queso
Ingredients
1⁄4

cup

vegetable oil

1⁄4

cup

diced yellow onion

3⁄4

cup

diced grape tomatoes

1

clove

garlic, minced

1

teaspoon

chili powder

1

teaspoon

paprika

1/4

teaspoon

kosher salt

1/4

teaspoon

cayenne

1⁄4

cup

all-purpose flour

1⁄4

cup

water

8

ounces

yellow American cheese, shredded

Tortilla chips, for serving
Instructions
In a medium saucepan, warm the oil over low heat. Add the onion, tomatoes, garlic, chili powder, paprika, salt, and cayenne and cook, stirring occasionally, until the tomatoes have almost completely disintegrated, 6 to 8 minutes.

Whisk together the flour and the water to make a paste, then add it to the pan. Stir a few times until the paste is well combined with the vegetables. Stirring constantly, add the cheese, which should combine quickly. As the cheese melts, the queso will become thick and almost like putty. Don't be alarmed! This is the proper texture as it is not a creamy queso. Taste and adjust the seasonings, if you like.

Transfer the queso to a serving bowl, a small slow cooker, or a chafing dish over a flame. Serve immediately with tortilla chips.
Notes
One of the characteristics of this queso is that the oil separates from the cheese. The amounts of oil used in the various recipes were all over the place but I found ¼ cup provided enough without it being overly greasy. Though if you like it super greasy feel free to add 2 tablespoons more oil.