Fried oysters with a chipotle-lime dipping sauce
I have to admit that I'm not in love with raw oysters. Nope, if I'm going to eat an oyster, I prefer that it be fried.
It all began when I was seven. My family and I were on a trip to New Orleans, and the minute we pulled into town, my dad dragged us to an oyster bar. We lived in Dallas where fresh oysters weren't always available, and as my dad loves these bivalves—he insisted that eating oysters would be our first order of business.
(Actually, this is a lie—our first order of business was a big bag of beignets and cups of chicory coffee as we waited in the early-morning line for King Tut tickets. But later that day, we did indeed go get oysters.)


In any case, I'd never seen an oyster before, so when my dad's icy tray arrived, I said, "What is that?" The shell's pink and white interior was appealing, but the slick blob sitting inside was a bit strange. I was game to try it, however, so I watched my dad dip the shell into his mouth and slurp out the meat. I followed his lead, and felt the oyster slide down my throat. It was creamy and cold, and tasted a little bit like the sea.

Dad says that I made a funny face after I ate the oyster, but I don't recall it being that unpleasant. Though, as I'd been raised on a steady diet of rice and beans my whole life, I wasn't convinced eating them was for me. So when dad offered me another, I politely declined.
As I was inducted into eating oysters on the half-shell at such a young age, you'd think that I'd be an old pro at it. But I can count on only two hands the number of times I've eaten raw oysters in the following years. Fortunately, however, these few times have been incredible eating experiences.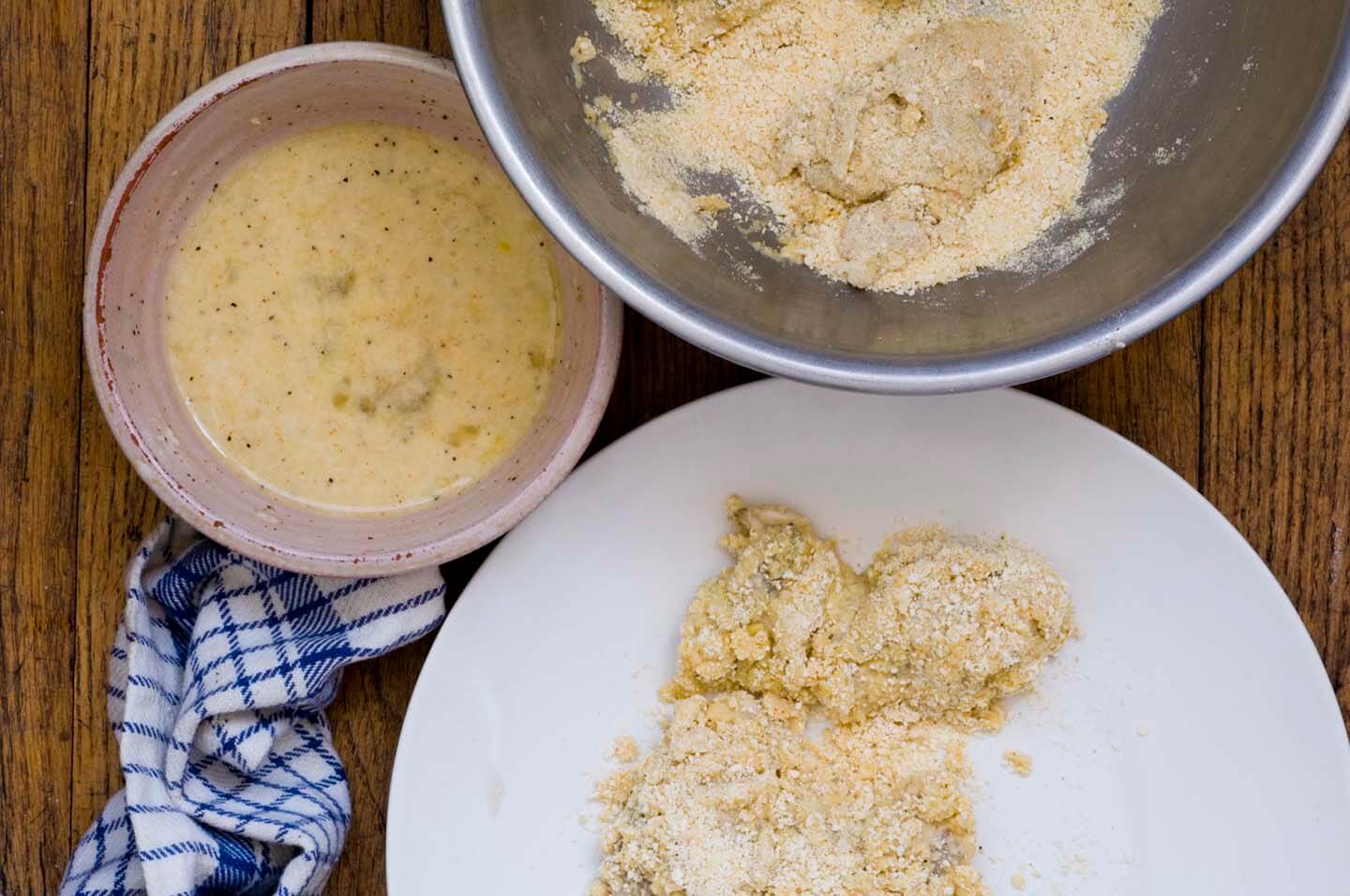 For instance, the night before a dear friend got married in California, her uncle—who's a chef—invited a bunch of us to his hotel room, where he shucked and shared oysters that had been harvested outside San Francisco that morning. We topped the oysters with homemade salsas and washed them down with cold, salty beers.
Then there was one crisp October afternoon in Paris, where my friends and I combined freshly shucked Breton oysters with squirts of lemon and glasses of dry white wine. But even though most of the raw oysters I've eaten have been memorable, I'm still not convinced that I love them, as most of the time I'd still rather have them battered and fried.
I realize that preferring fried oysters over raw oysters may make me sound like a rube, but when it's done well, a freshly fried oyster is a thing to savor. The crunchy coating is a welcome contrast to the soft, juicy oyster meat inside. And often, fried oysters are so succulent that no dipping sauce is even necessary.
There are many ways to make fried oysters. I keep mine relatively simple, though I do like to coat them in a combination of both crushed saltines and cornmeal, which I think gives them an excellent texture and flavor. I also like to dip them into chipotle-lime dipping sauce, though any hot sauce or tartar sauce would work, too. And you can serve these fried oysters alone, with fries, wrapped in a tortilla, or nestled into a warm baguette for a po-boy sandwich.


My dad will probably be disappointed by this admission, but there is hope! In the meantime, please pass me the fried oysters instead.
Fried oysters with chipotle-lime dipping sauce
Ingredients
Ingredients for the fried oysters:
1

pint

shucked oysters

1

large egg, beaten

1/4

cup

buttermilk

1

cup

finely crushed saltines

1/2

cup

cornmeal

Kosher salt

Black pepper

Cayenne

Oil for frying

Sliced limes for serving
Ingredients for the chipotle-lime dipping sauce:
1

canned chipotle in adobo, finely chopped

1/2

teaspoon

adobo sauce from the chipotle can

1/2

cup

mayonnaise

1

teaspoon

chopped cilantro

1

teaspoon

lime juice

1/4

teaspoon

ground cumin

1

teaspoon

lime juice

Kosher salt
Instructions
Drain the oysters, reserving 1/4 cup of the liquid. Pat the oysters dry.

In a bowl, mix together the egg, buttermilk and reserved oyster liquid. In another bowl or a plate, stir together the crushed saltines and the cornmeal. Add to both the egg mixture and the breading mixture a sprinkle of salt, black pepper and cayenne, to taste.

In batches, dip the oysters into the breading, then into the eggs and then back into the breading again. Place breaded oysters on a large plate or sheet. Repeat until all the oysters are coated.

In a large, heavy skillet heat 1/2 inch of oil on medium heat until it reaches 350 degrees. Cook the oysters for 2 to 3 minutes, turning once, until the fried oysters are light brown. Depending on the size of your skillet, you will probably have to do in several batches. Drain on paper towels.

To make the chipotle-lime dipping sauce, mix together the finely chopped chipotle, adobo sauce, mayonnaise, cilantro lime juice, and cumin. Taste and add salt, and adjust seasonings.

Serve the oysters with the sauce and sliced limes.