Cookie season is in full swing and will be for at least another week (there are, after all, 12 days of Christmas). I enjoy sampling from tins filled with raspberry bars, dolly bars, pecan sandies or ginger snaps, but after a while I'm ready for something savory. And that's why I love cheese straws—a buttery, spicy shortbread cookie made with cheese.
Cheese straws are one of those classic Southern treats, something that no self-respecting hostess would be without in her culinary repertoire. They are usually served before a meal, though they are also delicious with soups, salads, wine, cheese and I have even been known to dip cheese straws into a bowl of queso.
The basic template for a cheese straw is butter, flour and grated cheese. But what makes them fun is that from there you can do just about anything you like. You can spice them up with cayenne and chili powder. You can make them sharp with a dash of Worcestershire or mustard powder. You can even deviate from the standard cheddar and make them with pepper Jack, Parmesan or Gruyere.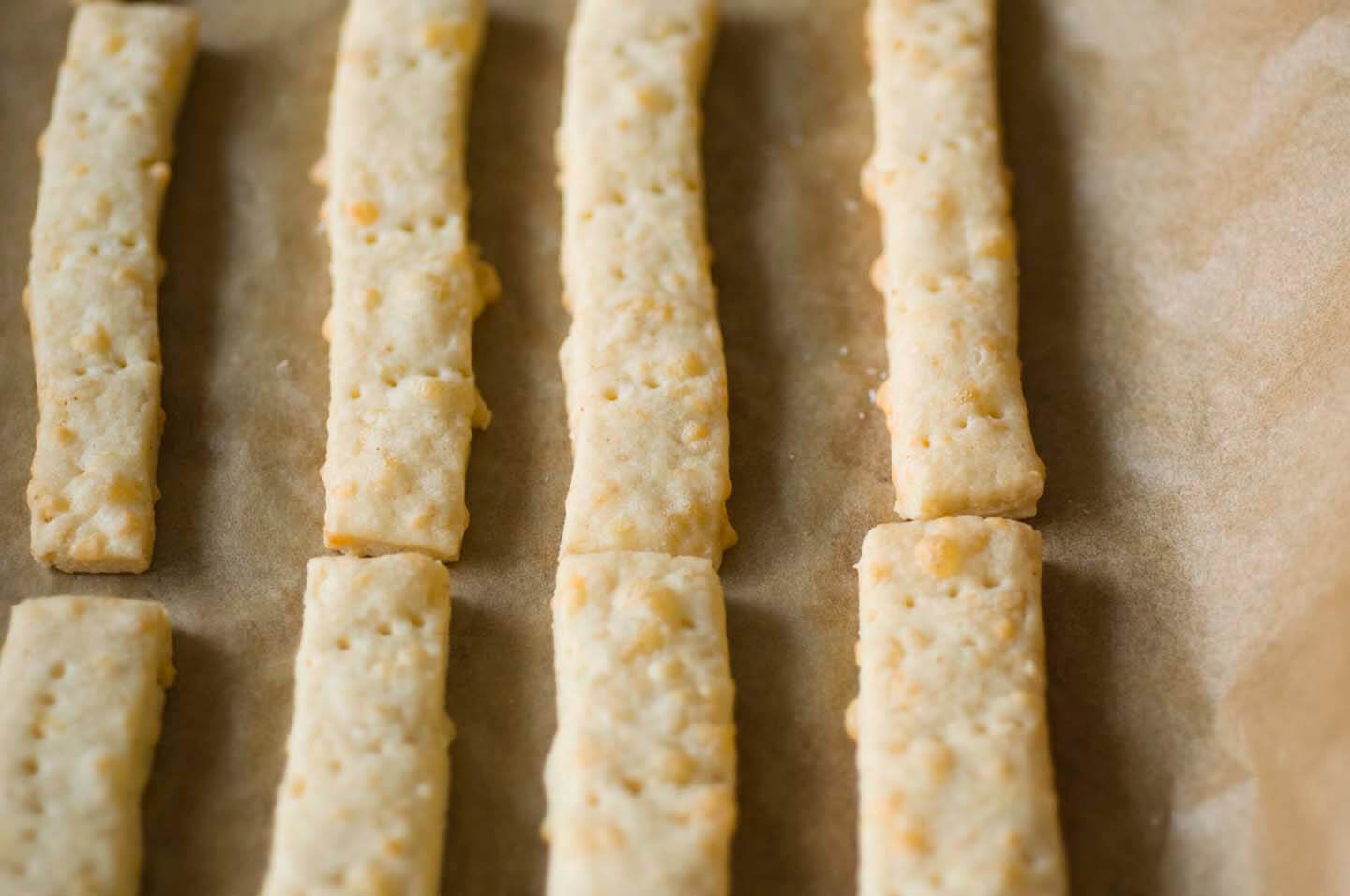 Cheese straws can come in all sorts of shapes and sizes. Some people pipe their straws out using a star tip and a pastry bag. Others stick the dough into a cookie press and form them that way. You'll find cheese straws that are round and scored with a fork, you'll find cheese straws that are as thick as logs and you'll find cheese straws like mine—skinny rectangles dotted with holes.

At the office, we've been receiving holiday baskets loaded with food. Usually, the offerings are sweet—such as boxes of peppermint bark or bags of toffee. But one gift came with a package of cheese straws. Perhaps I've lead a sheltered life, but I don't think I'd ever seen them prepared commercially before—there are such a quintessentially homemade thing. I opened the package (no one else seemed to want them) and gave them a try. And yes, they were awful. The maker had cheated and made them with margarine and there wasn't nearly enough cheese. It made me sad because I wondered how many people had eaten these and thought that this mediocre product was a definitive cheese straw.
You should never buy your cheese straws—they should always be homemade. And don't worry—they take little effort. I find that you can whip up a batch of cheese straws in under an hour, especially if you don't mess with getting all frilly-fancy with their shapes (though there's certainly nothing wrong with that). The dough comes together like a pie-crust dough—all crumbles until that magic moment when suddenly it's moist and supple enough to shape into a ball. And after 15 minutes in the oven, you'll have a warm basket filled with these crisp, cheesy treats.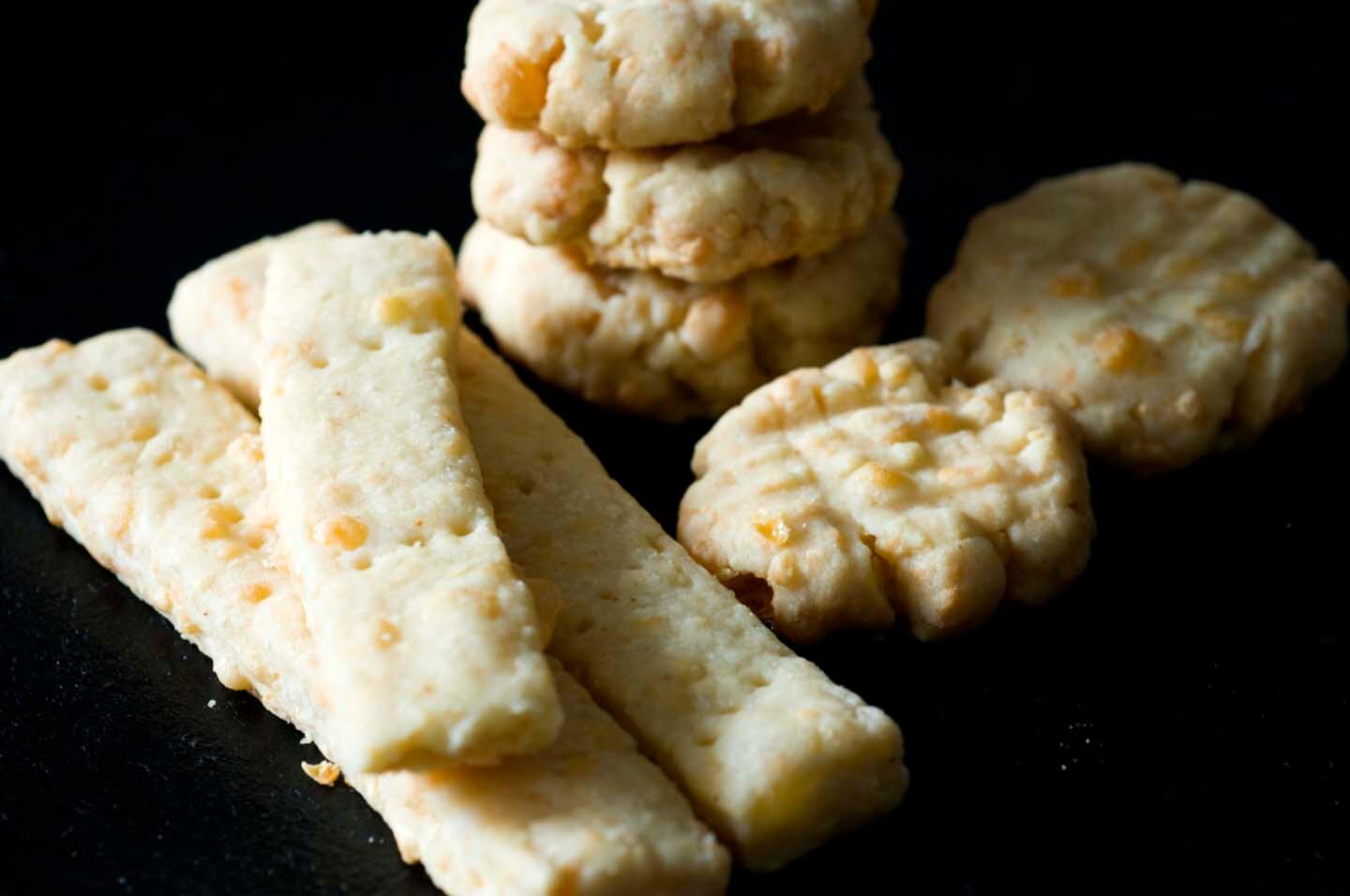 They are a hit at parties, pair perfectly with that post-midnight mass glass of Proseco, and, well, never fail to impress those who haven't tried them before. A box of them also makes for a welcome holiday gift, especially for those who may be suffering from sugar fatigue. But don't think that they are only for special occasions—I find that you can trot these out anytime, and even if you are alone, a handful along with a cup of chamomile tea makes for a delicious late-evening snack.
Cheese straws
Ingredients
2

sticks unsalted butter, softened

2

cups

(8 ounces) shredded white cheddar cheese

2

cups

all-purpose flour

1/2

teaspoon

kosher salt

1/2

teaspoon

cayenne pepper

2

teaspoons

half and half
Instructions
Preheat oven to 350°F.

Using a food processor or your hands, mix the butter and cheese. Add the flour, salt, cayenne and half and half and stir until it becomes a ball. Taste and adjust seasonings.

Roll out the dough into a rectangle that is 1/4 inch thick, and using a pizza cutter, cut the dough into rectangles 2″x1″ rectangles. Alternatively, you can form dough into marbles and press with a fork.

Poke 4 holes in the top of each cheese straw with a fork.

Bake on a parchment-lined cookie sheet for 15 minutes. Cool and then serve.