Hatch chile pimento cheese
A friend in Southeast Texas was describing her pimento cheese, which was popular with her friends. "It always goes first at parties," she said. She then began to divulge her secrets.
At first, hers sounded much like everyone else's pimento cheese, which is typically a blend of shredded Cheddar, mayonnaise, and the jarred red Spanish peppers that give the spread its distinctive flavor and name.
Then she leaned in and told me her surprise ingredient. "I also add chopped pecans, and it takes it over the top."
At first, I thought this sounded bizarre, but the more I pondered it, I came to understand that cheese and pecans make wonderful partners. I enjoy them together in biscuits and my cheese balls , so why not stir some into my pimento cheese? I vowed to try it the next time I made a batch.
A few months later, another friend in far West Texas also took the time to share her pimento cheese recipe, letting me know that it was the best. Again, at first, hers sounded much like everyone else's with its standard blend of cheese, mayonnaise, and peppers.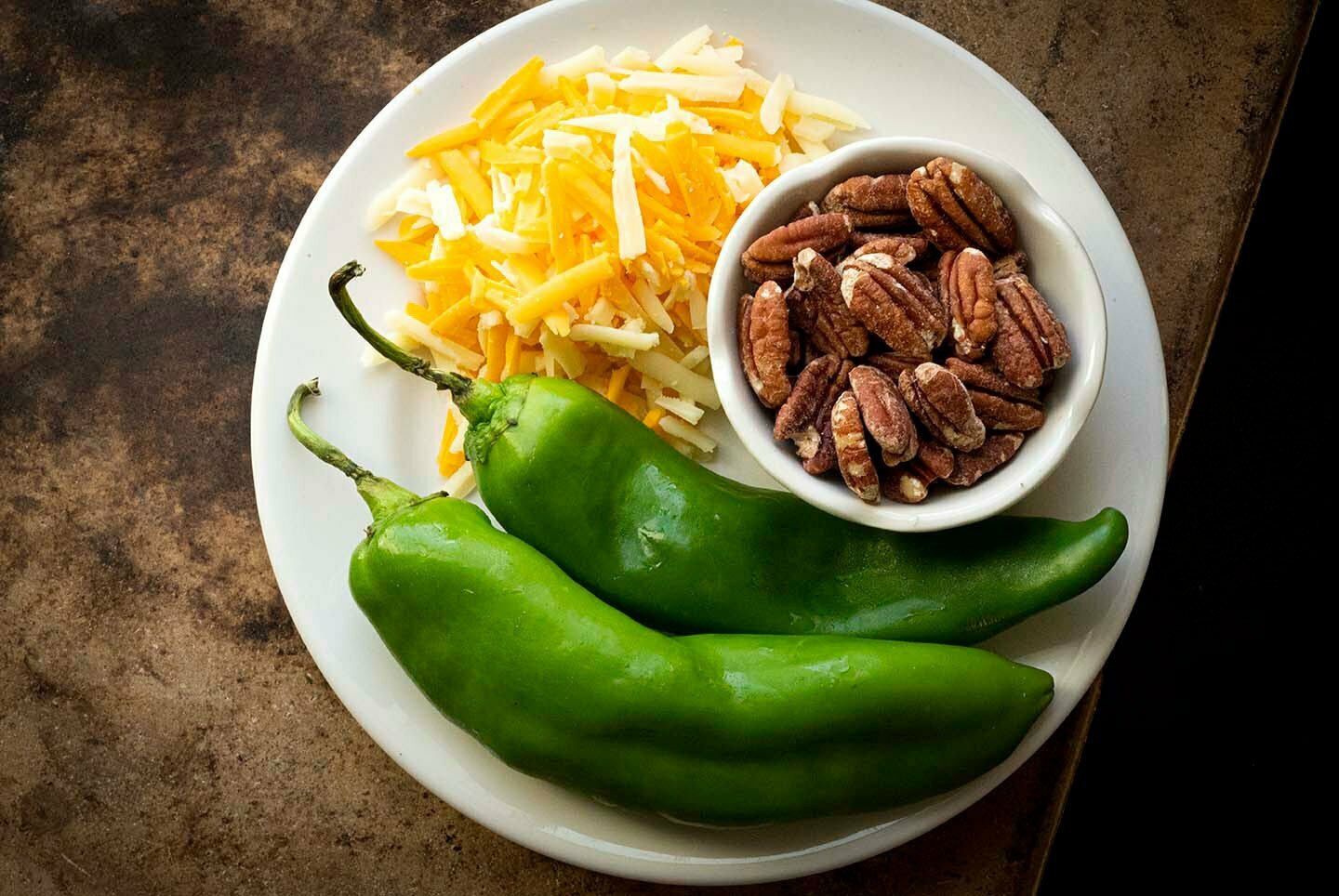 Then she threw in her twist: she uses roasted long green chiles instead of jarred red pimentos. "It gives my pimento cheese an earthy kick," she said.
I tried pimento cheese with the pecans, and I enjoyed its nutty crunch. I also tried swapping out the red jarred peppers for roasted Hatch, and again, the change was refreshing. But how would pimento cheese taste if I made a batch with both the pecans and the green chiles? I gave it a try.
For my base, I used sharp yellow Cheddar, Monterey Jack, grated onion, garlic, and mayonnaise. I chopped roasted chiles and pecans, and stirred them into the blend, along with a dash of Worcestershire and a bit of ground cumin and cayenne.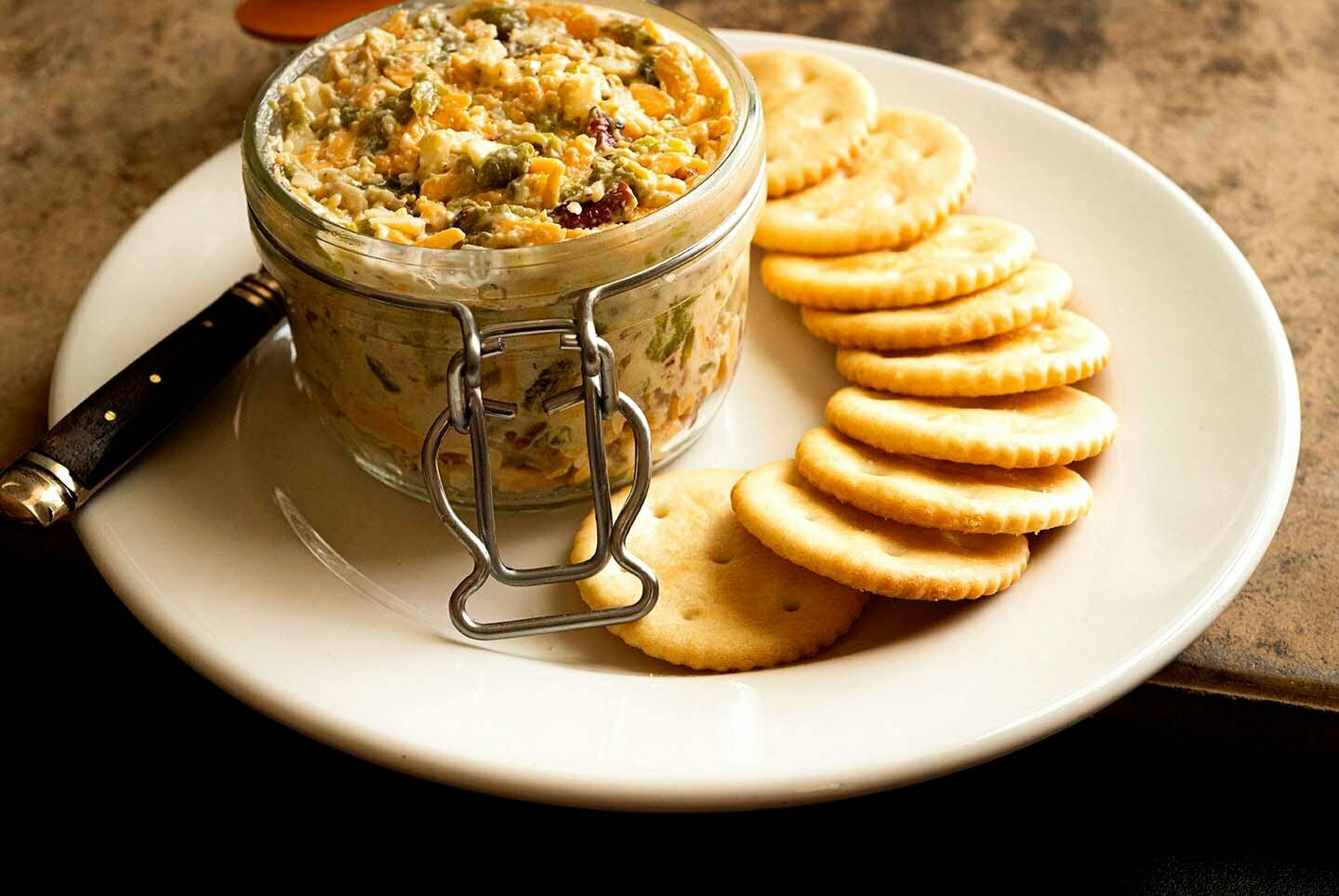 After chilling, the dip was savory, creamy, and nutty. While pimento cheese purists will surely scoff at this version, it's good enough for company, though also welcome to enjoy it as a treat on your own.
—————
Would you like more Homesick Texan? Well, I've started offering additional recipes for paid subscribers to help with the costs of running the site. While I'm not taking anything away, if you'd like to support Homesick Texan and have access to exclusive, never-seen-before subscriber-only posts, please consider becoming a member; annual subscriptions are as low as $25. Thank you for reading, your consideration, and your support!
—————
Hatch chile pimento cheese
Ingredients
4

ounces

(1 cup) sharp Cheddar cheese, shredded

4

ounces

(1 cup) Monterey Jack cheese, shredded

1

teaspoon

grated yellow onion

1

garlic clove, minced

½

cup

chopped pecans

1/4

teaspoon

cumin

Pinch

cayenne

1/4

cup

mayonnaise

1

teaspoon

lime juice

1/2

teaspoon

Worcestershire sauce

Salt

Crackers, for serving
Instructions
In a bowl, stir together the Cheddar, Monterey Jack, onion, garlic, chiles, pecans, cumin, cayenne, mayonnaise, lime juice, and Worcestershire sauce until well blended. Taste and add adjust seasonings and condiments, and add salt if desired.

Refrigerate covered for at least an hour before serving. Serve chilled with crackers.
Notes
The pimento cheese will taste better if you grate the cheese yourself instead of using the pre-shredded cheeses, as they also include fillers that will affect the texture of the dish.