On the way to DFW airport a few years ago, I stopped at a restaurant to grab one last bite before I flew back to New York City. While ordinarily, I'd eat Tex-Mex, my grandma had been talking about fried chicken and all the accoutrements, so I had a craving for that instead.
I chose a spot that specialized in Texan comfort food, and ordered a two-piece chicken plate with dark meat. Biscuits were included and I had a choice of a side. One of the options was corn fritters, which I wasn't familiar with at all, so in the name of research, I included those with my dinner.
The chicken was juicy and the biscuit was flaky, so I was a happy customer. But the true revelation was the corn fritter with its sweet pops of fresh kernels snuggled into a crisp and savory pastry. While I had the option to dip them in cream gravy or buttermilk dressing, they were equally satisfying on their own.
When I returned to New York, corn fritters were not on local menus, and in time I forgot about them. But recently, I was making fried chicken in my new home in Dallas, and saw I had several cobs in my refrigerator. Thinking back to that pre-trip meal, I decided a batch of fritters would be welcome and ideal.
First, I called my grandma and asked her if she had ever prepared corn fritters. She replied that while they were not in her repertoire, her mother had cooked them often when my grandma was growing up in in the 1930s. She explained that my great-grandmother would take corn that the family had grown and canned at their farm, and she would mix it with egg, seasonings, and flour to form a batter.
My grandma noted that my great-grandmother didn't deep-fry her battered corn but instead formed them into discs and cooked them in a shallow pool of hot lard or shortening in a skillet much like salmon patties or pancakes. As such, she called her rendition corn cakes instead of corn fritters. Semantics aside, however, the concept and result was the same.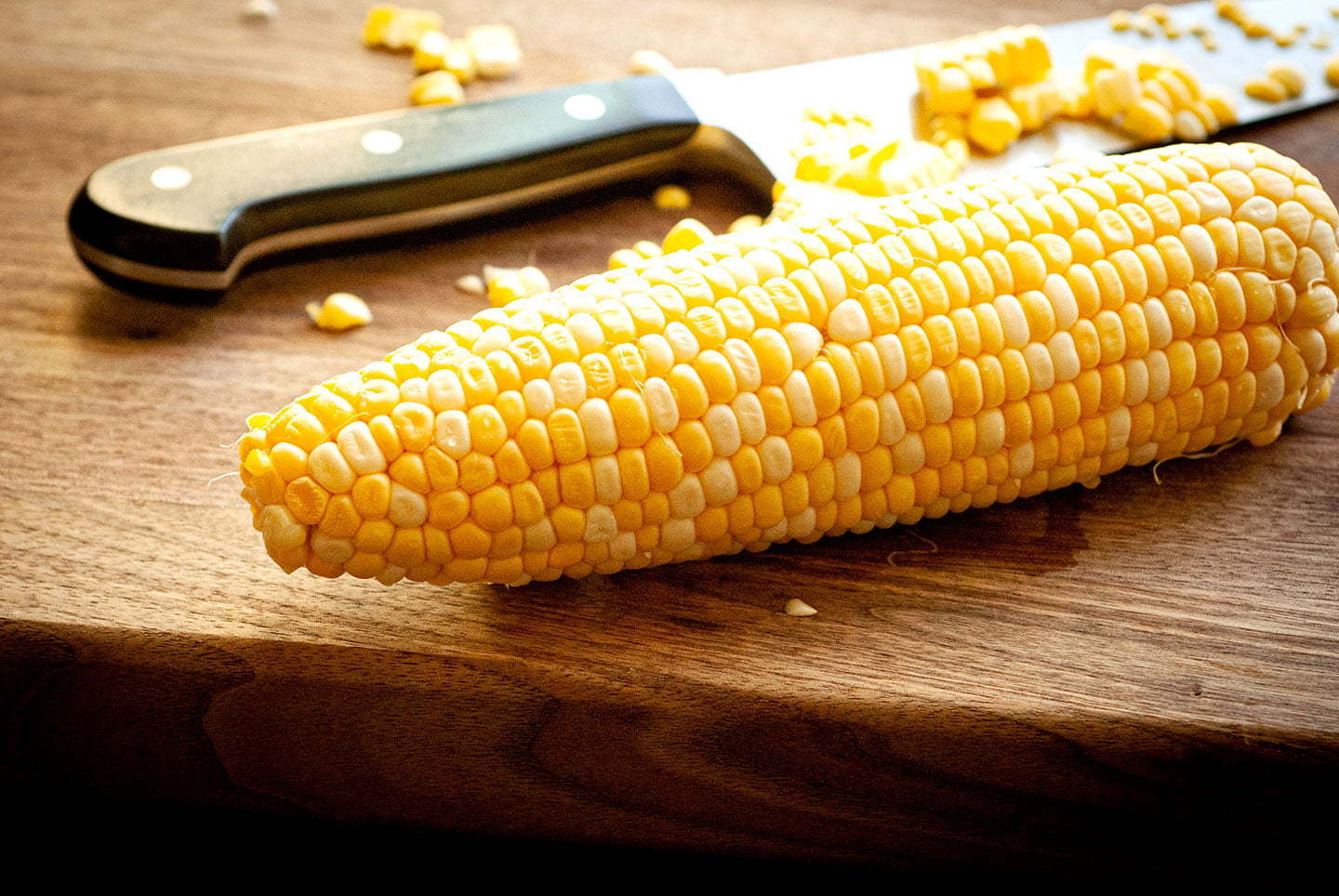 As I began to research, I learned that my great-grandmother's method was common, though many submerged their batter completely into boiling fat instead. Other variations included either separating the egg or using baking powder for loft; going with fresh or canned corn; and keeping the batter thick or thinning it with milk.
Most of the recipes I found in the Texan press were from the earlier part of the 1900s, with media coverage dropping off in the latter part of the century. Had they fallen out of fashion? I didn't think so as they not only still appear on menus at spots that specialize in country cooking, but also, when I mentioned them to others most people expressed how much they were a fan.
For my version, I used fresh corn scraped straight from the cob, though frozen corn that has been thawed would work, too. For the batter, I followed my great-grandma's method. This batter called for egg, baking powder, and flour only, though I livened up my corn with the tangy pop of pickled jalapeños along with garlic, cumin, green onions, and cilantro.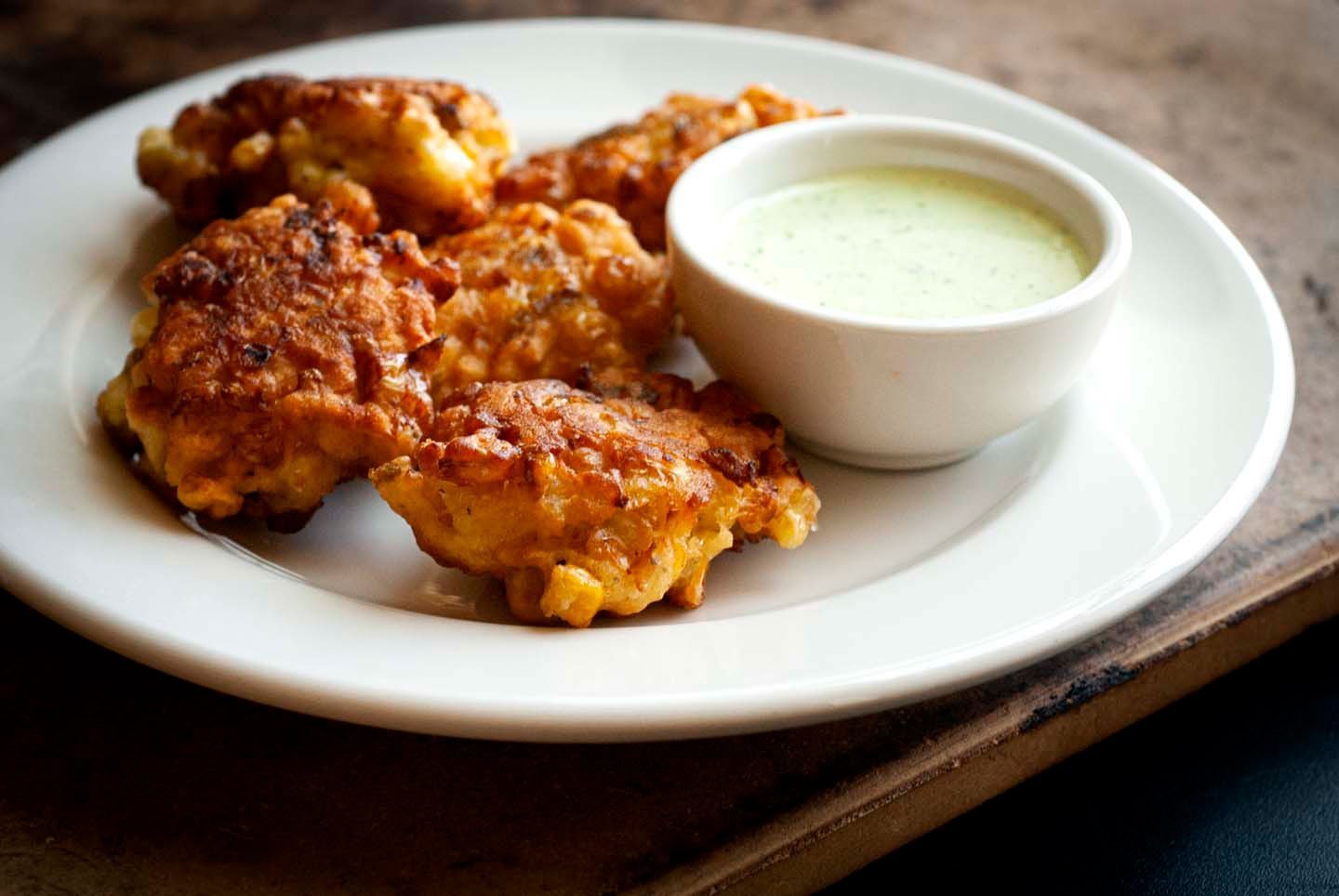 After a quick fry in the skillet, they came out savory and zesty. And while excellent on their own, they ware also a fine vehicle for buttermilk dressing livened up with roasted chiles. I enjoy them as a snack but they also go well with the main dish. In fact, they are so light, crisp, and delicious it's hard to stop eating them. Doubling the recipe may be advised.
—————
Would you like more Homesick Texan? Well, I've started offering additional recipes for paid subscribers to help with the costs of running the site. While I'm not taking anything away, if you'd like to support Homesick Texan and have access to exclusive, never-seen-before subscriber-only posts, please consider becoming a member; annual subscriptions are as low as $25. Thank you for reading, your consideration, and your support!
—————
Jalapeño corn fritters
Ingredients
2

tablespoons

unsalted butter

2

cloves

garlic, minced

1

cup

corn kernels, fresh or frozen (2 cobs)

2

tablespoons

chopped cilantro

1

green onion, green part only, chopped

1/2

teaspoon

kosher salt

1/4

teaspoon

black pepper

1/4

teaspoon

ground cumin

Pinch

cayenne

1

large egg, beaten

1/2

cup

all-purpose flour

1/2

teaspoon

baking powder

1

pickled jalapeño, seeded and diced (about 1/4 cup)

1

tablespoon

jalapeño pickle juice

Safflower or oil with a high smoke point, for frying

1

tablespoon

bacon grease (optional)
Instructions
In a large cast-iron skillet, melt the butter on medium-low and add the garlic. Cook until fragrant and beginning to brown, about 30 seconds, then add the corn. While stirring, cook until the corn is fragrant and softened, about 2 minutes. Stir in the cilantro, green onion, salt, pepper, cumin, and cayenne, then taste and adjust seasonings if necessary. Turn off the heat.

In a mixing bowl, beat the egg and add a pinch of salt and pepper. Stir in the flour, baking powder, jalapeño pickles, jalapeño pickle juice, and the corn. Stir until everything is well combined. The batter will be sticky and thick.

Line a large plate with a paper towel. Wipe out the skillet and then add 1/2 inch of oil, enough to generously coat the bottom, but not so deep that the fritters will be submerged. Add the bacon grease if you're using, too. The bacon grease is to more add flavor but can easily be omitted.

Heat the oil on medium and when a thermometer reads 350°F or the oil bubbles around an inserted wooden spoon (it should take around 3-5 minutes to reach this point), working in batches, using a long-handled spoon, gently spoon the batter into the skillet, about 1 tablespoon in size, giving each spoonful space. You may want to stand back and wear an oven mitt over your hand, as the fritters could make the oil pop.

Fry the fritters for about 3 minutes, turning once when browned. Remove with a slotted spatula and place them on the plate to drain. Repeat until all have been fried.

Serve warm with the poblano buttermilk dressing, cream gravy, or the dipping sauce of your choice.
Notes
While I like the tang of pickled jalapeños, you may use a fresh jalapeño if you prefer. If so, I'd substitute freshly squeezed lime juice for the pickle juice.